"How much should we spend on marketing and how do I create a marketing budget?" This is a common question asked by small to medium-sized enterprises and nonprofit organizations. Here are 4 action items to help you find your answer to these questions.
Action item #1. Do research to see how much budget other organizations similar to yours allocate to marketing.
Every organization is different and every industry is different. There is no magic formula or number when it comes to marketing budget creation. There are various surveys done and they show some patterns. SMEs in the US and Canada spend, on average, about 2-10% of their revenue on marketing. Various factors influence how much money SMEs are able and willing to spend in marketing, but typically, the higher your brand recognition is, the lower your customer acquisition cost is, which means you can generate more leads with the same amount of money. B2C companies tend to have a higher marketing budget than B2B companies. Start-ups tend to spend more on marketing to create brand awareness. Nonprofits spend about 5-10% of their operating budget in marketing.
To determine your marketing budget, use Google to see what other SMEs like yours are doing. Also, have a look at survey results from organizations like The CMO Survey and Gartner to understand the overall trends. For example, understanding the new trends caused by COVID-19 is important and necessary. According to The CMO Survey's February 2021 survey report, the survey respondents' marketing budgets represent 13.2% of their revenue. It was 11.4% in June 2020 and 8.6% in February 2020. Your business is unique, but no business or industry operates in a vacuum. Knowing the trends helps you make informed decisions.
Action item #2. Ask yourself a series of questions to see how much budget you are willing to spend on marketing.
The industry averages and trends are good indicators. But these are not the "rules" you must follow. If these don't feel "right" to you, they might not be right for your business.
To figure out the right budget for your business that you feel comfortable spending, ask yourself the following questions:
- What is your current cost-per-lead?
- What is your current conversion rate? How many leads do you need to have in your top of funnel to generate one customer?
- What is your average deal size?
Knowing these three numbers can get you to a specific number. For example, if your cost-per-lead is $300, your conversion rate is 8% (i.e., you need 12 leads to close one deal), and your average deal size is $30,000, then you need to spend $3,600 (12 leads x $300) to make $30,000. Download this Excel spreadsheet template to populate your numbers.
Now, with this calculation, you can then calculate the marketing budget required to generate the revenue you hope to see from your marketing effort. Are you happy with the number? Where do you think you can improve? Is your cost-per-lead too high, and you can work on lowering it? Maybe your conversion rate may need some improvement. See action item #4 for how to create a game plan.
Action item #3. Measure everything that you can measure so that you have your own data to refer to.
Your own data is the best data you can refer to and can be set as a baseline. Were you easily able to answer the 3 questions in the section above? If you weren't, make it a priority to implement the necessary tools and learn to use them properly to collect and analyze your own marketing data.
Everything you do in marketing can be measured in some way. For example, if you plan to increase inbound leads by doing content marketing (such as publishing two blog posts per week), you can measure the number of website visitors, the number of website leads, and how many of those leads turn into sales qualified opportunities and deals. When you have this information and know how much you spend on content marketing, you can calculate your content marketing ROI.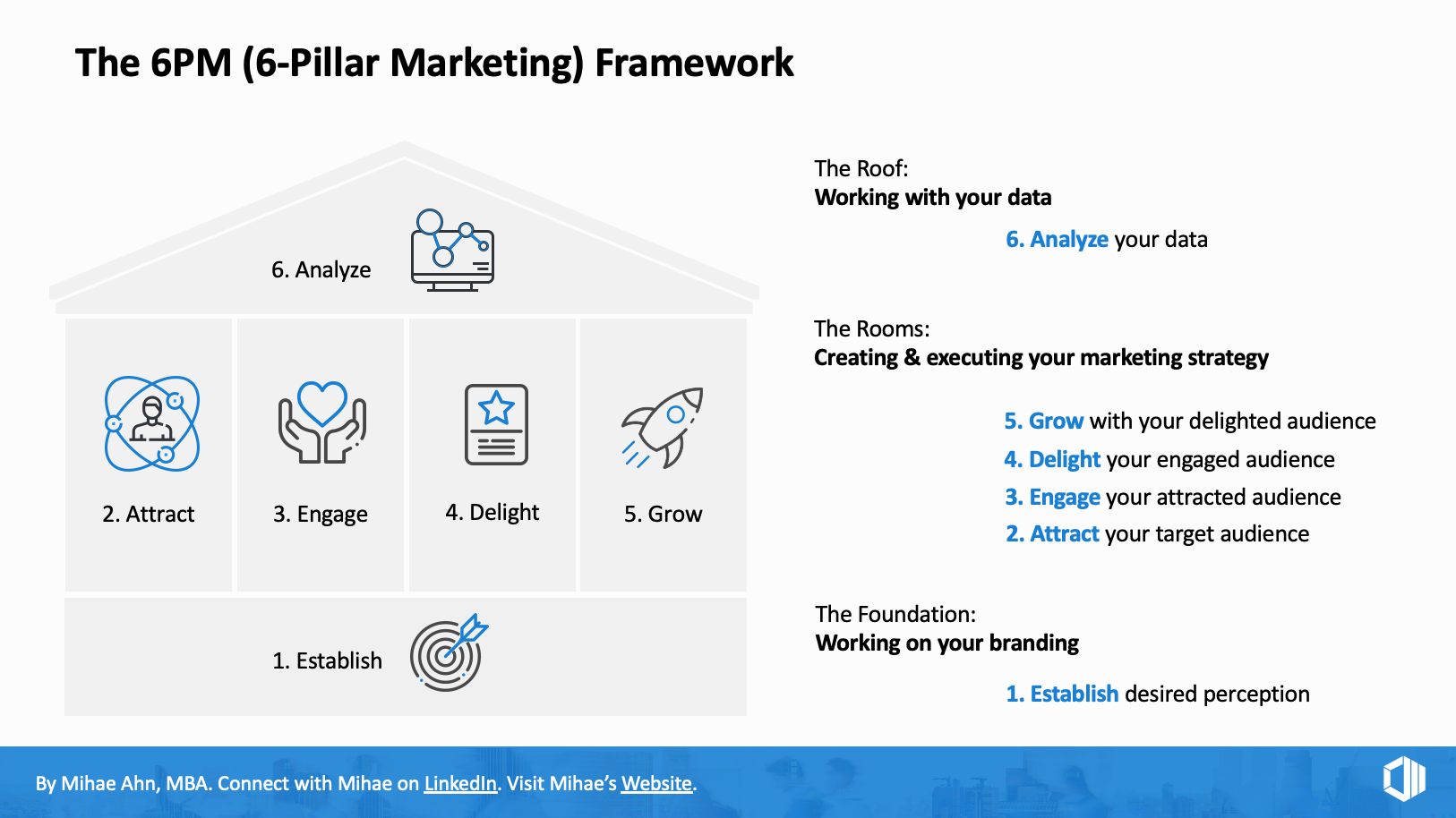 ---
Action item #4. Not sure where to start?
Create a framework to simplify and visualize all the moving pieces of your marketing.
The 6PM (6-Pillar Marketing) Framework is a blueprint for your organization's marketing. As shown on the image above, using the house analogy, it visually presents six key aspects of marketing:
1.- Establishing desired perception (i.e., branding)
2.- Attracting your target audience
3.- Engaging your attracted audience
4.- Delighting your engaged audience
5.- Growing with your delighted audience
6.- Analyzing your data and optimizing it
To learn more about it, watch the recording of the 6PM Framework intro workshop below. Please reply to this email if you'd like a copy of the deck.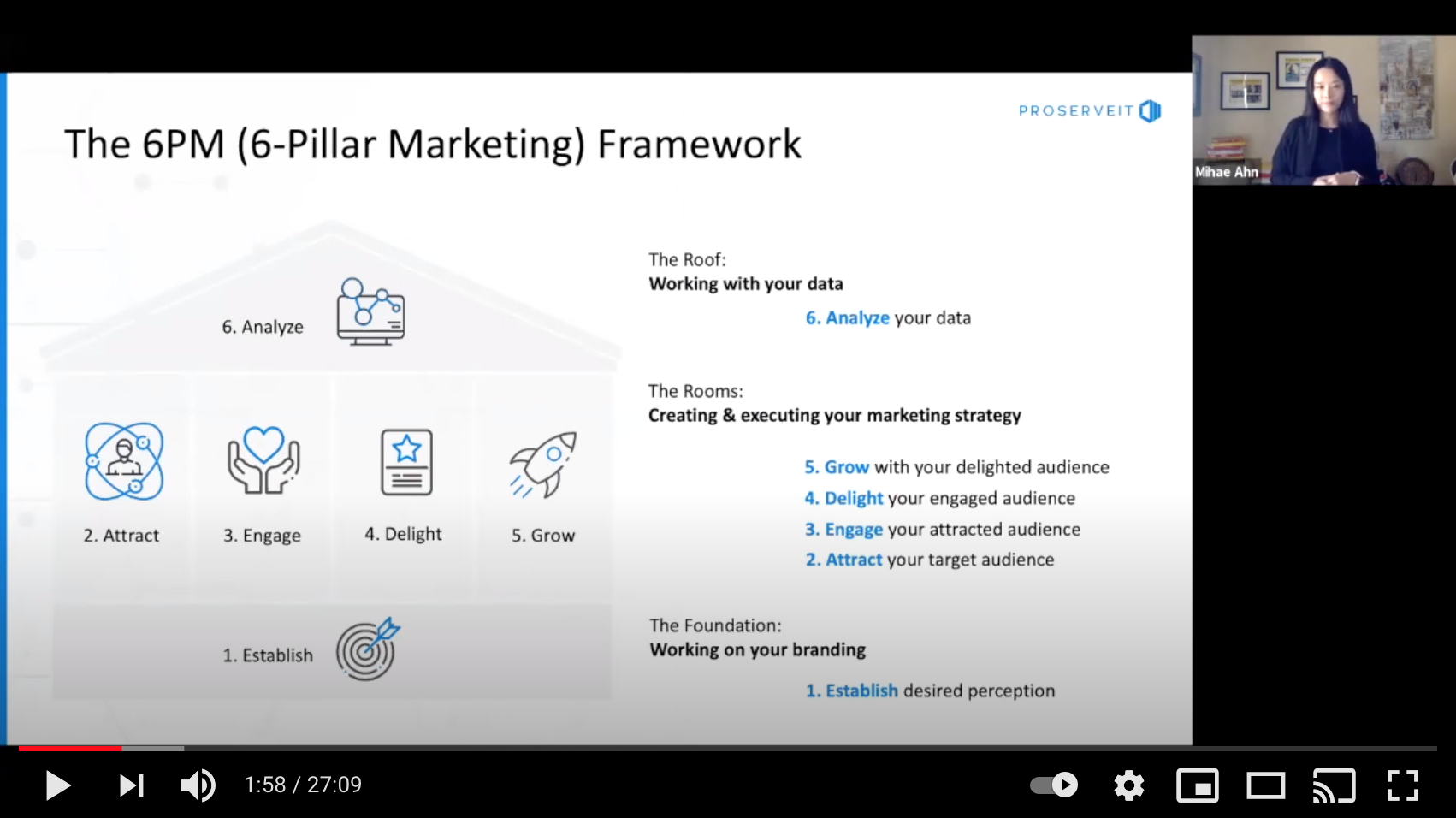 ---
Workshop: A Deep Dive into the Rooms of the 6PM Framework
The next 6PM Framework Workshop will be a deep dive in the marketing strategy. Join me to go through a step by step guide to create your own marketing strategy. I'll share a one-page marketing strategy template and use cases.
When: 11:30am - noon EST on June 24th, 2021
I share a bite-sized marketing tip every month with this 6PM Newsletter. Crowding your inbox is never my intention. If you don't wish to receive the newsletter anymore, please use the unsubscribe link at the bottom of the email.
If you have any questions or topics, you want covered in future newsletters, drop me a line - I would very much appreciate it.
Cheers,
Mihae Ahn, MBA | Director of Marketing, ProServeIT | Connect with me on LinkedIn