Have you thought about using Office 365 SharePoint but aren't quite sure how this can help your team? Have you been using SharePoint in the past but want to know how your team can better utilize it? Office 365 SharePoint was built to boost productivity by helping your team embrace collaboration and, in this post, we'll talk about three ways Office 365 SharePoint helps your team be more productive. Watch this short video that summarizes the post, then read along for more information!
1. Office 365 SharePoint Makes BYOD (Bring Your Own Device) Easy
In recent years, we have seen a lot of emphasis put on BYOD in the workplace. In fact, one of the biggest trends of 2018 has been the emergence of BYOD to alleviate employee frustration and increase productivity. With Office 365 SharePoint, individuals and organizations can have the ability to discover, share, and collaborate across multiple devices and platforms, from anywhere, at any time. This gives you flexibility to allow your employees the opportunity to use devices they're most familiar with, increasing productivity from their end!
2. Office 365 SharePoint Lets You Share Documents & Files with Anyone, Any Time!
Not only can Office 365 SharePoint be accessed from any device, but it also lets you share documents and files with those in your organization who needs access to them, and everyone can access these files from anywhere – all you need is an Internet connection. In an area that doesn't have Internet? You can still work on your files while you're offline and they'll sync to SharePoint when you get back in an area with Internet connectivity!
Even better than this ease of access is the co-authored capabilities that SharePoint has. You and your team members can work together on the same document at the same time, plus chat with your co-collaborators right from within the document, and, if it becomes necessary, you can also revert to a previous version of the file. Office 365 SharePoint keeps a record of the various versions that have been created or worked on.
---
---

3. Office 365 SharePoint Integrates With Office 365
Not only can Office 365 SharePoint be accessed from any device, and allow you to collaborate with other team members, but SharePoint also integrates with Office 365! What does that mean for you?
By taking advantage of SharePoint's integration with Office 365, you can use Word, Excel, PowerPoint, or other products right from within SharePoint online, or from other collaboration tools, like Microsoft Teams. When you need to find useful content, use Delve, a search tool to help you find documents you've worked on recently, or documents that your colleagues have been working on.
In short, SharePoint solutions work hand-in-hand with other Microsoft tools to make collaborating with your colleagues a part of your day-to-day work style.
---
---

2 Ways to Increase Your Return on investment for Office 365 SharePoint
Here are two other ways that you can maximize your return on investment:
Business Process Enhancement Through Automation
Processes like contract management, employee performance assessments, hiring and onboarding or user support can see dramatic improvements when processes are well defined and automated. Office 365 SharePoint allows for business process enhancement by creating automated workflows, which can decrease inefficiency and increase productivity in the long run.
Search & Collaboration
Being able to put your finger on the right information quickly and easily, and with full collaboration across platforms can save a lot of money in unproductivity costs.
Want to learn more about the ROI from SharePoint? Check out our 100% demo-based on-demand webinar for executives and managers, which will show you SharePoint in action (including SharePoint Workflows)!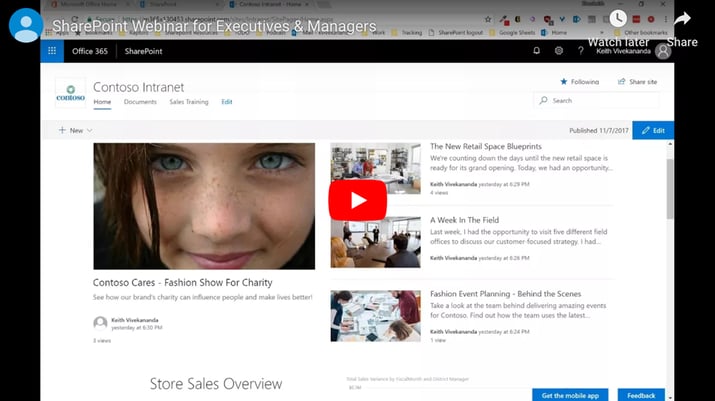 Get Started with Office 365 SharePoint Today
There are so many things Office 365 SharePoint can do to increase collaboration and improve productivity within your organization. So, let's recap a few important points about why you need SharePoint in your organization.
SharePoint is communication made easier. Designed from the ground up, SharePoint is mobile-friendly, easy to access from any device at any time, and, as mentioned, helps to improve collaboration and productivity in the workplace. With it, you can co-author documents, keep up with version control, secure your content, control who can see what, manage your folders, and much, much more.
Simply put, SharePoint is an extremely versatile content management platform. If you want to learn more about how to take full advantage of SharePoint, drop us a line today. Our team of SharePoint experts will be happy to schedule a demo or a tutorial session.