Finding, satisfying, and retaining customers is absolutely critical to a successful business. For small and mid-sized businesses (SMBs), this pressure is felt more acutely than enterprise businesses who have more resources to weather fluctuations. For SMBs, the cost of running a business must be offset by the gains in sales. For this reason, maintaining and nurturing customer relationships should be a priority for businesses that are looking towards strategic growth.
Customer Relationship Management (CRM) is a tool for SMB Sales to manage, maintain and develop those critical client relationships. There are many examples of CRMs available for SMBs to use, one of them being Microsoft Dynamics 365, a unified, Cloud-based application that breaks down silos between various teams in your organization – sales, customer service, field service, operations, financials, marketing, etc. It also incorporates familiar productivity tools you use every day such as Outlook and Excel. The recently announced integration with LinkedIn Sales Navigator amplifies the benefits it can bring to your Sales team, such as identifying and managing opportunities! We will look into this in more detail later in this post.
If your data is sitting in a spreadsheet, or just in your emails or…worse…a filing cabinet, then you're working for your data instead of making your data work for you. Among many undeniable benefits of CRM, we will discuss the following 3 major CRM benefits in this post: 1) staying organized; 2) finding opportunities; and 3) managing pipelines. Let's take a look at these in more detail and see how Dynamics 365 can help your Sales team enjoy these benefits to the fullest.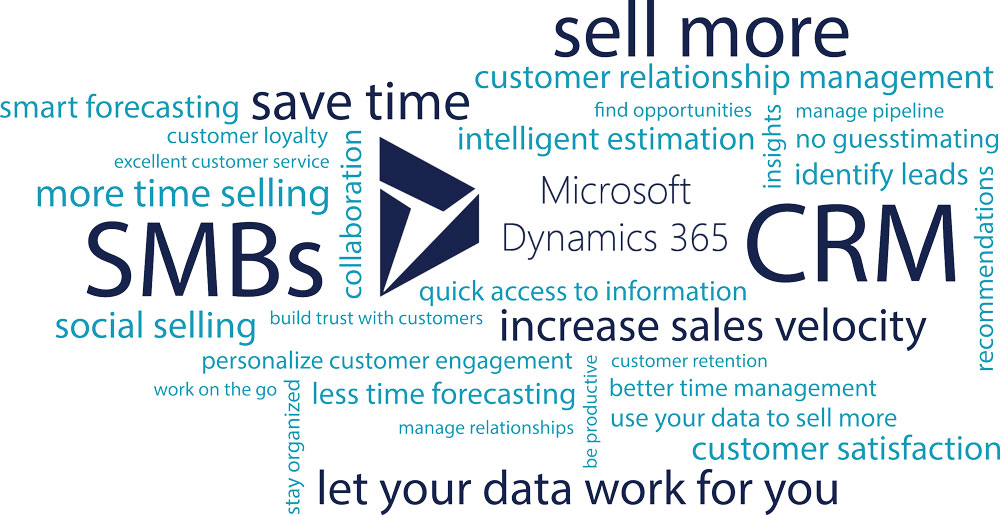 3 Major CRM Benefits for SMBs:
Benefit #1: Helps your Sales team stay organized
Why is it important to your Sales team?
Sales is a fast-paced industry that requires agility and adaptability in order to satisfy customer needs. By implementing a CRM system, particularly one with mobile capability, sales reps can consistently update their information in real time. By tracking calls, emails and any other interactions with leads and customers, there is less of a chance for critical follow-ups to slip through the cracks.
Save Time. Be Productive. – Staying organized is important for making the best use of a reps' time. Administrative tasks are necessary but should never get in the way of closing deals. By using a CRM, their database of interactions, prospective opportunities, closed deals etc. are accessible at any time and can be updated whenever it is the most efficient time for the user.
Customer Satisfaction – When you're disorganized, things can be missed and customers can end up unhappy with your services. Customer retention and loyalty are dependent on excellent customer service, and having a CRM in place fosters the ability to meet and exceed customer expectations.
How does Dynamics 365 help your sales team stay organized? Deep integration with Office 365!
Dynamics 365 incorporates and deeply integrates with your familiar applications such as Word, Excel, and SharePoint. Deep integration between Dynamics 365 and Office 365 helps your sales team stay organized by bringing together the two worlds of business process and personal productivity.
Work on the Go – Your sales team can work anytime, anywhere with rich, mobile apps that provide contextual news, social data, and task flows.
Access Relevant Information Quickly – Your sales team can efficiently collect specific information about accounts and opportunities from email, calendar, and Dynamics 365 data. If your organization is using Office 365's

Power BI

, your sales team can get answers fast using Power BI dashboards, contextual charts, and Q&A for natural language queries.
Easily Collaborate and Share – As Office 365 collaboration tools are integrated with Dynamics 365, sharing conversations, events, notes, and sales content with colleagues becomes easy.
Benefit #2: Helps your Sales team find opportunities
Why is it important to your Sales team?
Maintaining the relationships and loyalties of current customers is imperative, but so is nurturing leads. We often say that there is no getting around the equation: 0=0. If you want closed deals at the bottom of your sales pipeline, then there needs to be prospects at the top of it.
No More "Guesstimating" but Intelligent Estimation. – A CRM is an excellent way for your sales people to keep up with all their leads, but it also allows them to pinpoint where their greatest opportunities are. A common issue that sales people experience is attempting to move leads through the pipeline based on the sales rep's idea of the customer journey, rather than understanding that it is the customer, not the rep, that indicates when the next stage is appropriate. Prospects do this through their interactions with the rep, which is why tracking these indicators is so critical to sales success. By properly adopting a CRM system and using it to qualify leads, a SMB sales team is more likely to see quotas met and revenues increase.


Better Time Management – All SMB Sales teams should be qualifying leads in order to make the most effective and efficient use of their time. Using a CRM is an intelligent and efficient way of organizing and evaluating leads. Instead of spending too much time on leads that aren't going anywhere or aren't at the right stage for moving forward, your sales team can instead spend their time on the leads that are ready for the next stage in the sales pipeline.
Did you know that LinkedIn Sales Navigator and Dynamics came together?
Microsoft Relationship Sales solution is the combined force of LinkedIn Sales Navigator Enterprise and Dynamics 365 for Sales, Enterprise edition to help your sales team build and manage customer relationships. Finding opportunities becomes easier with the combined solution of Dynamics 365 and LinkedIn Sales Navigator as it helps your sales team to:
Identify the Right Leads – Microsoft Relationship Sales solutions give your sales team access to LinkedIn's database of 500 million users! Finding key decision makers from over 500 million LinkedIn members and determining the best path to reach them are easier with Dynamics 365.


Manage Relationships at Scale – As your sales team no longer has to manage data between different platforms, it becomes easier for your team to increase the sales pipeline, keep data in sync, and engage buyers with relevant content throughout their buying journey.


Get Insights and Recommendations – Microsoft Relationship Sales solutions open the door to social selling. Your sales team can effectively monitor engagement signals across email, CRM, and LinkedIn to get contextual recommendations for the next best action.
Benefit #3: Helps your Sales team manage your pipeline
Why is it important to your Sales team?
Forecasting is definitely necessary, but it shouldn't become a "make-work" project. By using a CRM, it can be a database as well as a forecasting tool that benefits both salespeople as well as management.
More Time Selling, Less Time Forecasting – Forecasting can be known as a bane to sales people who feel that they spend too much time working on predicting sales rather than out actually selling. However, forecasting is particularly critical to SMBs, as it allows management to track future revenue and pivot when necessary to keep costs in line with company needs. If tracking shows that there is an upcoming downturn in sales, the company can proactively adapt their selling strategy to increase effort during this period to offset the potential lack of expected revenues.
Smart Forecasting = Excellent Customer Service – While having too many deals close at the same time sounds like a good problem to have, it isn't. If your resources are not able to fulfill customer needs, then you risk alienating these customers and losing their loyalty. If you are tracking your pipeline through the CRM and you see that your resources won't be able to match the current flow of prospective deals, then you can adapt your sales approach accordingly. Certain clients can be held in their respective stages to stagger the flow of deals and ensure that your sales team is not only closing deals, but creating long-term client relationships based on excellent customer service.
How does Dynamics 365 help your sales team manage the pipeline?
Actionable Insights! Dynamics 365 helps your sales team focus and act on the right priorities. Your team will be able to derive meaningful intelligence from large amounts of complex data to deliver valuable, actionable business insights. This will help your sales team:
Increase Sales Velocity – With Dynamics 365, your sales reps can identify prospects most likely to buy based on predictive intelligence.
Build Trust with Customers – Business insights from Dynamics 365 will help increase your reps' sales opportunities by offering relevant product recommendations for each of their customers. This helps them in the end to build trust with their customers.
Personalize Customer Engagement –Dynamics 365 helps your reps get to know their customers and connect with them in more effective ways through customer intelligence.
With Dynamics 365, you can let your data work for you! Let's connect!
The question that SMBs should be asking themselves isn't whether they should implement a CRM or not, but how soon can they implement it. Sales success is absolutely incumbent on managing your customer relationships. By using a CRM, your data is organized, trackable and effective in a way that it will never be sitting in a spreadsheet. Whether you're a SMB that is planning for growth or adapting your strategy due to increased competition, you should be incorporating technologies that can increase sales and drive revenue growth.
If you're looking to implement Microsoft Dynamics 365 as your CRM, then ProserveIT is your preferred partner for ensuring a smooth transition and proper implementation. Change Connect can also help you adapt your sales process so that CRM Best Practices ensure you are utilizing the technology in a way that results in the most sales success.
Related:
---
This blog post is co-authored by Change Connect and ProServeIT.
About Change Connect
Change Connect specializes in helping clients to work more efficiently and effectively in pursuit of their revenue goals. We offer customized solutions for small to midsized businesses with a focus on Sales Transformation, which includes adapting the sales process to new technologies such as a CRM implementation. Whatever stage your business is at, whether you're a start-up looking to expand or an established company looking to move from a plateau to record growth, Change Connect is your partner in transformation.