The customer is at the center of all that we do. Engaging your customers with the right message, at the right place, at the right time, via the right channel, at the right price point is the key to winning in today's marketplace.
According to IBM, we create 2.5 quintillion bytes of data every day. That's 2.5 million terabytes (or 2.5 trillion megabytes) being created on a daily basis - that's a lot of data! This data that's being created every day translates into valuable information about your customers. Are you taking full advantage of this?
Small businesses should strongly consider utilizing business intelligence to take advantage of the valuable information available. When utilizing business intelligence for your small business, you can take advantage of technologies and practices that collect, integrate and analyze your data so that you can make better-informed business decisions.
This post is intended to help small business owners and managers understand the benefits of business intelligence for small businesses, and the advantage of using Power BI, a powerful business intelligence tool, that your small business can easily implement.
Business Intelligence Advantages & Benefits for Small Business?
Uncut diamonds are of little use on their own, but they hold immense potential value. Similarly, raw data has a huge amount of potential, but it is only after the "refining process" using a powerful business intelligence tool (like Microsoft Power BI) that your data's true worth becomes visible. What exactly are the benefits of business intelligence? Here are three major advantages:
Business Intelligence Benefit #1. Ability to Forecast
Business intelligence gives your small business an ability to forecast because it helps you identify future trends and patterns. From processing your organization's historical data, you are able to forecast behaviours, patterns, and trends to prepare for your customer's demands. You can then generate more detailed plans and strategies, which will allow you to make more informed business decisions.
Business Intelligence Benefit #2. Better Customer Experience
Big data can be the backbone of your customer experience platform. With big data, you are in a position to understand your customers better - where they shop, what products/services they are interested in, and what their product/service challenges are. Collection of big data allows your customers to feed you valuable information every day, and better yet, they willingly do so! By tapping into it, you're in a much better position to personalize their buying experience. As we all know, a "one size fits all" strategy does not work anymore.
Business Intelligence Benefit #3. Agile Pricing Strategy
By taking advantage of big data, you can construct efficient pricing strategies through segmentation. Big data provides information that helps you gain an understanding of the various factors that affect pricing – things like the behaviour of your demographic, the seasons you're in, your marketing campaign, and your tiers. You are no longer working with lagging indicators; rather, you are working with real-time behavioural trends and patterns to get ahead of the pricing game.
Power BI Benefits for Small Business - Get the Most out of Your Data
To enjoy these three benefits of big data to its full potential, you're going to need a powerful business intelligence tool that can refine your raw data into those valuable gems. Microsoft Power BI, a suite of business intelligence tools, helps your organization to analyze your data, share insights, and make better informed business decisions. This will provide your small business with a huge competitive advantage.
Here are the ways Power BI can help you harvest the business intelligence benefits discussed above:
Power BI Benefit #1: Power BI helps you forecast.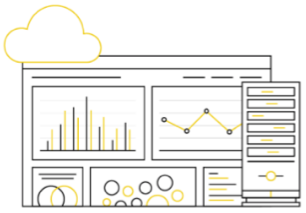 Do you have numerous Excel files on your laptop and a large amount of customer information in a CRM system like Dynamics 3
65 or Salesforce? Power BI gives you the capability to pull your data from various sources like Excel spreadsheets, CRM systems, Cloud services, streaming data, and on-premises databases. Wherever your data is housed, Power BI can grab it. In addition, you can take advantage of real-time dashboards, which lets you view problems as they occur and seize opportunities when they come up.
Power BI Benefit #2: Power BI helps you better customer experience.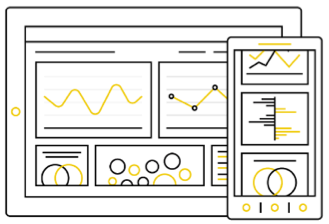 Using Power BI, you can combine your data sources, create compelling visualizations, and publish your organization's story on your website or blog, targeting the clients/customers that mean the most to you. In addition, by customizing your communications based on what your data tells you about their buying journey, preferences, last purchases, etc., you can better your customers' experiences, no matter what communication channels you use to connect with them.
Power BI Benefit #3: Power BI helps you construct efficient pricing strategies.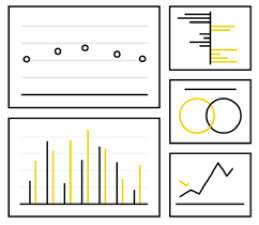 With Power BI, you can also become more enlightened about incorrect assumptions. Touch-enabled apps for iOS, Android and Windows allow you to access your data from wherever you are, keeping you up to date on what's happening with your data at all times. Power BI also gives you new insights and analysis into information from your team's daily operations.
Often, you need to make decisions fast. With the right business intelligence tool, you don't need to wait until the next time you collect and compile information from various teams and analyze it to generate reports. With Power BI, you can get alerts delivered right to you whenever there are significant changes happening to your data. With this constantly updated data, you are in a better position to construct efficient pricing strategies, whether you are in B2C or B2B market place.
Power BI for Small Business: 4 Things You Can do with Power BI Without IT Help
You and your staff often work remotely and accessing data and analysis at any time from anywhere can save time and increase productivity. There is no doubt that being able to use a business intelligence tool without IT help would be extremely convenient for you and your team. So, what can you do with Power BI right away without IT help?
Directly import Excel spreadsheets.
As previously mentioned, Power BI allows you to directly import your Excel spreadsheets in a few easy steps. All you need to do is sign in and browse for the files that you want to import. No IT support needed.
Browse from the web or from a mobile device.
Power BI is available on any iOS, Android or Windows 10 device, and getting access to it is simple – just download the Power BI mobile app to your phone or tablet through your app store, sign in to your account, and you're ready to view and interact with your Power BI dashboards and reports right in the palm of your hand.
Monitor your data live.
Power BI lets you create dashboards and reports that are updated continuously via data streaming (meaning you don't need to hit the refresh button to see the changes to your data). This gives you the ability to track your data in real time, as things are happening.
Collaborate with others.
With Cloud-based collaboration, you can ensure that your organization's employees are always on the same page. Power BI gives you a number of different options for how you can collaborate with your colleagues – creating an app (much easier than it sounds!), or by sharing your dashboards publishing it to the web, or printing and saving it as a PDF, all of which can be done by just a few clicks of your mouse.
Want to see a Power BI demo? Drop us a line to schedule a complimentary demo session. Our Power BI expert will be happy to walk you through.
Business Intelligence for Small Business - Not an Option, But a Requirement
The data phenomenon is a smart way to drive growth in businesses today. By utilizing a business intelligence tool like Power BI, your business can better predict who the customers are, what they want, and where they want to buy it. Think about it this way – your competitors are utilizing business intelligence to better understand and serve their customers. You need to do the same to stay competitive.
Related:
This blog post was co-authored by Change Connect and ProServeIT.


About Change Connect
Change Connect specializes in helping clients to work more efficiently and effectively in pursuit of their revenue goals. We offer customized solutions for small to midsized businesses with a focus on Sales Transformation, which includes adapting the sales process to new technologies such as Power BI. Whatever stage your business is at, whether you're a start-up looking to expand or an established company looking to move from a plateau to record growth, Change Connect is your partner in transformation.


About ProServeIT Corporation
As a multi-award winning Microsoft Gold Partner, ProServeIT is your trusted source to get your small business using Power BI. Our team of experts will be able to walk you through the benefits of Power BI, how you can utilize it in your organization and we'll also help you determine a plan for going forward that suits your budget and timetable. Contact us today.