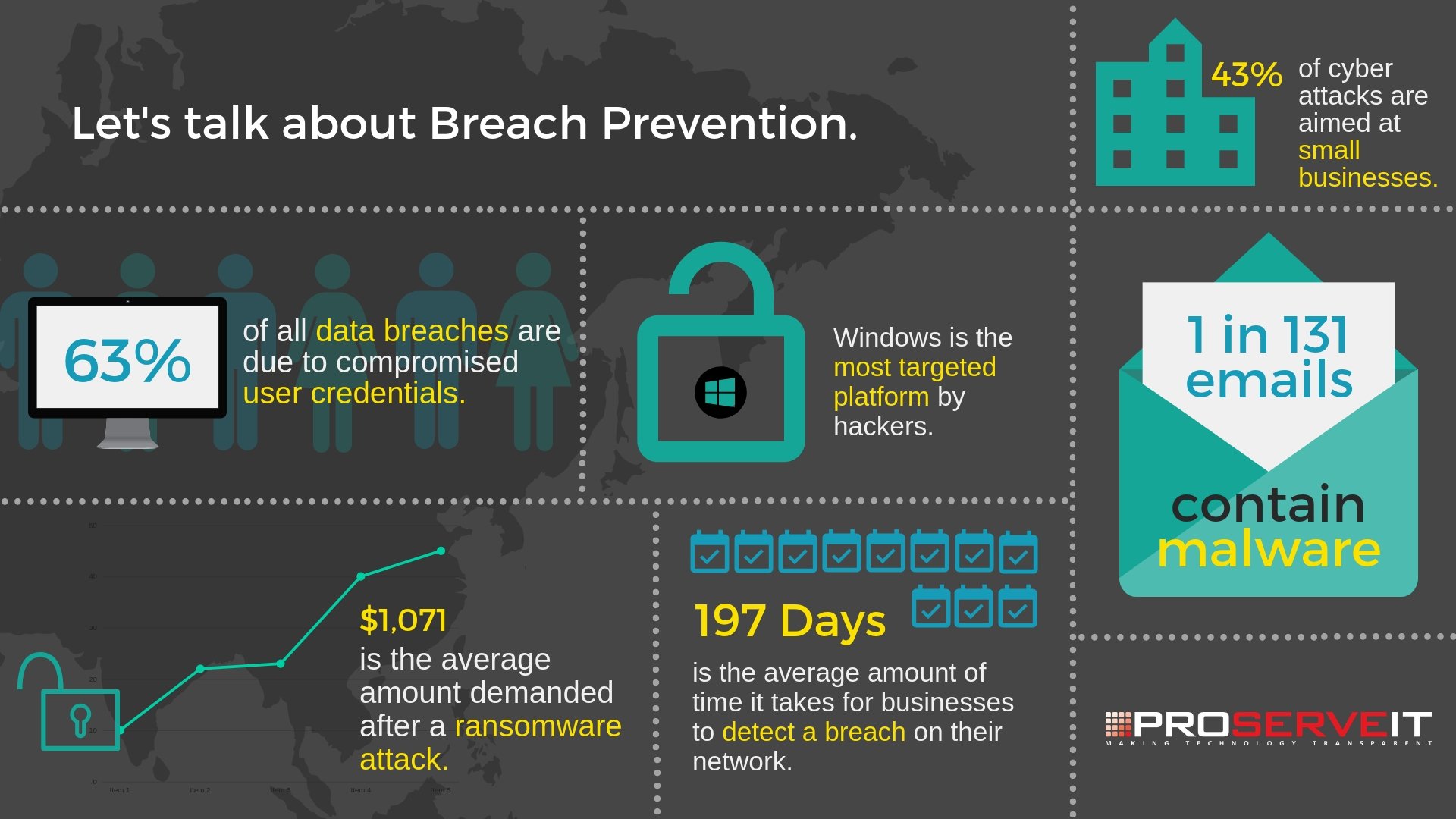 It's pretty clear why Breach Prevention is such a major topic of discussion nowadays. Not only has there been several recent examples that have appeared in the news over 2018, but, with every technological advancement we make, those same technological advancements help to arm the bad guys with new ways to breach your organization. It's very important, therefore, that breach prevention is high on everyone's list of priorities, especially going into 2019 and thinking of the future.
In fact, this RSA white paper on the 2018 Current State of Cybercrime says that a new market for nonfinancial credentials is emerging in the cybercrime underground, thanks to mass data breaches and phishing attacks, which are exposing billions of usernames and passwords. And, according to Breach Level Index, there are nearly 6.3 million data records lost or stolen daily because of breaches!
So, the question is, is your organization protected? Do you currently have a breach prevention strategy in place? If you answered no to either of these questions, read on, because this blog is definitely for you. In it, we'll talk about ProServeIT's Breach Prevention Workshop, including what's in it for you, and we'll look at some examples of why it's so necessary.
Want to learn more about cybersecurity in general? Here is a short video you can watch:

What is a Breach Prevention Workshop?
Here's a situation you hope you're never faced with: you've worked hard to build your organization's reputation, your client list, and your revenue. Then, with just a few nefarious clicks, a threat actor breaks into your network, sits on your environment, and watches everything that you're doing. When the time is right (at least, for them), they strike, downloading client data, corporate information, and anything else they can get their hands on, leaving you completely vulnerable. The fear that must grip a business owner who's been attacked is incomprehensible (unless, like Tom, you've lived it). Everything you've worked for has the potential to come crashing down.
A Breach Prevention Workshop, like the one that ProServeIT offers, can take a look at the security features that are inherently associated with Office 365, and deploy the necessary tools, like Enterprise Mobility + Security (EM+S), Office 365 Advanced Threat Protection (ATP), and Multi-Factor Authentication (MFA), which will effectively protect you from various breaches, like ransomware attacks and phishing attempts.
Specifically, ProServeIT's Breach Prevention Workshop will help you in five key ways:
Securing your email in order to prevent encryption of your files (thus eliminating the need to pay hackers to get it back).
Deploying MFA to stop hackers from impersonating executives and encrypting files for ransom.
Deploying self-service password resets, which will allow your employees an easy way to frequently change their passwords.
Deploying mobile device security solutions so that you can secure corporate data, even if your employees are on the go.
Creating a security roadmap for your organization to follow, which will ensure that any future initiatives are aligned and protected.
Breach Prevention Workshop Deliverables – What's In It for You?
There are several benefits to performing a Breach Prevention Workshop, starting with the fact that you would be able to utilize ProServeIT's security expertise to efficiently deploy the most important security features to your organization when you need them the most (in other words, as soon as possible!).
This Breach Prevention Workshop will also let you dramatically increase your security posture, which will in turn, help you to stop ransomware attacks, and prevent the possibility of winding up as another data breach statistic. And, as mentioned in the section above, you'll get a take-away security roadmap, which will help you to understand your current vulnerabilities and how you can fix them.
Some Notable Examples of Why Breach Prevention is Necessary
To emphasize how important breach prevention is, let's take a look at some recent examples of data breaches that have made the news in 2018, and how many records were affected:
These organizations now need to go through the costly and painful process of rebuilding their brand, regaining customer trust, settling any potential lawsuits that occurred, and, most likely, hiring IT support to secure their systems from further attack.
Make Breach Prevention a Priority
So, is it time for your organization to make breach prevention a priority? ProServeIT is here to help! Contact us today to understand how our Breach Prevention Workshop can help you protect and secure your devices to make sure that your data stays safe.