Mar 15, 2018
4 Ways Windows 10 Outsmarts Cybercriminals!
The threat landscape has evolved dramatically in recent years, especially in 2017. And, as the recent attack against two Ontario Children's Aid societies should show, every organization can be a target. Windows 10 helps you not only to build bigger walls against attacks, but also works to lock the criminals out! With a comprehensive set of protections against modern security threats, like identity protection, information protection, threat resistance, and device security, Windows 10 offers four ways to outsmart cybercriminals.
#1. Are Your Passwords Safe? Windows 10 Offers Identity Protection.
Think about how many passwords you need to remember. It can be hard coming up with passwords for each account. That's why 75% of us will only use three or four passwords across all of our accounts. But passwords aren't as secure as you think, even if you use a combination of letters, numbers, and special characters as recommended.
---
75% of us only uses 3 or 4 passwords across all of our accounts, but they're not as secure as you think they are. #Windows10 #IdentityProtection uses biometric authentication & is more secure than using a password.
---
Windows 10, however, introduces an alternative to passwords – Windows Hello is a new way to sign in to your devices, apps, online services, and networks. It's more secure than using a password because it uses biometric authentication — you sign in with your face, iris, or fingerprint (or a PIN).
#2. Is Your Corporate Data Secure? Windows 10 Offers Information Protection.
Here's an unsettling statistic for many organizations out there: 87% of senior managers have uploaded corporate data to an unmanaged personal location (like a personal email, or a personal Cloud account).
To ensure that your corporate data doesn't end up in places it shouldn't, Windows 10 includes BitLocker, which protects your data while it's at rest (even if the device is lost or stolen), and Windows Information Protection, which identifies personal and business information, determines which apps have access to it, and provides the basic controls necessary to determine what users can do with business data.
Information Protection also protects your data if it's shared outside your organization, like print restrictions and/or preventing email forwarding.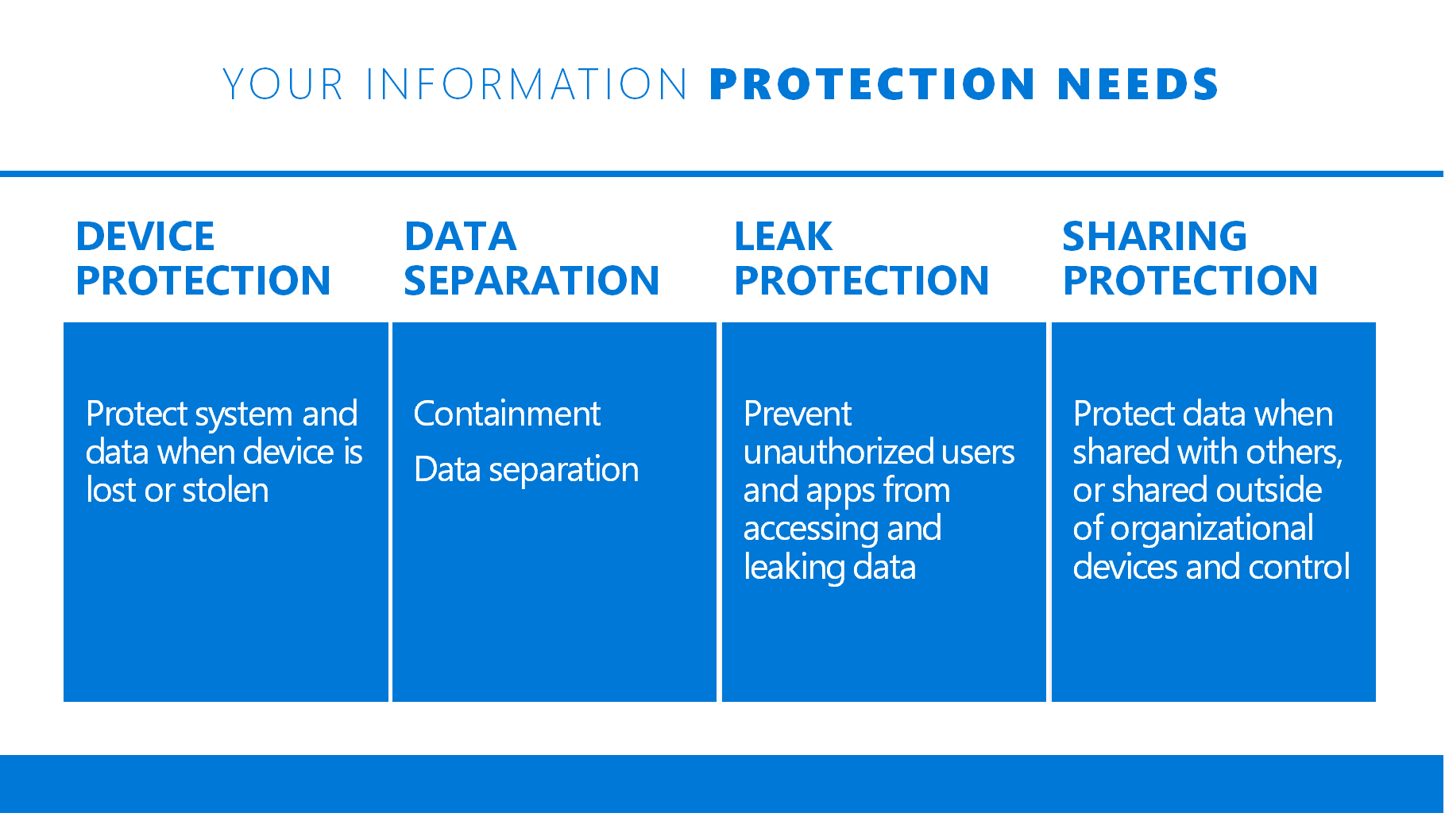 #3. Are You Prepared for a Breach? Windows 10 Offers Threat Resistance.
1. Pre-breach
In 2017, Kaspersky detected an average of 360,000 new malicious files every day - an 11.4% increase over the previous year. By running Windows 10, you're far less likely to experience negative effects from these malicious files. With Microsoft Edge, a sandboxed browser (which means it's set aside from other programs in a separate environment), and Device Guard (firmware that doesn't allow unsigned, unauthorized, or unauthenticated programs or operating systems to load) in place, your machine will only be able to run trusted applications. Malicious files, viruses and other malware, therefore, will have a harder time getting through.
---
Kaspersky detected an average of 360,000 new #MaliciousFiles every day in 2017! But #MicrosoftEdge and #DeviceGuard help to protect your environment by running only trusted applications.
---
2. Post-breach
With the advancement of Bring Your Own Device (BYOD) policies in many workplaces, there is the possibility of some malware or malicious files getting through. If that happens, an attacker could sit, undetected, in your environment for 200+ days before they strike. Windows 10 offers Windows Defender Advanced Threat Protection (Windows Defender ATP). This is a new service offered to Windows Enterprise customers, which allows them to detect, investigate, and even remediate any advanced persistent threats and data breaches that happen on their networks.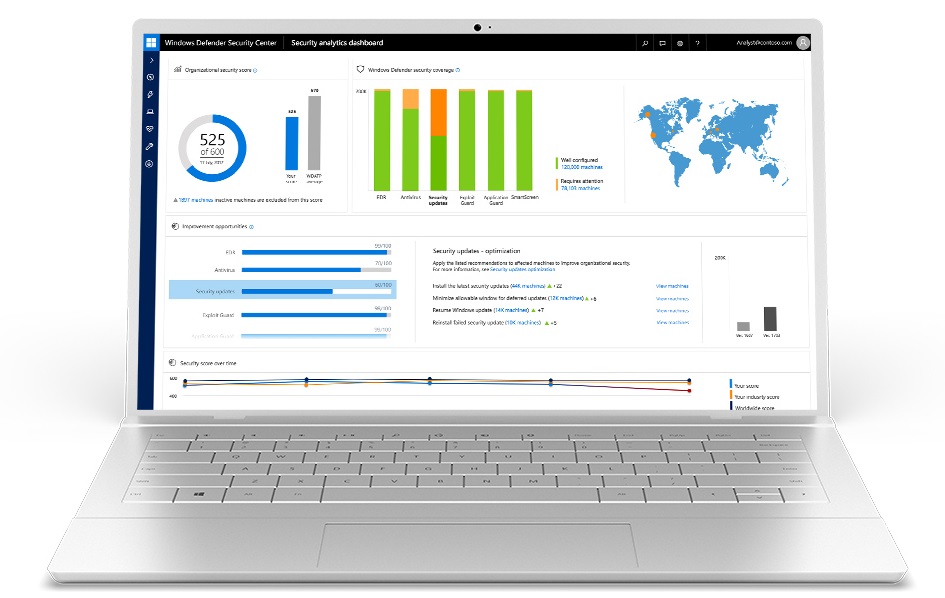 #4. Is Your Device Secure? Windows 10 Offers Device Security
Unfortunately, some types of malware (like a rootkit), has the capability of mimicking your normal operating system when you boot up your computer. This rootkit can load your normal operating system without alerting you to the fact that there could be anything wrong, and it would stay completely undetected and invisible on your system.
Using UEFI Secure Boot, however, Windows 10 can offer you peace of mind that, when you boot up your computer, you're booting up software that is trusted by the Original Equipment Manufacturer (OEM). Secure Boot checks the signature of each piece of boot software to validate that it has not been tampered with or exchanged for malware.
---
#Rootkit malware has the capability of mimicking your normal #OperatingSystem when you boot up your computer. #Windows10 uses #UEFISecureBoot to only boot up software that is trusted by the Original Equipment Manufacturer.
---
Also, Virtualization-Based Security (VBS), one of Windows 10's most significant security features, creates and isolates a secure region of memory from the normal operating system. Why is this important for you? Because, VBS is designed to protect your operating system and device against malware and other attacks. In other words, if a process is virtualized, it is more difficult for hackers to tamper with it.
See How Windows 10 Can Help You
Do you want to understand how Windows 10 can better equip your business to protect against cybercriminals? As a Microsoft Gold Partner, we're your go-to experts for all things Windows 10. Contact us to arrange a demonstration of Windows 10 today.
Not sure if Windows 10 is right for you, or if your current environment can handle a Windows 10 upgrade? We also offer a hands-on Windows 10 Compatibility workshop, which will give you the opportunity to review your current environment, determine compatibility, and explore Windows 10 servicing capabilities that you need to be aware of. Contact us today to register for your own Windows 10 Compatibility Workshop!