Did you know that 63% of cloud technology deployments are driven by the need to support the flow of information between physical and virtual locations? Also, 68% of organizations have experienced one or more endpoint attacks that compromised data and their IT infrastructure. In addition, 58% of employees want to work remotely or in a hybrid arrangement.
As a Solutions Partner with Microsoft, ProServeIT understands the environmental, economic, and business challenges organizations face when procuring and deploying technology. This blog will discuss the challenges organizations face in today's business environment and remote work and how Microsoft 365 can help them do more with less by leveraging cloud-based technologies to enable collaboration across remote locations.
In this blog, you will find:
🚧 Environmental, economic, and business challenges
👑 Microsoft 365 empowers you to do more with less
🎁 Microsoft Intune empowers you with a secure hybrid experience
👨‍💻 Endpoint Management with Security Workshop
👩‍🎓 ProServeIT Academy: Cybersecurity Course


In light of the challenges posed by the changing work landscape, organizations must adopt solutions that enable them to remain competitive while keeping costs in check. Microsoft 365 offers a comprehensive suite of cloud-based technologies to help organizations achieve these goals. In the following sections, we'll take a closer look at some of the environmental, economic, and business challenges faced by organizations and how Microsoft 365 can help address them.


Embracing the new normal with Microsoft 365
Understanding the environmental, economic, and business challenges in crucial as the remote and hybrid work continues to increase, requiring organizations to reimagine how and where work gets done, aligning with employee expectations for greater flexibility. Organizations must ensure workplace security while managing the costs of the tools and internal resources that connect to a diverse set of end-user devices.
Security
Security teams are struggling to keep up with the rising complexity and damaging influences of cyberattacks. A broader surface area requires them to comprehend vulnerabilities more thoroughly, while on-premises tools coupled with cloud technology lead to added difficulties. Moreover, increased data regulations have intensified compliance requirements that need to be met.
Endpoint management
For businesses, endpoint management is essential for the fast onboarding of new employees while also lowering the time spent deploying devices. However, IT teams need help utilizing multiple tools and having limited visibility over device estates. Additionally, staying up-to-date on the adoption of cloud deployments and modern apps and handling BYOD/BYOPC (Bring Your Own Device/Bring Your Own Personal Computer) diversity are challenges that must be overcome when managing endpoints.
Cost-savings
Organizations must be agile and frugal to remain competitive as we face an unpredictable economic future. You need to ensure that employees can work efficiently from any location while meeting business requirements for scalability with secure solutions. Furthermore, employees must be empowered with the IT resources they need to stay productive even as costs become constrained.


Microsoft 365 empowers you to
do more with less.
Doing More With Less means maximizing the impact of Microsoft 365 solutions while simplifying licensing, management, and vendor landscapes. Discover the power of doing more with less and unlock potential cost-saving opportunities to further your goals with guidance from ProServeIT.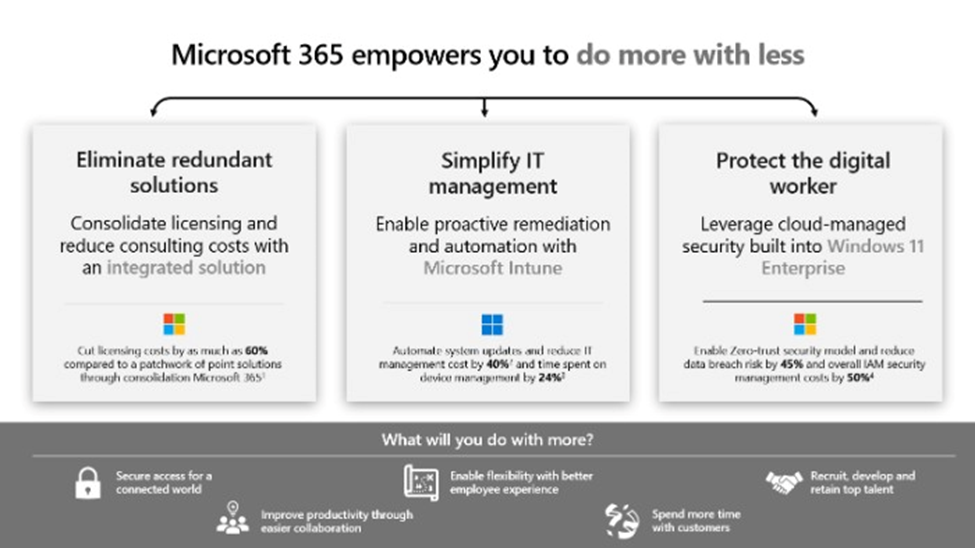 Do more with fewer cost savings pillars.
Eliminate redundant solutions: consolidate licensing and reduce consulting costs with an integrated solution.
☑️ Result: cut licensing costs by as much as 60% compared to a patchwork of point solutions through the consolidation of Microsoft 365.
Simplify IT management: enable proactive remediation and automation with Microsoft Intune.
☑️ Result: automate system updates, reduce IT management cost by 40%, and reduce time spent on device management by 24%.
Protect the digital worker: leverage cloud-managed security built into Windows 11 Enterprise.
☑️ Result: Enable a zero-trust security model and reduce data breach risk by 45% and overall IAM (Identity and Access Management) security management costs by 50%.
What will you do with more?
Improve productivity through easier collaboration
☑️ Result: aligning people and projects to strategic objectives is achievable with goal management and OKRs (objectives and key results). At the same time, recruitment, development, and retention of top talent are paramount for long-term success; an excellent employee experience drives productivity gains that benefit everyone.
Sustainability
☑️ Result: maximize your business efficiency, cut travel and expenses budgets, minimize office space leasing costs, reduce utility expenses, and embrace sustainable practices.
You may be interested in these blogs:
The 6 Common Business Problems that Microsoft Intune Helps Solve
4 Tips for Vendor Risk Management: Protect Your Organization in 2023
3-Step Phased Approach to Protect your Overall Cybersecurity Posture


Microsoft Intune empowers you with a secure hybrid experience
Microsoft Intune is a cloud-based endpoint management solution. It manages user access and simplifies application (app) and device management across your many devices, including mobile devices, desktop computers, and virtual endpoints.

Simplify your IT processes
and reduce complexity and costs
Streamline your enterprise's operations and tighten security with one comprehensive solution. Gain total visibility of all devices under management, whether owned or provided by employees. This will not only heighten efficiency for IT staff but significantly reduce costs as well!
Protect hybrid workers
with integrated management and security
Achieve total data security regardless of enrollment with risk-based policies for conditional access. Plus, you can implement threat protection across platforms and integrate endpoint security and compliance to ensure Zero Trust!
Empower end-user needs
, no matter the workplace, no matter the endpoint
Unlock the power of proactive insights and recommendations with Windows experiences, which can be natively installed on a Cloud PC, virtually emulated or accessed through BYOD (Bring Your Own Device). Ensure that your endpoints are fully protected by integrated protection, no matter how you deploy - zero-touch is our goal for all deployments, so users have frictionless access!


Endpoint Management with Security Workshop

A three-phase Endpoint Management with Security Workshop (free for eligible organizations) will help you discover the value of Microsoft 365 and Microsoft Endpoint Manager for your hybrid workforce. At the same time, you learn how to simplify the management of users' devices, apps, and identities from anywhere.
This Endpoint Management Workshop will show you how to leverage intelligent security, risk-based controls, zero-touch provisioning, advanced analytics, and deep integration with the Microsoft products you already use.
Learn more about the workshop here and find out if you are eligible for funding from Microsoft.


Join ProServeIT Academy's comprehensive Cybersecurity Course to learn how to protect your business from phishing scams and more!
Phishing scams are a popular method used by cybercriminals to gain access to your valuable information. Businesses should ensure they have up-to-date measures to protect against phishing attacks. Join George and learn how to protect against Phishing scams and identity theft. He will share the latest tactics used by cybercriminals and real customer stories and provide you with practical tools and strategies to safeguard yourself and your personal information with data protection solutions and data breach prevention best practices. Register for the class here.


Content from: Microsoft 365 + Microsoft Intune and Windows 11 Better Together Vision
Edited by: Betty Quon & Hyun-Jin Im