---
A SharePoint Team Site allows you to share ideas, synchronize content, discover insights, and work in a more collaborative way with your team members. SharePoint is a powerful, versatile business platform for content management and collaboration, used by over 200,000 organizations around the world! At ProServeIT, we have worked with thousands of SharePoint users to not only help them implement SharePoint in their organizations and create effective SharePoint Team Sites, but also make sure they're receiving the maximum ROI on their SharePoint investment. Based on our experience, here are 8 tips on how to design an effective SharePoint Team Site.
---
Are you an IT professional? Then, this post is for you. If you are not an IT professional, here are other SharePoint blog posts that you will find more useful and helpful:
Tip 1. Structure Your SharePoint Team Site
When you start drafting your SharePoint Team Site content, consider what the top-level subsites are and how you are going to structure the second and third-level sites. Your homepage should include navigation to all the main containers with a simple, clear hierarchy, so that you can find your information faster.
Some users ignore the structure and depend on the smart search feature. While this is a great feature to utilize, sometimes your end users may not know which keywords to use to find the documents they are looking for. However, they may have a general idea as to which libraries they would need to navigate through to find the documents. Therefore, an organized structure can be very helpful and important in increasing your team's productivity.
<SharePoint Team Site Layout Example>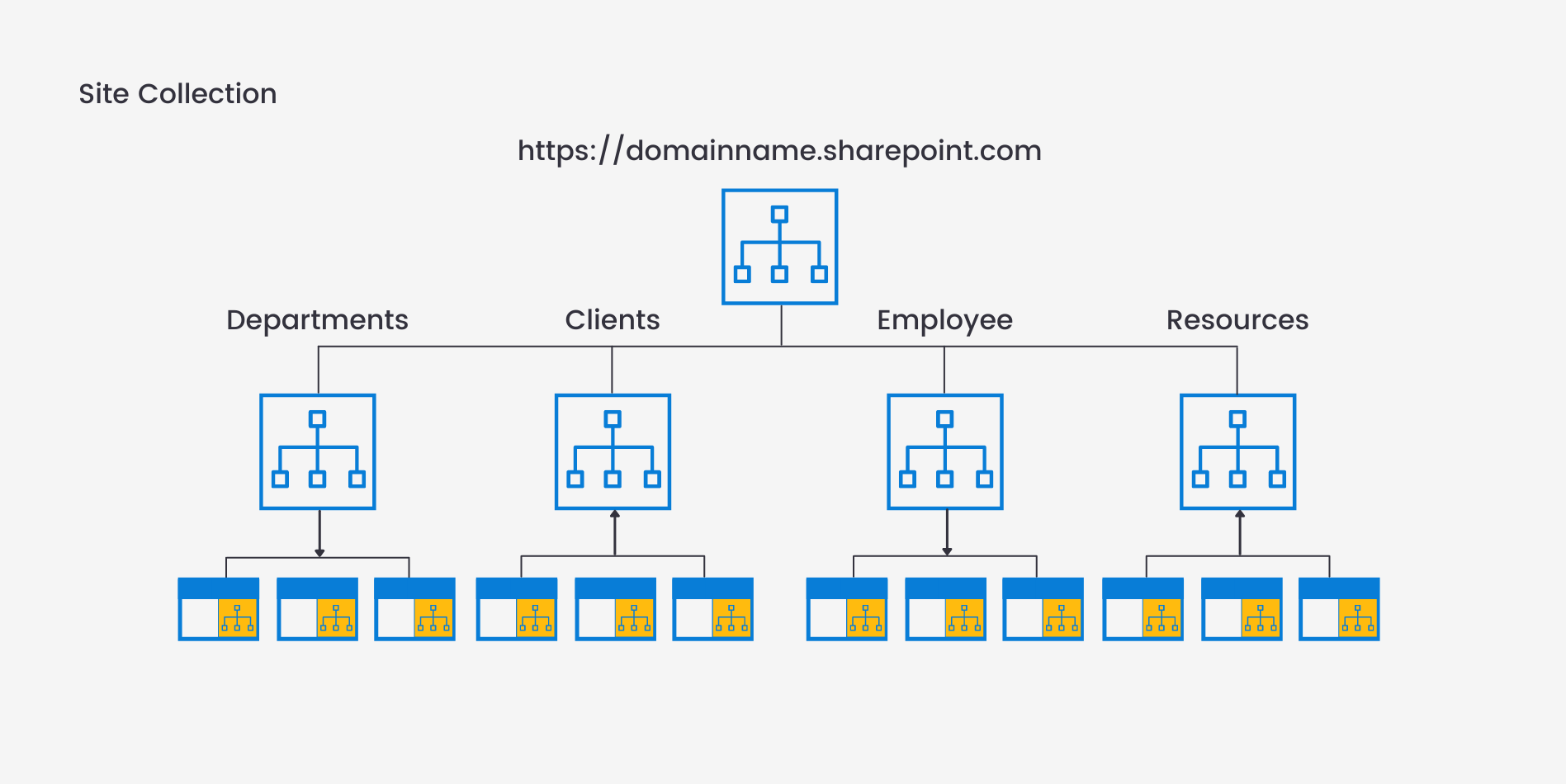 Want more tips on how to help increase your team's productivity? Here is a related post that will give you additional tips:
6 Features to Consider When Designing Your SharePoint Intranet Portal
---
Tip 2. Customize Your Site Navigation
You can add, remove, or edit the links on the top navigation bar or the quick launch bar (on the left-hand side – see the image below) to customize your site's navigation, making it easier for users to find their way around your site. To get started, click one of the "EDIT LINKS" options on the team site's homepage.
Note: If you don't see an "EDIT LINKS" option on your team's homepage, you might not have permission to make changes, or your admin might have customized the site to not include the "EDIT LINKS" option on the team site's homepage. You need to be a site owner or be given permission before you can customize your team site.


<SharePoint Team Site Homepage Example>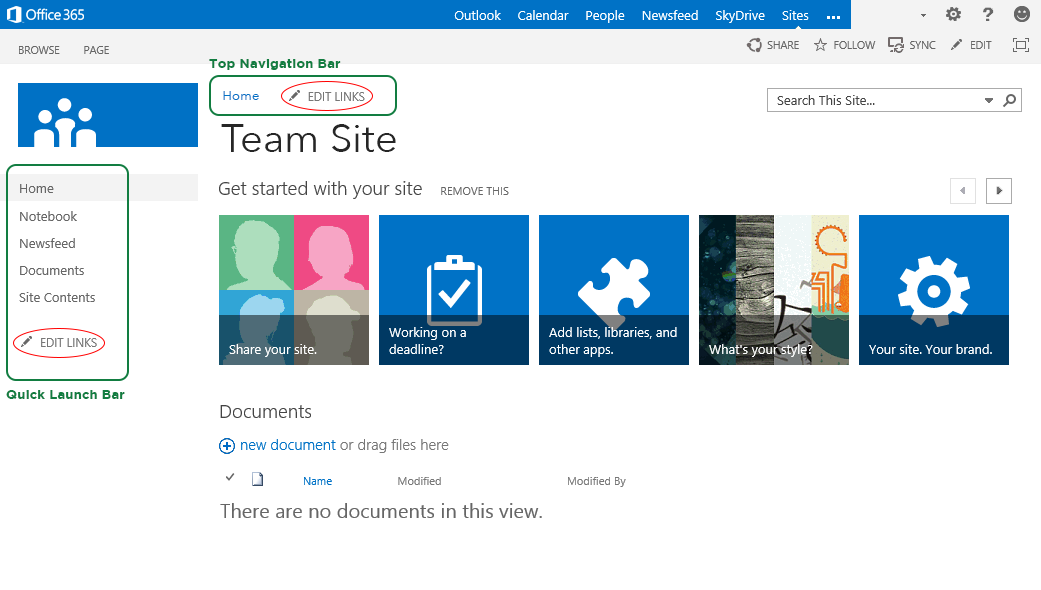 ---
Tip 3. Keep in Mind Cross-Device Usability

Another great benefit to using a SharePoint Team Site is the fact that your team can access your content from any device, at any time – all that's needed is an internet connection. However, to ensure your SharePoint Team Site can be viewed easily on these various devices, you need to optimize your SharePoint Team Site to be cross-device-friendly. Here are a few tips:

Make sure the top navigation bar and quick launch bar are not too long that they won't show on the device being used
Ensure that your SharePoint Team Site uses device channels (part of the SharePoint publishing infrastructure that allows you to style your content to various devices)
---
Tip 4. Include the Most Frequently Updated Pages on your Homepage
Consider this: if you were using a team site for the first time, what would you hope to see on the landing page? If you were a new employee at your organization, would you be able to quickly find the content you need? When designing your SharePoint Team Site, think about the pages that are updated the most frequently and attract many end users. Good examples include pages like latest news, announcements, corporate events, job opportunities, daily poll, etc. Build these pages into your SharePoint Team Site and display them for quick access on your homepage with webparts.

Get IT news & updates sent right to your inbox ✔️


---
Tip 5. Visuals! Visuals! Visuals!
Effective images communicate better than simply text. Visuals on your SharePoint Team Site's homepage can give an interesting look and feel and can increase the usage rate. A simple slideshow featuring photos of your team is a good element to have to increase user engagement.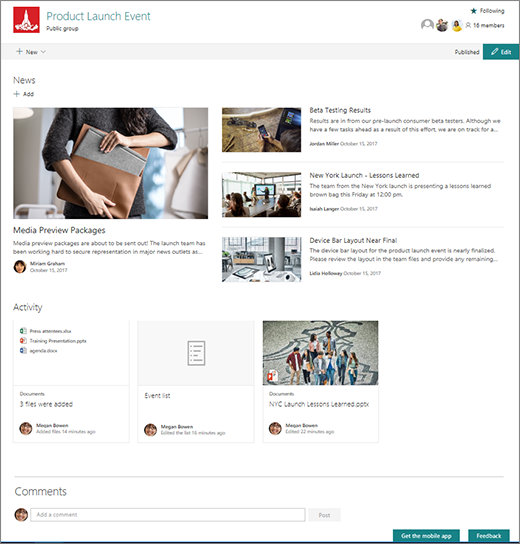 Source: Microsoft
---
Tip 6. Include an Introduction and Tips on How to Use the Team Site
One of the most important things that many users forget to include is a welcoming message at the top of the homepage with a quick introduction to the portal. We recommend including tips such as how to use the SharePoint Team Site, how to keep the libraries organized, and how to tag. At the end of the introduction, add a link to a detailed instruction that your end users can download. This can serve as self-training material when your team site is launched and when new hires join your team.
Learn how SharePoint can help your team be more productive in three ways:
Want to learn more about Microsoft SharePoint? Register below to access our informative webinar series on how this unique Microsoft solution can help your organization today.
---
Tip 7. Organize Your SharePoint Team Site Using a Flat Structure
One of the things that you can do with your SharePoint Team Sites is to organize your information by metadata rather than folders. This is referred to as a "flat structure", and relies on tagging your content in a specific way. This "flat structure with tagging" has been widely used for the last few years. The three major benefits of implementing a flat structure are:
You don't have to search through multiple layers of folders when you're trying to locate the content you need the most.
You don't need to worry about accidentally saving content to the wrong folder when you use a flat structure approach
It keeps your URL short – each folder adds to the length of the URL and there's a 400-character maximum limit.
Be sure to adequately plan end-user training and education on how to properly tag your content if you're going for a flat structure. One of the downsides of the flat structure is that the search results can be overwhelming when they search using common keywords. If your end users are tagging your content incorrectly, it will end up taking more time to find the correct information/documents, and could even result in information loss. That's why adequate planning and end-user training/education is an important part of using flat structure for your SharePoint team site.
Related: 4 Steps to Implementing a Content Management Strategy
---
Tip 8. Be Flexible – Make Change as You Go
SharePoint is a flexible platform you can customize to fit your needs. When you first design your SharePoint Team Site, have a pilot period where you can see how your end users are utilizing it. During the pilot period, make sure to get feedback from your end users and then make the necessary changes to make it your very own team site that meets your team's needs.
As your team is using your SharePoint Team Site, you may realize needs and wants from them that are not quite met by the Team Site. SharePoint is a very versatile tool that can be highly customized. This can be used to create a completely customized app and portal to meet your organization's distinct needs.
Related: 4 Reasons Why SMBs Need Customized Apps and How SharePoint Can Help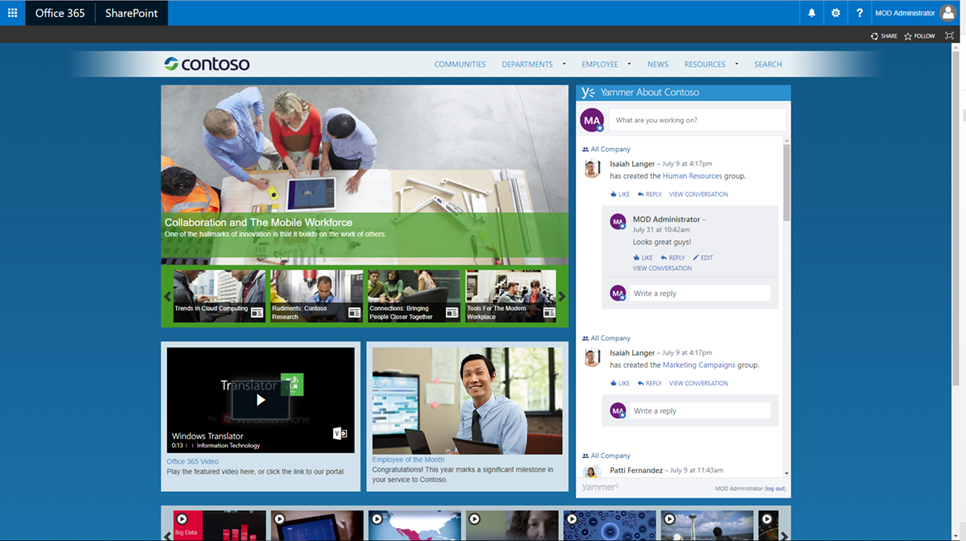 Let's design your SharePoint team site together!
We can help you get the most out of your investment in SharePoint and take the most efficient route possible. Refer to our SharePoint page for the benefits you can get from using SharePoint. If you want to start envisioning your SharePoint Team Site or want to make better use of your existing site, contact us today. Our team of SharePoint experts will be happy to chat!


Hear from our customer about their experience with SharePoint
Arrowsmith School could increase collaboration using SharePoint: SharePoint Online helped Arrowsmith collaborate more efficiently, build workflows, run documents, and manage their IP (intellectual property) in a secure way.
Watch a video case study below or see a full written case study here.