Just what is Microsoft Intune, and how can it help your organization?
Microsoft Intune protects your organization's corporate data and information by controlling how people can access and share it. This is vitally important for today's modern workforce, which has more devices than ever before. Now, your employees aren't just using laptops and PCs – they're also turning to smartphones and tablets to stay connected and be productive when they're away from the office.
But how do you keep all these devices secure? If employees are checking their emails from their mobile apps, how can you protect that data? Or, if an employee leaves the company, how do you make sure that your corporate data isn't still residing on their personal devices?
In this blog, we'll talk about Microsoft Intune in greater detail. Read along to discover what Microsoft Intune is and the six common business problems it helps solve. Plus, explore some key Microsoft Intune features and benefits.
In this blog, you will find:
✔️ Microsoft Intune Features and Benefits
✔️ Microsoft Intune Solves 6 Common Business Problems


What Is Microsoft Intune?
Microsoft Intune is a Cloud-based enterprise mobility management (EMM) service that can help you manage the mobile devices and apps that your company-owned devices that your employees are using to access your corporate data. With Intune, you can ensure that any devices and apps your employees are using comply with your company's security requirements.
An essential part of Microsoft Enterprise Mobility + Security, Microsoft Intune helps you manage your mobile environment. By providing device and mobile application management, Intune helps you give your users secure access to their data so they can stay productive while keeping that corporate data protected at all times.

---
Check out the short video below to see a demo of Microsoft Intune:
---
Microsoft Intune Features & Benefits
Here are some of the features and benefits of using Microsoft Intune in your organization:
Features:
📱 Manage users and devices, including both organization-owned and personal devices.
👍 Supports Android, Android Open Source Project (AOSP), iOS/iPadOS, macOS, and Windows client devices.
📈 Simplifies app management with built-in app experience, including app deployment, updates, and removal.
🚏 Automates policy deployment for apps, security, device configuration, compliance, conditional access, and more.
😎 Offers self-service features in the Company Portal app for employees and students.
🛡️ Integrates with mobile threat defense services, including Microsoft Defender for Endpoint and third-party partner services.
💻 Uses a web-based admin center that focuses on endpoint management, including data-driven reporting
Benefits:
Microsoft Intune helps you keep your employees secure while staying productive.


Through Office 365 mobile app management, you can set policies to control access to your corporate data.


Microsoft Intune provides flexibility and control for securing your data, regardless of the device.


Microsoft Intune works to secure Android, iOS, Windows, and macOS devices with one unified mobile solution.



Microsoft Intune Solves 6 Common Business Problems
Here are the top 6 common business problems that Microsoft Intune helps solve for organizations:
1. Intune solves the problem of your employees being able to access on-premise email and data securely.
Many organizations out there still have on-premises servers (i.e., Microsoft Exchange), but their employees still need to access their email and data securely. Using Intune-managed certificates combined with a standard VPN gateway or proxy (like Microsoft Azure Active Directory Application Proxy), you can enable access to mobile apps that connect to on-premises data. Once your employees' devices are enrolled in Intune, the full endpoint management and system will help ensure they comply with your policies before accessing your corporate data.
2. Intune solves the problem of ensuring secure access to email and data through Office 365.
Through Intune and Microsoft Enterprise Mobility + Security (EM+S), your organization can take advantage of a conditional access solution, which ensures that none of your employees' apps or devices can access your Office 365 data unless they are in compliance with your company's requirements that you've put into place.
For example, if you put a condition in place that your employees require multi-factor authentication to be able to access your corporate data, Intune and Microsoft EM+S will not allow them to do so until that MFA criteria has been met. Or, you can make it a requirement that your employees are enrolled with Intune before corporate data can be accessed.
3. Intune can help issue corporate-owned phones to your workforce.
Your employees need to have access to corporate apps and data that help them do their jobs anytime, wherever they are. But you need to make sure that your corporate data is secure and that your administrative costs are kept low.
With Intune, you can get bulk provisioning and management solutions, which are integrated with device management platforms (like the Apple Device Enrollment Program or the Samsung Knox mobile security platform). How does this help you? You can give an employee an unopened iPhone or Samsung device, and all they have to do is power it on, then get walked through a corporate-branded setup to authenticate themselves. That device is configured with security policies and the employee can launch the Intune Company Portal app that helps them access the apps you've made available to them.
4. Don't want to use corporate devices? Intune helps you secure Bring-Your-Own-Device (BYOD) programs for your employees.
A lot of employees don't want to have to carry a second device around, so Bring-Your-Own-Device (BYOD) programs are growing in popularity among organizations. However, getting employees to enroll their personal devices into some sort of management program is a major challenge because many employees don't want their employers to have access to their devices.
Intune offers a BYOD approach that employees can get on board with, however. It manages only the apps that contain corporate data (like Office mobile apps), which protects your corporate data even if the app in question pulls from both corporate and personal data sources. Also, you can implement protection policies that can also prevent your employees from copying text from a corporate email profile into a consumer email profile, even if run within the same Outlook mobile app.
5. Intune lets you issue limited-use shared tablets with your employees.
There are a number of instances where employees need to have a device, like a tablet, to do their jobs. For instance, you may have noticed a number of retail employees carrying tablets around to be able to check inventory, process a sale, or otherwise assist a customer. These tablets are usually in limited-use mode, allowing the employees only to access the app(s) needed to do their job.
Similar to the corporate-owned phones we discussed earlier, Intune lets you bulk provision, secure, and manage iOS and Android tablets to run in a limited-use mode that will be shared among your employees.
Related blog:
How to Boost Your Endpoint & Device Management with Microsoft Intune


6. With Intune, you can limit employee access to corporate data only to devices that you control.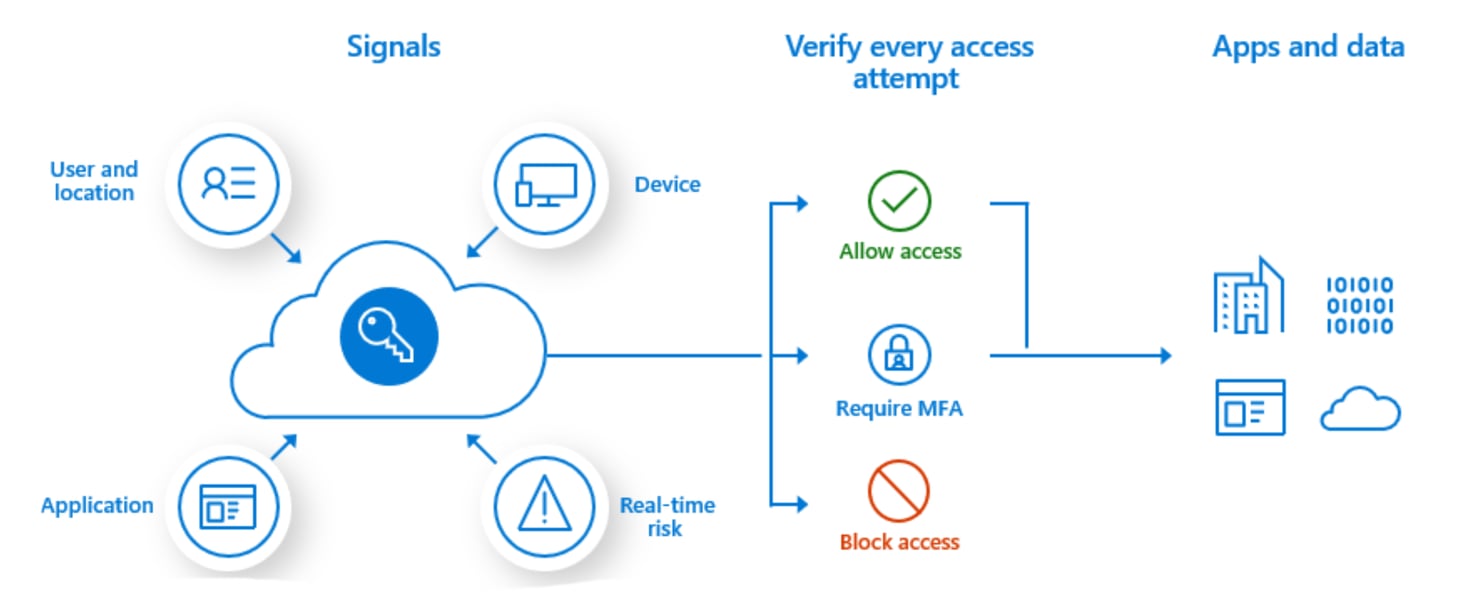 Have your employees ever used a public kiosk to access their corporate data (for instance, used a public computer at a trade show or in a hotel lobby to sign into their email)?
Intune and Microsoft Enterprise Mobility + Security lets you limit the access to your corporate data to only devices that your organization manages. With Intune, you can give conditional access to your employees based on if the device is corporate-owned if it's part of a BYOD program that your organization allows or other criteria. Intune also allows for app-based conditional access as well.
---
🗞️

📥 Get IT news & updates sent right to your inbox
---
Microsoft InTune can streamline your cybersecurity efforts and alleviate the burden of managing multiple cybersecurity monitoring platforms. This can simplify your cybersecurity and reduce the mental overhead associated with aligning different cybersecurity tools for different parts of your IT environment.
To discover more about how Microsoft InTune can help you secure your hybrid workforce, reduce IT management and complexity, and lower IT costs, sign up for our Cloud Management for Hybrid Work webinar today!