Security threats can catch an organization off guard and cause serious damage. Organizations will face a multitude of security threats which will only continue to increase while simultaneously becoming more advanced and sophisticated. However, for many, security is still an afterthought and not paid attention to until after an incident has occurred.
Failing to predict security disruptions can lead to experiencing "airline magazine syndrome." Airline magazine syndrome usually occurs in the following steps:
A senior executive reads about an emerging technology that has exciting implications for the business.
The executive returns and approaches IT, demanding that action be taken to implement this disruptive technology and ensure that it is properly secured.
This causes problems for the Chief Information Security Officer (CISO) as the business will want to push for the implementation of these new technologies as soon as possible, while security needs to catch up. This can be frustrating as you may not have the time or resources to develop solutions accordingly. With prior knowledge of these upcoming trends, you can prepare yourself and put the necessary security controls in place so that you are ready for this technology adoption.
There have been a multitude of data breaches that have occurred in the last year alone and now more attention is on security than ever before. If a CISO can't keep up with the security disruptions affecting their business, they will be seen as ineffective. A CISO that is inadequately prepared for the future will allow a serious data breach to occur.
So how can you be prepared for the security disruptions?
Far too often, security is done in an ad hoc fashion where security measures are added after a new technology is introduced. This is a direct result of the "airline magazine syndrome," as previously mentioned, and the various business units attempting to take advantage of new and innovative technology. Security is often an afterthought for many businesses, as they are more concerned with driving efficiency and their ability to please customers. Here are 4 tips to help you be prepared for security disruptions.
Tip 1. Be ready to adapt to disruptive security trends
As technology and attack types continue to evolve in 2015, an organization's security must evolve with it. It is not enough to simply set up your security once and assume that it will be effective for every type of security incident in the future.
Tip 2. Have a comprehensive view of the new and existing security issues facing your organization
The new and existing security issues can include:
Securing new or existing technology within your company.
Understanding the threat types and attacks that can disrupt business.
Taking advantage of any new techniques that can help further secure your organization.
By doing so, the business will solidify itself as a secure organization which customers and partners will be looking for. By not adapting to disruptive security trends, you risk the following:
An increase in the number of security incidents, both detected and
Financial loss from a data breach.
Reputational damage, with customers choosing to do business elsewhere.
Falling behind the curve of what your competitors are able to do.
Tip 3. Be prepared for the following security threats facing your organization
Point of sales attacks continue to act as an attack type to gain personally identifiable information (PII) from retail or hospitality services.
What is PII?
Personally identifiable information, otherwise known as PII, is data or information that can be used either alone or in conjunction with other information to identify an individual. This can include name, address, credit card information, health care records, government ID numbers, and financial information. This is often the target of many data breaches as it can yield high financial value.
Encryption Vulnerability/Exploitation
As hackers and threat actors continue to gain more computing power, there is an increased likelihood of them being able to break encryption keys.
Botnet Usage and Denial of Service (DoS) Attacks
Some may perceive botnets and DoS attacks as a thing of the past, but the truth is that they are becoming more prevalent and more sophisticated.
Open Source Vulnerabilities
The time has come to understand that Open Source does not necessarily mean "more secure."
Social engineering is used to manipulate people into providing confidential information or access into protected systems to hackers and threat actors.
Tip 4. Don't be the Death Star.
You may have all the defences money can buy, but one vulnerability can be all that is needed (just like the Death Star). A vulnerability can leave your organization completely exposed to a data breach and serious financial loss. You must remain vigilant with vulnerabilities and how they are being exploited by adversaries to determine where your weaknesses are and how you need to protect yourself.
Remember: Your data will always be of value to threat actors!
Security threats will only continue to increase while simultaneously becoming more advanced and sophisticated. Although you may have addressed some of these security threats in the past, the exact same security threats can still pose a serious risk as they become more exceptional at targeting systems. Data breaches can be extremely costly to the organization both in tangible values such as financial loss and intangible values such as reputational damage. Once again: your data will always be of value to threat actors. Never make the assumption that no one will attack you.
Okay, so what are the next steps?
Step #1: On-Demand Webinar with a Live Demo
There are advanced cyber security detection and analytics tools that you can utilize. One of the tools we recommend is Microsoft Advanced Threat Analytics (ATA). Watch an on-demand webinar with a live demo of ATA.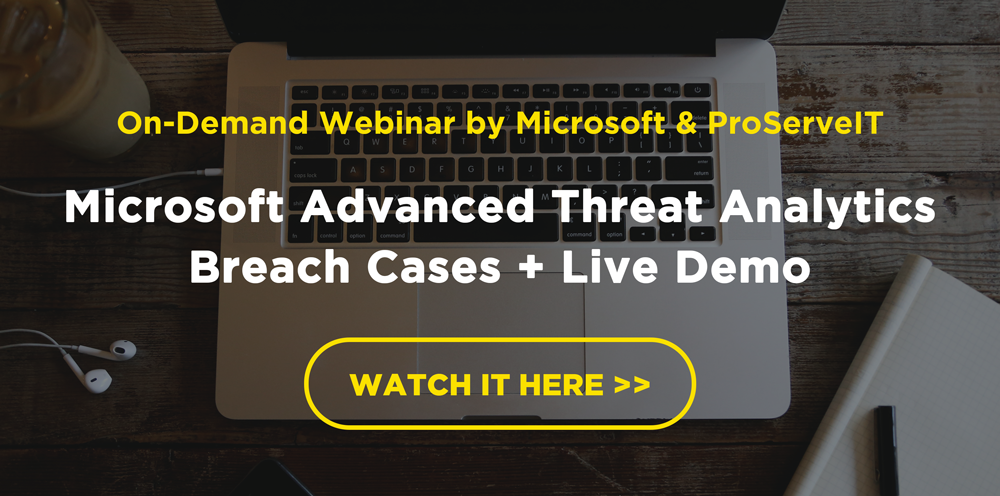 Step #2. Complimentary Gateway Sizing Engagement
Ready to learn about it in greater detail? Contact us for a complimentary gateway sizing engagement. This is a limited-time offer. Take advantage of it now before it expires. Contact us today.
Related Posts: