A lot of companies we talk to have their IT team reporting directly to their finance team, which often leads to cost based decisions versus value based decisions. Further, IT staff are often not directly engaged with the broader business leaders. This can lead to frustration, discord, and even conflict between the executive team and the IT team.
For those organizations who have experienced this, an IT Roadmap is a way to get business leaders (the executive team) and the IT team on the same page. It's a process that examines both the business and the technology layers of an organization and not only points out where the gaps are, but also provides a step-by-step documentation on how to close those gaps.
IT Roadmap Benefits for IT Professionals
Why are these IT Roadmaps important to an IT professional like you? Here are two key benefits you'll see from engaging in an IT Roadmap with ProServeIT:
It Budgets Are Much More Likely To Increase
It's no secret that IT professionals often have a great deal of frustration around the inability to acquire budgets or funding for implementing or upgrading technology within the organization. You've probably experienced this several times over your career.
Our IT Roadmap is designed to get your organization's executives to think about technology from a value perspective. During an IT Roadmap assessment, we hold value-based conversations about technology, and show them that, by spending the money to upgrade their technology layer (applications and infrastructure), they're going to be in a better position to reach the organization's business goals and objectives. We've found that, by having these conversations, it's made it easier for IT professionals like you to get approval for the funds that you need to upgrade/maintain your organization's technology infrastructure.
A Greater Understanding From Upper Management
Have you ever sat down with the executives that you report to and had difficulty explaining to them the importance of upgrading your IT infrastructure? Or perhaps you're getting the opposite – you're having conversations where you're trying to explain to them that the technology just can't do what they expect from it. The reality is there is quite often a disconnect between leadership and technology.
An IT Roadmap is designed to help with this disconnect. Through the questions we ask in our assessment, we learn about the executive's thinking, needs and aspirations around technology. This tells us how in tune these executives are with technology. If that disconnect is present, we can use the IT Roadmap as an opportunity to educate them on the realities of technology. In essence, helping them to see that what you've been trying to tell them all along is true.


---
The Process to Follow to Take Full Advantage of IT Roadmap Benefits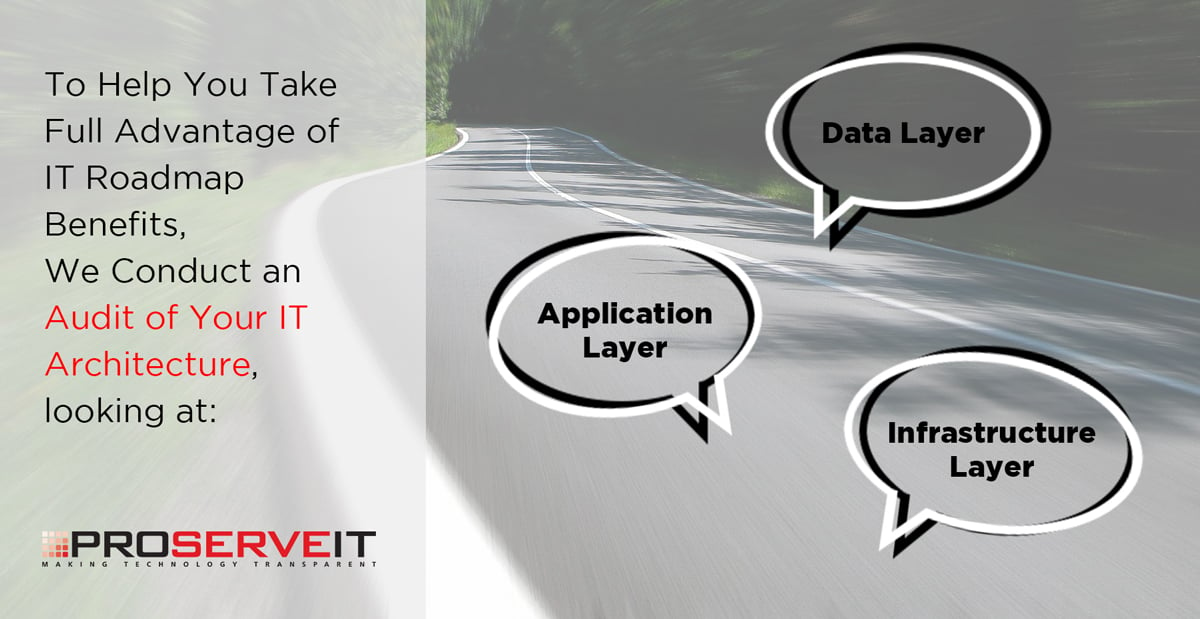 The IT Roadmap begins with one-on-one interviews of the business owners, executives, and other key top management members. A series of questions are asked that help us to understand the priorities of the business, the direction of the business, the individual's personal aptitude towards technology, and their perception on how technology is or is not serving their business needs and expectations.
Once that's done, we conduct an audit of the IT architecture, looking at the data layer, application layer and infrastructure layer.
Data Layer:
We try to understand your organization's data so that we can provide suggestions around your data architecture. Some of the sample questions we'd ask during the audit are:
Do you have a data framework in place?
How is your data structured?
Is your data in a single place so it's usable and searchable?
Is there an opportunity to automate any processes?
Application Layer:
We look at the application rationalization, determining application costs, redundancies, and lifecycle decision-making. Sample questions we'd ask include:
How many applications does your organization have?
Do these applications talk to each other?
What applications are the most valuable? What applications aren't?
Is there an opportunity for consolidation?
Infrastructure Layer:
We seek to understand your core infrastructure and user systems so that we can determine if your infrastructure model provides an adaptive structure upon which data, applications and business needs are fulfilled. Some sample questions include:
What does your infrastructure look like?
Do you have true Disaster Recovery capabilities?
Finally, we take the results from the interviews and the results of our audit, and we put together our recommendations into your organization's customized IT Roadmap: your step-by-step guide on closing any gaps between the business and technology layers of your organization. This typically 40-70 page report includes a break-down of any issues that were discovered during the initial stages, recommendations of upgrades/improvements that you can do (in the order that they should be done), and the corresponding budgets that you can expect for these recommendations.


---
2 Major Benefits of IT Roadmap for Your Leadership Team
Interested in what you've read so far and want to take advantage of an IT Roadmap for your organization? Here are two major reasons that you can give your executives to entice them into going through an IT Roadmap:
The IT Roadmap will give your executives a clear picture of the organization's IT capabilities and how those capabilities align with the organization's short-term and long-term business goals and objectives.
The IT Roadmap is designed to look at the current IT architecture and identify any unnecessary and inefficient technology and applications that are costing the company money and time to keep running. This will save your organization money in the long run.
Want to start the conversation? Drop us a line today so that we can help you get started!

One More Thing to Consider
Our first blog in the series talked about what executives need to know about IT Roadmaps. This blog talks about what you, as an IT professional, can expect. Our last blog in this series will get you both on the same page and show you how to start the conversation. Stay tuned!
---
This blog was co-written with David Reimer of Reimer Consulting Inc.
About David Reimer / Reimer Consulting Inc:
David Reimer is an independent consultant specializing in IT Roadmap assessments and business consulting. With over 35 years of experience in multiple industries, David has a strong executive perspective on technology, coupled with a deep understanding of business mechanics.
About ProServeIT
For over 15 years, ProServeIT has been helping companies of all sizes, in all industries, understand how technology can be utilized to increase productivity and drive innovation and growth within the organization.