Hello ,
Did you know that cognitive bias and heuristics have quite a lot to do with marketing? When we understand how the human brain functions and how big of an impact mental shortcuts have in our decision-making process, our marketing effort can be way more successful.
While our brain represents only 2% of our body weight, it consumes 20% of our body's energy. It wants to conserve energy as much as possible; hence, it implements various mental shortcuts also known as heuristics. These heuristics do have the potential to lead to cognitive biases.
Here are four of the more common cognitive biases and how you can use them to your advantage when making decisions on your marketing investment:
---
Availability Bias
An availability bias is one of our mental shortcuts that involves our tendency to rely on information that is most readily available.
Here is an example. When you are thinking about hiring a cleaning company, the company that comes to your mind first is the cleaning company that your neighbours have been using. You have seen their name and logo on the cleaners' cars parked in your neighbourhood multiple times and the last time you saw it was just yesterday.
What does the availability bias mean for marketing?
Make your website available and easily discoverable by investing in content marketing and SEO.
Share your content via email newsletters.
---
Anchoring Bias
Have you experienced how much you remembered and favoured the very first website you saw when you were researching something? That is what the anchoring bias is: the tendency to be overly influenced by the first piece of information you come across.
Considering the effect of anchoring on humans' decision-making, it makes sense to invest in content marketing and SEO so that your website is the first website your target audience visits and your business is the first company they talk to.
Image source: https://thedecisionlab.com/biases/anchoring-bias/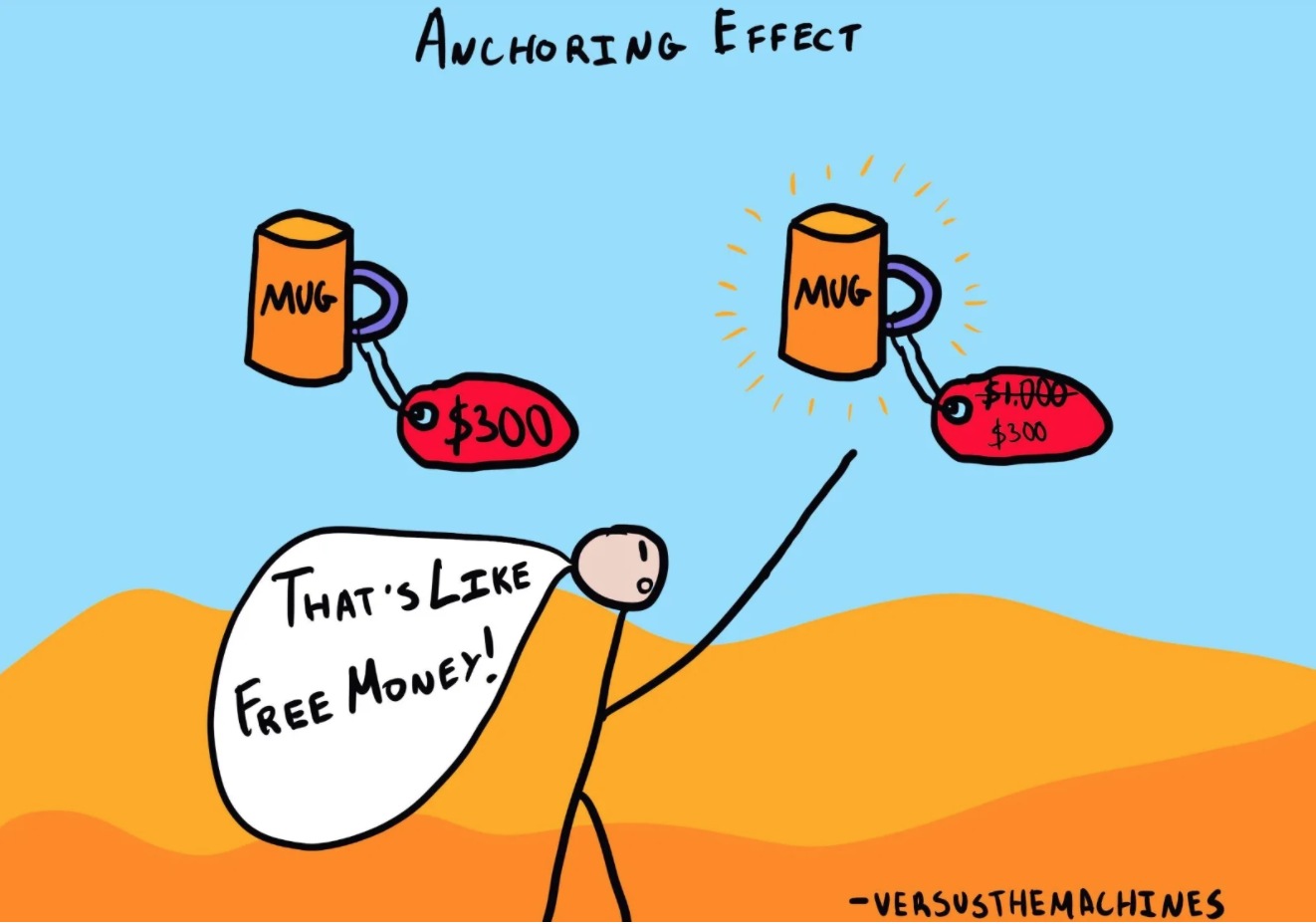 ---
Confirmation Bias
Here is a scenario. You are a consulting company. Your target audience is key business decision-makers such as CEOs and presidents. Given the nature of the service you offer, the sales cycle is long. Your target audience does all the necessary due diligence before choosing a company to work with. Your investment in content marketing, SEO, and branding has worked out in your favour. This CEO, your dream customer, has been evaluating multiple consulting companies and prefers your organization over your competitors. She can't pinpoint exactly why she is drawn to you more than the others. In this scenario, she will start subconsciously searching for and "inventing" reasons to confirm her preference. This is a confirmation bias in action.
Content marketing plays a role here again. You want to create content not only for the education stage, but also the evaluation stage of your target audience's buying journey. When the CEO is actively searching for reasons to confirm her preference, make her search easier by providing her hot-off-the-press case study in her specific industry, for example.
Image source: https://thedecisionlab.com/biases/confirmation-bias/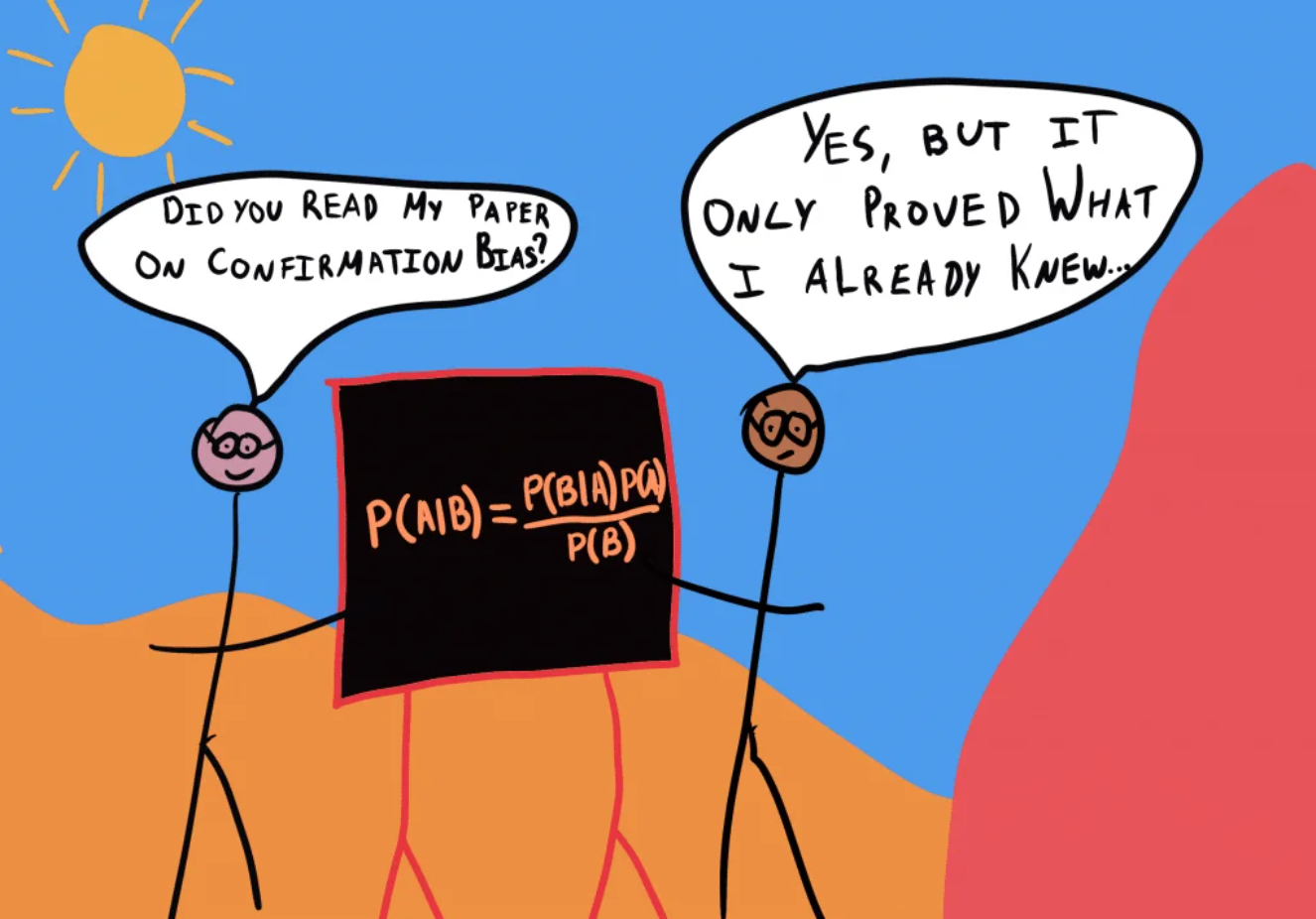 ---
Representativeness Bias
The representativeness bias means we rely on existing prototypes in our mind when making decisions.
Here is an example. You just moved to a new neighbourhood and are looking for a new massage and spa place. You are drawn to a place that is similar to the one you loved in your previous neighbourhood. If you liked the old spa place because of how soothing and relaxing it was, you would look for and be attracted to a place that portraits the same vibe.
What does the representativeness bias mean in marketing? One word: Branding.
---
Upcoming 6PM Workshops
📅 Debunk Marketing Budget Myths
"How much should I spend on marketing?" This is a common question that CEOs and marketers ask. And the subsequent question that follows is how to create a budget. If you are asking these questions, join the workshop to learn about steps to take to create the budget that you are comfortable with. The workshop will also cover effective ways to spend the budget that brings both short-term and long-term return on investment.
When: 11:30am - noon EST on August 26th, 2021
📅 Say No to Overspend on MarTech & Shiny Object Syndrome
MarTech is $122 billion industry and it is growing by 22% year over year. Investing in marketing technology is becoming more and more necessary if you were to enhance your customers' experience with your brand, lower your customer acquisition cost, and gain efficiency with your demand generation effort. The question is how to know which marketing technologies are the right fit for your organization.
Join the workshop to understand the roles marketing technologies play in achieving your business objectives and how the 6PM (6-Pillar Marketing) Framework for MarTech can help you identify the right MarTech investment for your organization.
When: 11:30am - noon EST on September 23rd, 2021
---
As always, thanks for taking a peek at the 6PM Newsletter. I hope the content I share on this monthly newsletter is helpful. If you have any questions or topics you want covered in future newsletters, please drop me a line. I would very much appreciate it.
Cheers,
Mihae Ahn, MBA | Director of Marketing, ProServeIT | Connect with me on LinkedIn