Just how safe is Office 365 for your law firm?
There is a general misconception among many legal firms that the Cloud is not a secure or viable solution to pursue. This mindset is understandable – as a law firm, you have unique, sophisticated, and complex requirements for protecting your data and protecting your overall security posture.
Cloud computing, however, brings some amazing benefits to organizations that utilize it. The Cloud is a cost-effective, reliable, and flexible solution that can give your law firm the ability to do work at any time, from any device, anywhere. Increased collaboration, a boost in productivity, and a major reduction in your IT costs are just three of the major benefits that you can experience by moving to the Cloud. But just how secure is it for lawyers? Is it truly a viable option?
---
As a #LawFirm, you have unique, sophisticated, and complex requirements for protecting your #Data & your overall security posture. So, is #Cloud computing right for you?
---
Office 365 for law firms can help your law firm to transform your environment to the Cloud, while also meeting industry security and data security standards. Read along to learn the top 3 ways that Office 365 can protect your law firm's security and email data.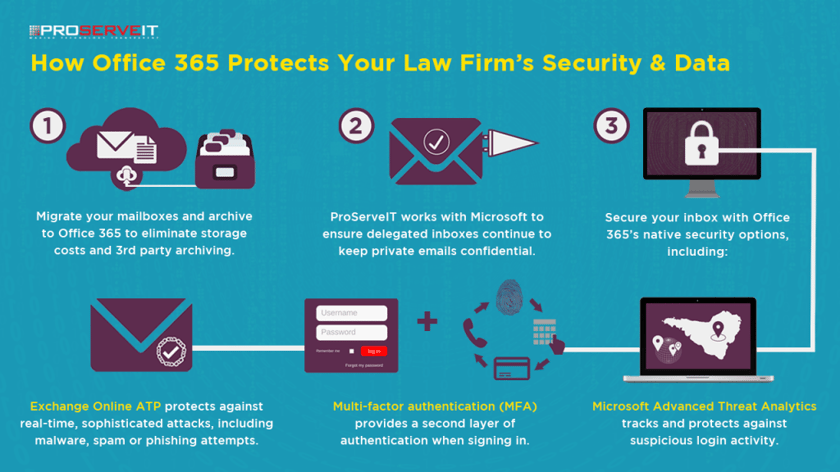 #1 – Migrate Your mailboxes AND archives using Office 365 for law firms.
Many law firms that are trying to migrate to the Cloud need to deal with the fact that they have an on-premise email server to handle current emails, plus a large archive for old emails that need to be kept from a governance standpoint. This large archive can create complications when trying to migrate it to a new server, or, in this case, to the Cloud.
However, by having your law firm migrate to a Cloud-based Office 365 environment, it is possible to securely move both your mailboxes AND your archives. And, given that the legal compliance and legal hold license requires Office 365 E3, unlimited storage is included.
#2 - Respecting the "Private" flag within a delegated inbox when using archives.
You've migrated your inbox and archives to Office 365, and all your emails are now living within Microsoft's secure Cloud. However, what happens when you delegate your inbox to your administrative assistant or a clerk, or someone else that works for you?
As a lawyer, you have very sensitive information that shouldn't be seen by anyone but you and the client who's sending it, and you should be able to ensure that anything you've flagged as "private" will stay private. Office 365 comes with built-in (but usually disabled) sensitivity settings that, once enabled, will allow you to set the sensitivity setting on any email to "private", ensuring that even those people with access to your Inbox will not be able to see those emails that you don't want shared.
---
As a #Lawyer, you have sensitive information on your system that shouldn't be seen by anyone, even an assistant. #Office365 comes with built-in sensitivity settings that can ensure that anything you've marked as "private" will stay that way!
---
However, because this option is often disabled, many law firms don't know how to enable it. This is where ProServeIT's expertise with the legal vertical comes into play. We've spent significant time in understanding how the sensitivity setting can be enabled, and we've done so for a number of our legal clients. Need help enabling this? Talk to us!
#3 - Securing the inbox with Office 365's native security options.
Improving the digital security of your environment is, understandably, top-of-mind for your law firm. So, you'll be happy to know that Office 365 has many native encryption, end-to-end security, and multi-factor authentication options that will help to ensure that your email and your data is accessible only to you.
Here's a quick look at some of these features in more detail:
Multi-Factor Authentication
Office 365 uses multi-factor authentication (MFA) to help provide extra security when signing in. When MFA is enabled, you'll be prompted to authenticate your account using a secondary authentication method, i.e., a code that's been sent to you via text or automated phone call, or by using biometrics (like a fingerprint).
Advanced Threat Analytics
Office 365's Advanced Threat Analytics keeps a record of who logged into your account, and where they logged in from. If abnormal behaviour is detected (for instance, if your account is logged into from an unusual IP address, or in a different country than usual), Office 365 will lock access to the account until you verify that it comes from a safe source.
Exchange Online Advanced Threat Protection
Exchange Online Advanced Threat Protection offers multiple ways to protect your inbox from malicious malware, spam, or phishing attempts, providing you with real-time protection against sophisticated attacks, and helping you to eliminate threats before they're able to breach your environment. Safe Links, Safe Attachments, quarantine capabilities, anti-phishing detection, and spoof intelligence all work together to ensure your inbox and data is protected, and ensures that your law firm is only known for the great work you do!
Don't Miss Out on the Benefits of Cloud – Move to Office 365 For Law Firms Today!
You have confidential client data that needs to be safeguarded and protected. You also need to be able to adapt to the changes that are happening in technology without being worried about that data getting out. Office 365 for law firms is able to address both of these issues. So, how do you get started?
ProServeIT's Office 365 Assessment and Roadmap engagement, specifically designed for law firms like yours, is one of the first steps that you can take to transform your environment. Not only will it help you to ensure your data is safe, but you can also rest assured that Office 365 does meet your industry-specific privacy standards, too! Give us a shout and let us help you explore your options today.