"Are there any resources on using Microsoft Teams for Project Managers?"
With a large number of the population working remotely throughout 2020, we've been receiving questions, similar to the above about whether or not Microsoft Teams can be used for Project Managers. This blog cover 5 tips you need to know to get started using Microsoft Teams as your project management tool.
Why Use Microsoft Teams for Project Management in the First Place?
Most people know Microsoft Teams as the communication tool that it is – they know that they can use Microsoft Teams to be able to connect with their colleagues and their team members via chat and voice and video calling capabilities. Unfortunately, that's where a lot of end users' knowledge of Microsoft Teams ends. They're not always aware that it can do so much more than just provide a way to stay in touch.
Microsoft Teams top features:
Microsoft Teams is a communication and collaboration tool that allows for document collaboration, presentation, and white-boarding capabilities in addition to their more well-known communication features.
To see more about what Teams can do in general, check out our Microsoft Teams Demo – 4 Powerful Capabilities of Microsoft Teams blog and it's corresponding blog, Microsoft Teams Demo – Top Features and Capabilities.
Now, let's dive into the top 5 tips
---
#1: Keep Everyone Informed with Teams and Channels
A Project Manager needs open and transparent communication throughout every aspect of the projects they're overseeing, and Microsoft Teams has the capability to provide that!
Let's show you how. For this demonstration, let's suppose that you are a Project Manager at an IT company and you have 3 projects for each customer you have.
By utilizing the Teams tab, you could create a team for each customer, then create channels within those teams for each of the three projects you need to oversee. Then, it's a simple matter of adding the relevant people and/or resources from your staff to each of these teams and channels (as easy as a few clicks of the mouse)!
---
#2: Don't Miss Another Deadline!
Deadlines are, of course, vitally important to those Project Managers and project management professionals, but, lucky for you, Microsoft Teams allows you and your team the ability to share an Outlook group calendar within the Teams platform. Check out this guide on how to add a group calendar to Teams. Once you've done so, every member of the team will be able to see their personal Outlook calendar (in blue) and the group calendar (in green) in one convenient place.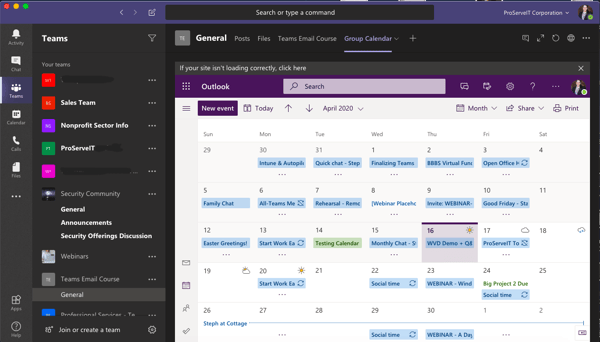 ---
#3: Use the Planner function to assign tasks & keep track of what's important.
If your team is also using Microsoft Planner to help organize your projects, that can also be integrated into your Teams platform, giving you another efficient way to keep track of tasks for each project and its corresponding deadlines.
To integrate Microsoft Planner, follow these four simple & easy steps:
1.- Navigate to team that you want to add Microsoft Planner to.
2.- Click on the + sign to add a tab to the group: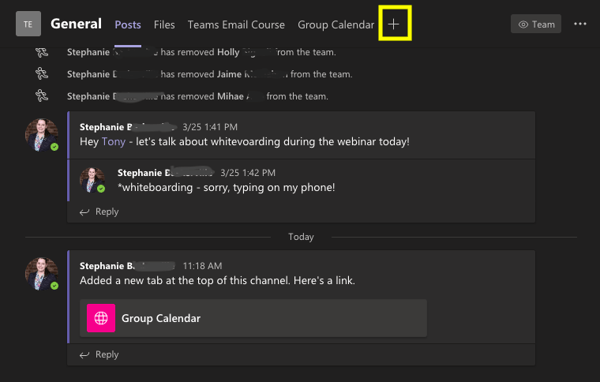 3.- Click on "Planner".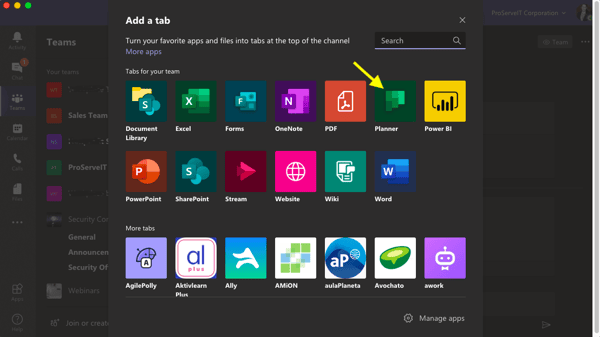 4.- Either create a new plan, or choose an existing plan that you've already saved (choose from the drop-down menu), and click "save".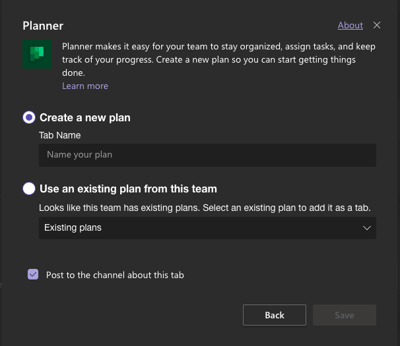 Your new plan will be added to your team!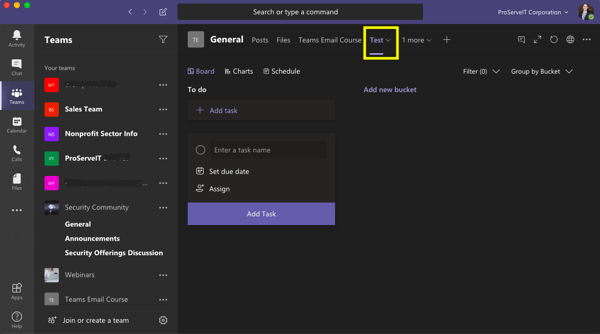 ---
How to effectively use Microsoft Planner for Project Management
Managing multiple deadlines and tasks? Planner in Microsoft Teams is a simple-to-use project management tool. This tutorial below will show you how to create a board with Planner to keep you and your team organized.
Want to learn more about Microsoft Teams? Register below to access our informative webinar series on how this unique Microsoft solution can help your organization today.
---
#4: Keep Work Accessible to Everyone.
It's probably safe to say that, when managing a project, time is of the essence. Is your team wasting valuable time on trying to locate and work on the vital documents from various repositories or folders?
Microsoft Teams can help save time instead! Simply utilize Teams in tandem with SharePoint to be able to access and co-author Word documents, Excel spreadsheets, PowerPoint presentations and more – all from the Teams platform!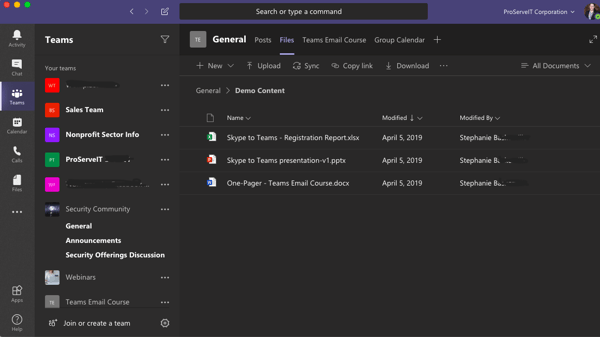 Plus, with the mobile capabilities of Microsoft Teams, this means that access to all company documents can be done from wherever your team is and whatever device they're using – all you need is a data plan or an Internet connection!

---
#5: Don't be afraid to make Teams your own!
As we've alluded to in this blog, Teams is highly customizable with many various integrations that can be incorporated into it to make it more efficient and more effective for your Project Management team to use. So, don't be afraid to explore those integrations and make Teams your own. The Apps tab in Teams provides you with the option to browse the vast list of third-party apps and services that are available to you.
It seems, as well, that new integrations are being developed on a fairly regular basis, so keep your eye on this area of Teams so that you're up to date on what's new and exciting and what could be used to help you work more efficiently and effectively as a Project Management team.
Some Final Thoughts on Microsoft Teams for Project Managers
There's no doubt in our mind that, with the right integrations in place, and with a little customization, Microsoft Teams can be a very viable and effective project management solution for your organization. From being able to track tasks, collaborate on documents, host meetings and white-boarding sessions, and keep all the project files in one convenient place that's accessible to everyone on the team, Microsoft Teams has the capability to become your new project management secret weapon of sorts!
Want to learn more about how to use Microsoft Teams to your advantage? Check out our User Manual for Remote Workers, and be sure to download your copy of our free Teams eBook. Still need help? Give us a shout and we'll be happy to help!
Get IT news & updates sent right to your inbox ✔️