In every organization, communication and collaboration are the backbone of daily operations and business success. With the rise of remote and hybrid work, organizations are seeking for an application that connects their team from home or across the globe.
Microsoft Teams is the ultimate hub for collaboration and communication and provides a powerful and capable application at your fingertips. Through Teams, you are able to create a collaborative space and make decisions as a team to achieve goals, wherever you are located.
In this blog, we will discuss how you can use Microsoft Teams to its fully potential, optimizing productivity and teamwork. As well, we will cover 10 tips and tricks to help you fully utilize Microsoft Teams with resources from our on-demand webinars.
In this blog you will find:
What is Microsoft Teams?
10 Tips and Tricks for Microsoft Teams
On-demand Microsoft Teams Webinar Series
Getting Started with Microsoft Teams

What is Microsoft Teams?
Microsoft Teams is a collaborative workspace within the Microsoft Office 365 suite that acts as a central hub for conversations, collaboration and teamwork that is accessible via desktop, laptop, tablet, or mobile device. It is a place where your employees can discuss projects, co-author documents and plans in real time.
Teams also includes a video conferencing feature that allows your employees to host internal and external meetings, wherever they are in the world, making it a powerful tool for connecting your organization and boosting teamwork.
As well, Teams integrates with other Office 365 applications such as OneDrive, SharePoint and Outlook, making it easy to access and organize your work tools in one place. Therefore, Teams helps boost productivity as you have multiple ways to work smarter together.


10 Tips and Tricks for Microsoft Teams
Microsoft Teams is intuitive and transformative. Ever since the pandemic, Teams has become the hero that allowed businesses everywhere to work from home successfully. Since then, organizations have transformed to a more hybrid and remote working environment which and Microsoft Teams has responded by providing new ways of working. With so many tools and features to offer, are you fully optimizing what Teams has to offer? Here are some Microsoft Teams tips and tricks that you need to know:
1. Schedule Meetings in Teams
With a click of a button, you can schedule meetings within Teams. In a group chat, you can click on the video call button in the upper right to meet now with all members of that chat or channel:

Or, from a team or a channel, you can click the page with a plus icon to schedule a meeting as you would in Outlook:


You can also schedule a meeting through your Calendar on the left-hand panel. There will be an option to choose to meet now or to schedule a new meeting at the upper right of the page. When scheduling in Teams, you will get this window:
Enter the details of the meeting and add the required team members to complete scheduling in Teams. Once scheduled, the result is a calendar invite in Outlook with the Teams link in it to click and join the meeting when the time comes. The meeting will also appear in your calendar.
2. Actions from the Command Box
The search bar at the top has more functionality than you think. It has good shortcut options that can be useful as you search through Teams. A quick shortcut to access the search bar is CTRL + E. From there, all you have to type is '/' for a list of commands that work or '@' to see all your application commands as well as people you want to message

3. Bookmarking Messages
This feature can come in handy when you want to save a particular message or pinpoint a conversation or chat by clicking on the three dots '…' menu next to the message. Therefore, you can never lose an important note that your coworker had made or an important link that was sent!

Then, to review your saved messages, you can type '/saved' in the command bar. This will give you a list of all your saved points from previous conversations.
4. Translation of Teams Messages
You can now translate messages to your base language in Microsoft Teams. For example, the original message is in Korean. Simple click '…' and choose to translate.

You can set it back to the original language after translating via the same menu. This feature is highly effective with employees who work globally.



5. Record your Team Meetings
You can record your Microsoft Teams meetings. The recording captures audio, video, and any screen sharing activities. The meeting is recorded in the cloud and then saved to Stream which you can access later to manage, download, and share amongst your team. By clicking on the three dots '…' or 'More', you can choose to start recording. Once recording, you will receive a message at the top of the meeting noting that you are recording. To stop recording, click on the same menu and your recording will be saved.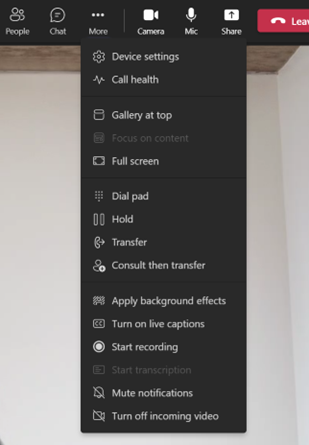 6. Background Effects to Hide your Room
With the increasing popularity of remote work, sometimes you want to keep your environment private. Before joining a meeting, you can choose background effects that blur your environment or provide a virtual background. This can come in handy when you have confidential information on your wall or people crossing over in the background that may be distracting to others. There are a few templates to use to hide your background so you can choose whatever works for you!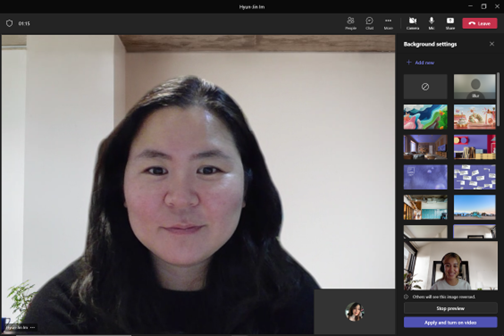 7. Microsoft Immersive Reader for Teams
This feature is a tool aimed for an educational setting such as schools, universities, and for teachers as a learning and accessibility tool. It can also be incredibly useful in a workplace setting. Choose a message you would like to read aloud using the three dots "…" and select immersive reader. From then, the text will be read aloud and you can choose to play at different speeds.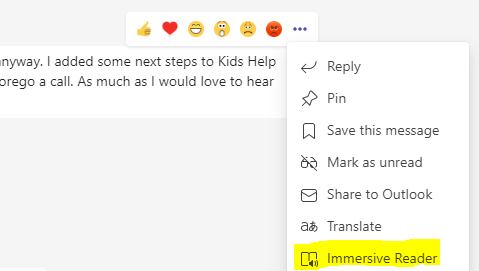 8. Whiteboard in Teams Meetings
Whiteboards are an essential tool for important meetings and a great way to interact remotely. Within your meeting, click on the 'Share' button to share your screen and then select 'more content' to bring up the whiteboard. Here, you can collaborate on the whiteboard using your mouse or a Surface pen to guide your meetings. The whiteboard will then be saved in a tab within your Channel so you can access it later.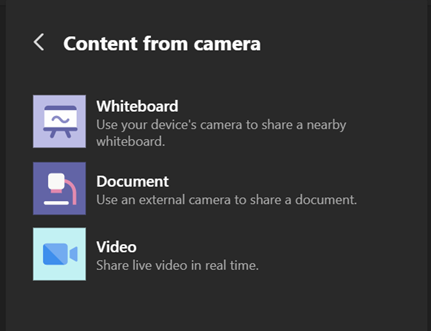 9. Add Tabs to Your Conversation
To boost productivity, you can add tabs for applications you want to use within your Teams and Channels to make it easier to access files or documents. All you need to do is click the '+' sign on the right-hand side of your Channel and then search for the application you want to add in.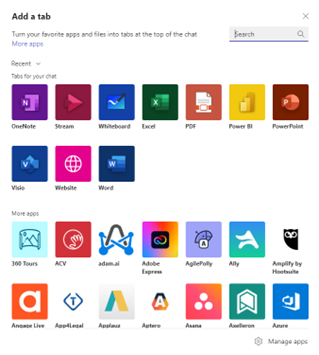 10. Artificial Intelligence (AI) Enhancing Microsoft Teams
There's no doubt that artificial intelligence (AI) and machine learning are transforming the way we live and work. By automating repetitive tasks and providing decision-support tools, AI and machine learning are helping us to be more efficient and productive. Here are some new upcoming enhancements for Microsoft Teams:

Check our this blog to learn more about AI in Teams:
Machine Learning & AI Enhances Microsoft Teams | Tech News: July 2022
---
Get Started with Microsoft Teams Today!
There's no doubt in our mind that, with the right integrations in place, and with a little customization, Microsoft Teams can be a very viable and effective project management solution for your organization. From being able to track tasks, collaborate on documents, to host meetings and white-boarding sessions, and to keep all project files in one convenient place that's accessible to everyone on the team, Microsoft Teams has the capability to become your new project management secret weapon! If you think Microsoft Teams is a good fit for you, click here to book your assessment and get started with us today!
On-Demand Microsoft Teams Webinar Series
Explore new and exciting Microsoft Teams features with our on-demand webinars hosted by our Modern Workplace Solutions Architect, Tony Caporalleti, and other experts. You will be able to see how these key features can bring people together in your shared workspace.

Edited by: Betty Quon