SharePoint helps organizations to store, retrieve, search, manage, track, archive, and report on various electronic documents and records. Because of the flexibility it offers, it makes an ideal content management system, and is one that ProServeIT highly recommends. This post is for those who just implemented SharePoint to help them get started with SharePoint.
What is SharePoint?
Simply put, SharePoint is a Cloud-based platform that provides an organization with the ability to manage their content, track processes, collaborate with other employees, manage business activities, and publish information. It is one of the collaboration tools for Office 365, and easily integrates into those Office 365 tools you're already using (Exchange Online, Skype for Business, OneDrive, etc.). Current stats say that SharePoint has over 190 million users across 200,000 customer organizations.
SharePoint Solutions – Collaboration Made Easy. Increased Productivity.
Why Use a SharePoint Content Management System? A Quick Guide for Executives & Managers [Infographic]
How to Get Started with SharePoint - 5 Key Things to Know
Organizations use SharePoint in a variety of different ways, and SharePoint itself can encompass a great number of capabilities, making it highly customizable to fit your organization's needs. However, at its most basic level, here are 5 things that you need to know to start using SharePoint.
Tip 1. How to Upload Files
It's easy to drag and drop files from your computer into your SharePoint document library, and, in fact, there are two ways you can upload files.
The Simple Way:
Open the SharePoint folder where you want to upload a document.
Open File Explorer on your computer.
Drag and drop the file from File Explorer over to SharePoint with your mouse.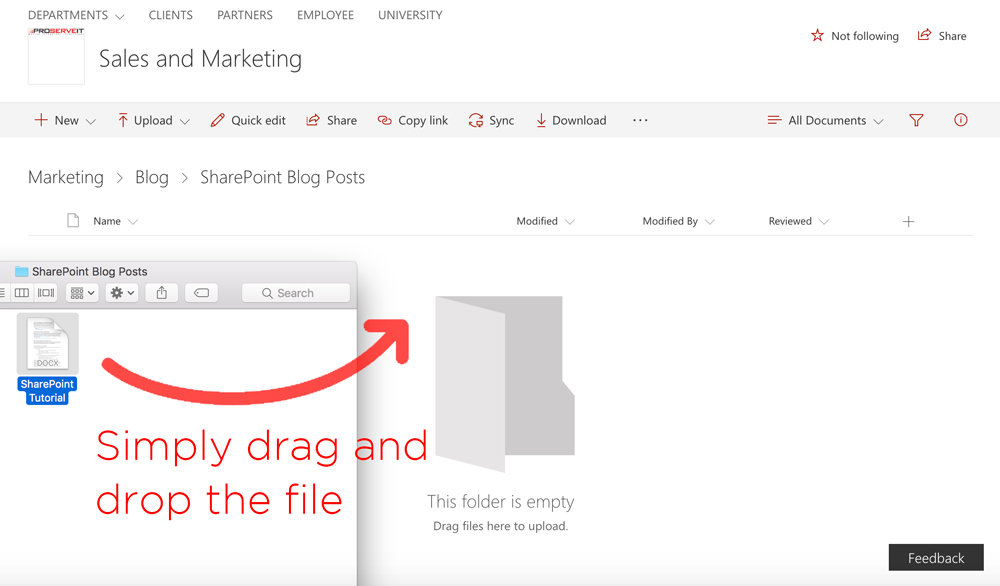 The Alternative Way:
In the SharePoint folder where you want to upload a document, click "Upload".
In the box that pops up, click "File" and select the file(s) you want to upload and click "Open".

Tip 2. Opening Documents
When you open a document with SharePoint Online, you can simply click on the document name. It will open in Office Online. From there, you have the option of editing online (simply start editing) or click "EDIT IN WORD" to open the document in Microsoft Word and edit in the application.

---
How to best utilize SharePoint to enjoy the highest ROI in your Office 365 investment
In this 100% demo-based webinar, we will show you the simple and easy ways to use SharePoint to solve the top 3 business pain points. Register below to access our informative webinar series on how this unique Microsoft solution can help your organization today.
---
Tip 3. Collaborating with Others on a Document
SharePoint makes it extremely easy to collaborate on a document with your colleagues. When you open a document, you'll be able to see the number of people, who are currently working on the document with you, in the top right-hand corner of your screen.
When multiple people are making changes to the document simultaneously, you will see the changes being made in real time, along with the author who is making the changes.
If you would like to invite someone to edit the document, click the "Share" button and you will be able to easily share the document.
More co-authoring tips are available here.
Tip 4. Searching for a Document
Just as you might search for an email in Outlook, or for a file on your computer, the search function in SharePoint Online is easy-to-use and makes searching for your documents effortless.
You can search for something in SharePoint using two different methods: using the "Search this site" search box in the upper right-hand corner of your SharePoint site, or using the "Find a file" search box above your list of folders/documents.
"Search this Site": This option searches your entire SharePoint site for the keyword(s) you've typed, and it pulls the search results from file names, metadata, and the text inside Office and readable PDF files.
"Find a File": This option searches for the keywords you've typed in file names, metadata, and text inside Office and readable PDF files, but since the box falls under a specific document library, it's only going to search that document library for the results.

Some tips:
If you want exact results, you should enter your search keywords/phrase in quotation marks.
If you're not sure of exactly what to search for, you can do a "wildcard search" by typing in the first few letters of the word you want to search for and following it with an asterisk (i.e., Shar* or Mic*).
Tip 5. Copying and Moving Files and Folders
Depending on your version of SharePoint, there are a number of different ways that you can move or copy files.
Copying Files:
Select the items that you want to copy and click "Copy to"
Under "Choose a destination", you can select the folder that you want to copy the information into. Don't see the destination you want? Click "Browse sites" to see the full list of sites that you're able to copy to.
Click "copy here" to complete the copy.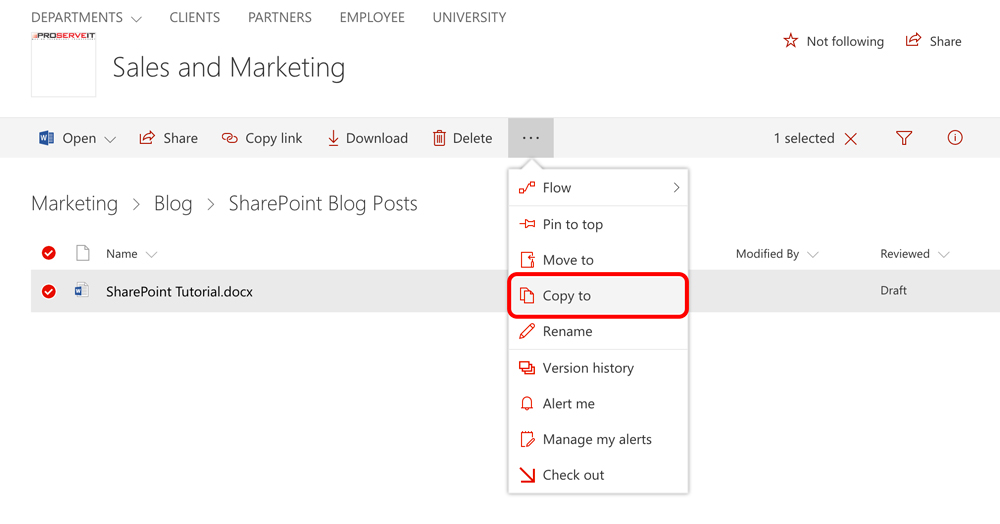 Moving Files:
To move files requires you to follow the same steps as above, only instead of clicking "Copy to", you're going to click "Move to".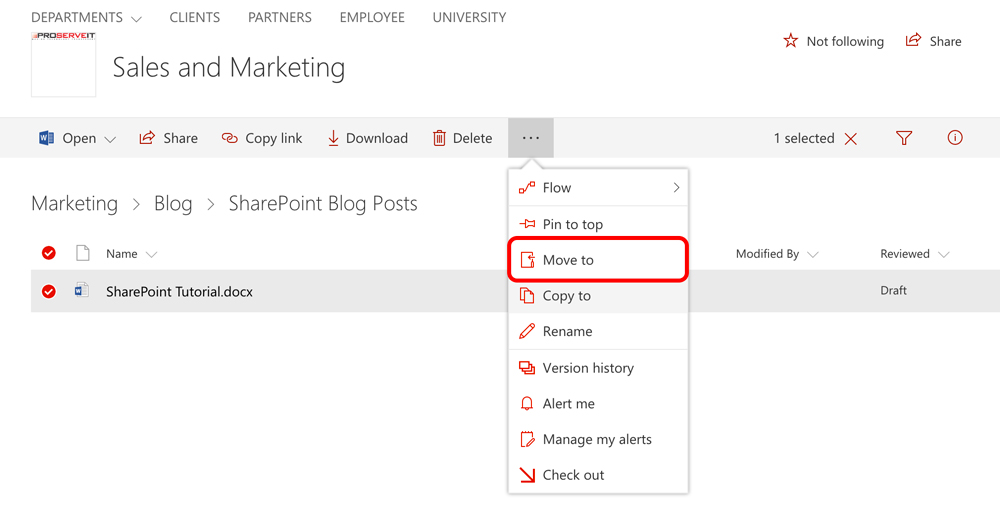 More information on copying and moving files is available here >>
Get Started with SharePoint Today!
There are so many more things you can do with SharePoint that will increase collaboration and improve productivity within your organization. SharePoint is an extremely versatile content management platform. If you want to learn more about how to take full advantage of SharePoint, drop us a line today. Our team of SharePoint experts will be happy to schedule a demo or a tutorial session. Hear from our customers about their SharePoint experiences:
Grow your tech knowledge by joining the ProServeIT community.