Hey, want to see a Microsoft Teams demo that will knock your socks off?
In this blog, we're demonstrating four powerful capabilities of Microsoft Teams and how its features can improve collaboration and communications within your organization. The content from this blog is from our recent Teams webinar, which showed attendees how to get the most from their Office 365 investment by introducing the capabilities of Microsoft Teams, and showing just how versatile this tool is.
During this webinar, we encouraged our attendees to ask questions about Microsoft Teams so that our experts could answer them. We've included those questions in this blog for you to review, too. Have more questions about Microsoft Teams? Feel free to ask us!
Want to see Microsoft Teams live, in action? Check out this short webinar clip below, or download the full on-demand version by clicking on the button below the video!


Introduction to Microsoft Teams
This live demo introduces the capabilities of Microsoft Teams on both desktop and mobile versions. Microsoft Teams brings everything together in a shared work-space where you can chat, meet, share files, and work with business apps!
Download On-Demand Webinar >>
1. Calls and Voicemail
At ProServeIT, Microsoft Teams is our telephony system. So, one of the first things that we want to show off is the call and voicemail capabilities. In this screenshot below, you'll see that the "Activities" tab can show you a list of all recent activities, including calls you've made, or calls you've received, and whether or not someone left you a voicemail.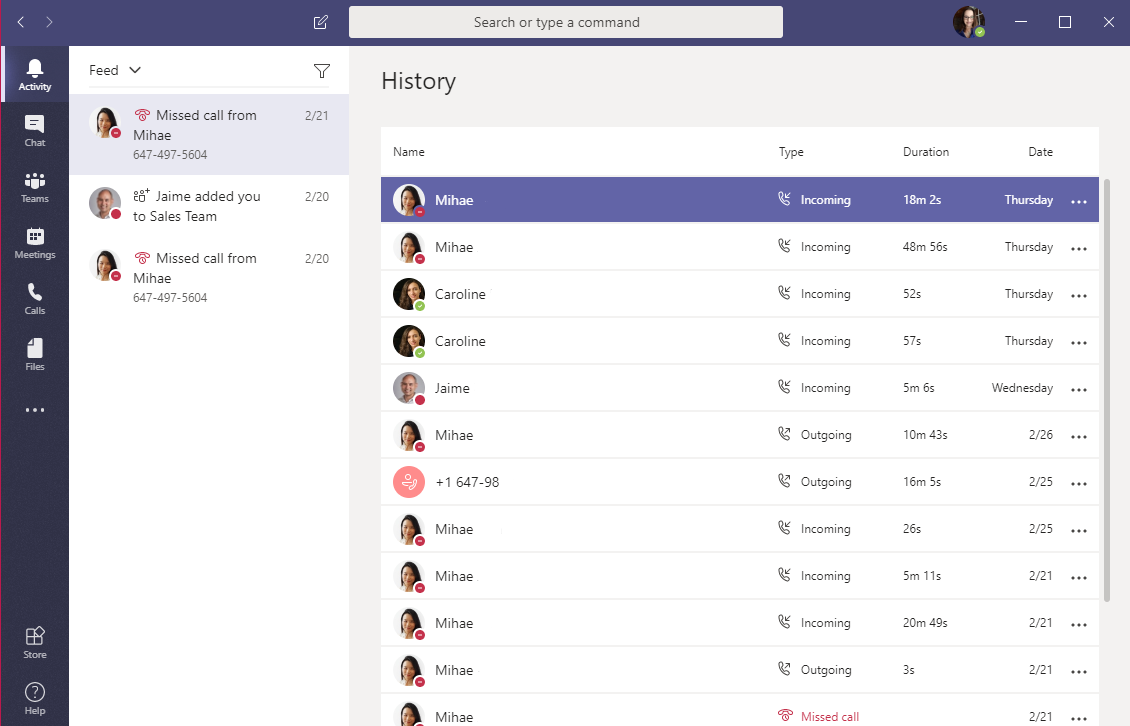 This let you see and interact with messages that people leave you – you can play back any messages that are left, and, better yet, if you've integrated your Microsoft Teams into your Telephony system, like we have, Microsoft Teams has transcribing capabilities that will convert your voice messages into text. This is especially great when you're in a situation where listening to your voicemail may not be feasible – at a coffee shop where it's too loud, for instance.
A Question from the Audience: Does this have to be connected in any way with your office landline?
There are two ways that we can address this question. First, you can certainly do it so that Teams takes over your telephony system and you no longer have a traditional landline, so to speak. As mentioned, at ProServeIT, we use Teams as our de facto telephony system and do not have a traditional landline. Or, if you'd prefer to keep your landline, you can also choose to augment your traditional landline with Teams.

2. Chat Capabilities
Did you know that it takes 2 minutes to process an email? These 2 minutes do not include the time you spend to respond to that email, or doing the action items that the email has asked for. It is literally the time that it takes for your brain to understand what the email is conveying.
So, if you're a person who gets a hundred emails a day, you are spending 3 hours and twenty minutes of your 8-hour work day just understanding emails!
Talk about counterproductive!
Microsoft Teams enhances productivity, because it is not email. Teams allows us to separate that point-in-time communication of email and move some of our more urgent conversations into Teams for instant or synchronous communication. Or, simply put, the "Chat" tab in Microsoft Teams lets you send a quick message to someone, without having to send an email.
This "Chat" tab also allows you to separate those you frequently communicate with from others, and create contact groups so that you can separate or easily find people that you need to communicate with on a frequent basis.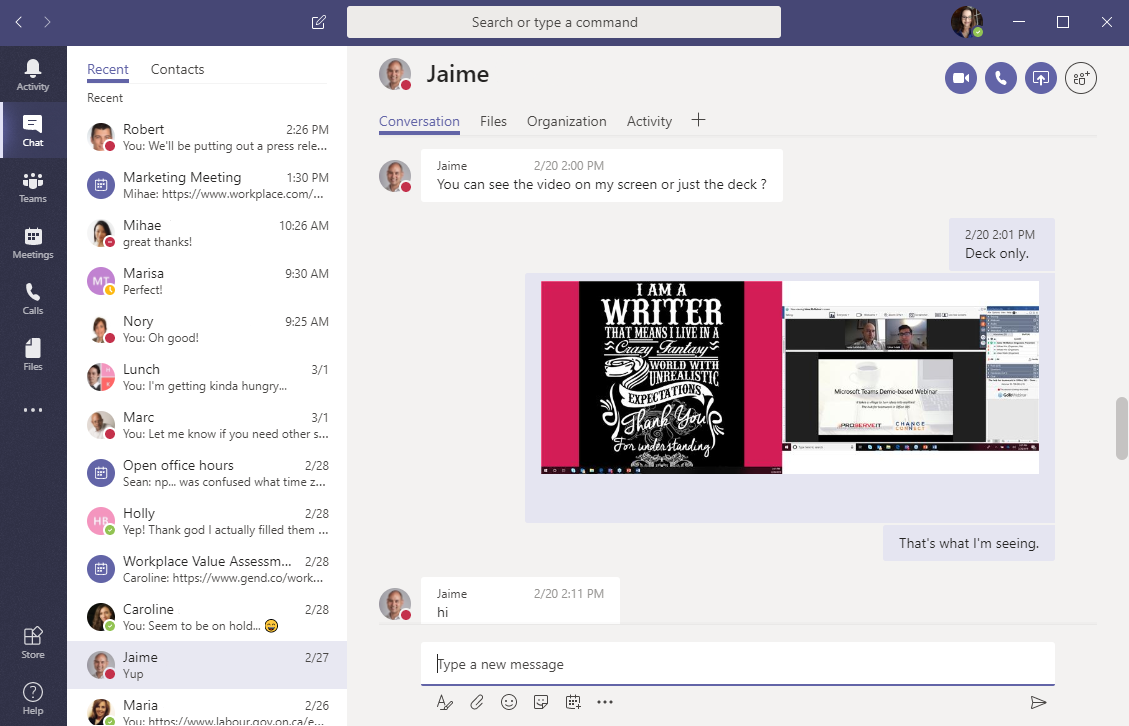 Related:
Microsoft Calling Plans - Everything You Need to Know
Microsoft PSTN Calling Plans for Office 365
3. Mobile Capabilities
What would a tool be if it didn't have mobile capabilities? At ProServeIT, we're noticing that a number of our customers are switching to a more mobile workforce. A laptop or PC might still be the primary productivity tool while people are at the office, but the idea of what it means to be productive is changing. Having to duck out of work early for a doctor's appointment or to pick up the kids from school is no longer a barrier to productivity – with the smartphone in your pocket, you can still communicate and engage with your colleagues with the same type of functionality that you have at your workstation.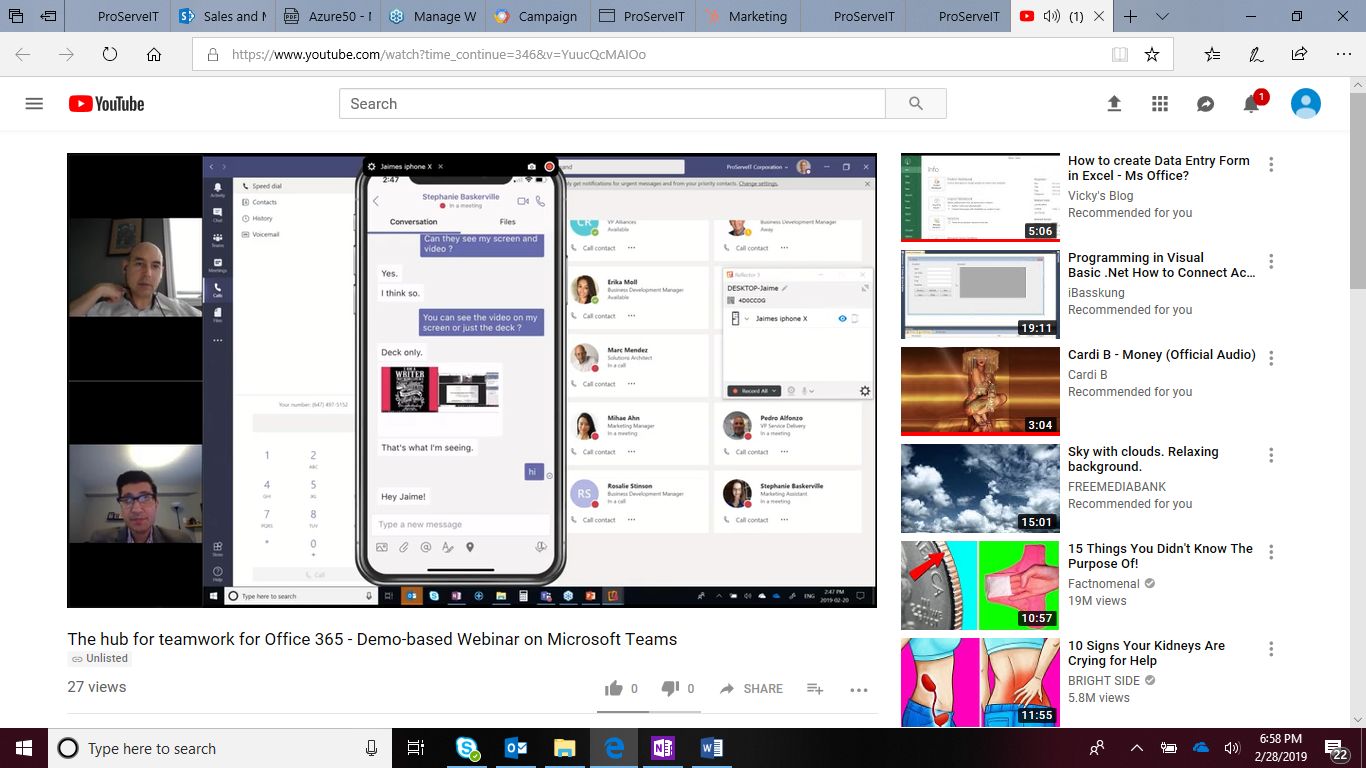 Microsoft Teams lets this happen. It has the same functionality from your smartphone as it does from your computer. And, all the stuff that you can do from the actual desktop client, you can do on your mobile device. For instance, sharing documents back and forth – the screenshot below shows you how this can be accomplished on your mobile device – in this example, we've opened a Word document on our phone from the Teams app, and have the capability to co-author and edit the document on the go.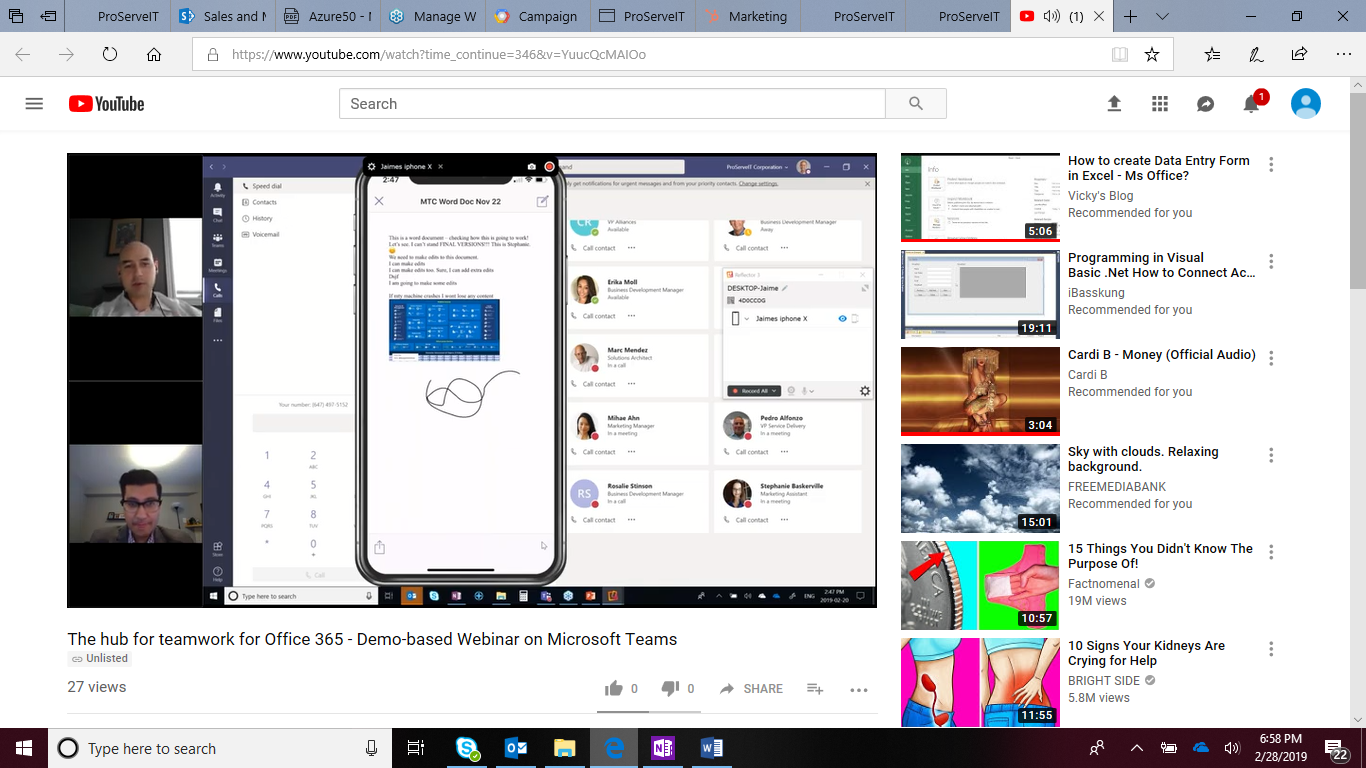 4. Hosting Meetings in Microsoft Teams
Of course, a demo of Microsoft Teams would not be complete without showing how you can host meetings!
The "Meetings" tab gives you lots of actions that you can perform. When you first click on the tab, you'll see a copy of your daily calendar showing all the meetings you have in a given day down the left-hand side of the screen. The closest upcoming meeting will show in the bulk of the screen, as the example below shows: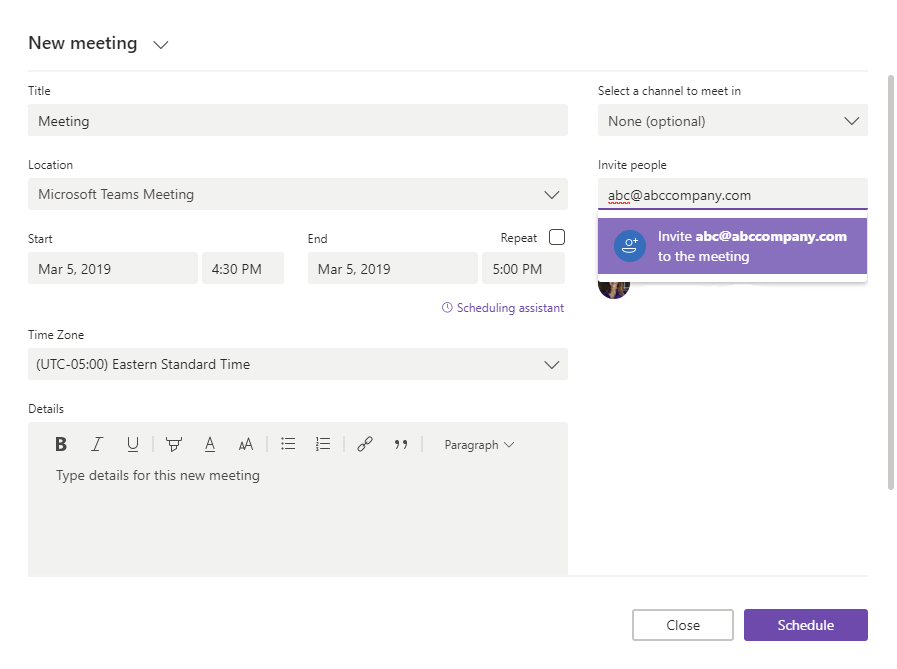 From this tab, you'll see quite a lot of options open to you:
You can schedule a new meeting using the purple "Schedule a meeting" button at the bottom of the calendar,
You can view who has been invited to the highlighted meeting and who has responded to the invitation,
You can join the highlighted meeting using the "join" button at the top of the screen,
You can chat with the participants of the meeting – a new chat will be created where you can chat with the participants, share files, or record meeting notes,
You can cancel the meeting,
Or you can edit the meeting as needed.
All of this can be done right from the Teams app.
Booking meetings can, as mentioned, be done right from the Teams app, or, alternatively, you can book a Microsoft Teams meeting from Outlook, too. And, even cooler, you can book a Teams meeting from an email that someone has sent to you:

Once you've hit the "Reply with Meeting" button, a meeting invite, with an auto-populated "To" field will pop up. This is where you can select the desired date and time of the meeting, and where you can also make it a Teams meeting – click "Teams Meeting" at the top of the page, and you will see that a link to join the Teams meeting will automatically be inserted into the body of the meeting invite: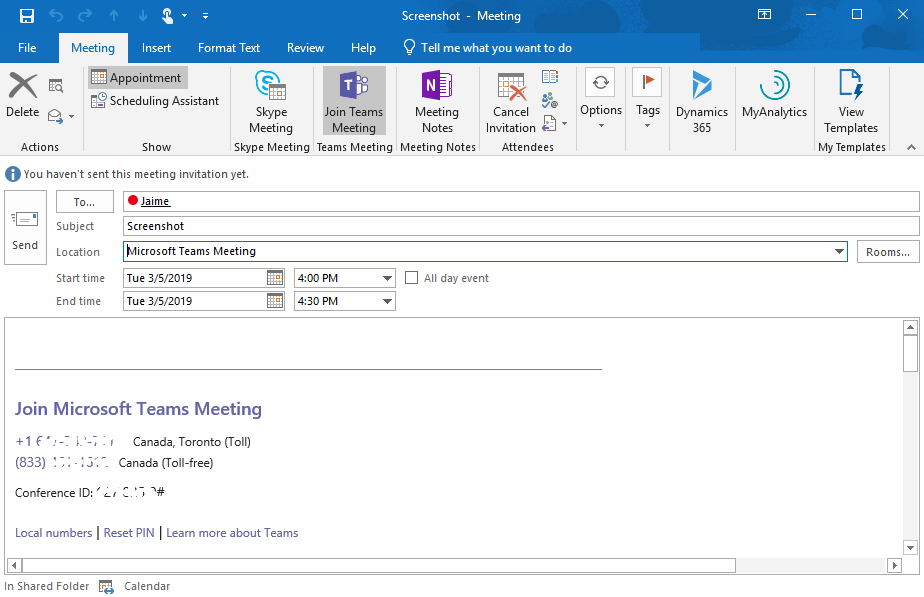 *Note*: You can use Microsoft Teams internally without enabling Audio Conferencing, however, the example above is taken from ProServeIT's system, and we use Microsoft Teams as our telephony system, so Audio Conferencing has been enabled. If you don't have Audio Conferencing enabled, you won't see the local or toll-free numbers listed below the "Join Microsoft Teams Meeting" link – you'll just see the link.
Once you've joined the meeting, you'll see something that looks a little like this: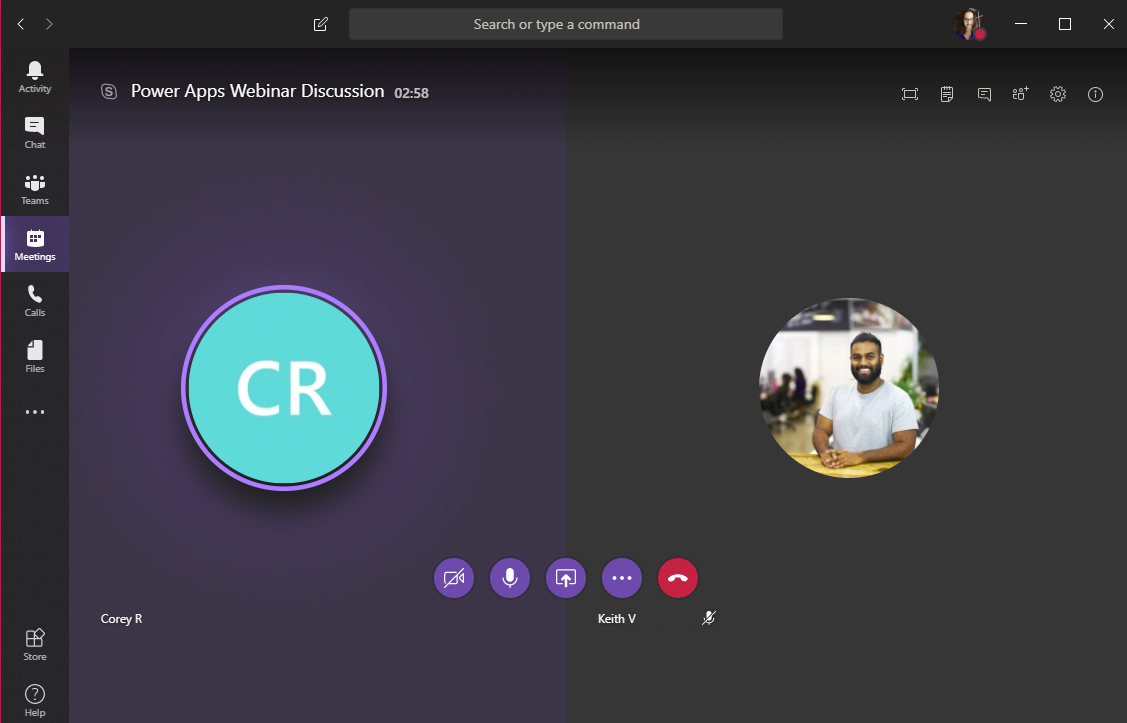 Here, as the example above shows, you can see who's on the call, and you have various options available to you. The purple buttons along the bottom of the window allow you to enable video conferencing, mute or unmute your mic, share your screen, leave the call, start recording the call, or enable a keypad. Along the top of the screen, you'll also see some more options, like entering full screen mode, taking meeting notes right from Teams, showing a conversation between team members on the call, showing the participants, call settings, and call information: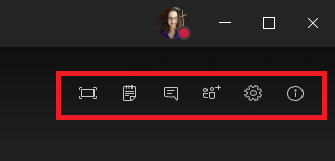 A Question from the Audience: Can you create a Teams meeting for a group of people outside of your organization, or do you have to use Outlook to invite external people?
The answer to this question is, yes, you can create a Teams meeting for a group of people outside your organization, provided you have Audio Conferencing capabilities.
From the "Meetings" tab, click on the purple "Schedule a meeting" button. Create the title of the meeting, pick the start and end date and time, add a description (if desired), and under Invite People, begin typing in the email address of the person that you want to invite to the meeting. A little pop-up will appear, asking you to confirm that you want to invite that person. Click on that pop-up and the person will be added to the list of attendees. Then, click the purple "Schedule" button at the bottom of the page: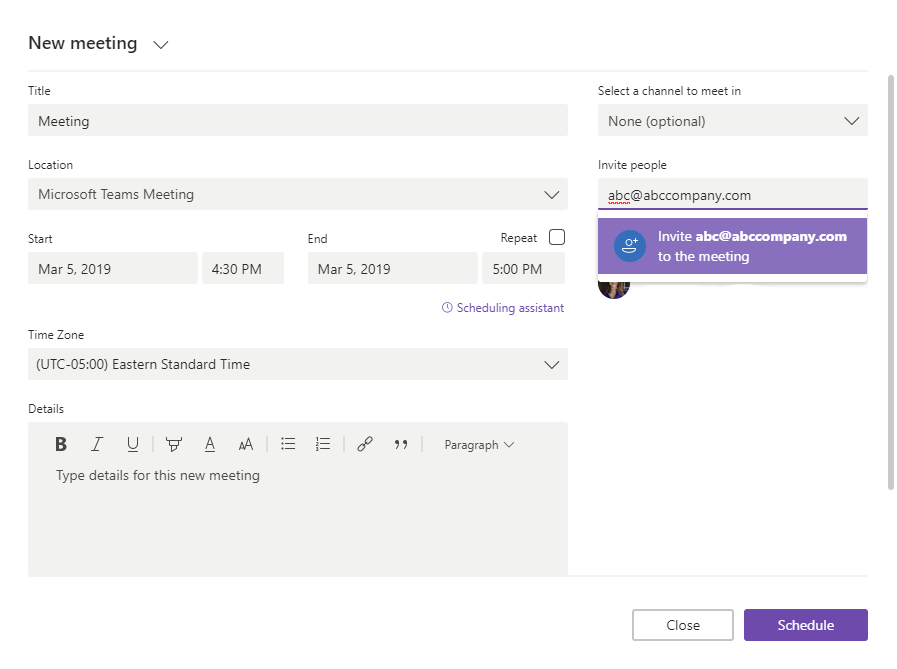 That person will receive a link to join the meeting, and they can either choose to click on the link to join via a web add-on, or they can dial in from a phone line using the local or toll-free number provided in the invitation.
A Question from the Audience: What resources are available through a Teams meeting? Is there always a call-in number, screen sharing capabilities, etc.?
The answer to this is yes, as long as you configure those resources. For instance, Teams has the ability to replace a traditional conferencing solution by enabling Audio Conferencing as an add-on license through your Office 365 Admin Portal. It's available in Canada and the United States.
In fact, Audio Conferencing could be a cost-effective replacement for your current conferencing solution, because you're already paying for most of the infrastructure of a traditional system with your Office 365 license – you would only need to enable Audio Conferencing, which is around $5/user/month.


A Question from the Audience: Can the contacts be migrated from Skype to Teams?
Absolutely! These two blogs talk more about the migration from Skype to Teams:


Related:
The Future of Skype for Business: Moving Skype to Teams
Answering Skype FAQs Around the Migration to Microsoft Teams
Ready to Go From Microsoft Teams Demo to Microsoft Teams Launch?
Microsoft Teams is your go-to hub for teamwork and collaboration within your organization. As a part of your Office 365 Business Essentials, Business Premium, Enterprise E1, E3, or E5 licenses, Microsoft Teams is available to you at no additional cost. So, are you ready to go from demo to launch? Need some help along the way? Interested in learning more about any of these features (or others)?
Our Microsoft Teams Workshop is a great way to start your journey to Microsoft Teams. Follow our three-step process of Discover, Solve, and Prove to map out your Microsoft Teams journey and establish realistic goals that you can meet. Choose our Productivity Pilot or our Voice Pilot to begin, and you're on your way to implementing Microsoft Teams.
This blog is part 1 of a 2-part series – check out four more fantastic features in our second Microsoft Teams Demo here.
---
The Boys and Girls Club of South Coast BC Needed a Virtual Platform to Host an Event with a Strict Timeline

This non-profit organization was at a stage where cancelling the event would result in financial loss.
Closed Environment: The event could be broadcasted in a closed environment to preserve the value for ticket holders.
Intuitive Chat functionality: Raffles and auction bids were easily managed using the chat.
Positive feedback: Feedback indicates that virtual participants not only attended the event, but felt as if they were in the room.