Microsoft 365 has various cloud-based applications that can be used for the modern workplace. These applications are often marketed as separate tools, but they work together to create a powerful suite of resources for your organization.
In this blog, you will find:
Teams, OneDrive and SharePoint for Collaboration: Why and How
Potential Use Cases for the Collaboration Tools
SharePoint Document Library Jumpstart
ProServeIT Academy Modern Work Course
This blog will explore how Microsoft OneDrive, SharePoint and Teams work together to help you manage your business and communications more effectively.
Check out these blogs:
SharePoint vs OneDrive – When to Use What
Complete Microsoft 365 License Guide for Your Organization
Teams, OneDrive and SharePoint for Collaboration: Why and How
Teams, OneDrive and SharePoint provide powerful tools for collaboration. Using them together lets you quickly and easily share files, collaborate on projects in real-time, store files in the cloud, track progress and more. Below is why you need these platforms to support your business's success and how to integrate them successfully.
Why You Need Teams, OneDrive, and SharePoint for Collaboration
The Perfect Solution for the Hybrid Working Environment 👨‍💻
Microsoft Teams, SharePoint and OneDrive services are all about collaboration. Microsoft supports users who need to work together remotely while removing barriers like location or device limitations. Apps on mobile devices also support your interactions and communications within teams.
Enhancing the Productivity of Microsoft 365 Services 👍
Many organizations have already invested in Microsoft 365 products according to their needs. You can make the most of the Office 365 service package by using all three services together and get more value for your investment. Allowing employees to work with a suite of products specifically tailored for collaboration will create a much more efficient workflow and communication system.
How to Integrate Teams, OneDrive and SharePoint
Once all three services are connected to your Office 365 account, you'll have centralized access to information. You can also easily collaborate with colleagues on shared documents stored on SharePoint or synced through OneDrive. Where to store your files would be the most critical question to achieve complete integration in your adoption processes.
Where should I store my files, in Teams, OneDrive or SharePoint? 💻
The best way to decide where to save files will depend on how you plan to use the content and how your business wants to collaborate with others. Here are our recommendations for your particular needs:
☑️ Microsoft Teams may be the better option for you if you are looking for an easier way to collaborate and share content among different users in a team. With Teams, sharing documents with team members or other users outside your team is quick and easy.
☑️ OneDrive is better suited for personal file storage. It gives users a secure place to store their documents and easily access them from any device. With OneDrive, you can sync files across multiple devices, share with others and collaborate on documents in real time.
☑️ SharePoint helps you have more granular control over your document management system with customizable permissions and governance settings, which is ideal for businesses that need a secure way to store corporate documents or who want to limit access to specific users.


Potential Use Cases for the Collaboration Tools
Microsoft power platform enables modern work with SharePoint Document Library and collaboration apps. Document libraries provide an easily accessible service for users to store, manage, and share files with colleagues with security practices. Microsoft Teams also provides an integrated platform that allows users to connect in real-time via chats, calls, video meetings, and more. With these features, Microsoft Teams helps to enhance a seamless and productive experience for users, allowing them to collaborate more effectively.
SharePoint Documentary Library 🏢
A SharePoint Document Library is a modern way to facilitate collaboration between teams and individuals in the workplace. By leveraging the power of this tool, users can store, share, and track documents in one convenient place - making it easier to stay organized while working together on projects.
SharePoint Documentary Library in File Explorer 📁

There are various ways of accessing your files, but you might want a more straightforward method with multiple ways to get data using OneDrive and SharePoint
☑️ OneDrive - Personal gives you 1TB of free cloud storage services per user, storing all the documents, pictures, and videos you need.
☑️ OneDrive - Corporate gives organizations more control over their data and security measures, and different rules and governance settings can be applied.
☑️ SharePoint document library is a great way to store documents and collaborate with others. One of the features that SharePoint offers is version control, which allows multiple people to access and edit the same document simultaneously while keeping track of all the changes. OneDrive also provides a synchronization feature that will enable you to work on documents offline and sync them back up when you have Internet access. OneDrive and SharePoint document libraries offer a great way to save, store and collaborate on files without leaving the comfort of your home.
SharePoint Document Library in Teams 🤝
Once you sync your files to your SharePoint library, you can see the same content in Microsoft Teams. The synced folders in the blue box below appear differently from other folders in Microsoft Teams.

The content in the SharePoint Document Library can be accessed from multiple channels, allowing you to easily collaborate with others and provide them with access. The main governance features, however, are all created within SharePoint.
Collaboration Apps in Teams

💡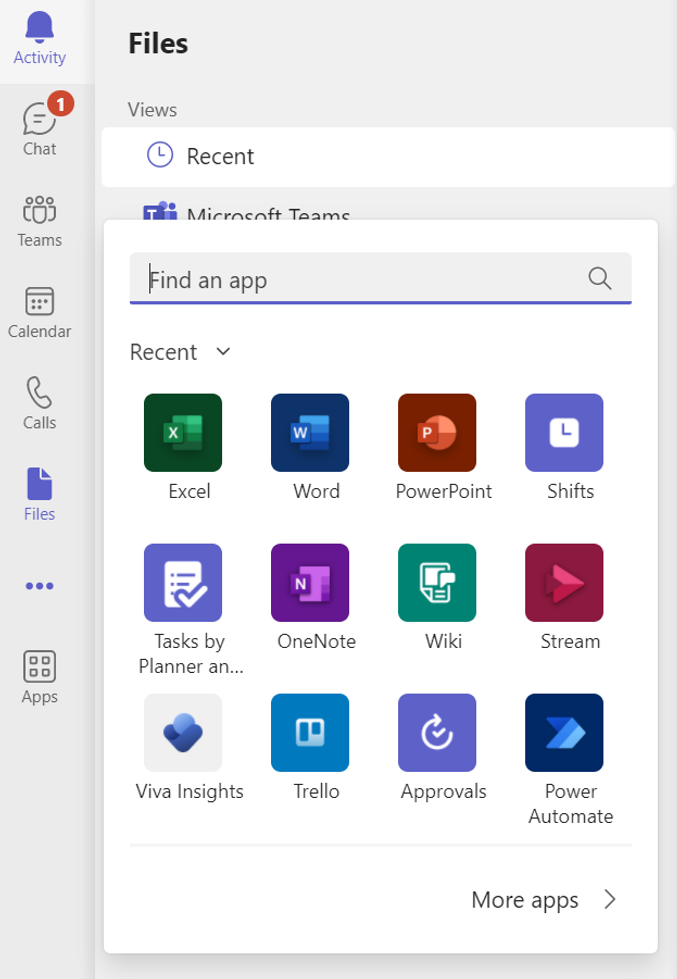 Microsoft Teams is Microsoft's collaboration platform that enables modern work. Microsoft Teams provides a hub for teams to communicate frequently and effectively through chatting and calling, sharing files, managing projects with Planner (an add-on app), and storing notes in OneNote. Microsoft Teams is the perfect tool to help streamline communication and collaboration within your business.
📞 Chat and Calls in Teams: Employees can collaborate more effectively with real-time communication through chat groups and video and audio calls. Microsoft Teams ensures that conversations are kept organized in one place with easy search capabilities, making it easier for teams to stay on the same page.
📄 Files: you can easily share and access the latest files you are working on with team members from a single location.
📑 Planner: With the Planner add-on for Teams, users can create project plans, assign tasks to team members, share files, communicate with each other, and track progress all within one unified system. Microsoft Teams' Planner feature provides an easy-to-navigate interface for managing tasks, with drag-and-drop capabilities for easy reorganization.
📩 Microsoft Bookings: The Microsoft Bookings add-on makes it easy to collaborate and set up meetings with colleagues, partners, or customers. Microsoft Bookings streamlines the process of scheduling appointments by allowing users to easily book available times for meetings. It also customizes meeting settings and invites attendees directly from their Microsoft Teams contacts list.
Teams app integrations are a powerful way to modernize your workplace. These collaboration apps streamline processes, improve security, and easily manage tasks from one central hub. You can build customized solutions for your organization's specific needs with Teams apps.


SharePoint Document Library Jumpstart
SharePoint Document Library Jumpstart
ProServeIT can provide comprehensive services to help you enhance the effectiveness of your SharePoint document library. Our team of experts can work with you to design and implement a customized solution that will give you the tools to collaborate in modern work environments, streamline processes, and improve productivity. ProServeIT's SharePoint Document Library Jumpstart package includes:
✨ One day discovery & envisioning sessions
🗺️ High-level 1-page recommendations & implementation roadmap
💰 Budgetary estimates for recommended solutions
🕹️ Site owner adoption training for 1 group session under 10 people
🎯 Project Management
📌 SharePoint Proof of Concept/Production Pilot, including:
• Landing page with company branding
• Set up 1 document library
• Add trial users and top-level permissions
• Determine the appropriate data set for migration
• Perform data migration & cutover
• Provide post-deployment support the day after cutover
• Knowledge transfer to your team
Interested in setting up a SharePoint Document library customized for your business? Discover how our ProServeIT team can help by clicking this link today.


ProServeIT Academy: Modern Work Course
The "Productivity" room of our Technology House contains all the tools we use to stay more effective and efficient. In the past, this may only have included Outlook email or Microsoft Word, Excel, and PowerPoint. However, as digital transformation is happening in many industries, additional resources have been added to this room. For example, one of the most popular suites of productivity tools used among various industries is Microsoft 365 - which includes Microsoft Teams, SharePoint, and OneDrive.

ProServeIT Academy offers a valuable Modern Work course for IT, Marketing, Sales, Finance, and Operations leaders. Join Tony's last class this semester on December 14th to learn What You Need to Know to Move to Teams Calling to connect your future workplace successfully. You will also have the opportunity to ask any questions regarding Microsoft Teams.
Content from: ProServeIT Academy 2022 Modern Work 2 by Tony Caporaletti
Edited by: Betty Quon & Hyun-Jin Im