Like any other projects, your BI initiative requires adequate planning. For your BI project planning, we recommend a 5-step approach: Structure, Identity, Choose, Implement, and Measure. Our previous blog posts have helpful tips for the first and second steps: 9 Tips for Building Your Business Intelligence Project and How to Gather Your BI Requirements. After you successfully structure your BI implementation project and gather your BI requirements from each team at your organization, you need to think about how to choose the right BI platform and partner.
Work with a Business Intelligence Partner - 3 steps to follow
Here are 3 steps you can follow to ensure that you choose the right Business Intelligence partner and that your BI project is properly planned and executed.
Always ask for a demo, preferably with your own sanitized data.
Use a demo script to direct and customize the demo.
Ask questions after the demo. Engage the future business users to ask questions too.
3 tips fo

r

choosing the right Business Intelligence platform
When choosing a BI platform and partner, we recommend controlling the number of mandatory requirements you place in your procurement process to ensure that you choose the best BI platform and partner. Consider the following 3 tips:
Identify your Requirements
Categorize your requirements as: Business Requirements; Data Requirements; Architecture Requirements; and User Group Requirements. For detailed information about how to identify and categorize these requirements, refer to our previous blog: How to Gather Your BI Requirements.
Research market trends and additional opportunities with BI.


Prioritize your Requirements
Identify the significance of each requirement for your solution evaluation.
Identify features and requirements as mandatory, important, or
Control the number of mandatory requirements you document. Too many mandatory requirements could create an unrealistic framework for evaluating solutions.


Create a Requirements Package
Consolidate your identified requirements into one list, removing redundancies and conflicts.
Categorize the requirements based on their priority and nature.
Microsoft Power BI
Our recommended business intelligence platform is Microsoft Power BI. Microsoft entered the BI space with a familiar product as an affordable option. Leveraging licenses already owned by organizations, such as for Microsoft Excel, Microsoft offered a BI product at no additional cost making it a very affordable solution. Here are the main strengths of Microsoft Power BI:
Microsoft Power BI is a logical choice for organizations that are a Microsoft shop. It may be acquired as part of an existing license or through bundle discounting in some cases.
Excel's strong integration with Power View and Power Pivot offers an opportunity to improve the BI tools offered to end users, while maintaining their comfort with Excel.
It's relatively easy to deploy in a Windows environment, reducing implementation complexity.
Related: Power BI, Your Business Intelligence Tool - Features & Benefits
3 ways to safeguard your BI investment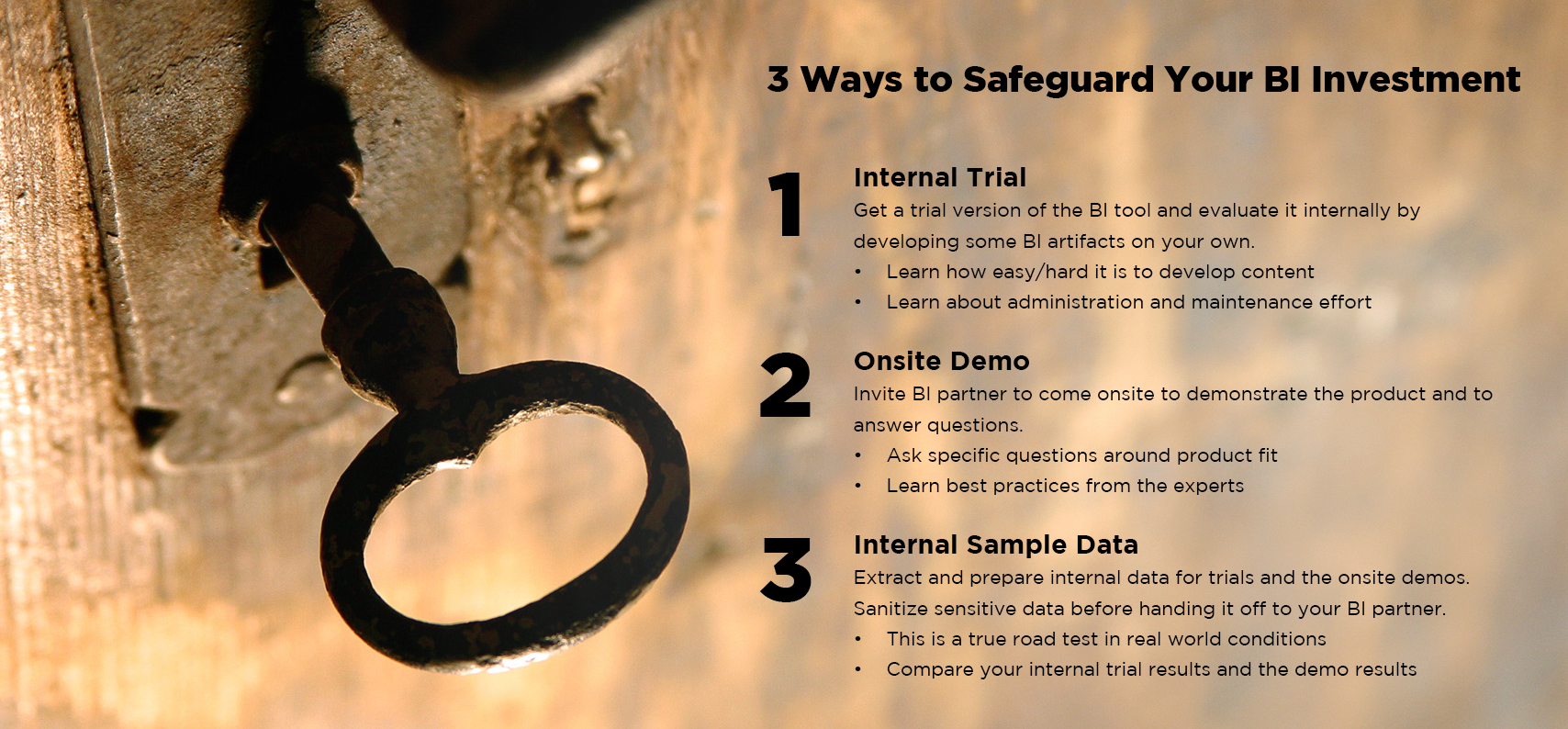 Deciding on a BI platform is not an easy task. BI platform may be an important and strategic investment to your organization so you want to take it seriously. You need a methodology and a safety net to support your decision. Consider the following 3 ways to safeguard your BI investment:
Internal Trial
Get a trial version of the BI tool and evaluate it internally by developing some BI artifacts on your own.
Learn how easy/hard it is to develop content
Learn about administration and maintenance effort
Onsite Demo
Invite Business Intelligence partner to come onsite to demonstrate the product and to answer questions.
Ask specific questions around product fit
Learn best practices from the experts
Internal Sample Data
Extract and prepare internal data for trials and the onsite demos. Remember to sanitize sensitive data before handing it off to your Business Intelligence partner.
This is a true road test in real-world conditions
Compare your internal trial results and the demo results
Let's map your BI journey together!
Business Intelligence is no longer a luxury or niche. Organizations of every size and across all industries are taking advantage of the benefits of BI. Having an appetite for BI does not mean that the initiative will be an automatic success. It is imperative that organizations take the time to select and implement a BI suite that aligns with business goals and fosters end-user adoption. Our team of BI experts will be happy to help you start your BI journey. Drop us a line today to get your questions answered and start the journey!
Related Posts: