After hearing about Office 365 Nonprofit and having understood the importance of bringing technology to the top of your priority list, your organization has decided to embrace the Cloud and embark on a technology upgrade. The question now becomes, which Office 365 license are you going to go with?
Given its attractive price point, implementing Office 365 Nonprofit Enterprise E3 licenses is the first choice for many nonprofits. Office 365 Enterprise E3 has a lot of features, and it's cost-efficient so it suits your budget. But, for some organizations, it actually makes more sense to spend the extra money and purchase Office 365 Enterprise E5.
So, what is the difference between the Office 365 Nonprofit Enterprise E3 and E5 licenses? What does each license come with? Why do some nonprofits choose E5 over E3? This post answers these questions.
---
Office 365 Nonprofit E3 License vs. E5 License
Office 365, a set of Cloud services that are available on a subscription basis from Microsoft, provides organizations with basic as well as advanced capabilities. There are 5 different Office 365 Nonprofit licenses that are available for nonprofits to take advantage of. All these Microsoft's Office 365 Nonprofit licenses include core services like email, shared calendar, document management, team collaboration, mobile access, instant messaging, and online meetings.
However, Enterprise E1 is available by donation only, and does not include any desktop office applications (only online versions), so it's not ideal for every nonprofit out there. Thus, we typically see nonprofits choosing between Office 365 Nonprofit E3 and Office 365 Nonprofit E5.
In the section below, we'll look at these two licenses in greater side-by-side detail.
---
Office 365 Nonprofit Pricing - E3 and E5 Licenses
Below, we've put Office 365 Nonprofit pricing (E3 and E5) side-by-side, so you can see the similarities and differences between the two.

---
The Top 3 Benefits of Choosing an Office 365 Nonprofit E5 License
As mentioned above, an Office 365 Nonprofit E5 license costs $18.60 CAD/user/month, which is quite a price jump from $6.00 CAD/user/month that an E3 license would cost. However, the Office 365 Nonprofit E5 license can offer several additional benefits that can help your organization save money, be more protected, and make better business decisions in the long run, which, in our books, warrants a closer look.
So, what are the key benefits that your nonprofit organization will enjoy by choosing E5? Below, we've outlined 3 top benefits in greater detail:
1. Office 365 Nonprofit E5 Offers Expanded Audio Capabilities
You may have heard that, on May 1st, 2018, Microsoft announced that they have made PSTN Calling Plans for Office 365 generally available in Canada. This is sure to be a game-changer, encouraging many organizations to switch from the traditional on-premises telephone systems (which can be one of the more expensive things that an organization needs to run) and opt for a much more cost-effective Cloud-based PSTN calling system instead.
Related: Microsoft PSTN Calling Plans for Office 365 Now Generally Available
Microsoft Phone System and Audio Conferencing are both included with your Office 365 Nonprofit E3 or E5 licenses. However, while E5 has Phone System and Audio Conferencing built into its monthly cost, E3 does not. So, if you go with an E3 license and want to take advantage of Microsoft PSTN Calling Plans, you'll have to pay an additional $3.50 CAD/user/month for the Phone System, and another $1.75/user/month for Audio Conferencing, plus the cost of whatever Calling Plan you choose to use (anywhere from $7.30 to $29.18 CAD). With these additional charges, your E3 license base price will become $11.25 CAD/user/month.
2. Office 365 Nonprofit E5 Offers Advanced Security and Compliance Features That E3 Doesn't Have
Office 365 comes with many built-in security and compliance features, and with Microsoft spending over $1 billion per year on security, you can be sure that choosing any Office 365 license will give you a secure platform to work from. And, as the recent ransomware attack on two Ontario Children's Aid societies shows, nonprofits are not exempt from coming under fire from cybercriminals, so cybersecurity is definitely something that you should be thinking of in your nonprofit organization.
Office 365 Nonprofit E5 does provide additional security and compliance measures to be cognoscente of. For example, Microsoft made sure that your E5 license has Exchange Online Advanced Threat Protection (ATP) included in the price (instead of having to pay $0.73 CAD/user/month extra for it). ATP ensures that your data is being protected against unknown malware and viruses, plus, through Safe Links and Safe Attachments, ATP also gives you real time, time-of-click protection against malicious URLs.
Advanced eDiscovery is another feature that provides additional protection for your organization. It is only available with the E5 license, and helps you to streamline and speed up your document reviewing process. Using features like near-duplicates detection and email thread analysis, eDiscovery can identify redundant information, find relevant documents, and search for content from a variety of sources.
3. Office 365 Nonprofit E5 Offers Advanced Analytics Tools
Nonprofit organizations often have an additional onus to provide advanced analytics to their board members and stakeholders. When donation money is on the line, there is definitely pressure for the organization taking it to account for their budgets and their activities. In addition to this, stakeholders are often looking for the biggest ROI for their donation dollars. Collecting and interpreting data, therefore, is extremely important to nonprofits, and they require the right tools to be able to not only see their data, but analyze it in such a way that they can produce leads, make better business decisions, and optimize their time.
Enter Power BI Pro and Microsoft MyAnalytics, both of which are included with the Office 365 Nonprofit E5 license, and available at an additional cost for those who choose an E3 license instead. These two great tools to help you not only capture, but also utilize your data to the fullest.
Power BI Pro is a user-friendly, Cloud-based business intelligence tool that lets you easily create visually-appealing reports and dashboards, analyze your data, view shared content, and integrate with several technologies to pull the data you need to make better business decisions. If your organization decides to go with an Office 365 Nonprofit E3 license, you can add Power BI Pro to your monthly subscription for $12.10 CAD/user/month.
Microsoft MyAnalytics, an Outlook add-on, allows anyone in your organization to track exactly how they're spending their time every week. From tracking how many hours they spend on emails, meetings, and 'focus hours', your team members can see what they need to prioritize their time on. If your organization wants to add MyAnalytics to your E3 license, you can do so for an additional $4.90 CAD/user/month.
---
Office 365 Nonprofit E3 - By The Numbers
Your organization will be able to enjoy all these benefits mentioned above when you choose Office 365 Nonprofit E5, and the cost of the E5 license is $18.60 CAD/user/month. Here is how much it would cost to get the same value from your E3 license: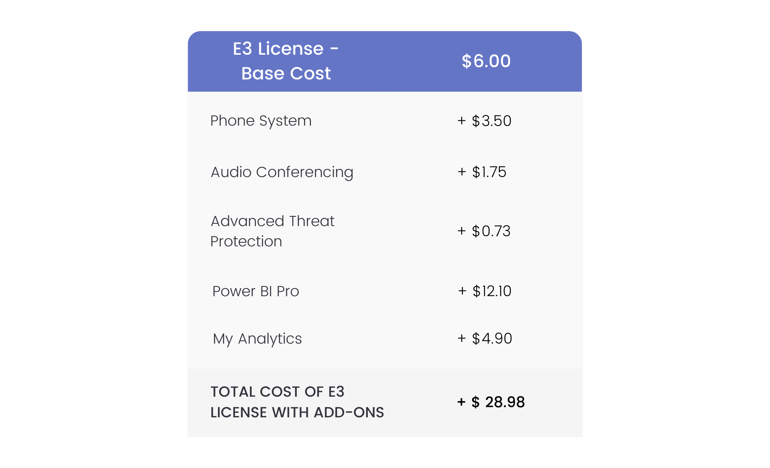 ---
Get Started Using Office 365 Nonprofit Today – Let Us Help!
Ultimately, the choice is yours – you know your business and what works best for you. But these are three good reasons to consider Office 365 Nonprofit E5 licenses for your organization. Let ProServeIT help you determine which Office 365 Nonprofit license is the right choice for you contact us today!
---
With Windows 10 and Office 365, Right to Play better secured their data and became a more efficient.
Key Benefits:
🖥️ Improved Access: Employees are using Office 365 and SharePoint which give them the necessary tools to access the resources and materials they use when teaching children.
🔒 Increased Data Security: Right To Play utilized Windows 10's biometric security to keep their data more secure, addressing the security issues that inevitably came up from having many employees working abroad.
💰 Cost Savings: As a not-for-profit organization, Right to Play enjoys the benefits of Microsoft's reduced cost structure for qualified nonprofits