Integrating SharePoint and Salesforce is a great way to maximize productivity and efficiency. Combining these two powerful platforms will allow you to access data quickly, share information between teams, and store documents in a secure environment.
In this blog, you will find:
Your Integration Strategy: What You Need to Consider for a Successful SharePoint and Salesforce Integration
Three Options for Executing Integrations of SharePoint and Salesforce
Key Considerations for Change Management When Integrating SharePoint and Salesforce
SharePoint Solutions That Empower Teams
In this blog, we'll explore the benefits of integrating the SharePoint feature-rich collaboration platform with the best-of-breed customer relationship management (CRM) platform Salesforce to maximize the value of both systems.
Your Integration Strategy: What You Need to Consider for a Successful SharePoint and Salesforce Integration
Before you begin your SharePoint and Salesforce integration process, consider the following guiding principles for your successful integration: data residency, security, data architecture and external sharing. Let's look at the guidelines one by one.
Four Guiding Principles for Ensuring a Successful Integration
🧾
When trying to integrate Salesforce and SharePoint, you need to consider data residency, security, data architecture and external sharing to be successful.

Successful integrations are essential for businesses in today's digital economy to create a more efficient and effective organization. Four guiding principles, including data governance, security, user experience and maintenance, can help you succeed.
🏠 Data Residency: This ensures that data remains within its designated geographic borders with the three places rule: where it's created, accessed, and stored. This is especially important for compliance with regulations surrounding data storage and privacy. It ensures that all your customer, employee and corporate data is stored in the right locations and handled appropriately under local laws.
🔐 Security: Data security should be a top priority when integrating SharePoint and Salesforce. Ensure you maintain the proper security standards to protect your data from unauthorized access.
With the integration of SharePoint and Salesforce, you can open up a new world to sharing information. However, you need to consider security settings - just because this file was accessible in SharePoint does not mean automatic access from Salesforce! Depending on the type of setup chosen for your system, different rules may apply, with some integrations inheriting existing permissions already set up in SharePoint.
📊 Data Architecture: Your data must be structured and organized logically to make the most out of your integration project. This includes categorizing, labelling, and linking related data points across both systems.
With an understanding of how data is structured, it's possible to reap the benefits of integrating Salesforce and SharePoint. It might even worsen things if you don't have a well-organized system! To ensure compliance with regulations and proper access control, getting familiar with architectural maps should be the top priority for any organization looking to utilize these services.
🤝 External Sharing: Now that the data has been securely stored and ready for your team, how will external partners or clients access it? Depending on what license is applied to Salesforce users outside of your organization when approaching a Client Portal - you may have to consider other scenarios. Moreover, if using SharePoint as an extension in tandem with Salesforce, it also needs factoring in – enabling Clients to view only relevant files to them, all through their very own portal!
Three Options for Executing Integrations of SharePoint and Salesforce
Let's look at the following integration options for SharePoint and Salesforce: Salesforce FilesConnect, sFiles, and EGNYTE.

☁️ Salesforce FilesConnect
With Salesforce Files Connect, administrators can easily set up a connection between their subscription to SharePoint Online. This allows existing users in the library to access files from both sources simultaneously – making collaboration and sharing even easier. For those on-premises or using an MSP for hosting services - you should explore other options available if this won't work with your current architecture.
Files Connect could be the solution for generating documents for Salesforce and pushing them into SharePoint. Setting up a test group or sandbox may only take an hour, which is cost-effective since it is included with a Salesforce subscription.
🗂️

sFiles
sFiles provides a powerful alternative to the traditional syncing of Salesforce with SharePoint. This third-party app gives users an 'iframe view' into their document library, allowing them access and control over multiple folders in different volumes - all within one lightning component. It's much more than a simple file attachment; it's like files connected on steroids.
💡 EGNYTE
Access the EGNYTE platform within Salesforce. Due to its capabilities, EGNYTE has become a popular solution for many in recent years. It is a platform on top of SharePoint that allows file management and document generation, making the integration process with Salesforce easier than ever before. For those already subscribed to EGNYTE, it offers valuable functionality displayed through a similar window as sFiles – enabling users to browse or upload folders directly from their mobile device.
No matter which tool you use to connect Salesforce and SharePoint, mobile functionality is a given! You can access all your files on the go with the Salesforce mobile app or utilize versions of tools like Connect and EGNYTE tailored for phones. With these options, seamlessly managing documents from virtually anywhere has never been easier.
Key Considerations on Change Management when Integrating SharePoint and Salesforce
It's not enough to simply integrate Salesforce and SharePoint and expect them to work well together. Change management must be considered when it comes to integrating Salesforce with SharePoint – otherwise, an organization could end up with far more problems than solutions. Everyone from your IT team to users need to be involved in the process, ensuring all relevant stakeholders are on the same page. Here are a few key areas to consider:
👨‍💻 Explain to users where they should be creating files, educating them on security considerations:
Establishing a clear understanding of where users should be creating files is essential and enforce these rules correctly. Administrators also need to educate the users on the security considerations associated with both platforms – such as when external partners or clients can access their data.
📑How are we assessing for compliance?
Organizations need to consider how they can assess compliance when integrating Salesforce with SharePoint. Each organization should have a framework that allows for regular audits and assessments of the data stored on both platforms. Regular reviews will help ensure that everyone is adhering to best practices and that policies are being followed correctly.
🧑‍💻Who is responsible for answering user questions?
When organizations take on any integration project, there needs to be a designated person or group responsible for responding to user questions and troubleshooting issues. This person should have in-depth knowledge of both Salesforce and SharePoint and be easily accessible whenever needed.
📱 Mobile versions of tools to access files:
Accessing their files through a mobile platform is essential for those on the go. Whether it's Connect or EGNYTE, having a tailored version for phones makes managing documents from anywhere much more accessible. Most major platforms have app versions that allow users to view and edit their documents even if they're away from their computers.
You may be interested in these blogs:
How to Integrate Microsoft Office 365 and Salesforce: A Complete Guide!
What is SharePoint (In Plain English)?
8 Key Tips to Design an Effective SharePoint Team Site
SharePoint Solutions That Empower Teams
Used by over 190 million users across 200,000 organizations, SharePoint solutions allow your employees to share ideas and content across various teams and regions, without the associated overhead of having to manage the infrastructure on your own.
🔄 Simple Sharing and Seamless Collaboration: With SharePoint, you can create dynamic and productive team sites for every department, division, or project team. These sites allow those on the team to share files, news, data, and resources effortlessly, across laptops, desktops, or mobile devices.
🔊Engage & Inform Your Organization: SharePoint Solutions can double as an employee intranet, allowing you to provide a cohesive and efficient way for team members to access common resources and applications via home sites and portals in SharePoint.
📚 Harness Collective Knowledge: With SharePoint, you're only a click away from what you need. SharePoint provides your employees with powerful search capabilities and rich content management so that they can always discover the information they're looking for.
🎛️ Transform Your Business Processes: What would you do if you could be more efficient with your time and reap the benefits of a more optimized workforce? With SharePoint, you can accelerate your organization's productivity by automating your processes.
✨SharePoint-in-a-Day Workshop
If SharePoint is the right productivity tool, adopt it quickly with a SharePoint-in-a-Day Workshop.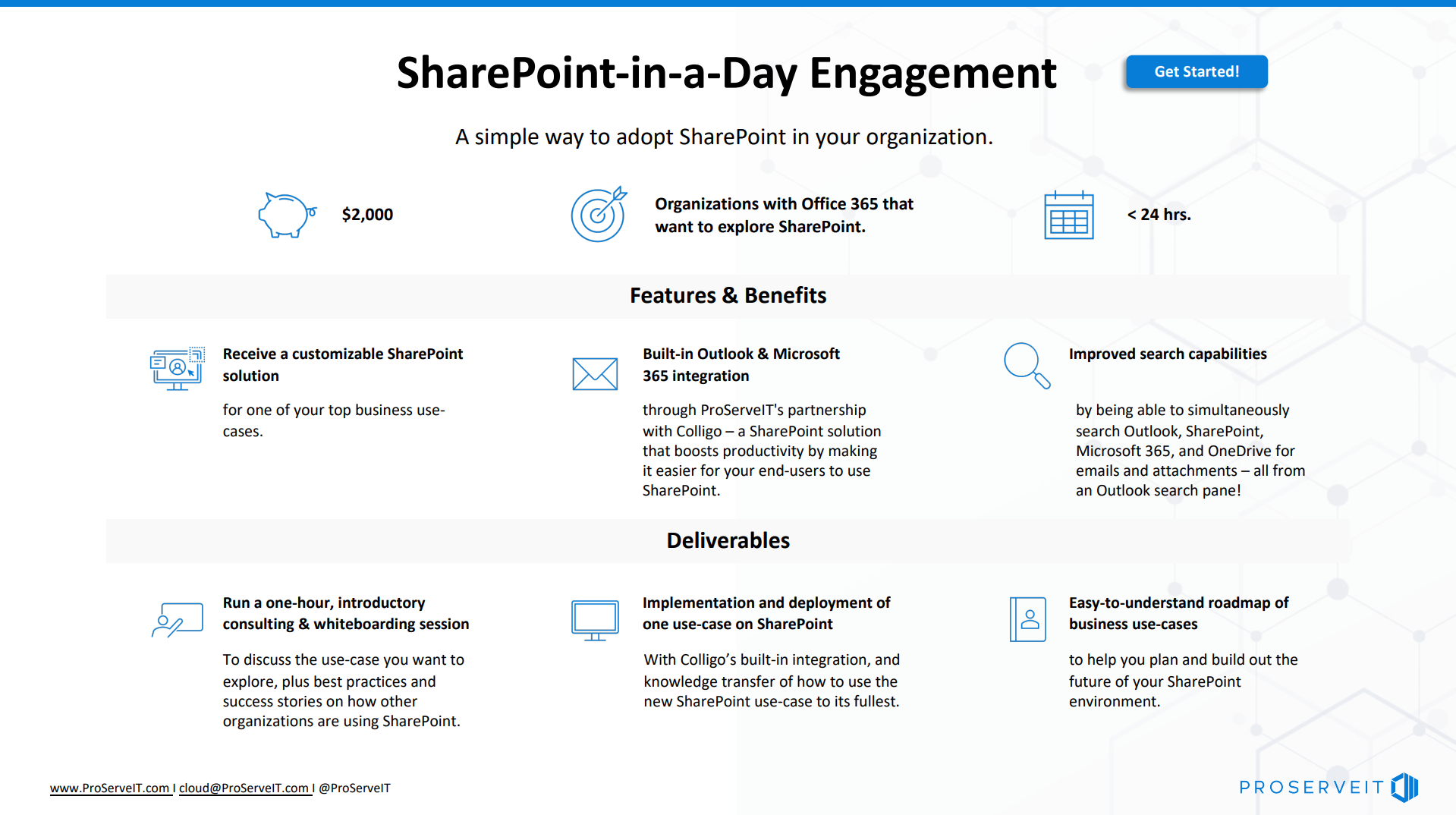 Explore best practices and built-in integrations to improve search capabilities for your users. Includes full implementation and deployment of one of your unique business use-cases via SharePoint, and a roadmap to build out the future of your SharePoint environment. 
Book your Workshop here.
Content from: ProServeIT Academy 2022 Microsoft & Salesforce Integration Course 2 by Matthew Maingot & Eric Sugar
Edited by: Betty Quon & Hyun-Jin Im