As a CEO or executive navigating the current economic environment, you know that managing your technology roadmap can be challenging. With many companies facing prolonged recession conditions at the moment, it's understandable why there might be apprehension in adapting to new technologies and trends.
Thankfully, with the right approach, you can use these uncertain times as an opportunity to take control of your technology roadmap and get ready for future growth and prosperity.
In this blog post, we'll discuss how rethinking your tech strategy now can help set your organization up for success when things begin to pick back up again!
In a hurry? Jump straight to your section of interest:
What is a Technology/IT Roadmap?

Creating Your Technology Roadmap

Adapting Your Technology/IT Roadmap to Tough Economic Conditions

Conclusion


W

hat is a Technology/IT Roadmap?
A technology roadmap is a powerful process for organizations wanting to create an efficient technology strategy for both today and the future. It's the key to unlocking your technology strategy and is designed to deliver real value for your organization and its technology investments.
With a Technology Roadmap, businesses can evaluate their IT infrastructure against best practices and industry standards, better understanding their opportunities and challenges.
With a Tech Roadmap, you can assess technology staff skills in order to build a gap analysis between current technology capabilities and business objectives – allowing you to move ambitiously towards success. Ultimately, technology roadmaps maximize the value that technology brings to your organization both now and in the long term.
The truth is that there are a lot of unknowns in the future. Better to map out the future than be caught off guard by it.
Having an IT roadmap for your technology investments can help guide your company to where it wants to be in the future (both strategically and financially). Lean on our expertise and experience in creating technology roadmap to help your organization build the roadmap you would be proud to use.


Creating Your Technology Roadmap
As a CEO or Executive, it's no secret that you know your business quite well but are busy with many things. That's why we want to help you create a Technology Roadmap custom for your organization's technology investments and plans.
What are the steps to create a quality technology roadmap?
Take a look at how ProServeIT does a Technology Roadmap for its customers:
💬 Step 1 - Interviews

: ProServeIT will conduct extensive, one-on-one interviews with key business stakeholders to determine the needs of the business.

📄 Step 2 – Audit

: ProServeIT will complete an audit of your current IT plan, your IT environment, and your current technical capabilities.
🔍 Step 3 - Gap Analysis

: Utilizing the findings from phases 1 and 2, ProServeIT will perform a gap analysis to determine if and where there is any misalignment.

🚀 Step 4 - IT Roadmap Creation

: ProServeIT will present our findings, along with a list of recommendations to help you close the gaps that were identified.
By creating a quality technology roadmap, you can finally have a clear picture of all of your IT capabilities & how they align with your business goals to support your unique objectives. Equipped with this document, you can avoid significant system failures by understanding the assets currently straining your IT resources & resolve priority conflicts as they appear.
Interested in seeing what a technology/IT roadmap looks like? Click here to view our roadmap sample (no information required).


Adapting Your Technology/IT Roadmap to Tough Economic Conditions
ProServeIT views technology through a framework of a House (see our last blog post for a quick recap) and how that house has different rooms. We leverage metaphors like renovation and construction to describe in real-world terms how we look at technology.
When you think about a technology roadmap, think about things in the roadmap from an actionable, plan-oriented perspective. A technology roadmap is an organic, evergreen document that can help your organization plan. Think of it 12 months or 8 months ahead when it comes to crafting and applying the technology roadmap.
Questions to ask yourself:
❓ What will your organization be doing with its technology investments for the next six months?
❓ What will your organization be doing with its technology investments for the next twelve months?
Take a look at the image below to visualize your technology roadmap and your plan relative to the different rooms of the House for the next 12 months.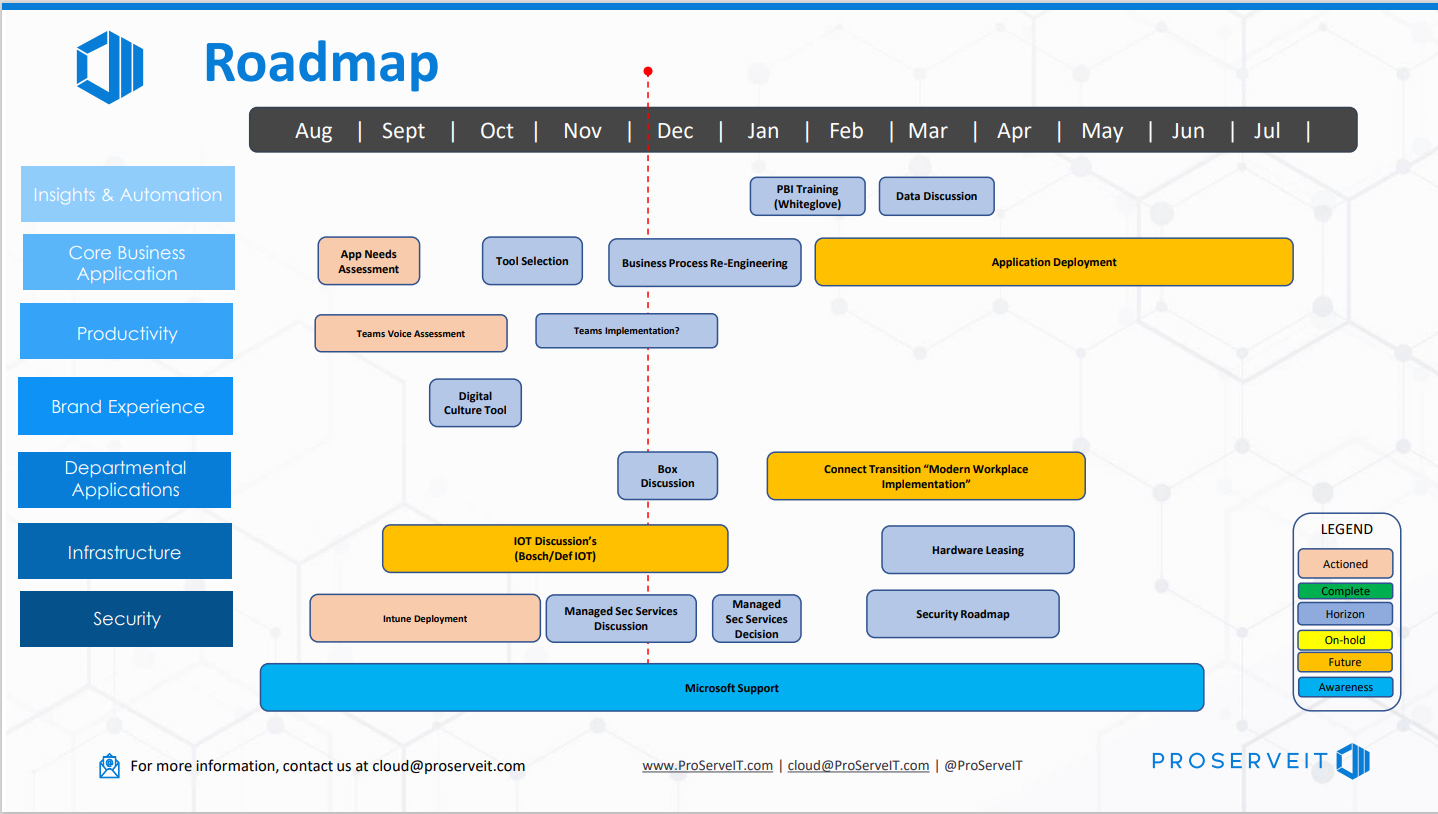 One of the things that you could do and say is, "Your organization has to make some hard decisions here" because either:
You don't have the type of capital that you expected

You don't have the type of support needed to get things done
Another point you might discuss is if you can shift technology projects that are not currently relevant (place it on the backburner) and reevaluate what's relevant to your business at the tail end of the recession. Consider if you have the capital you actually want to extend these projects (so as not to consume your capital as quickly).
Suppose you wanted to bring a project forward and take advantage of some positive aspects at the end of the recession. In that case, you might have to shuffle other elements of your existing technology roadmap around because there's only so much change from a technology perspective that you can adequately accept all at the same time. This gives your organization a very dynamic view of how it thinks and strategizes its technology roadmap.
Additional questions to ponder when creating a technology roadmap:
❓ How does your organization prioritize what projects are important to it now? In 6 months?
Then based on that answer (which helps reveal importance and criticality), these next questions can help you better design your roadmap:
❓ How does your organization decide which projects stay and which projects are placed on hold?

❓ Does your organization stretch its projects out?

❓ Does your organization compress or extend its projects?

❓ Does your organization reorder its projects to take advantage of current conditions?
And so ProServeIT really encourages every organization to have this visual technology roadmap in place to allow you the ability to plan out your technology projects and react to conditions like a recession. Download our 1-pager (no information required)

Conclusion
Following the principles outlined above will set you on the path to understanding the value of technology roadmaps and building your "planning muscle" from a technology perspective. By utilizing a technology/IT roadmap for defining objectives, setting realistic goals, and determining which tools or processes are relevant, organizations can have enhanced visibility into their technology investments' short-term and long-term decisions.
Want to start building your organization's technology future? Partner with us to build the technology roadmap you would be proud of!