It's no secret that having a sound technology strategy is essential for success, especially during uncertain economic times. As the challenges of recession linger and stress our businesses, CEOs and executives have to be more creative and agile in their approach to staying competitive.
But with so much data available, it can be hard to know if your current technology strategy is robust enough to weather even the fiercest economic storms. So what do you need to look out for?
In this blog post, we'll explore how resilient your current technology strategy might be when facing the realities of a recession and how using the right technology framework can help enhance your technology strategy.
In this blog, you will find:
💰 Economic Uncertainties & Technology Investments
🏠 ProServeIT's Modern Technology Framework
🏗️ Building Resiliency on the right Technology Framework
🤝🏼 Conclusion


Impact of Economic Uncertainties on Technology Investments
In today's world, economic uncertainties can make technology investments a major source of risk. However, forward-thinking technology strategies allow companies to remain resilient and adaptable.
According to a Gartner survey of more than 200 CFOs, they discovered that 69% of their respondents "plan to increase their spend on digital technologies". In their forecast for 2023, the management consulting company projected the increase in worldwide IT spending in 2023 would total $4.6 trillion (a 5.1% increase from 2022). See Table 1 below.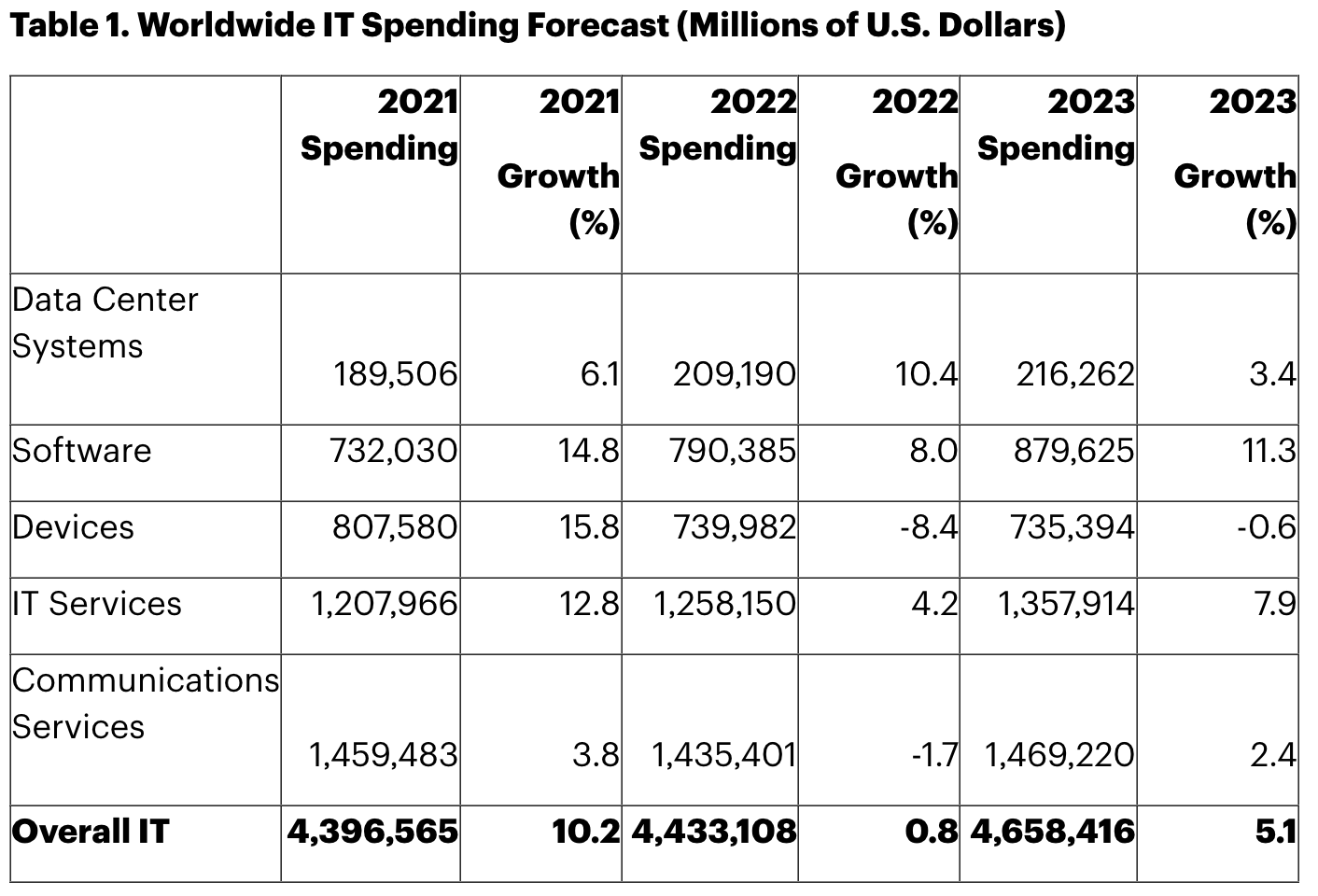 Resource: Gartner (October 2022)
"Economic turbulence will change the context for technology investments, increasing spending in some areas and accelerating declines in others, but it is not projected to materially impact the overall level of enterprise technology spending," said John-David Lovelock, distinguished VP Analyst at Gartner. "Companies will use digital technology primarily to reshape their revenue stream, adding new products and services, changing the cash flow of existing products and services, as well as changing the value proposition of existing products and services."
An example of a strategic technology investment would be an organization migrating to cloud-based infrastructure services and cloud-native applications, which can help drive improved IT operational and cost efficiency.
By structuring technology investments with an eye toward the long-term horizon—ensuring alignment with business strategies—companies can withstand turns in the macroeconomic landscape, turning market downturns into opportunities for innovation and growth.
As we move through this period of uncertainty, it's critical to remember that technology investments are still vital to success—we just need to ensure that our strategies are as nimble and resilient as possible!


ProServeIT's Modern Technology Framework
At ProServeIT, we view technology holistically through the lens of a house, and this represents the best way to visualize/explain our Modern Technology Framework to any organization. This metaphor allows us the freedom to have simple yet insightful technology conversations through an actual natural language metaphor.
Most people are familiar with the idea of renovating, building a house from scratch or fixing a leaky roof. All sorts of different analogies can apply to an organization's current technology situation. Below are the seven key elements of our Modern Technology Framework: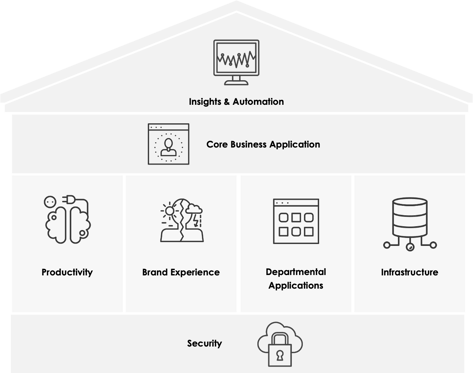 Security (Basement): Every house needs a solid foundation before the main floor is built. The underpinning of any modern framework for technology needs to have cybersecurity at the forefront.
Productivity (Main floor): All of the tools we use to stay more effective and efficient belong to the "Productivity" room. As digital transformation is actively happening in most industries, many additional tools are added to the productivity room, such as customer service tools, workflow tools, email tools, collaboration tools, and more.
Related blog you might find of interest:
Are Your Collaboration Tools for Business Helping Your Productivity?


Brand Experience (Main floor): For this room, we encourage CEOs and their executives to think of a brand experience from the viewpoint of both their customers and their employees.
There are two lenses to brand experience:
• Internal lens (employee experience): What are the tools that you should invest in that help you attract, retain and grow employees?
• External lens (customer experience): What are those tools that you should invest in that help you attract, retain and grow customers?
This perspective can lead to quality feedback to improve the experience that everyone can have with your brand.
Departmental Applications (Main floor): Departmental applications are the technologies used by each of your departments (i.e., FreshBooks for accounting, HubSpot for marketing, etc). Typically there are multiple departmental applications that are used inside of a business to get things done.
Infrastructure (Main floor): Infrastructure is what we would think of as "traditional IT." It includes your network, wi-fi, internet, devices, servers, etc. While its role in being strategic has been diminished, it doesn't mean it's not important.
Core Business Applications (Upper floor): This room represents the business applications critical to your core operations and future success. For a manufacturing organization, this may be your inventory system and for a healthcare business, this may be your patient records system. Due to its vital nature, there needs to be special consideration for how you should invest in, integrate and better utilize your core business application(s).

Related blog you might find of interest:
How to Evaluate Your Core Business Applications? | Risk Value Matrix
Insight & Automation - Turn Your Data into Growth | ProServeIT


Insights and Automation (Roof): The roof is possibly the most important element of the Modern Technology Framework. Insights and Automation is what allows organizations to make actionable decisions from the quality data they have acquired from customers, employees, and other relevant sources.

Depending on where your organization sits in this Modern Technology house and your priority list, you may rank the importance of these rooms differently.


Building Resiliency on The Right Technology Framework
When applying your technology strategy during a "recession condition," it is important to have a solid technology framework which allows you to prioritize and analyze the types of technology investments you have or may potentially make for your organization's growth.

So what does it look like when you apply that framework and your technology strategy within a potential recession?
As an example, let's say you're in a highly regulated industry. Security

might be more important than if you're in an unregulated environment.

If you are in a manufacturing environment, maybe your

core business application

might be more important because it represents how you monetize and run everything. It may be more important than two other rooms combined

in your business.
Maybe

productivity

is less important because most of your workers are on the frontline and don't use technology to do their work. It may be less important than for a business that has more knowledge workers (i.e., people working in front of a PC).



To contextualize this from a recession perspective, typically, you want to take two lenses to this

1. Do you need to underinvest or de-invest in any kind of technology initiatives you have on the go?
Source: Image from the Coaching Tools Company
Not important, Not urgent

: This becomes easy. You can mark any technology initiatives in this quadrant as not important for now and make a note to check on this in the future to see if it can be utilized at that time.



Not important, Urgent

: You probably want to shelve these technology initiatives and decide based on "if it's really important, we would have done it, even if it is urgent".


Important, Not urgent

: This represents an opportunity to map out the utilization and expected impact of any technology initiatives in this quadrant. Consider your existing business timelines and how you can utilize any of these important technology initiatives in a staged manner.





Important, Urgent

: Typically, you should focus your energy on the

technology initiatives in this quadrant. It is important to view this from a technology perspective saying, "what is most important? Do we

need to shore up our weaknesses or invest in strengths?"




2. Is your organization doing well from a cash position?
If you expect there to be an impact in your industry, you still want to be prepared to "catapult" your business into success at the tail end of this recession.
You may want to invest in some of your core business systems now to be able to ramp up production with an anticipated spike in demand at the end of the recession or invest in some other pieces that could influence demand down the road.
Some of these considerations could be levers that influence what you decide, and using the framework mentioned in the previous section, they can help you gauge the resilience of your Technology Strategy and how you can adapt it to any kind of market condition, recession or other.
Related blog you might find of interest:
Four Ways IT Leaders Can Recession-Proof Their Businesses.
A Guide to Build an Effective Go-To-Market Technology Stack
Are Your Collaboration Tools for Business Helping Your Productivity?


Conclusion
In conclusion, the current economic climate has put a lot of pressure on businesses to optimize operations and make well-thought-out investments in technology. It's important for organizations to consider selecting a tailored technology framework that is modern, robust, and able to generate a return on investment (ROI) over time.
With ProServeIT's Modern Technology Framework, companies of any size can view their technology as an ally to help them become more resilient and agile.
If you're ready to start building resiliency with the right Technology Framework that fits your business needs and long term goals, then reach out to us today to get started!