According to McKinsey's article entitled "The CEO's new technology agenda", a flexible and scalable technology foundation is one commonality shared by successful companies. It allows their teams to be quick and efficient when it comes to navigating through socio-economic changes and meeting their business requirements. If there is anything the pandemic taught us, it's how important agility, speed, and efficiency are for businesses to survive and thrive during times of uncertainty and change.
So, how does a CEO make sure that their organization has a flexible and scalable technology foundation? By creating and fine-tuning a CEO's Technology Strategy Framework.
What is a CEO's Technology Strategy Framework?
A CEO's Technology Strategy Framework gives a CEO and their senior leadership team a bird's-eye view of their current technology capabilities and investments and how they are related to different aspects of their business. The Technology Strategy Framework helps you have a balanced approach to your technology requirements to make sure that technology acts as your business enabler. An absence of a Technology Strategy Framework can lead to overspend on technologies, redundancy, and inefficiency.
A solid Technology Strategy Framework should include seven elements: security, infrastructure, core business applications, departmental applications, productivity, brand experience, and data. For a clear visualization of the Framework and how the seven elements are stacked with each other, we draw an analogy between the Framework and a house (see the image below).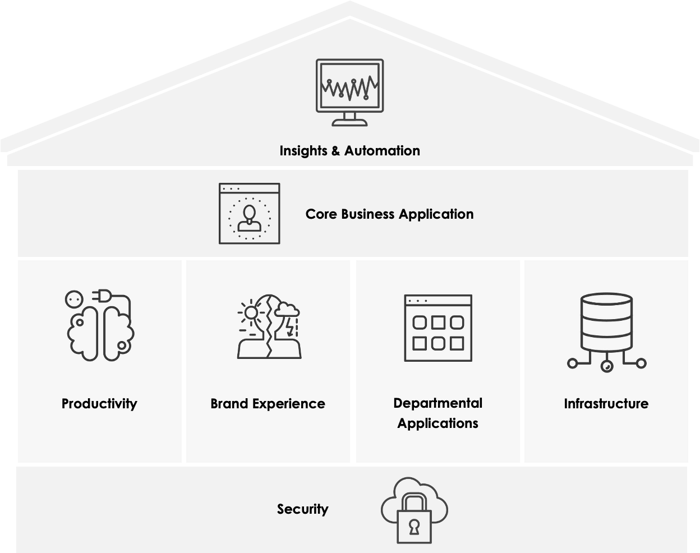 Here is what each element means:
Every house needs a solid foundation before the main floor is built. The underpinning of any modern framework for technology needs to have security at the forefront. There is a plenty of evidence of the negative ramifications and negative impact of ignoring or not prioritizing security. Incidents are consistently featured on the news and we at ProServeIT help many organizations who experience some form of compromise on a regular basis.
What it means to have security as the foundation of your Technology Strategy Framework is, as you're making technology investment decisions (and as we're making technology investment recommendations to a CEO and their C-suite), you want to make sure that the new technologies are secured by design and that they're not going to introduce any additional risks to your business.
With security as a foundation, we come to the core rooms of the house. One of the rooms is "Productivity". All of the tools that we use to stay more effective and efficient belong to this room. Traditionally, Outlook email or Word, Excel, and PowerPoint were the productivity tools we used. As digital transformation is actively happening in most industries, many additional tools are added to this room, including e-signature tools, workflow tools, incident management tools, customer services tools, and so on.
On top of all of these rooms is brand experience. We encourage CEOs and their C-suite executives to think of brand experience through two lenses: through a customer perspective and through an employee experience perspective.
Employee Experience Perspective
When thinking about brand experience from an employee experience perspective, some questions to ask include:
What are the tools that we're leveraging to help attract new employees?

What are the tools that we're using to retain our existing employees?

What are the tools that we're using to grow our existing employees and make them the best versions of themselves?

How can we make these investments in such a way that we are able to keep, get, and grow our employees, especially in an environment where a lot of us are working remotely?
We want to ensure that we can democratize the employee experience regardless of their situation. We also want to be able to digitize corporate culture, to make it more attractive for both current and prospective employees. All this happens through the internal lens of brand experience.
Customer Experience Perspective
The external view of brand experience is the customer experience. What are the interactions that your customers have with your business? And are these interactions a positive influence or a negative influence over their decision to do business with you? Are the technology investments you've made helping ease their ability to purchase or procure your service or your product? Is your technology helping to enhance their customer journey as they navigate through their life cycle with you? Do you have tools to help you engage with those existing customers? We need to think of these questions when making intentional decisions for technology that will help us attract new customers, grow the existing customers that we have, and retain the customers that we already maintain. That is the external view of brand experience.
📱

Departmental Applications
Departmental applications are the technologies used by each of your departments, i.e., a marketing automation tool like Hubspot that your marketing team uses, an accounting platform like QuickBook that your accounting team uses, etc. Once you start filling this room with those departmental apps, you will be surprised of the number of applications that are being used within your organization.
What's important for us to think about is how we get the most out of these departmental applications. If we are going to purchase an application for accounting, marketing, finance, or sales, how can we do that in such a way that is strategic? Further, how can those various tools be integrated (if needed) seamlessly to ensure efficient information/data flow between departments? Before making a purchase, we need to intentionally think about these.
🌐
Infrastructure
Infrastructure is what we would think of as "traditional IT". It includes your network, wi-fi, internet, devices, etc. While its role in being strategic has been diminished, it doesn't mean it's not important. We still need to make sure that your employees have effective devices to work with and good networks and connectivity to access all the necessary applications to do their job.
💼

Core Business Application
It's been our experience that typically organizations have one business application that is the most important application to their business: whether that's your ERP or CRM, or something that monetizes your business or tracks time if you are a service-based business. For this one critical business application, strategic thinking is especially important and thus, we encourage CEOs and their C-suite to ask questions like:
Is this application setting us up for success in the future?

Is it allowing me to be responsive to market conditions and changes that I'm seeing in the ecosystem?

Am I being enabled to respond in an agile capacity to unpredictable socio-economic changes?
🖥️

Insights and Automation
The roof, potentially the most important element of the Framework, is insights and automation. This is what allows us to take and make actionable decisions from the data that we have. Everything below the roof in this framework, we can think of as an asset. The data that we capture in our core business applications, or the data that we capture from our employees or our customers will enable us to make better decisions. We can treat this data as an asset, but like any asset we need to be able to activate it and turn that data into actionable insights.
How to start building your own Technology Strategy Framework?
The CEOs and executive teams we have worked with have found a brainstorming session helpful and essential to building their Technology Strategy Framework. We designed our Technology Roadmap Lite specifically for CEOs and C-suite executives to help them brainstorm the various elements of a Technology Strategy Framework.
When you book your own Technology Roadmap Lite for CEOs, you'll receive a personalized Technology Strategy Framework for your organization, plus a ranking for each of the rooms based on your current state. We'll also provide a list of must-do, should-do, and could-do recommendations to improve your technology framework, and suggested timelines and investment requirements for each recommendation.
See more details and a demo and contact us to book yours.
Workshop to help you understand more about the Technology Strategy Framework
Storytelling and a demo are usually the best ways to learn about a concept, aren't they? Run by our CTO, a Technology Roadmap Workshop for CEOs is a great way to learn more about the Technology Strategy Framework and how to create your own.
It is a monthly workshop. Pick a date that works best with your schedule and join us. Click the image below to grab your spot.