It is important to consider protecting your digital identity while using corporate applications. Ask yourself – what permissions are we providing for apps and services associated with our corporate accounts? Third-party applications pose additional cybersecurity risks to your business especially if you are using multiple services. It is a matter of choosing the right cloud app security and protecting your firewalls to prevent cyberattacks from impacting your organization.
Therefore, how do you protect yourself from cyberattacks on your corporate applications? In this blog, we will outline some of the issues with application security and different ways you can approach these security issues with cloud-based solutions.
Related Blogs
5 Top Features of Office 365 Advanced Threat Protection
10 Ways to Protect Your Digital Identities from Cyberattacks


4 Main Issues Organizations Face with Application Security
There are multiple issues involved when accessing third-party applications through your corporate accounts and it's difficult to know if a user is using a risky application. To address these issues, you should first understand how cybersecurity issues may rise. Below, we have identified four common issues that organizations face with their application security:
1. It can be difficult to keep track of which applications your employees are using. Therefore, there are users that are using their own set of applications which have not been approved by the business or by IT administrators. This issue is called Shadow IT. To solve this issue, discover what cloud applications your employees are using.
2. When someone signs up for a cloud-based application using their corporate account, they are requested to consent on behalf of the user or the organization. This means personal details within the company can be shared with the application which, can be a huge security risk. To avoid this situation, discover what details users are consenting to share with the applications accessed through corporate accounts.
3. How can you tell if malware is being implanted in cloud applications or activities happening from malicious locations? Without proper cybersecurity tools, it can be difficult to scan and detect threats that may bring harm to your organization.
4. If someone is storing credit card numbers in a third-party application – how can we make sure that you can only access those sensitive files from a corporate machine/network within your business? Without proper cybersecurity tools, your sensitive files can be hacked.
With these four issues in mind, your next step is to ask yourself "how can I determine what apps are being used on corporate accounts?"


Discovering Cloud-based Applications to Lower Cyber Attacks
There are two main ways to discover cloud applications and determining what applications corporate users are using on their accounts:
🌟 The Legacy Method – For users who are working in the office, the traffic within applications is being captured by the firewalls in your office. If you need to access a certain website or service, you will go through the firewall first before reaching your destined service.
This method is done by configuring the firewall to forward the traffic towards a lock collector in your office, which will then forward the logs over to a cloud security app.
This method only works when your employees are physically in the office or connected to the office's network through VPN.
📍 Endpoint Detection – For Microsoft users, Defender for Endpoint is an anti-virus software and protects your devices. If a device is enrolled in Defender for Endpoint, the device can be anywhere in the world, and it can forward information directly to the cloud security app. Therefore, your business can continuously monitor the application and the websites your employees are using. As well, you can monitor the traffic that is downloaded and uploaded within that application.
If you decide to block an application, you can either download a block script or run it directly on the firewall to block the app. If you are using Defender for Endpoint, you can block applications directly from the user's machine with a click of a button.
These two methods can help lower cyberattacks and increase monitoring within your organization. It is a matter of choosing the right cloud-based security app and what works best for your business.

What Is the Best Protection Methods Against Application Attacks?
After choosing the right cloud-based security tools and identifying common issues for your business, how do you go about protecting your applications from cyberattacks? We will cover two ways in which you can use your tools to protect your digital corporate identity online.
🚨 Disable consent to access unmanaged applications and only allow administrators to approve access. There are three ways you can do this:
1. User can consent to all the applications – whatever third-party application you want to use, you're allowed to consent on the behalf of yourself and the organization.
2. Allow users to consent to low-risk applications. Therefore, you still give users the level of access they need to continue to conduct their work.
3. Get approval from administrators of your organizations – request access and get approved by admin to use the application.
🛠️ Implement conditional access app control that works in conjunction with cloud app security.
To do so, you would have to configure your third-party application to control Azure conditional access policies. When a user signs into the third-party app using their corporate account, the conditional policy would apply to whatever you set up.
For example, if you have a policy that states you're only allowed to sign in from Canada, any sign-ins happening to a third-party app outside of Canada will be rejected.
If for some reason your cloud security app has recognized the sign-in as a risk, the app will respond by analyzing the session risk and enforce certain policies that you created to protect the user.
There are multiple ways to implement conditional access policies. It's just a matter of what fits your organization and what you want to control.


---
Alarm Guardian Uses Microsoft Sentinel to Protect your Organization
Microsoft Sentinel, a Cloud-native security information and event manager (SIEM) platform helps your organization to filter legitimate events happening in your network from viable threats. Learn more about Alarm Guardian.
---

How Does Microsoft Sentinel Protect my Applications from Cyber Attacks?
Ultimately, everything comes down to choosing the right tools for your business. With Microsoft Sentinel, we are able to develop automated responses for threat protection. What are the key features of Microsoft Sentinel that can be implemented in your business?
📈 Data collection from different sources throughout the cloud - this includes data integration with existing tools and thorough analysis of your data security environment.
🏗️ Built-in user and entity behavioral analytics (UEBA) help in identifying threats and their potential impacts.
📍 Detects suspicious behavior, compromised assets and its impact radius. With this, security teams can further prioritize their investigation and incident handling.
ProserveIT offers a solution that is built around Microsoft Sentinel called Alarm Guardian.
🛎️ This service is supported by ProServeIT's Security Operations Center's security analysts and security engineers on a 24 x 7 x 365 basis.
⏰ Alarm Guardian will provide real-time analysis and response to security generated by your servers, devices, firewalls and network device users. It is much like an alarm system that scans for suspicious activity, and alerts you to potential threats within your network.
If you are looking for ways to increase your security and protect your digital identity in a cost-effective and efficient way, then ProServeIT's Alarm Guardian could be the security solution that you are looking for. Learn more about Alarm Guardian here, then contact us to get started today!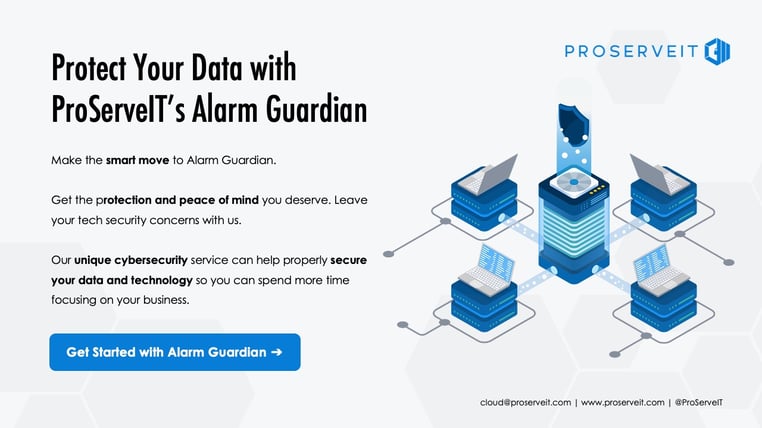 Content from: Cybersecurity Framework Webinar Series by George Abou-Samra
Edited by: Rachel Nguyen and Betty Quon