Information security requirements are changing all the time. With the number of cyber threats multiplying at an exponential rate, business security requirements need to be able to step up to the plate and defend against advanced security threats that could (and do!) endanger your business.
So, what are your information security requirements? Do you know where to start in order to adequately protect your data and network? In an environment where companies are being bombarded by threats on a constant basis, knowing your security requirements are absolutely critical. That's what this blog is all about!
In this blog, you will find:
🔐 Information Security Requirements - 3 Types of Obligations to Consider
💼 11 Most Common Business Obligations for Your Information Security Requirements
📜 8 Most Common Regulatory Obligations for Your Information Security Requirements
🤝 3 Customer Obligations for Your Information Security Requirements
Information Security Requirements - 3 Types of Obligations to Consider
Understanding your information security requirements is the all-important first step to developing a robust information security strategy. However, it's important not to let compliance needs alone dictate what obligations you need to consider. In fact, your business and customer needs can sometimes be greater.
When you think about your information security requirements, there are three types of security obligations you need to consider as an organization:
Business Obligations

:

These are the security commitments you have. For example, you are responsible for ensuring that information in the business – customer data, employee files, etc. – is kept secure and available when needed.

Regulatory Obligations: These are legal, compliance, or contractual obligations that your security team must fulfil. For example,

With the Executive Order (EO) on Improving the Nation's Cybersecurity issued in May 2022, organizations, especially in the healthcare sector, must now emphasize clear security requirements, such as multifactor authentication and enhancing software supply chain transparency.

Customer Obligations: These are the security commitments that the customer expects your organization to keep. For example, if you were a manufacturing company that provided custom parts, those customers may require all of their proprietary blueprint files to be encrypted.


---
ProServeIT Academy: Cybersecurity Course

Are you curious about the potential of Artificial Intelligence (AI) in cybersecurity, but also concerned about the potential risks? Join us for an enlightening session where we'll dive deep into the good and bad of AI in cybersecurity. From its ability to quickly detect and respond to cyberthreats to its potential for misuse, this class will provide you with a comprehensive understanding of the impact of AI on cybersecurity. We'll share a real-life scenario to illustrate what can happen. cyber threats
Whether you're a business owner, IT professional, or just someone who wants to stay informed, you won't want to miss out on this opportunity to learn from experts in the field. So, mark your calendar, and get ready to explore the exciting and ever-evolving world of AI in cybersecurity.
Register to watch the class recordings here.
---
11 Most Common Business Obligations for Your Information Security Requirements
Organizations today, like yours, understand the need for security. Failure to meet those business obligations can result in operational problems, impacting your organization's ability to function, and could ultimately affect your bottom line. Here are the 11 most common business obligations that you should keep in mind when determining your information security requirements:
💼 1. Business Continuity
The largest obligation that businesses have regarding their information security requirements is the ability to provide continuity for business services in the event that business-as-usual is interrupted by an event (such as the COVID-19 pandemic). Any information security requirements should take business continuity into account.
🧔 2. End-User Security
End-user security is another important consideration. This includes end-user security awareness and training to limit end users' exploitability and the ability to remediate any disruptions to end users.
Recommendation: Implement backup solutions to restore data after a ransomware attack.
📝
3. Risk Management
Information security risks (threats and vulnerabilities) must be identified, defined, quantified, and managed. This includes the prioritization and rating of the risks to systems and data.
Example: Conduct annual risk assessments to identify vulnerabilities in the IT infrastructure.
🔒
4. Security Awareness
Your new information security program must raise the overall information security awareness of the organization in order to ensure privacy and security issues are mitigated and given adequate respect and consideration.
Example: Host monthly cybersecurity webinars for staff.
⚙️
5. Integration and Interoperability
The security program you put in place will require well-defined and mature processes and controls that support information security, privacy, and compliance management obligations.
Example: Integrating a new firewall solution that communicates effectively with the existing network monitoring tools.
🛡️
6. Data Protection
The primary expectation is safeguarding sensitive or critical information from unauthorized access. However, this expectation also drives more detailed expectations, such as proper access control, encryption, and threat management.
Example: Encrypting customer data both in transit and at rest.
💻
7. End-User Ease of Use
Implementing security measures that don't hinder end-user productivity. If it impedes their abilities, they're less likely to comply.
Example: Introducing biometric authentication methods that expedite the login process.
⭐
8. Innovation
Adopting forward-thinking security strategies that support and encourage the use of new technologies. The security strategy you implement must support innovative processes and enable the freedom to use new technologies.
Example: Exploring the potential of blockchain for enhanced data security.
🔐
9. Confidence and Assurance
Ensuring stakeholders trust the organization's security posture. Security controls should support a high level of confidence and assurance to the organization that data is being protected by following industry standard best practices.
Example: Achieving and maintaining industry-recognized security certifications.
📋
10. Governance Transparency
There should be transparency related to security risks and capabilities, including communication of breaches and security incident activity to senior management.
Example: Sharing quarterly security reports with the board of directors.
🖥️
11. Project Management
Security analysis and design must be integrated into project management processes, ensuring a risk-based approach is followed while not unduly limiting the ability to initiate or finish projects.
Example: Including a security review as a standard step in the software development lifecycle.


S
tay up to date with ProServeIT!
📨
Our monthly newsletter has all that as well as insightful information on relevant technology, webinars and workshops. Make sure to sign up now for your dose of tech knowledge delivered straight to your inbox!
8 Most Common Regulatory Obligations for Your Information Security Requirements
When it comes to your regulatory requirements for your information security considerations, it's important to note that many of these are mandated by either legislation or compliance obligations. Here are the top 8 regulatory obligations to consider:
1. Personal Information Protection and Electronic Documents Act (PIPEDA)
Updated in January 2022, This regulatory requirement applies to private sector organizations that collect personal information in Canada to ensure the protection of personal information in the course of commercial business. See more.
2. General Data Protection Regulation (GDPR)
Applying to organizations operating within the EU and any organizations outside the EU who offer goods or services to businesses or individual customers in the EU, GDPR is the EU's data privacy and "right to be forgotten" regulation. See more.
3. Payment Card Industry Data Security Standard (PCI-DSS)
This regulation applies to any organization that processes, transmits, or stores credit card information to ensure that cardholder data is protected. See more.
4. Health Insurance Portability and Accountability Act (HIPAA)
This regulation applies to the healthcare sector and protects the privacy of individually identifiable health information. See more.
5. Health Information Technology for Economic and Clinical Health (HITECH)
This regulation applies to the healthcare sector and widens the scope of privacy and security protections that are available under HIPAA. See more.
6. Sarbanes Oxley Act (SOX)
This regulation applies to public companies that have registered equity or debt securities within the US Securities and Exchange Commission (SEC), to guarantee data integrity against financial fraud, and improve the accuracy of corporate disclosures. See more.
7. Gramm-Leach-Bliley Act (GLBA)
Also known as the Financial Modernization Act of 1999, the Gramm-Leach-Bliley Act applies to the financial sector, and requires financial institutions, including banks and lenders, to explain how they're sharing and protecting the private information of their customers. See more.
8. Federal Information Processing Standards (FIPS) 140-2
This regulation is a Canadian and U.S. government standard that specifies various security requirements for encryption algorithms and document processing, including cryptographic modules.
Want to protect your digital end-users? Download this eBook(Safe Computing Best Practices for End-Users) to learn practical tips and protect your organization from cyber-breach.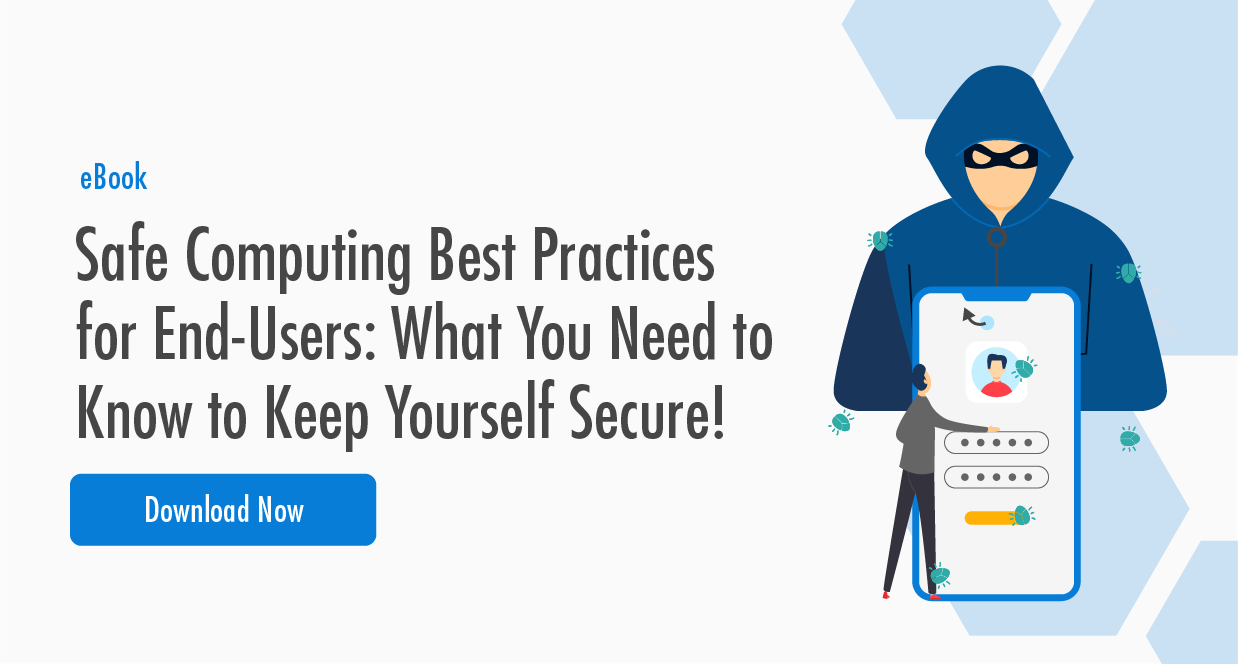 3 Customer Obligations for Your Information Security Requirements
Today, most of your customers expect some level of security to be put in place to protect their data. For many organizations, customer data privacy is arguably the biggest reason to develop a mature IT security program. Failing to meet customer requirements could tarnish your organization's reputation. Here are three customer obligations to keep in mind:
🏢 1. Clear Communication with Business Customers
Whether it's a B2B or partner relationship, organizations you do business with are expecting their data and their systems to be protected. Consider how your customer security requirements are communicated. Do you include customer security requirements in your Statement of Work (SOW) or Master Service Agreement (MSA)? Do you provide auditing processes or questionnaire-style surveys? Being able to provide clear communication around the customer's requirements will be one way that you can set your organization apart from your competitors.
🛡️ 2. Know Your Business Customers' Security Requirements
Organizations frequently have "best practices" or, in some cases, industry-standard requirements that are placed on them. It's a good practice to understand if your customers are facing these and what that implies for doing business with them. This will help you to ensure that your organization's information security requirements will match with theirs and that your businesses are a good fit.
🔒 3. Privacy Policy for Consumer Customers
Consumer customers are customers that are actually consuming your products or services. They expect privacy. It's normal for consumers to expect that their personal information is protected, and they're more likely to buy from companies that they believe will protect that personal information. By putting strong information security requirements in place will only help you to increase your brand recognition as a company that takes consumer privacy seriously.


Conclusion:
In the rapidly evolving landscape of cybersecurity, staying informed and compliant with the latest regulatory obligations is not just a matter of legal adherence but a testament to an organization's commitment to safeguarding its data and that of its customers. As cyber threats become more sophisticated, understanding and implementing these regulations become paramount. The year 2023 has seen significant shifts in the cybersecurity realm, with new mandates and updated regulations ensuring that organizations are better equipped to face contemporary challenges.
ProServeIT understands the gravity of these challenges and is dedicated to helping businesses navigate the intricate web of information security requirements. By familiarizing yourself with the updated obligations outlined in this blog, you're taking proactive steps towards fortifying your organization's digital defenses. Remember, in the digital age, being informed is being prepared.
Let's work together to ensure that your business remains resilient, compliant, and ahead of potential threats.
Alarm Guardian-
ProServeIT's Security Operations Center
As a certified Microsoft Solutions Partner for Security, ProServeIT can help you monitor and improve your organization's security posture while preventing, detecting, analyzing, and responding to cybersecurity incidents around the clock.

ProServeIT's Alarm Guardian managed cybersecurity solution is, in essence, your Security Operations Centre, taking on the burden of constantly monitoring your environment for potential threats.
Using Microsoft Sentinel as the monitoring entity, our cybersecurity team, working 24 x 7 x 365, ensures that your environment is always protected. If any suspicious activity is detected, we'll take action to protect your environment and eliminate potential threats.