Jan 2, 2018
SharePoint vs OneDrive – When to Use What
SharePoint and OneDrive are two incredible collaboration tools that are available as part of the Office 365 suite. But what exactly is the difference between SharePoint and OneDrive? When do I know what product to use?
This blog will provide you with details of what each product is and their similarities and differences. These will help you decide when to use which product.
SharePoint vs OneDrive – What are their similarities?
OneDrive and SharePoint are both Cloud-based file storage and sharing applications that can help keep you organized. They both allow you to have secure access to your files from multiple devices, and with both products, you can co-author or update files from any device, or share files both within and without your organization. Also, both SharePoint and OneDrive give you options of tracking document version history, so you can fall back to an earlier version if needed.
In the next two sections, we'll take a look at a brief overview of both OneDrive and SharePoint.
An Overview of OneDrive, Cloud Storage & File Sharing Tool
By automatically saving documents to the Cloud, OneDrive provides a safe and reliable way to store and share your files. Available for both Personal and Business options, OneDrive makes it easy for your users to access, manage and/or share their documents from any device of their choice.

Some of the Benefits of OneDrive Include:
OneDrive does not require an Internet connection to access your documents, so you can stay productive, even if you're off the grid.
OneDrive allows you to share links to your files with anyone, regardless of whether they're in your organization or not.
Since OneDrive saves your document to the Cloud, you don't need to worry if something happens to your device.
An Overview of SharePoint, Content Management Platform
A highly customizable platform, SharePoint allows you to share files, collaboratively work on documents, track changes that are made, revert to earlier versions (if necessary), and create SharePoint apps and workflows that will help increase productivity and efficiency in your organization.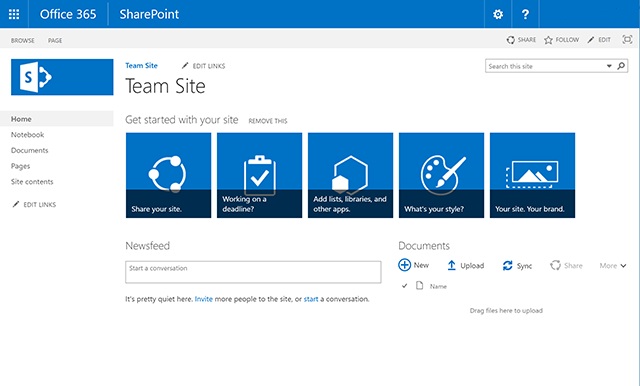 Some of the Benefits of SharePoint Include:
The fact that you can customize SharePoint greatly increases your team's productivity levels.
Your users can access their team's files from any device at any time – all they need is an internet connection.
SharePoint allows you to share documents both internally and externally.
Cloud security and compliance requirements are met when using SharePoint.
To learn more about SharePoint, our on-demand webinar is a great way to start. It is heavily focused on the demo of the product so that you can see how the tool actually looks and works.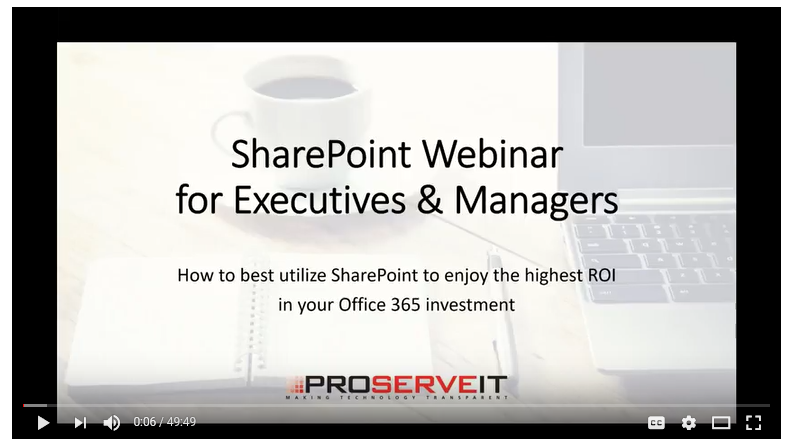 SharePoint vs OneDrive – When Should I Use What?
As mentioned, OneDrive and SharePoint are both Cloud-based file storage applications that can help keep you organized. So, when do you know which one to use?
Simply put, although they are both file storage and sharing applications, OneDrive is geared more towards individual use – typically, only one user has access to OneDrive, which is stored on one or more of their devices. Also, OneDrive is solely a document storage and sharing application.
On the other hand, SharePoint, by virtue of what it offers, encourages team collaboration, and can be built out to be much more than just a vehicle for document storage/sharing. SharePoint offers additional resources and features, such as the ability to automate workflows, create customized apps using the SharePoint platform, and create external sites for your clients or customers to be able to access content specific to them.
Get Started Using SharePoint & OneDrive Today!
Both OneDrive and SharePoint are designed to increase collaboration and improve productivity within your organization. At ProServeIT, we've been helping organizations determine which one is more appropriate for them to use, and, with our guarantee to eliminate your "IT debt", you can be sure that we will recommend the one that's going to give you the most return on your investment. To learn more about how to take full advantage of either of these two Office 365 products, drop us a line today!