Microsoft Teams for Office 365 is a part of your Office 365 Business Essentials, Business Premium, Enterprise E1, E3, or E5 licenses, and is available to you at no additional cost. So, if you have one of these licenses, and you're not currently using Microsoft Teams, the question is, why not?
Maybe you're unsure of what Microsoft Teams for Office 365 is. Maybe you don't know the features and benefits that Microsoft Teams has to offer your organization. Or maybe you just don't know how to get started using it. Wherever you are on your Microsoft Teams journey, this blog is for you. Read along for the answers to your questions, and if you don't see what you're looking for here, ask our experts for some more help!
In Brief: What is Microsoft Teams for Office 365?
Microsoft Teams for Office 365 is a Cloud-based messaging and collaboration solution that works hard to make your employees more productive. Consider Microsoft Teams your ultimate workspace, allowing you to manage conversations, files, and tools with those whom you work with on a regular basis.
Seamlessly integrating with Office 365, Microsoft Teams allows you to manage document collaboration in real-time, communicate with your team through chat capabilities, or pair with Phone System, Calling Plan, or Direct Routing to host meetings or voice chats, and much more.
We'll talk about the features and benefits of Microsoft Teams in greater detail in the next section.
Features and Benefits of Microsoft Teams for Office 365
In a previous blog, we mentioned several pros and cons of using Microsoft Teams for Office 365.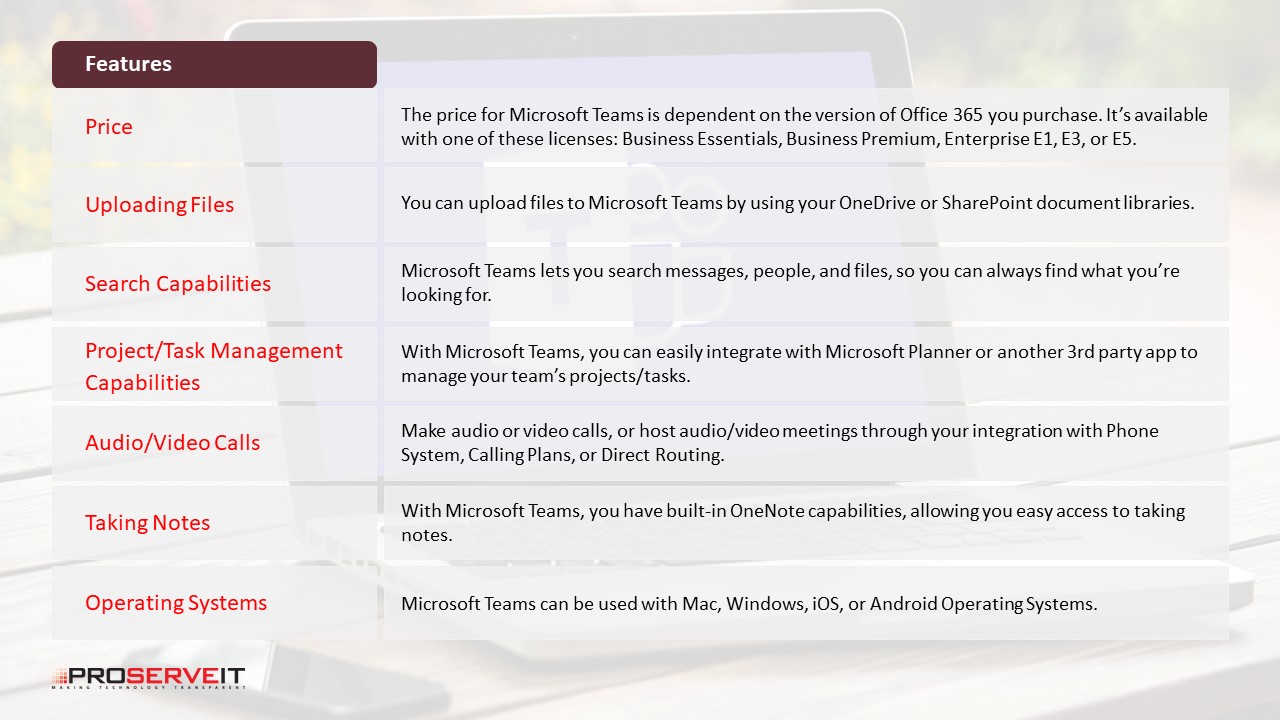 Benefits:
The following are just a few of the benefits of using Microsoft Teams for Office 365:
Threaded conversations and in-line reply messaging make it easy for you to follow conversations happening within your group.
With 18 languages built in, Microsoft Teams is multi-lingual, allowing chat capabilities in your users' native languages.
Have several projects on the go? Need to differentiate between inside and outside sales teams? Microsoft Teams lets you build out custom tabs as required.
Whether it's the online version or downloadable app, you can use Microsoft Teams on the device of your choice.
Regardless of where your employees are physically located, all it takes is an Internet connection to access Teams – this helps your remote workers stay in touch with each other, no matter where in the world they are.
Have questions about Microsoft Teams? Rather than spending time trying to find the answer online, Microsoft has recently introduced T-Bot, a chat bot that can answer your questions! (Find T-Bot in the "help" or "chat" section, depending on the device you're using.)
Interested in learning more benefits of Microsoft Teams for Office 365? Talk to our experts today!
Setting Up Microsoft Teams for Office 365
Ready to get started? In this section, check out these instructions for steps on how to create a team, create a channel, or how to customize your team.
To Create a Team
Select Join or create a team - This is where you create your own team (or discover existing ones).
Select Create team to create a new team.
Give the team a name and add a short description if you like.
By default, your team is Private, meaning you'll have to add the people or groups you want on the team. - Select Public if you want anyone in the organization to be able to find and join the team.
Use Add members to add people or groups to your team. Need to add people from outside your organization? Use their email address to invite them as guests.
When you're done adding members, select Add and then Close.
Need some more help with creating a team in Microsoft Teams? Our experts can get you started today.
To Create a Channel
By default, every team is assigned a General channel - a good channel to use for announcements and information the whole team needs. But, if you need to add more channels to your team, follow these steps:
Next to the team name, select More options.
Select Add channel.
Enter a name and description for your channel. Keep in mind, you can build a channel around a topic, project, or department name.
If you want this channel to automatically be visible to everyone on the team, select Automatically favorite this channel for the whole team.
Select Add.
Need some more help with creating a channel in Microsoft Teams? Reach out and let us help you!
To Customize and Manage Your Team
Next to the team name, select More options.
To find Members, Channels, Settings, and Apps for your team, select Manage team.
If you want to add some personality to your team, why not include a team picture? Select Settings > Team picture to do so.
Need some more help with customizing or managing Microsoft Teams? We can help – get in touch with us today, or consider undertaking a Customer Immersion Experience, where you can get hands-on experience with Microsoft Teams!