Did you land on this blog because you are currently comparing Slack vs Teams? Then, you are at the right place! This blog compares Slack vs Teams in detail. Let's dive in with no delay!
Slack vs Teams: A Quick Comparison
Slack
Microsoft Teams

Price

Free
Standard - $6.67 user/month, billed annually
Plus - $12.50 user/ month, billed annually
Dependent on the version of Office 365 you purchase

Uploading Files

Multiple 3rd Party Integrations for online file sharing needs
Users can use their OneDrive/SharePoint document libraries for online file sharing needs

Creating/Editing Files

Can use 3rd party apps to create/edit files
Can use Word/Excel/PowerPoint Online to create/edit files

Search Capabilities

Can search messages and files
Can search messages, people, and files

Project/Task Management Capabilities

Can use 3rd party apps to manage projects/tasks
Can use MS Planner or 3rd party apps to manage projects/tasks

Audio/Video Calls

Yes
Yes (powered by Calling Plans & Phone System)

Notes

Can take notes using Posts
Can take notes using built-in OneNote capabilities

Operating Systems

Mac, Windows, Linux, iOS, Android
Mac, Windows, iOS, Android
Slack vs Teams Option 1: Slack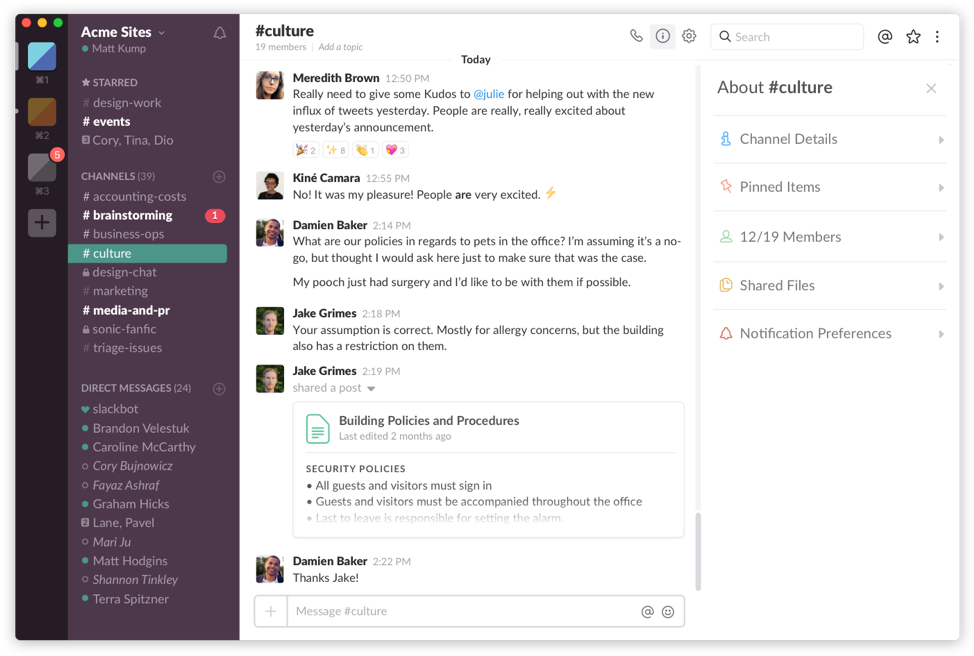 Compatible with a variety of operating systems, Slack helps users simplify communication, stay in touch with one another, and streamline workflows. Teams in your organization can communicate in groups or through semi-private or private chats, share folders or files simply (just drag and drop them into the correct channel), and refer back to previous conversations with the searchable archive that Slack builds.
Integrating with several enterprise productivity tools that are on the market, Slack's open API also provides your team with the opportunity to build their own apps if they're so inclined. Slack is also highly customizable, allowing users to change the appearance (theme) of their platform, or change their notification or channel settings if desired.
Pros:
Slack is web-based

, so users can access it from anywhere using their mobile devices, tablets or desktop – all you need is an internet connection.

Slack provides an app download centre

that allows you to search for and download the apps you need.

Slack for Good

offers special discount pricing

for qualified non-profit organizations and educational institutions.

Content on Slack is controlled by your organization's admin

, who can choose to make the data public or private.
Cons:
Slack does not come with native applications

, so all apps will need to be linked to third-party providers.

Because there are no native applications, there is

no built-in calendar or task management capabilities within Slack

– you'll need to download an app for that.

The free version of Slack

does not come with any administrative rights or controls.
The free version of Slack does not include Shared Channels and Guest

Accounts

to work with organizations and individuals outside of your team, such as clients, vendors, and partners, or participate in active screen sharing during a call.
Slack vs Teams Option 2: Microsoft Teams
With Microsoft Teams, you can stay connected through private or small group conversations with your team members, and manage your conversations, files, and tools in one convenient location. Teams should be used to connect and collaborate with those whom you're working with on a regular basis, want to share content with, and trust to manage that content.
The platform's biggest strength is its seamless integration with Office 365 (Teams is included in many of the Office 365 licenses), so if your organization is already running a Microsoft environment, this is a great way to extend collaboration with familiar tools like Word, Excel, PowerPoint, OneNote, SharePoint, and other Office files.
---
---
Pros:
Microsoft Teams is multi-lingual,

with 18 languages built into it, and chat is capable in the user's native language

Microsoft Teams Rooms

helps you simplify and better integrate communication capabilities, like scheduling or managing a meeting. Plus, Teams has added new capabilities such as proximity detection, which streamlines the process of adding a room that is nearby and available to your existing meeting.

With Teams-Only Mode

, Teams becomes your primary communication and collaboration tool for end users, so administrators can easily upgrade specific users or their entire tenant

Teams provides visibility

into how people are using the tools you are providing, so you can improve teamwork across your organization by gaining insight around key areas such as Teams usage, user activity and device usage

Replicate your best Team's experience with Team Templates

, which lets admins quickly pre-define a team's channel, install apps, build & pin custom tabs, and more – so you can focus on collaboration rather than setup.

Microsoft Teams supports threaded conversations and in-line reply messaging

, making it easier to follow conversations within a group.
Cons:
Currently,

Microsoft Teams doesn't have the same selection of app integrations

as Slack does – the Slack App Directory is more expansive.

Cross-platform user interface is not as accessible as it is in Slack

– to be a part of Teams, users need to be using a

business version of the Office 365

.

Microsoft Teams

does not directly support the import or export

of content.

Slack vs Teams– which one is right for you?
In determining which collaboration tool is right for your organization, we recommend to our customers to consider a few important factors.
What other tools are being used within your organization and will the new collaboration tool – Slack or Teams – easily be able to be integrated?
Are you using Office 365 at the moment, and if so, which license do you have? Microsoft Teams might already be included (i.e. you already have a full access to Teams).
What are your goals that you are trying to achieve by implementing a new collaboration tool?
What is your current budget for a collaboration tool?
Another recommendation from us is to see a demo of the tool before implementing it. If you are interested in Microsoft Teams, here is a demo. It shows you how you and your team can utilize Teams throughout your work day, wherever you work from and whichever device you use.