The Covid-19 crisis drove most of the workforce remote and many organizations were pushed to invest in cloud-based solutions for their employees. The dependency on cloud platforms and virtual machines is on a constant rise even post pandemic as organizations strive to support a hybrid model. According to a report by Gartner Inc., the worldwide end-user spending on public cloud services is expected to grow to $332.3 billion, up from $270 billion in 2020.
In this blog, you can find
What is Azure Virtual Desktop?
What is the difference between the traditional Virtual Desktop Infrastructure and Azure Virtual Desktop?
What are the benefits of using Azure Virtual Desktop?
How do I start with Azure Virtual Desktop?
Desktop virtualization is a viable solution for organizations with specific business needs such as specialized workloads, an elastic workforce, or working in a highly regulated environment. They can give their employees the flexibility to use the devices they want to use while ensuring data security and productivity. Unlike traditional Virtual desktop infrastructure (VDI) services that are too costly and unaffordable for most small and medium-sized enterprises, Azure Virtual Desktop (AVD) is a viable and affordable VDI option.
What is Azure Virtual Desktop?
Powered by Azure, Azure Virtual Desktop is a desktop and app virtualization service that runs in the cloud through instanced virtual machines. It provides easy-to-use and secure virtual desktop infrastructure for your organization's employees. Depending on how it gets configured, it can run Windows 10 multi-session, Windows 10 or 7, as well as Windows Server 2021 R2, 2016 or 2019. Azure Virtual Desktop is supported on different Remote Desktop clients including Windows Desktop, macOS, Android, iOS, Web and the Microsoft Store Client.
Related:
All You need to Know about The New Windows 365 OS!: A Cheat Sheet
Differences Between Windows 365 & Azure Virtual Desktop: Comparison
What is the difference between the traditional Virtual Desktop Infrastructure and Azure Virtual Desktop?
The biggest difference is the simplicity. As the image below shows,
when using
traditional VDI or
Remote Desktop Services (
RDS
)
environment
,
there are typically several elements that need to be managed
.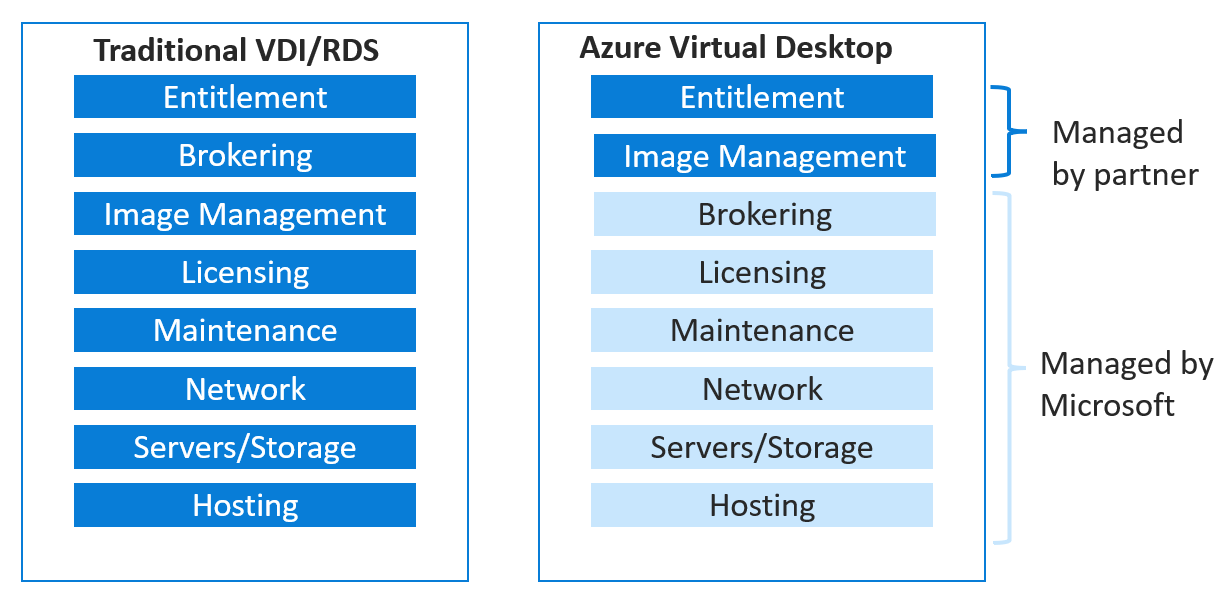 With Azure Virtual Desktop, organizations can offload a lot of the underlying infrastructure to Microsoft and focus on the elements that are adding value to their business. This means, when you deploy your virtual desktops and applications, you want to focus on image management and user entitlement because all other services with Azure Virtual Desktop are actually provided by Microsoft. This can significantly reduce the amount of overhead and management required to support a VDI environment in Azure.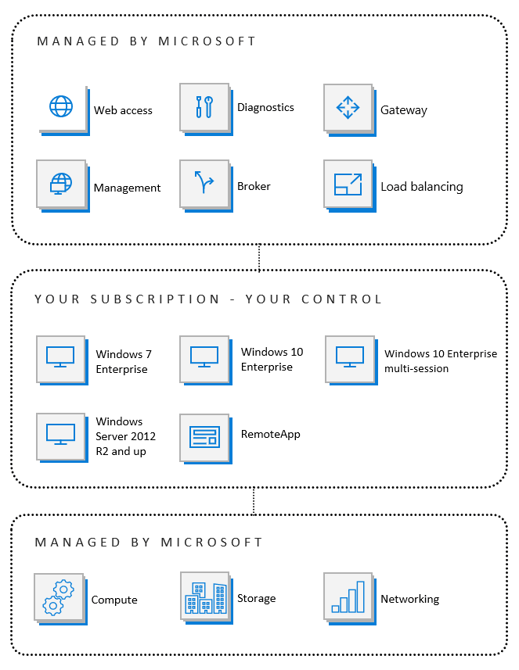 The image above shows in more detail what is managed by Microsoft and what needs to be managed by you.
Aspects such as web access gateways, load balancing, brokers, and management are all supported by Microsoft via the Azure platform. Similarly, all the underlying infrastructure, computing, storage and networking is managed by Microsoft. In other words, your windows 7 or 10 desktop experience, your windows server 2021 RDS environment and remote act capabilities everything else is handled by Microsoft.
What are the benefits of using Azure Virtual Desktop?
In addition to simplicity as mentioned above, there are four other major benefits of using Azure Virtual Desktop:
🔒 Azure Virtual Desktop ensures data security
The primary reason for organizations adopting Azure Virtual Desktop is data security. In fact, 84% of IT executives in 2020 were worried about cloud security during the work-from-home transition (source: Leftronic). Azure Virtual Desktop uses reverse connect transport for establishing remote sessions which provides a much more secure mechanism.
✔️ Azure Virtual Desktop is Cost-Effective
Existing Windows or Microsoft 365 license owners are eligible to access Azure Virtual Desktop and only pay for what they use. They can save on infrastructure costs by right-sizing virtual machines (VMs) and optimize use of the VMs with Windows 10 and Windows 11 multi-session. Centralized management service to reduce overhead costs. Organizations with heavy workloads can choose pay-as-you-go.
💻 Azure Virtual Desktop enables Flexible and Secure Remote Work
With Azure Virtual Desktop, employees get the flexibility of accessing their virtual desktops and applications from any location, at any time and using any device. Microsoft has also made changes to office products to allow them to work better in a multi-session environment providing a seamless experience for users. Also, integration with FSLogix Profile Containers, a profile management solution enables desktop users to switch easily between virtual machines. The multi-session capability of AVD helps employees to gain feature-rich capabilities of Windows 10 and stack multiple users on a single desktop.
☁️ Azure Virtual Desktop is Scalable
Organizations can easily scale their resources up and down based on their unique business requirements. With Azure Portal as a centralized management hub, you can configure network settings, add or remove users, deploy desktop apps and enable security. AVD can help increase operational efficiency with savings on infrastructure, desktop management and other support costs.

Want to discover how Windows Virtual Desktop can work for you? Download this eBook(Making Windows Virtual Desktop Work for You!) to learn practical tips about using Windows Virtual Desktop for your organization.
How do I start with Azure Virtual Desktop?
Azure Virtual Desktop provides a secure virtual desktop infrastructure with the flexibility of access from any device and from anywhere. It is also much more cost-effective and scalable than other traditional VDI options available on the market.
If you are wondering whether Azure Virtual Desktop is right for your organization, you can test out the benefits with an Azure Virtual Desktop Proof -of -Concept (POC). With a POC, you can test-drive Azure Virtual Desktop for up to 25 users in your organization and decide if you want to deploy it on a larger scale. You also get a 90-day trial subscription to Nerdio's Manager for AVD (an all-PaaS Azure application which helps you automate and manage AVD deployments in just a few clicks) and easy management of virtual machines on your Azure subscription.
Click here to learn more about the AVD POC and read customer success stories.
Content from: Azure Fundamentals Webinar Series by Bill Kastner
Edited by: Nikita Gill and Betty Quon