The Covid-19 pandemic reshaped the global work landscape, pushing organizations to move from physical office dependencies to remote work and cloud solutions. As adaptability and flexibility became paramount, there was a significant uptrend in adopting cloud platforms like Azure Virtual Desktop (formerly Windows Virtual Desktop).
Gartner Inc., reported a surge in end-user spending on public cloud services, reaching $332.3 billion, up from $270 billion in 2020. This highlighted a move towards the benefits of cloud solutions in cost and efficiency. Azure Virtual Desktop (AVD), Microsoft's cloud offering, stood out amidst this shift. This article explores the world of Azure virtual desktop infrastructure (VDI), distinguishing it from traditional VDIs, and delving into its advantages as a premier VDI client solution for remote work.
In this blog, you can find
💡 What is Azure Virtual Desktop?
📜 History and Evolution of Virtual Desktops
🔍 What is the difference between traditional Virtual Desktop Infrastructure and Azure Virtual Desktop?
🌟 What are the benefits of using Azure Virtual Desktop
🔑 Key Considerations Before Adopting Azure Virtual Desktop
🚀 How do I get started with Azure Virtual Desktop?
What is Azure Virtual Desktop?
Powered by Azure, Azure Virtual Desktop is a desktop and app virtualization service that runs in the cloud through installed virtual machines. It provides easy-to-use and secure virtual desktop infrastructure for your employees.
Azure Virtual Desktop is not just another Virtual Desktop Infrastructure (VDI) solution; it represents a fusion of years of technological advancement with Microsoft's cloud expertise and security capabilities. Let's dissect its key components:
Fundamentals of Azure Virtual Desktop:
🏛️ Architecture: Azure Virtual Desktop operates on Microsoft's Azure platform, leveraging its vast infrastructure. The desktop and app virtualization service runs on instanced virtual machines, providing organizations with a cloud-based virtual desktop experience.

💽 Supported Operating Systems: Azure Virtual Desktop's flexibility is evident in its OS support. Depending on the configuration, it can run Windows 11, Windows 10 multi-session, Windows 10 or 7, and even Windows Server editions like 2021 R2, 2016, and 2019.

📱 Client Support: One of Azure Virtual Desktop's strengths is its broad client support. Whether it's Windows Desktop, macOS, Android, iOS, Web, or the Microsoft Store Client, AVD ensures seamless accessibility.



Enable Remote Work with Azure Virtual Desktop | Empower Your Employees
Related:
All You need to Know about The New Windows 365 OS!: A Cheat Sheet
Differences Between Windows 365 & Azure Virtual Desktop: Comparison


History and Evolution of Virtual Desktops
The concept of virtual full desktops and apps is not novel. Virtual desktop infrastructure (VDI) has been around for decades, offering organizations a way to run desktop operating systems inside virtual machines on centralized servers. This architecture presented a model where multiple users could access their individual desktops remotely, irrespective of their physical location. But, let's journey back to its inception.
🌱 The Inception of VDI: The roots of VDI can be traced back to the early 2000s. Companies sought ways to centralize data, simplify management enterprise applications, and enhance security existing remote desktop services. The aim was to transition from a model where every desktop needed individual attention, updates, and maintenance to one where a centralized server could manage multiple desktop instances.
⏳ The Traditional VDI Era: As the technology matured, traditional VDI solutions became the cornerstone for many large enterprises. These solutions allowed for streamlined management and reduced the total cost of ownership. However, they also had limitations. The requirement for significant upfront investment in infrastructure, complexity of deployment, and scalability concerns were some of the issues organizations grappled with.
☁️ The Shift to Cloud: With the advent and rapid growth of cloud technologies in the late 2010s, the perspective towards VDI began to evolve. The cloud offered a promise of scalability, flexibility, and cost efficiency. This shift meant that instead of housing and managing windows server desktops on their own infrastructure, organizations could rely on cloud service providers to host virtual desktops.
🖥️ Introduction of Windows Virtual Desktop: Microsoft's entry into this domain was a game-changer. The introduction of Windows Virtual Desktop offered businesses a cloud-native VDI solution, addressing many of the pain points of traditional VDI. With the robust Azure infrastructure as its backbone, it provided a seamless, scalable, and cost-efficient virtual desktop experience.
🔄 The Transformation to Azure Virtual Desktop (AVD): Recognizing the ever-evolving needs of businesses and the increasing demand for integrated cloud services, Microsoft rebranded Windows Virtual Desktop to Azure Virtual Desktop. This was more than a mere name change; it signified a broader integration with the Azure ecosystem and an emphasis on providing businesses with a holistic cloud solution.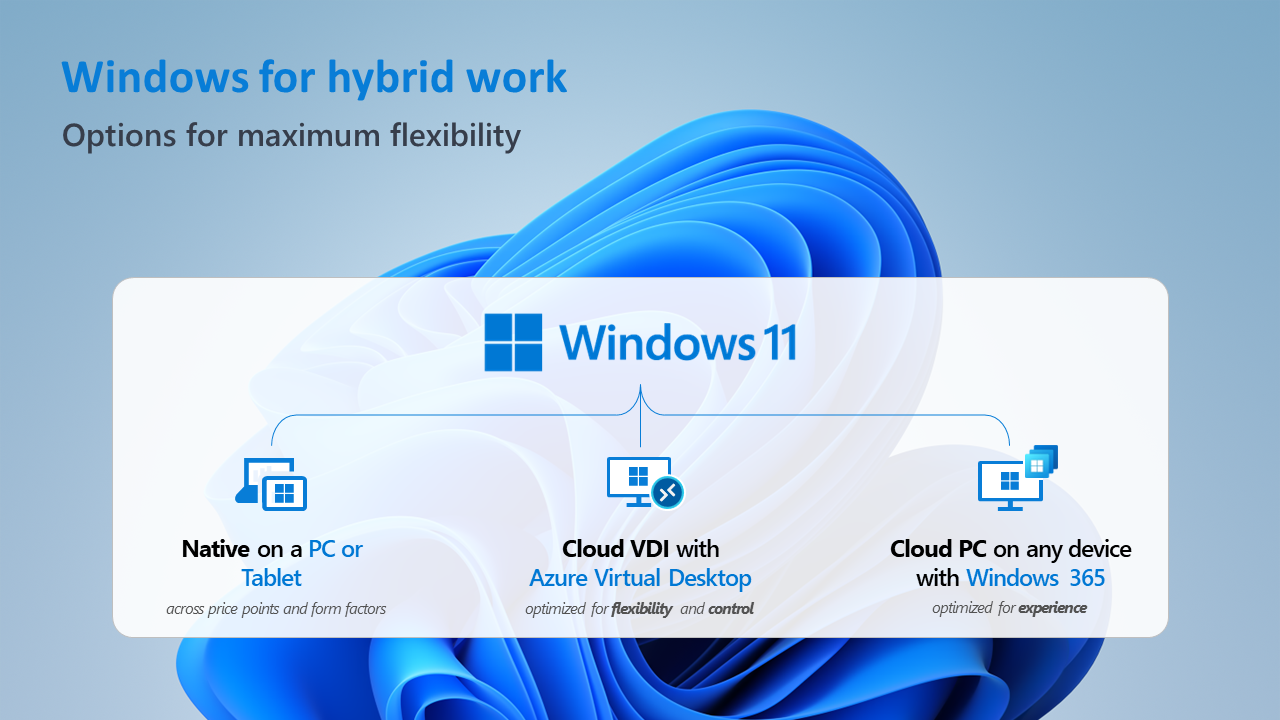 What is the difference between Traditional Virtual Desktop Infrastructure and Azure Virtual Desktop?
The biggest difference is the simplicity. As the image below shows,
when using a
traditional VDI or
Remote Desktop Services (
RDS
)
environment
,
there are typically several elements that need to be managed
.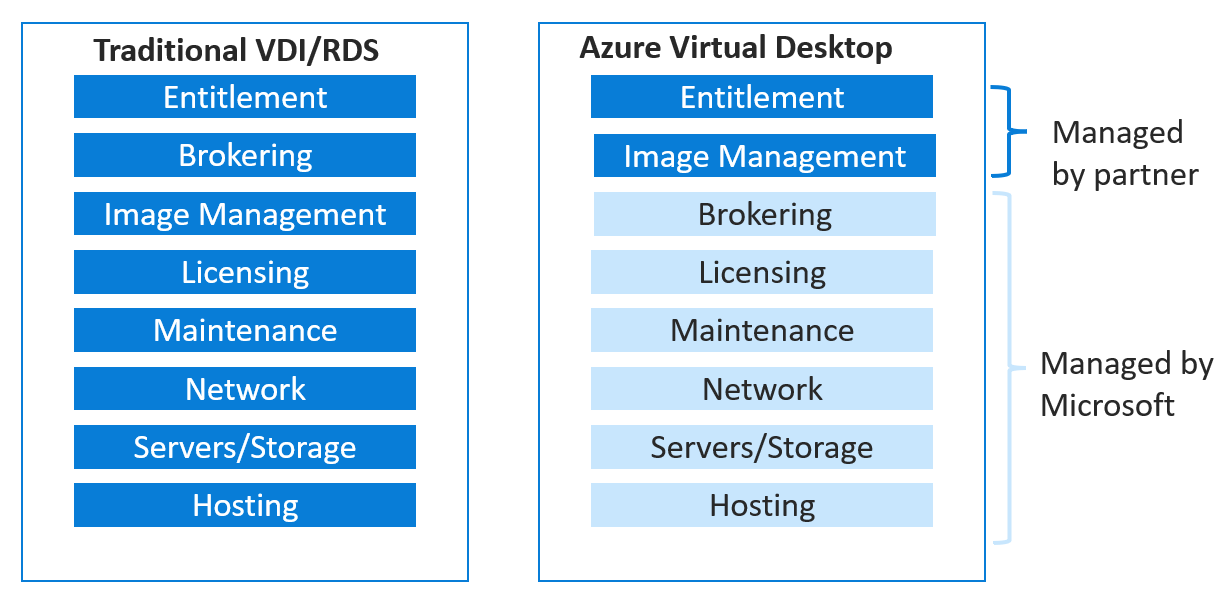 With Azure Virtual Desktop, organizations can offload most of the underlying infrastructure to Microsoft and focus on the elements that are adding value to their business. This means, when you deploy your virtual desktops and applications, you want to focus on image management and user entitlement because all other services with Azure Virtual Desktop are actually provided by Microsoft. This can significantly reduce the amount of overhead and management required to support a VDI environment in Azure.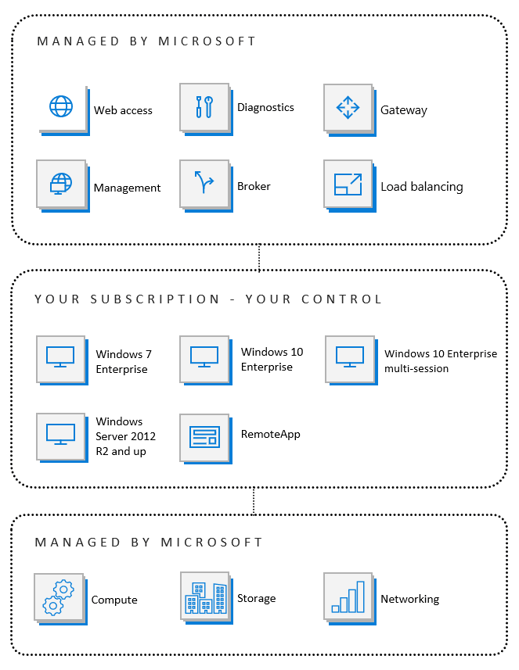 The image above shows in more detail what is managed by Microsoft and what needs to be managed by you.
Aspects such as web access gateways, load balancing, brokers, and management are all supported by Microsoft via the Azure platform. Similarly, all the underlying infrastructure, computing, storage, and networking are managed by Microsoft. In other words, your Windows 7, 10 or 11 desktop experience, your Windows Server 2021 RDS environment, and remote act capabilities Microsoft handles everything else.


What are the benefits of using Azure Virtual Desktop?
In addition to simplicity, as mentioned above, there are four other major benefits of using Azure Virtual Desktop:
🔒 Azure Virtual Desktop Ensures Data Security
The primary reason for organizations to adopt Azure Virtual Desktop is data security. In fact, 84% of IT executives in 2020 were worried about cloud security during the work-from-home transition (source: Leftronic). Azure Virtual Desktop uses reverse connect transport for establishing remote sessions which provides a much more secure mechanism.
✔️

Azure Virtual Desktop is Cost-Effective

Existing Windows or Microsoft 365 license owners are eligible to access Azure Virtual Desktop and only pay for what they use. They can save on infrastructure costs by right-sizing virtual machines (VMs) and optimizing use of the VMs with Windows 10 and Windows 11 multi-session. The centralized management service reduces overhead costs. Organizations with heavy workloads can choose pay-as-you-go.
💻

Azure Virtual Desktop Enables Flexible and Secure Remore Work

With Azure Virtual Desktop, employees get the flexibility of accessing their virtual desktops and applications from any location, at any time and using any device. Microsoft has also made changes to office products to allow them to work better in a multi-session environment providing a seamless experience for users. Also, integration with FSLogix Profile Containers, a profile management solution, enables desktop users to switch easily between virtual machines. The multi-session capability of AVD helps employees to gain feature-rich capabilities of Windows 10 and 11 and stack multiple users on a single desktop.
☁️ Azure Virtual Desktop is Scalable
Organizations can easily scale their resources up or down based on their unique business requirements. With Azure Portal as a centralized management hub, you can configure network settings, add or remove users, deploy desktop apps and enable security. AVD can help increase operational efficiency with savings in infrastructure, desktop management and other support costs.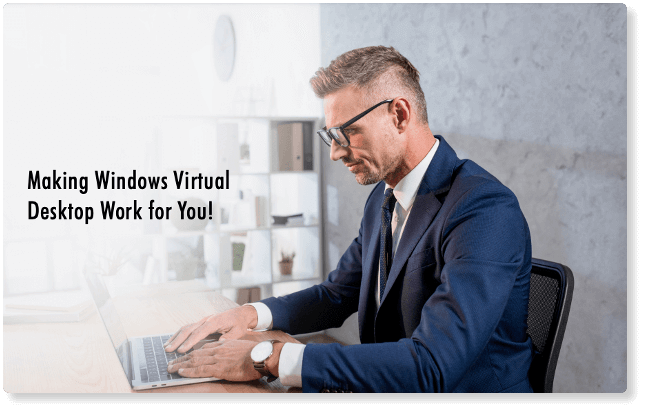 Want to discover how Windows Virtual Desktop can work for you? Download this eBook (Making Windows Virtual Desktop Work for You!) to learn practical tips about using Windows Virtual Desktop for your organization.
Hybrid Work Environments: In the aftermath of the pandemic, many organizations are opting for hybrid work models. Azure Virtual Desktop, with its accessibility and security features, is tailor-made for such scenarios.

Education: Educational institutions, especially universities with students across the globe, can leverage AVD to provide consistent access to resources.

Healthcare: With the need for remote consultations and digital records, healthcare institutions can utilize Azure Virtual Desktop for secure and easy access to patient data.

Click here to learn more about the AVD Proof of Concept and read customer success stories.


Key Considerations Before Adoption Azure Virtual Desktop
Implementing any new technology or platform in an organization is a significant decision. When it comes to Azure Virtual Desktop, there are some crucial factors and considerations every organization should take into account before moving forward:
1. Assessment of Current Infrastructure
🖥️ Hardware: Determine if your existing hardware, such as user devices and networking equipment, is compatible with Azure Virtual Desktop requirements.

📀 Software: Check the software and applications that your organization uses. Ensure they are compatible or have equivalents in the Azure environment.

2. Cost Analysis:
💰 Azure Pricing: Understand the Azure pricing model. While AVD might eliminate some costs, like hardware infrastructure, it's essential to account for potential Azure consumption costs.

🚚 Migration Costs: Consider the costs associated with migrating from your current setup to AVD, including downtime, data transfer, and potential training.

3. Training & Change Management:
👩‍🏫 Employee Training: With a new system in place, ensure your employees are trained to use AVD efficiently.

🔧 IT Staff: Your IT team may need specialized training on managing and troubleshooting within the Azure environment.

4. Data & Application Migration
📈 Migration Strategy: Outline a clear strategy for migrating data and applications to Azure. This might involve phased migrations, pilot testing, and validation.

💾 Backup and Redundancy: Ensure you have robust backup solutions in place during migration to prevent any data loss.

5. Security & Compliance
📜 Regulatory Compliance: If your organization operates in a regulated industry, ensure that Azure Virtual Desktop meets all compliance requirements.

🛡️ Custom Security Policies: Understand the security features AVD offers and determine if any custom policies or additional security layers are needed.

6. Suport & Maintenance:
📞 Azure Support: Consider the level of support you might need from Microsoft. Different support tiers come with varying costs.

👥 In-House IT Support: Assess whether your IT team has the required expertise or if you'll need to train personnel or hire an IT service company such as ProServeIT to manage AVD.

7. Integration with Other Cloud Services:

🔄 Interoperability: Check how AVD will interact with other cloud services you use, ensuring seamless integration and smooth workflows.

🌐 Cloud Strategy Alignment: Ensure that adopting AVD aligns with your broader cloud strategy and future business goals.


Are you ready to explore Remote Working Technology and see if Azure Virtual Desktop is right for your organization?
At ProServeIT, we've helped several organizations explore their options. Our Proof of Concept will help you to deploy Azure Virtual Desktop for up to 25 of your users so you can test out a full desktop virtualization environment and make sure that it fits your unique needs as an organization! Give us a shout, and let's get started!
Conclusion
In the rapidly evolving digital landscape, organizations are constantly seeking tools and solutions to stay ahead, ensure security, and provide the best experience for their teams. Azure Virtual Desktop is a robust answer to many of these challenges, offering flexibility, cost-efficiency, and seamless remote work capabilities. However, as with any technological adoption, it's imperative to make informed decisions based on a thorough understanding of the platform, its benefits, and potential challenges.
As we've explored in this comprehensive guide, from understanding the basics of AVD to key considerations before adoption, the journey to AVD can be transformative for your organization. Yet, it's essential to approach it with preparation and guidance


How do I get started with Azure Virtual Desktop?
Azure Virtual Desktop provides a secure virtual desktop infrastructure with the flexibility of access from any device and from anywhere. It is also much more cost-effective and scalable than other traditional VDI options available on the market.
If you are wondering whether Azure Virtual Desktop is right for your organization, you can test out the benefits with an Azure Virtual Desktop Proof of Concept (POC). With a POC, you can test-drive Azure Virtual Desktop for up to 25 users in your organization and decide if you want to deploy it on a larger scale. You also get a 90-day trial subscription to Nerdio's Manager for AVD (an all-PaaS Azure application which helps you automate and manage AVD deployments in just a few clicks) and easy management of virtual machines on your Azure subscription.
Learn more: Azure Fundamentals Webinar Series by Bill Kastner