70% of consumers learn about a new business online, either through a website or social media, and more than 80% of businesses today are using technology to promote products. As a result, business applications are vital for all organizations, be it accounting, marketing, or even human resources. However, choosing the right business software may be difficult and time-consuming.
In this blog, you will find :
How can you tell if your core business applications are adding value to the business? As a responsible manager, by prioritizing the value of your applications effectively, you can focus most of your time and effort on the applications that have the potential to bring the highest value to your business. This blog will help you evaluate your core business applications from a value and risk perspective and guide your next step with your evaluation results.

How to Evaluate Your Core Business Applications?
By closely examining the value and risk of each of your core business applications, you can make more informed decisions about when to upgrade or even replace them. Here are questions to help you evaluate your business applications from a value and risk perspective.
💎

Questions from a Value Perspective
How is the application adding value to the business?
Is the application delivering value to the business

proportional

to where you need to be in the future?
Does your application provide reporting that can enable you to make sound business decisions?
Does your application make you more efficient and/or effective?
☠️ Questions from a Risk Perspective
Is the application no longer safeguarding the interests of the business?
Is the application truly posing a risk - either from a lack of adherence to established processes or requiring completion of tasks outside the application?
Is the application simply built on legacy technology that is making things difficult?
How to Get High-Value and Low-Risk Applications?
Applications can be categorized into four quadrants according to value and risk perspectives. Each quadrant needs different actions to be taken to get the most out of the application while minimizing risk.
<Risk Value Matrix to Prioritize your Applications>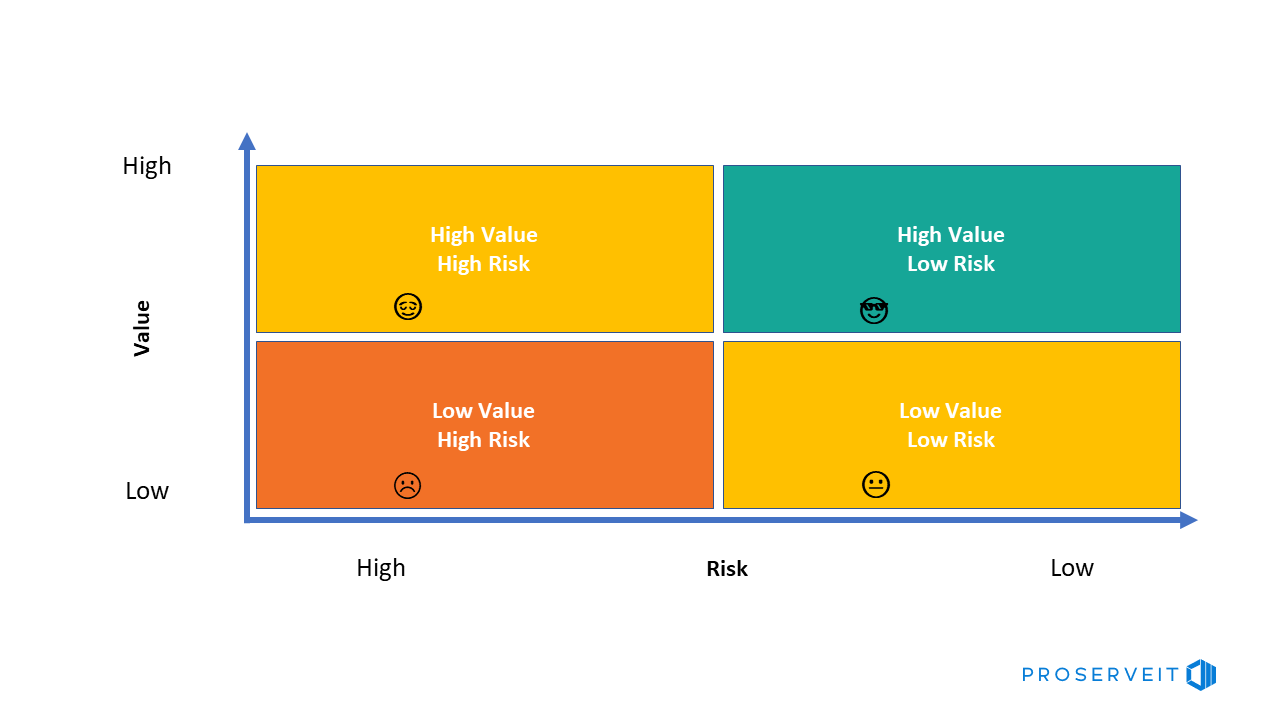 ☹️ Applications with low-value and high-risk: These applications do not offer much value to the user but come with a substantial risk of malware or other security issues. You need to take immediate action to move away and replace them.
if an application has a separate account to log into, this indicates that it is not

built on security practices.

if you are avoiding the application either because it is too difficult or does not

do what you want to accomplish.

if many tasks need to be done manually, even though it supports the core business application.

if you have repetition between systems, replicating the same task in another system or manually in some paper format or offline format.
😐 Applications with low-value and low-risk: You can use these applications without much worry. They may not be the most practical or exciting applications, but they pose little threat to your data or system. Therefore, you may not need to replace the application immediately, but you can improve it to get more value. It is recommended that you decide what appears to be acceptable but has little value, and you can start from there for improvement.
😌 Applications with high-value and high-risk: These applications offer a lot of value but come with a considerable risk of malware or other security issues. It depends on a business-by-business scenario, but there might be some resistance to changing the application since it delivers high value to your business. So, there are some things that we can do to augment the system to shore up the risk perspective without changing the actual application itself.
😎 Applications with high-value and low-risk: Welcome to the Utopia scenario with applications that offer high value to the users but do not pose a significant risk. So, they may be automating many systems and creating intelligence regarding the data and feedback provided to your business. The best action for these applications is to use them regularly and take advantage of their features.
It is important to check your core business applications from a risk and value perspective. If you want to evaluate your system from an expert perspective, ProServeIT provides an IT assessment and a Roadmap.
To learn more from our CTO, watch this video:
How to achieve optimal efficiency with your business applications?
All organizations are required to choose and implement the right business applications to increase efficiency and productivity. Here are ways to achieve optimal efficiency while implementing the business applications you chose.
ProServeIT Workshops Boost Application Efficiency
✨ 1-day Teams Workshop: Teams has been implemented by over 500,000 organizations and it can be deployed quickly and securely when done right. Our 1-day Teams Workshop allows you to not only implement it right but also achieve optimal efficiency and the adoption rate you desire.
✨Business Intelligence (Power BI) Workshop: A Business Intelligence Workshop takes the guesswork out of Business Intelligence. You can learn how your applications can be integrated with Power BI to maintain data hygiene and how you can gather and present your data efficiently. you will get recommended steps to utilize your data to make accurate data-driven business decisions.
✨ SharePoint-In-A-Day Workshop: With the SharePoint-in-a-Day Workshop, you can explore best practices and built-in integrations to improve search capabilities for your users (your online content management platform will have a huge amount of data). Also, you will get full implementation and deployment of one of your unique business use-cases via SharePoint and a roadmap to build out the future of your SharePoint environment.
✨ App-in-a-Day Engagement: Think of that one business workflow that you want to make easier, such as vacation requests, workplace safety forms, new employee on-boarding documents submission, or tracking expenses. These time-consuming tasks that reduce employee productivity can be automated by creating workflows. An Application-in-a-Day Engagement customizes one of your business workflows and gives you a professional, mobile-friendly application to streamline productivity and collaboration for your organization.
If you are interested in our workshops, you can learn more and contact us today to book your own Technology Roadmap Lite!
We also recommend reading these blogs:
A guide to Build an Effective Go-To-Market Technology Stack
Why Your Company Should Invest In Technology?
Technology Should Enable Your Organization's Growth
Edited by: Hyun-Jin Im and Betty Quon