Meet ProServeIT's amazing Cybersecurity Solutions Architect, Marc Mendez!
At ProServeIT, our Solutions Architects are an integral liaison between our customers and our technical team who will be implementing the work that's agreed upon. It's their job to inform customers of the various options, explain new technology in a way that the customer can understand, and be a point of reference for the customer if they have any questions or concerns about the work being done.
In this blog series, we're showing off the talent and unique personalities of our Solutions Architects, and in this edition of "Meet the SA's", we introduce Marc Mendez, our Cybersecurity Solutions Architect! Read on to learn more about Marc, and check out our short video below to see a live interview with him!
Name: Marc Mendez
Number of Years in the Industry: 20 years
Number of Years at ProServeIT: 5 years
Areas of Expertise: Cybersecurity, Infrastructure & Networking, Office 365.
What Attracted Marc to the IT Industry: Marc has always been interested in continual challenges and bringing things together to make things work. Marc enjoys the opportunity to make things happen, so the IT industry seemed a natural fit for him.
A Day in the Life of a Cybersecurity Solutions Architect
Much of Marc's day as ProServeIT's Cybersecurity Solutions Architect is spent in supporting our Business Development Managers in being a liaison between the technical resource team and our customers, especially when it comes to their cybersecurity or infrastructure and networking needs. Marc spends a lot of time on the phone, conducting interviews with potential customers and figuring out various solutions that will help with their specific issues. Writing statements of work, with the occasional RFP thrown in for good measure are also all in a day's work for Marc.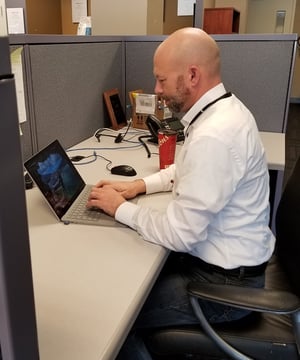 Marc is also constantly working on security program development for ProServeIT's customers, which involves helping them to identify and understand why cybersecurity is important, what their cybersecurity needs are, and what offerings are available to get them started on their cybersecurity journey.
One thing that Marc often finds in talking to customers is that they don't often have a security footprint in place, or cybersecurity isn't top of mind for many of them. As Marc is quick to point out, a single event can signal disaster for an organization who doesn't give much thought to cybersecurity. Marc runs several Cybersecurity Assessments to help customers understand how to adopt best practices as a first line of defense, and to educate customers on their cybersecurity requirements.
Marc's Areas of Expertise
Although highly knowledgeable in several areas, Marc's main areas of expertise at ProServeIT, as mentioned, lie in Cybersecurity, and he is quite adept with the various tools available, like MFA and ATP, Azure, Enterprise Mobility + Security, and more. In addition to his work with cybersecurity, Marc is highly involved in assisting customers with their infrastructure and networking requirements, and is a go-to resource for customers interested in Office 365.
On a Personal Note…
A former Canadian Forces soldier and Correctional Officer, it's pretty safe to say that Marc's always had a fascination with security! As a motorcycle enthusiast and father of two beautiful girls, Marc enjoys woodworking and playing Medal of Honor on his Xbox in his spare time. Marc also considers himself a foodie and loves nothing more than to fire up the barbecue, but he's adamant that his menus will almost never include feta cheese or olives – he's not a fan of either. Coffee, according to Marc, is the nectar of life and his 4 to 5 cups a day are vital to his survival!
Let Marc, Our Cybersecurity Solutions Architect, Help You!
With Marc's area of expertise being in Cybersecurity, we wanted to highlight a few of our featured offers that might be of interest to you. Check out these two related offers to get started:Contact UsContact UsWant to see Marc in action? Check out this short video below on cybersecurity, or sign up for our upcoming "Anatomy of An Attack" webinar for IT Professionals here!