Government employees need a cost-effective tool that allows them to be more efficient, more productive, and more collaborative. Office 365 for government employees is the answer! In this blog, we'll talk about why your government/public sector organization should choose Office 365 for your government employees, and we'll walk you through how you can leverage Office 365 to modernize your workplace.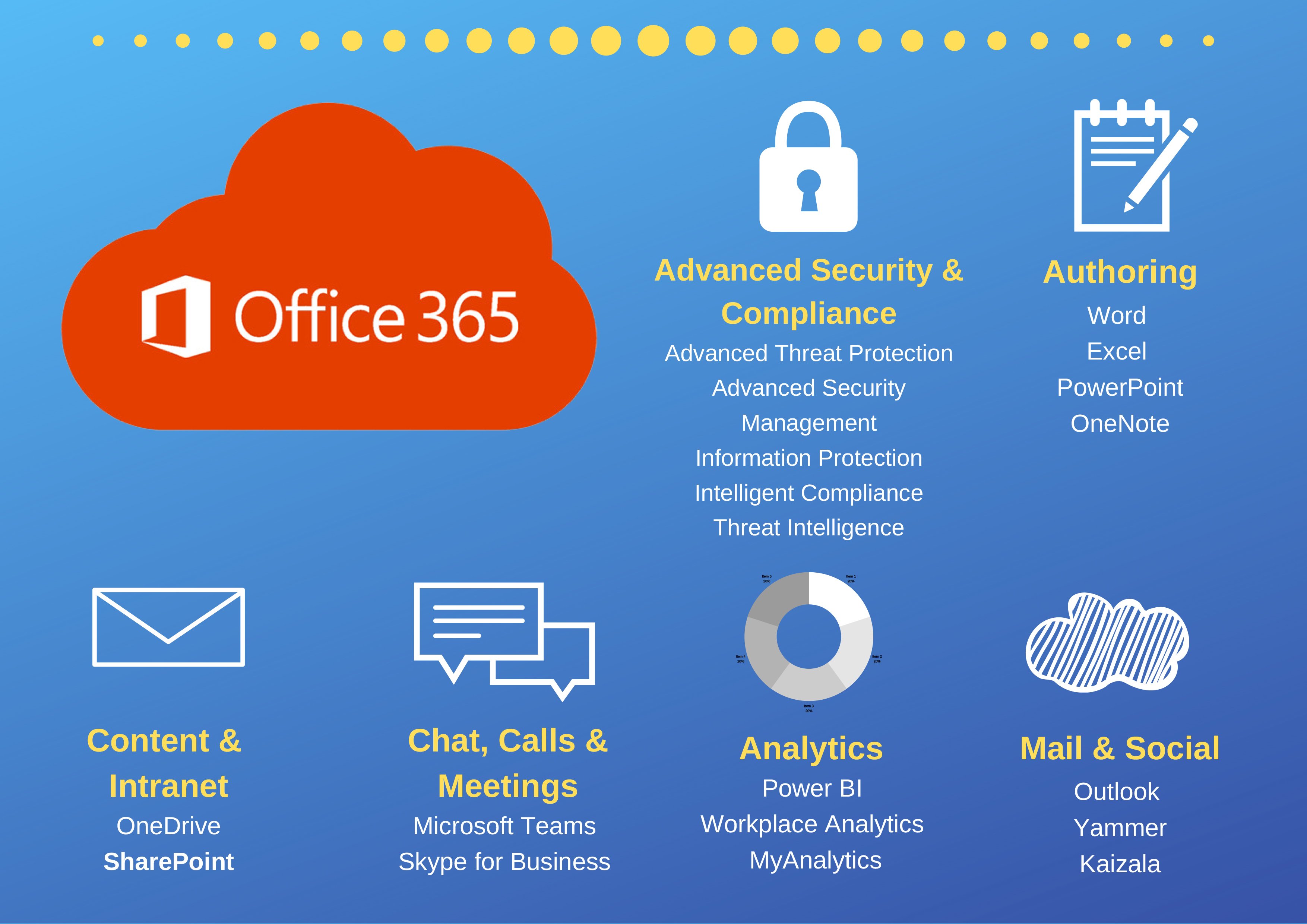 So, Why Choose Office 365 for Government Employees?
Office 365 is an incredible set of Cloud-based applications that can offer your organization scalability, security, cost savings, and more. Including a top-of-the-line set of productivity tools, like all your favourite Office applications, Office 365 helps your organization become more collaborative and productive.
Now, that might sound like too many buzz-words, but in our opinion, Office 365 makes perfect sense for any government organization out there today. Think about it. You need a secure, easy-to-use suite of tools that is cost-effective and allows your employees to get their work done, no matter where they are or what device they're on. That's Office 365!
As we see it, there are incredible benefits to adopting Office 365 in your government organization, but, when we think about the top three reasons you want to consider Office 365, especially for government employees, these three key benefits are what immediately come to mind: security, collaboration, and analytics.
Let's look at these in greater detail in the next sections.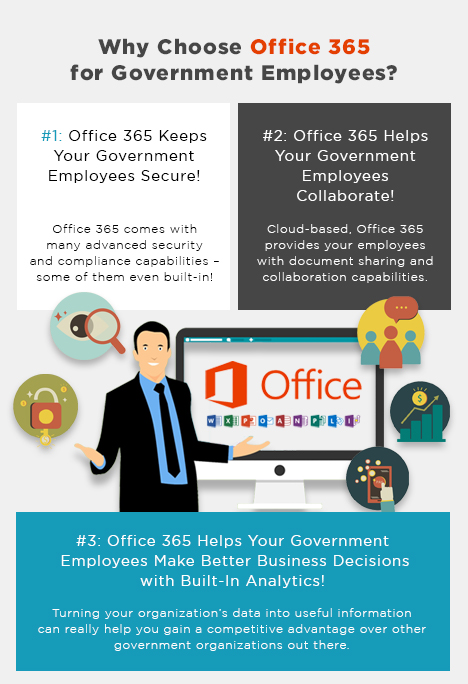 #1: Office 365 Keeps Your Government Employees Secure!
The rapid pace of innovation in technology means that government agencies, like yours, are facing new threats each and every day. Not only are the amount of attacks outpacing the resources that you might have available to you, but you're also being required to comply with a growing array of regulations, you have more and more data you need to protect, and you're facing budgetary restraints that can often impact how much you can spend on technology security solutions.
Office 365, however, comes with many advanced security and compliance capabilities – some of them even built-in! – to ensure that your organization stays protected at an affordable price. With Office 365 for your government employees, your team can protect, detect, and respond to cyberattacks by using a collection of Microsoft's threat protection technologies. Want to receive visibility into spam, malware, viruses, phishing attempts, malicious links, and more? Check out Office 365's security capabilities today!
#2: Office 365 Helps Your Government Employees Collaborate
Every team, and every employee in that team, is different. They work differently than their colleagues, they have different methods of working, and, in some cases, they're even using different tools or operating systems, too. Further, with the trend of working remotely becoming so prevalent, it's even possible that those employees are even working from different locations. So, how do you ensure that your employees can be productive and achieve more each and every day, regardless of the device they're using or where they're working from?
Imagine being at a planning meeting and being able to pull up the latest budget using your Excel app on your mobile device. Imagine being able to work on a PowerPoint on your tablet while you're on the train. Imagine having a conversation with someone in your office and being able to co-author a document together, in real time, while you chatted. Now imagine a solution that can do all of this.
That solution is Office 365.
Office 365 for government employees, however, is a best-in-class productivity and collaboration solution that helps to put everyone on the same page. Office 365 provides you with a suite of collaboration tools – like Microsoft Teams, SharePoint, and OneNote – that enable your employees to be productive, no matter what device they're using, or where they are. Cloud-based, Office 365 provides your employees with document sharing and collaboration capabilities which they can access anywhere, anytime.
Want to see what Office 365 can do for your organization? Check out our free on-demand webinar on moving the public sector to the Cloud through Office 365! Including live demos, this webinar will show you how Office 365 can help you collaborate and be more productive in your organization!
#3: Office 365 Helps Your Government Employees Make Better Business Decisions with Built-In Analytics
Turning your organization's data into useful information can really help you gain a competitive advantage over other government organizations out there. So, what if we told you that Office 365 for government employees gives you analytics tools that help you to monitor and analyze a number of key performance indicators, or, even better, gives your employees a tool that helps them understand their most productive activities?
With Office 365, both of these are possible. Power BI and MyAnalytics are two tools that provide you with valuable business intelligence that you can use to make better business decisions.
If you're looking for ways to process, organize, and protect the massive amounts of data that you have, Power BI is your answer. Available with various Office 365 licenses, Power BI is geared towards the organization as a whole (or broken down by departments), and can provide you with an opportunity to delve deeper into your data and make more informed business decisions. Through easy-to-use and easy-to-understand dashboards, interactive reports, and compelling data visualization, Power BI helps to bring your data to life.
MyAnalytics, on the other hand, is sent to the individual employee only, and allows them the opportunity to see where and what they've spent their valuable time on during the week. This information can be used to help that employee set better goals for themselves and can even suggest ways for that employee to improve their productivity.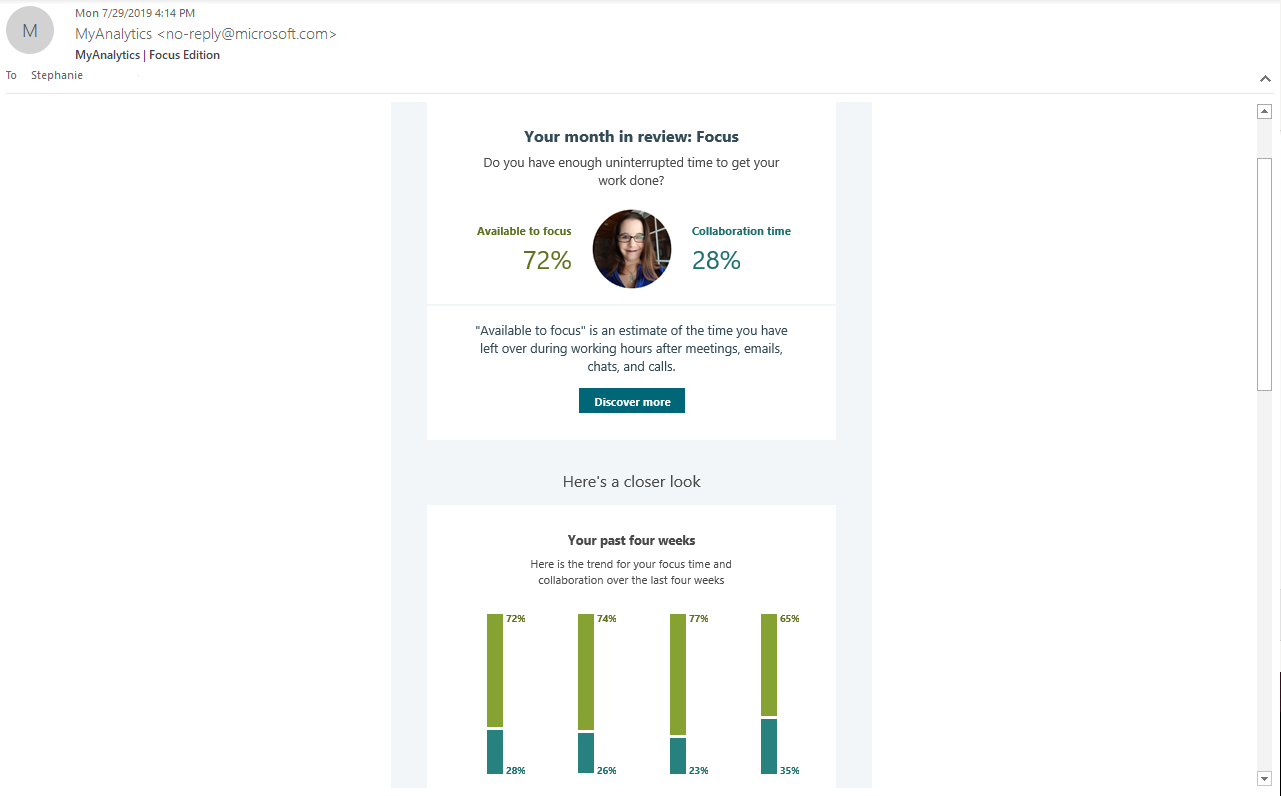 Ready to Implement Office 365 for Government Employees?
So, to recap, Office 365 is that secure, easy-to-use, cost-effective suite of productivity and collaboration tools that your government organization has been looking for! With the incredible benefits available to your employees, including better productivity, better analysis, better collaboration capabilities, and better security, Office 365 is, in our opinion, something that every government organization should have for their employees. And we're here to help!
ProServeIT, as a multi-award-winning Microsoft Gold Partner, is your expert in Office 365 migrations and we can make your move to the Cloud seamless with little to no downtime. We've worked with many organizations, including government organizations like yours, to implement Office 365 in their environment. Let's chat – we'll show you how Office 365 can boost your organization's productivity and keep you more secure!
Plus, be sure to check out our free on-demand webinar on moving the public sector to the Cloud through Office 365! Including live demos, this webinar will show you how Office 365 can improve productivity for your government employees, and provide a solid security platform for everyone in your organization.
Related: