The global digital transformation market is expected to grow to $1,009.8 billion by 2025 from $469.8 billion in 2020. Digital transformation has the potential to revolutionize the way we work, but it can also present challenges, particularly when it comes to communication. One potential issue is that remote workers or those who primarily communicate digitally may feel disconnected and isolated from their colleagues and the organization. One solution to this problem is Microsoft Viva, a digital workplace platform that integrates with Microsoft Teams and other Microsoft applications.
In this blog, you will find:
💎Why Microsoft Viva is Crucial to Your Organization's Success?
📣 The Role of Internal Communications in Viva Adoption
🎯 Creating a Training Strategy for Viva Adoption
🏆 Building a Champions Network for Viva Adoption
🎁 What's Next: Resources & Workshop
👩‍🏫 ProServeIT Academy: Microsoft Viva Course
At ProServeIT, we understand the challenges of digital transformation, especially when adopting new technologies like Microsoft Viva. That's why we support our clients with extensive experience to help them navigate their digital transformation journey. Our team of experts is equipped with the right resources and strategies to ensure successful Viva adoption within your organization.
In this blog, we will explore Microsoft Viva, a digital workplace platform that provides employees with a single, integrated platform for all their digital tools and resources. This blog will also guide you through developing and implementing an effective training strategy and identifying key organizational champions who can drive Viva adoption.


Why Microsoft Viva is Crucial to Your Organization's Success?
Microsoft Viva is a comprehensive platform of employee experience tools that play an important role in modern workplace technology. One of the key features of Viva is its ability to enhance communication and awareness within an organization.
While having the technology available is essential, adoption is critical because it determines the success of the technology and whether it can achieve the intended business outcomes.
In the case of Microsoft Viva, it is a strategic platform designed to help organizations improve employee productivity, engagement, and well-being. However, the mere availability of the platform does not guarantee its success. For Microsoft Viva to be practical, it must be adopted by organizations and used by employees.
Successful adoption of Microsoft Viva can have several benefits for communication and awareness within an organization, including:
• Improved communication through a centralized platform.
• Increased collaboration with real-time tools.
• Better access to information with a knowledge management system.
• Enhanced awareness through resources for employee recognition and well-being.
• Improved efficiency by streamlining communication, access to information, and collaboration.


You may be interested in these blogs:
New Microsoft Viva Features for Employee Experience
Support Your Employees Growth with Microsoft Viva Learning
Employees Aligned & Engaged with Microsoft's New Viva Goals
The Role of Internal Communications in Viva Adoption
For end users to successfully use and benefit from Microsoft Viva, a new and intricate technology suite, it is crucial to have clear and efficient internal communications. By using effective internal communications to build awareness of Viva's capabilities and address employee concerns, organizations can increase adoption rates and ensure that employees are fully equipped to use the technology. By promoting Viva training and encouraging feedback, organizations can maximize the benefits of the technology and drive long-term adoption.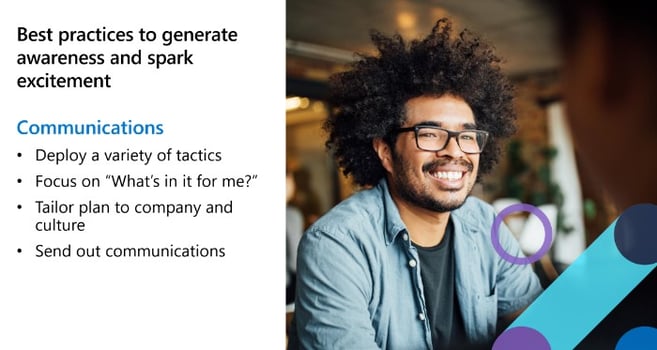 Organizations should focus on effective internal communications and deploy tactics tailored to their company culture to generate awareness and excitement around Microsoft Viva. Some key strategies include:
• Highlight the benefits: Emphasize the "What's in it for me?" aspect of Microsoft Viva to show employees how it will benefit them in their day-to-day work. This can include increased productivity, streamlined communication, and improved access to information.
• Deploy various tactics: Use multiple communication tactics, such as email campaigns, webinars, and in-person training sessions, to ensure employees receive information about Microsoft Viva through numerous channels.
• Tailor the plan to company culture: Customize communication tactics to fit the culture and preferences of the organization. For example, if the organization values employee input and collaboration, consider hosting focus groups or feedback sessions to involve employees in the adoption process.
• Send out communications: Consistent communication is critical to building awareness and excitement around Microsoft Viva. Send out regular updates and reminders to keep employees engaged and informed about the technology.
By combining these tactics and focusing on effective internal communications, organizations can successfully generate awareness and excitement around Microsoft Viva, ultimately driving adoption and maximizing the benefits of the technology.


Creating a Training Strategy for Viva Adoption
Practical training is critical to the successful adoption of Microsoft Viva. As a new and complex technology suite, Viva can be intimidating to end users who may need to become more familiar with its features and benefits. By providing comprehensive training, organizations can ensure employees have the knowledge and skills to use Viva effectively. This can increase comfort levels, maximize benefits, and reduce resistance to change, leading to higher adoption rates.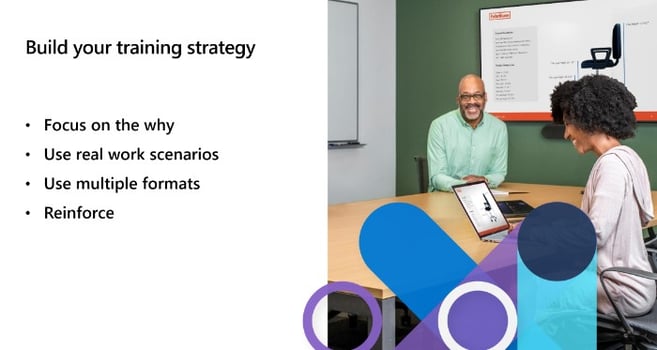 A successful training strategy for Microsoft Viva should include the following key elements:
• Focus on the "why": It is essential to communicate to employees the purpose and benefits of using Viva in their daily work. This helps them understand the value of the new technology and motivates them to learn how to use it effectively.
• Use real work scenarios: Training should be designed around real-life work scenarios to make them more relevant and applicable to employees. This helps them understand how to use Viva daily and increases the likelihood of adoption.
• Offer multiple formats: People learn differently, and providing training in various formats ensures that employees can discover in the way that works best for them. This may include online courses, in-person workshops, job aids, or video tutorials.
• Reinforce learning: Learning does not end with the training session. Reinforcement is necessary to ensure that employees retain the knowledge and skills they have acquired. This can be achieved through follow-up sessions, refresher courses, or ongoing support.
By incorporating these elements into a training strategy, organizations can ensure that employees are fully equipped to use Microsoft Viva and that the technology is successfully adopted.


Building a Champions Network for Viva Adoption
Champions are passionate individuals within an organization who advocate for adopting new technology, such as Microsoft Viva, and work to build awareness and engagement throughout their community. They evangelize and train their teams in new ways of working, providing ongoing support and guidance. According to a survey, learning through coworkers is one of the most effective and commonly used methods for training and adoption. Champions play a critical role in driving adoption and maximizing the benefits of Viva within an organization.
A team of passionate champions for the new technology is crucial for a successful adoption. It is recommended to recruit and train a sustainable champions community. It is also important to make it an opt-in process that becomes a formal part of their job, giving them the necessary time and resources to be effective.
Here are some tips on how you can recruit and train a sustainable champions community:
• Use announcement and invitation emails, as well as Yammer posts, to discover champions within the organization.
• Create a dedicated Yammer community for champions to share tips, ask questions, give product updates, and celebrate success stories.
• Invite champions to identify stakeholders/early adopters and help with end-user adoption of the technology within their network.
• Provide comprehensive training for champions, including webinars, business groups, the Office Training Center, the Productivity Library, and sessions with the Microsoft team.
• Build a sense of community and foster engagement among champions to drive successful adoption of new technology like Microsoft Viva.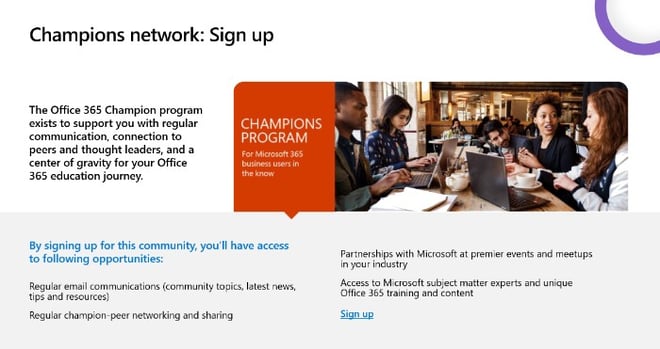 By enrolling in the Office 365 champions program, you can gain access to a wide range of resources and opportunities. These includes regular email communications with community topics, the latest news, tips, and resources, networking and sharing with other champions, exclusive partnerships with Microsoft at premier events and meetups in your industry, and access to Microsoft subject matter experts, and unique Office 365 training and content.


What's Next: Resources & Workshop
To successfully implement Microsoft Viva, companies must create a comprehensive adoption plan with goals, stakeholders, a timeline, and metrics. Leveraging available resources like the Office 365 Champions program can also aid in driving adoption. With the right strategy, organizations can unlock Viva's full potential. In addition to the tips and strategies mentioned above, there are also additional resources available to organizations seeking to adopt Microsoft Viva.
Microsoft Viva Adoption Hub
The Microsoft Viva Adoption Hub provides various resources to support successful adoption, including adoption guides, day-in-the-life resources, email announcement templates, editable poster templates, countdown news post samples, a champions' network program, infographics, and much more.
Microsoft 365 Learning Pathways
Microsoft 365 learning pathways is a customizable, on-demand learning solution designed to increase usage and adoption of Microsoft 365 services in your organization. It offers an efficient and effective way to accelerate user training through a familiar SharePoint Communication Site template. It is connected to an online catalogue of Microsoft-curated user training content and comes with a customizable web part that can be easily installed using SharePoint Provisioning Service.
ProServeIT's Complimentary Viva Workshop
If you're interested in learning more about how Microsoft Viva can benefit your organization, contact us to check your eligibility and schedule a complimentary Viva Workshop! During the 1 to 1.5-hour demo session, we will work with you to identify a prioritized list of business scenarios that can be addressed by deploying Microsoft Viva and provide recommended preparation regarding skills and best practices. You'll also receive a roadmap outlining potential workstreams and dependencies, with clear next steps and an adoption framework. Eligible participants will even have access to free trial licenses after the workshop.​


ProServeIT Academy: Microsoft Viva Course

Seize the opportunities around Microsoft Viva Connections to keep everyone in your workforce connected to each other. The ability to personalize Viva Connections and have it accessible in the apps and devices employees already use every day, like Microsoft Teams, makes it easy for people to contribute and access relevant news, conversations, and other resources. Your organization will gain a curated, company-branded experience designed to unite employees around your company's vision.
Join us to discover how to drive employee engagement with Viva Connections by registering here!
Content from: ProServeIT Academy 2022 Microsoft Viva Course 3 by Joy Fajardo
Edited by: Betty Quon & Hyun-Jin Im