If you're like most organizations, you're always looking for ways to improve the employee experience. Well, look no further than Microsoft Viva! This new platform offers a wide range of features that are designed to make life easier for employees and administrators alike.
Microsoft Viva is a new employee experience platform that is designed to help employees connect, learn, and grow within their company. The platform includes features such as a personalized feed of company news and announcements, a directory of employees and expert colleagues, and learning opportunities through courses and articles. Microsoft Viva also includes tools to help employees manage their career development and feedback.
In addition, the platform provides insights into how employees are feeling and offers recommendations for improving the employee experience. By providing employees with a central place to connect, learn, and grow, Microsoft Viva has the potential to transform the way companies support and develop their employees.
In this post, we'll take a closer look at some of the most exciting new features in Microsoft Viva. Keep reading to learn more!
In this blog, you will find:
🤗 Why invest in your organization's employee experience?
📘 Build an effective employee learning culture with Viva Learning
🌊 Create transparency between managers and teams with Viva Goals and Viva Pulse
📣 Use Viva Amplify to centralize your communication processes
🔍 Learn more about Microsoft Viva
🏁 Conclusion


Why invest in your organization's employee experience?
As any business owner knows, employees are the heart and soul of any organization. They provide the skills, knowledge, and labor that are essential for keeping the business running. However, employees are also human beings with their own needs and wants. When employees feel valued and respected, they are more likely to be productive and engaged with their work.
Therefore, it's so important to invest in your organization's employee experience. By creating a learning culture and focusing on employee development, you can create an environment where employees feel empowered to do their best work. In turn, this will lead to greater productivity, creativity, and profitability for your business.
The data tells the truth: if your employees are not growing or learning at your organization, don't be surprised when they leave. Forrester Consulting conducted a study on hybrid work and the two results below stood out regarding the employee experience.
- 76% of employees say they'd stay at their company longer

if they could benefit more

from learning and development support

- 55% of employees say the best way for them to develop their skills

is to change

companies

.
The impact of this is quite different across several workforce generations. In the study by Forrester Consulting, survey respondents were asked: "How much do you agree or disagree with the following when you think about your future career? 'The best way for me to develop my skills is by changing companies'" and the results below show how each generation reacts to the lack of a learning culture at their workplace.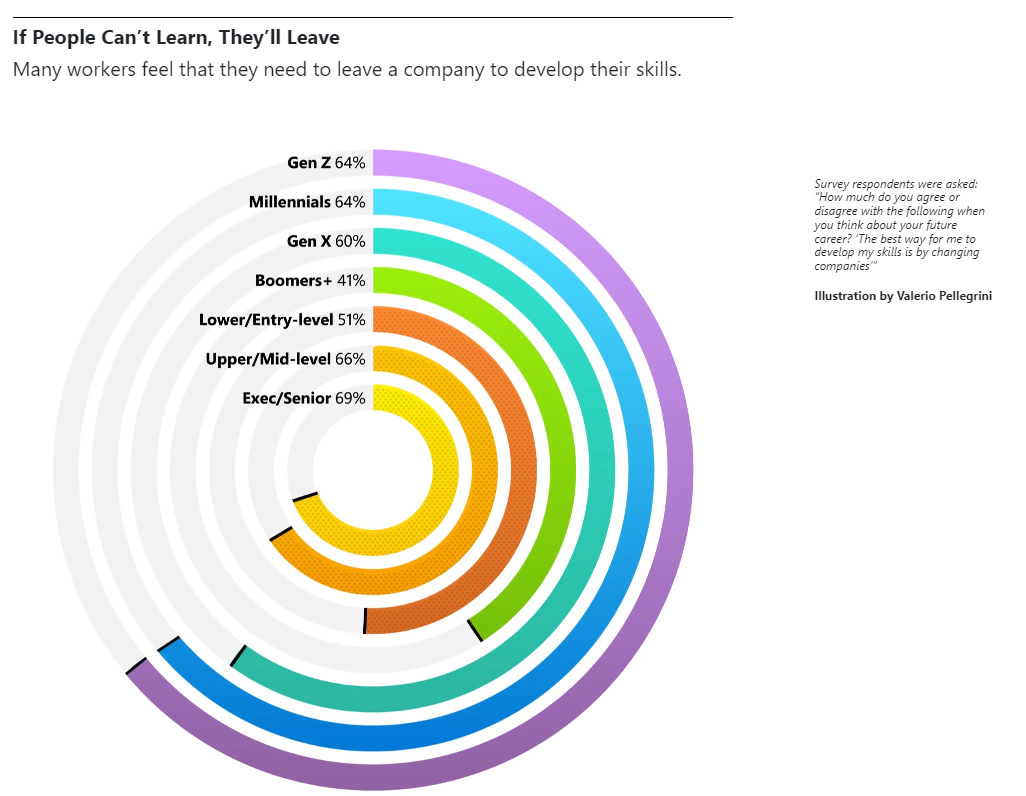 *Infographic showing the results from surveying several employee generations about learning at work.
To help retain your workforce, having an effective employee learning culture is an important part of achieving that objective. Take a look at the section below to see how Viva Learning can help.
Build an effective employee learning culture with Viva Learning
If you are a leader at your current organization, don't let the statistics in the previous section make you anxious or worried about your own employees. Use it as a great opportunity to invest in the career growth and upskilling of your workforce. Why invest in employee career growth?
According to the Forrester Consulting study, "more than two in three people say they would stay longer at their company if it was easier to change jobs internally, and they would rather make a lateral move to learn new skills than earn a promotion with fewer growth opportunities".
To help your employees grow, learn and succeed, Microsoft Viva has announced new improvements to its Viva Learning's integration with LinkedIn (through the LinkedIn Learning Hub). With this integration, employees can have a more seamless experience when exploring both systems to learn new skills linked to their current (or future) job.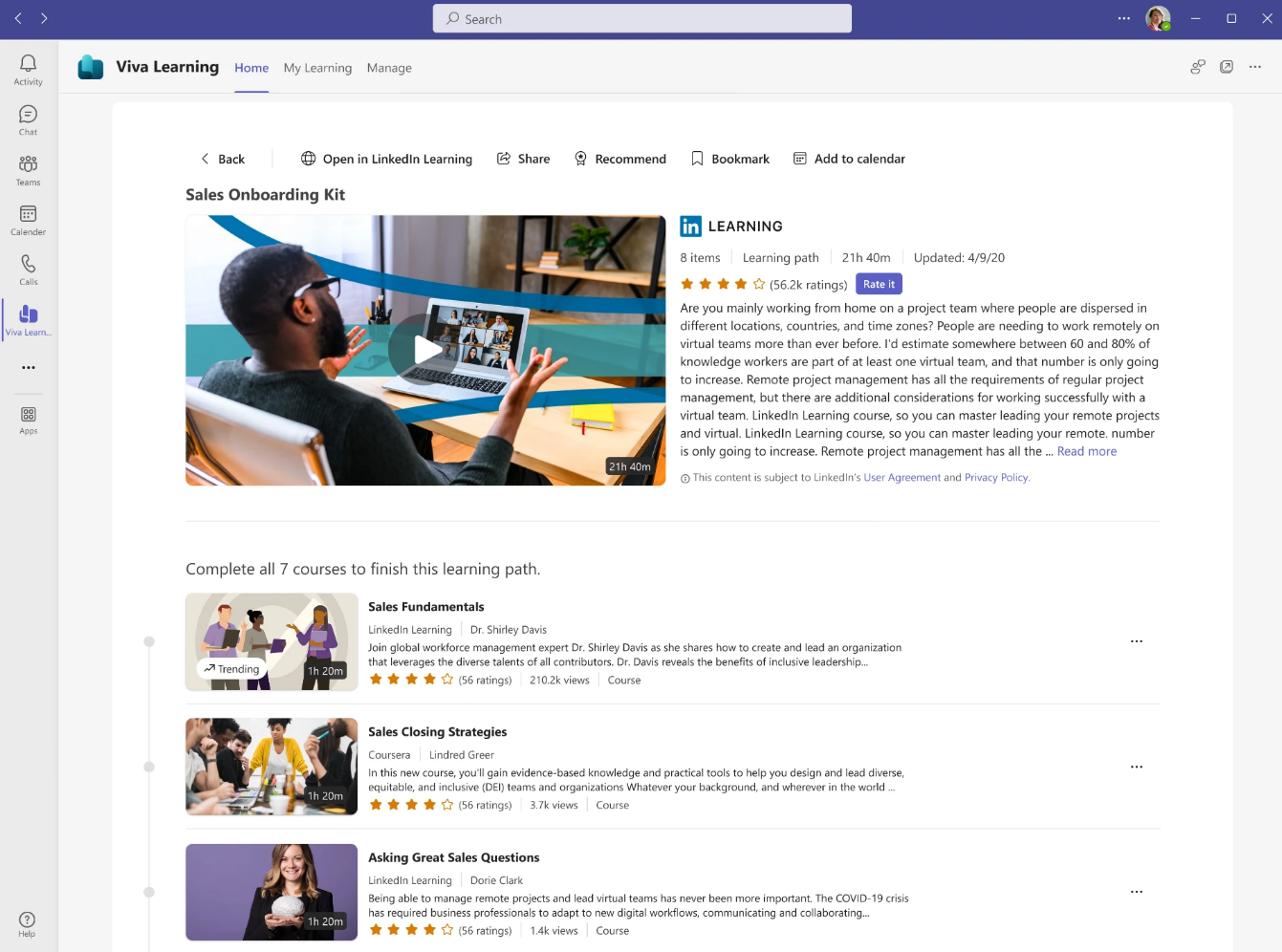 Access learning paths from LinkedIn Learning Hub within Viva Learning for a streamlined experience across both platforms.
This update is also helpful for learning admins as it delivers a combined admin experience which makes it easy to surface all LinkedIn Learning Hub content within Viva Learning, including content specific to your organization such as the following:
Collections

Curated learning paths

Custom content
In addition, to help with employee learning and growth, Microsoft Viva is launching a new experience called Answers in Microsoft Viva. This new feature connects employee questions to the right answers and experts across their organization to help address open questions and put collective knowledge to work for all employees. This is done by utilizing artificial intelligence (AI) to present similar questions that have been answered, recommend topics and experts, and highlight the top solutions.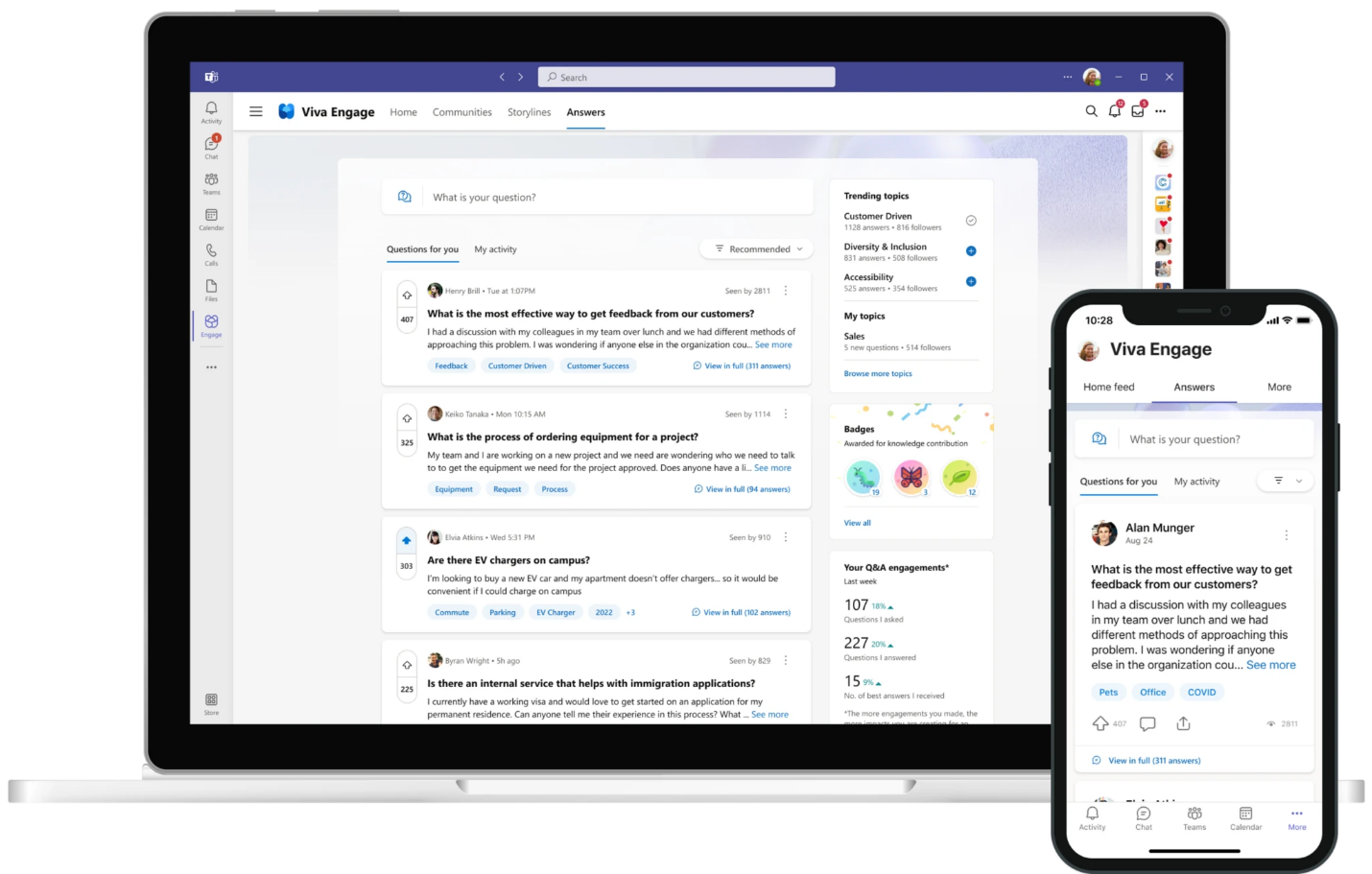 Answers in Viva will be available within the Viva Engage app for licensed Viva suite users.
Answers in Viva works with Viva Topics and Viva Engage to identify and prompt experts to contribute their own knowledge and rewards people who contribute back to the knowledge base through gamification.
As a better employee learning culture is being created, it is also important to improve the transparency between managers and their teams to help them flow together. Viva Goals and Viva Pulse can assist with creating that a more transparent work environment. Read below to learn more!


Create better transparency between managers and teams with Viva Goals and Viva Pulse
Trust is critical for great synergy between managers and their teams. Productivity paranoia is the enemy of unity and this disconnect can cause issues between the two parties. The study by Forrester Consulting gives us a glimpse as to how big this disconnect truly is:
Their research reveals that

87 percent of employees

report they are productive, yet only

12 percent of leaders

say they're confident their employees are productive in hybrid work.

Their data shows

more than half of companies

rarely, if ever, collect feedback about their employees' experience at work.
To help create better transparency between teams and their managers, organizations can use both Viva Goals and Viva Pulse as a means of getting continuous feedback and improving the prioritization on any established goals.
Viva Goals is a goal-setting and objectives and key results (OKR) management solution that helps organizations align everyday work to business outcomes. This module now has new integrations with the following Microsoft apps:
New connection to

Power

BI

datasets to track key performance indicators (KPIs) and key results
Microsoft

Teams

app to check-in and collaborate on OKRs within the Teams activity feed

Microsoft Project

and

Microsoft Planner

for automatic project management updates

New extension in

Azure DevOps

to complete work items

Getting employee feedback just got easier with Microsoft's new

Viva Pulse

. This new app empowers team leads and managers to seek regular and confidential feedback about their team's experience and this can be done right within the Microsoft Teams workflow. Viva Pulse allows managers to better understand the pulse of their team by using smart templates, research-backed questions, and analytics. This module also provides suggested actions and learning on relevant topics, making it easy for managers to focus on team needs.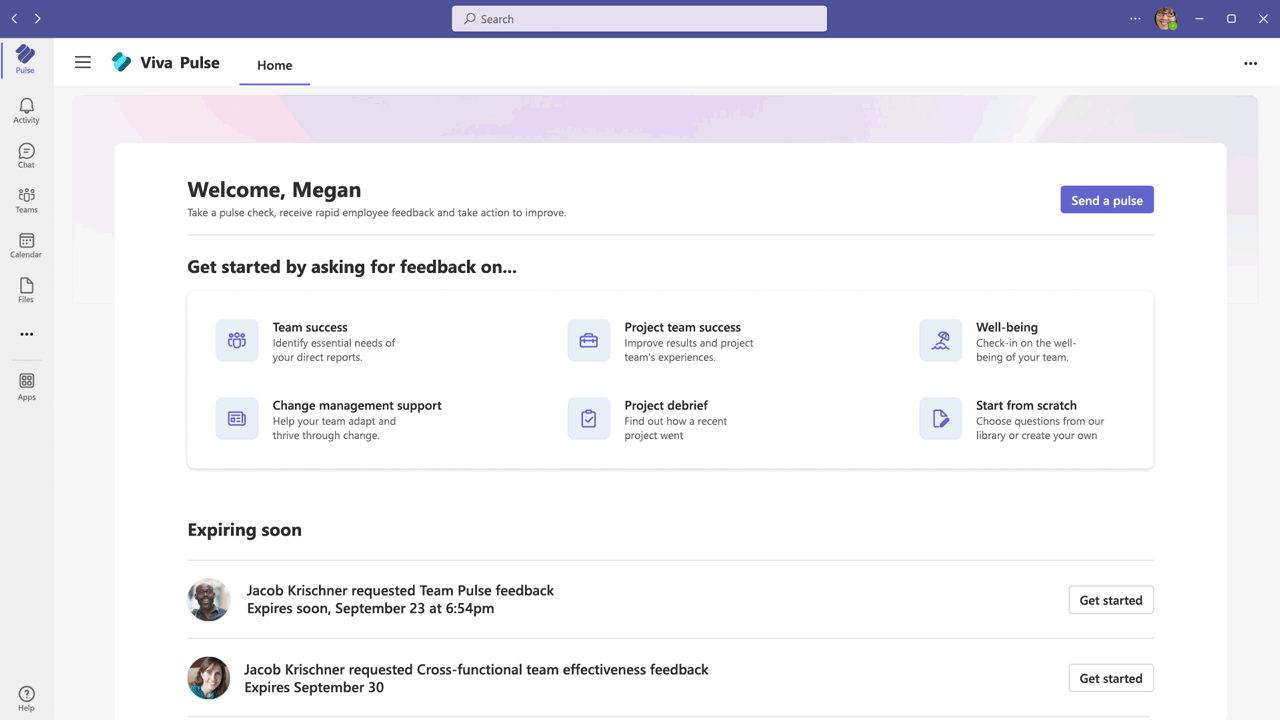 Visual display of how to ask effective questions in Viva Pulse
Interested in helping to test out Viva Pulse? You can click here to apply to be on the Viva Pulse Customer Advisory Board in 2023 (sponsored by Microsoft). It is a 5-minute survey which includes the terms & conditions to be part of this board. Only those who qualify will be contacted by Microsoft.


Improve employee communications and connections by using Viva Amplify & Viva Engage

Social capital in the workplace cannot last without constant, genuine communication between leaders and their employees (in the office or remotely). Staying connected in a hybrid work environment can be a challenge. The study by Forrester Consulting shows us how difficult this can be on either side of the equation:

Their data shows

68 percent of leaders

say team cohesion is a challenge, while

51 percent of employees

say relationships outside their immediate work group are weaker.

To help rebuild/improve those employee connections, organizational leaders can use Viva Engage, to unite their workforce through virtual events, digital communities, rich conversation tools, and more.

In addition, Microsoft Viva has recently created Leadership Corner which is a space for leaders to encourage open dialog and feedback across communities and teams through news, Ask Me Anything (AMA) events, surveys, and more. With this new space, leaders can build, promote, and launch these activities related to company initiatives all from one place, and use intuitive dashboards to track metrics and employee sentiment in real time.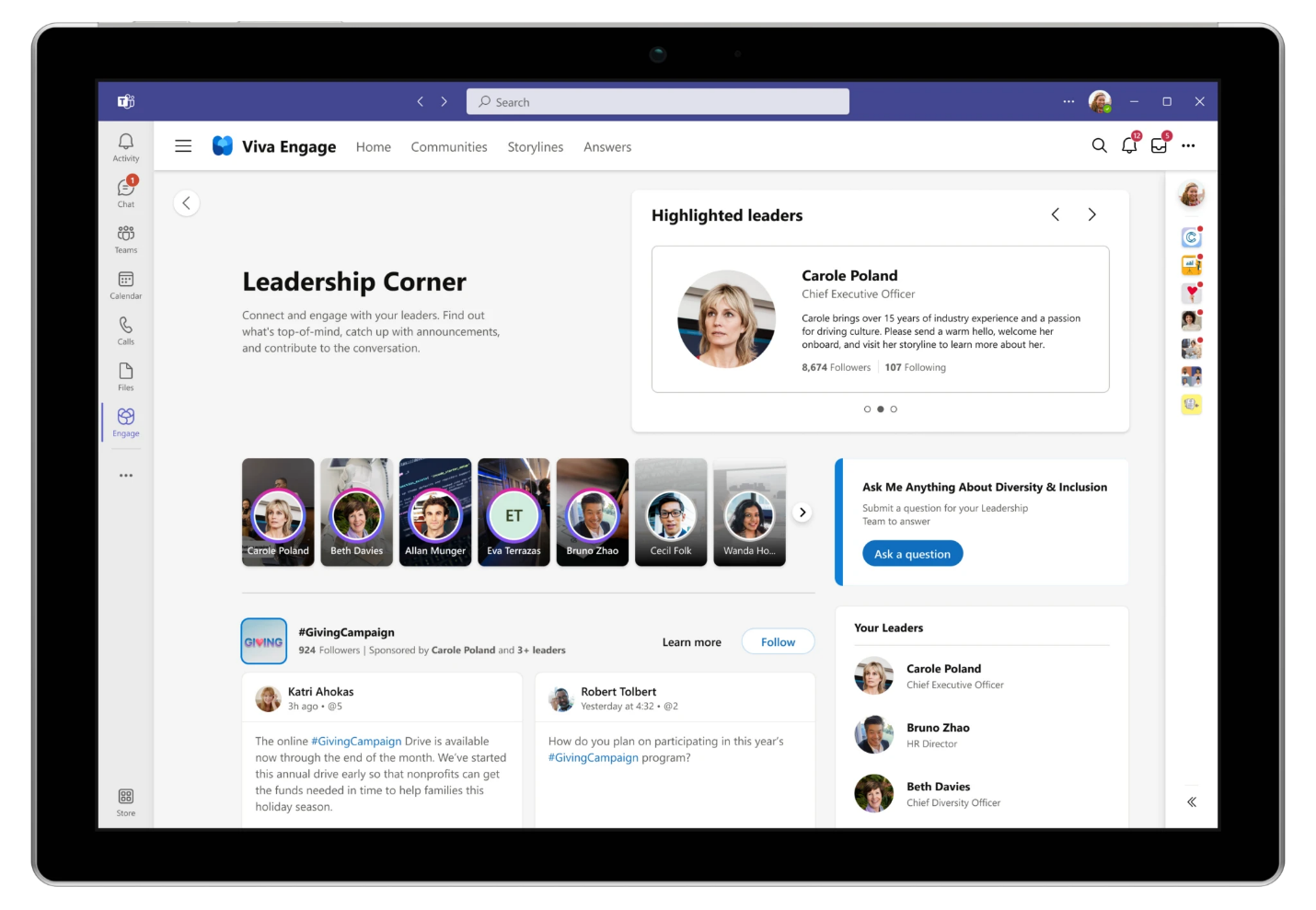 Use Leadership Corner to better foster discussions and guide conversations for leadership teams.
To help with better employee communications at scale, Viva Amplify can be the new tool for communication teams and leaders to elevate company messages and motivate their employees. This app centralizes communication processes in a single space and offers writing guidance to help messages from every part of the organization—leaders, corporate communications, and HR—resonate with employees. Communicators can now do the following:
Publish messages to multiple channels simultaneously

Manage their campaigns from a central hub

Study resulting metrics to better plan future communications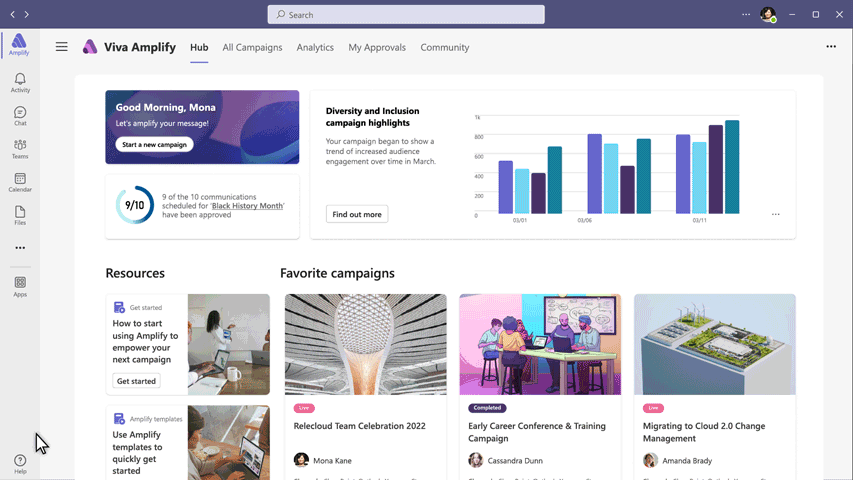 Use Viva Amplify as a single hub to plan, create, publish, and analyze all your organizational communications.
Interested in learning more about Viva Amplify? Apply to be in the Viva Amplify preview program in 2023 (sponsored by Microsoft). It is a 5-minute survey which includes the terms & conditions to be part of this board. Only those who qualify will be contacted by Microsoft.


Learn more about Microsoft Viva
Not sure how Microsoft Viva can help improve the digital employee experience at your organization? Check out our free course on Microsoft Viva brought to you by our new ProServeIT Academy.
This course has 3 informative classes, delivered online by our in-house instructor and is designed for HR leaders and C-suite executives. See our list of classes below:



Class 01: Introduction to the Viva Suite (5 Modules)
👩🏻‍💻
As hybrid work became more prevalent, not only did it diminish traditional emphasis on the in-office environment, but it also reshaped how companies operate. Technology and workplace tools are the new workplace. As such, they're becoming central to attracting and retaining new talent, fostering workplace culture, enabling productivity, and more. 
Some of the Viva capabilities come with the Microsoft 365 suite that your organization may already be using. Let's introduce you to the Viva suite so that you can envision how your people can utilize it today and in the future. 
Join this class to explore how Microsoft Viva and its 5 core modules – Insights, Learning, Topics, Connections, and Goals – can help HR leaders and managers improve their employees' experience in the era of hybrid work in which we live. 
Register now to watch the video recording!


Class 02: Support Your Employees' Growth with Viva Learning
📚
Does your organization have the right tools to allow your people to get the latest information and learnings, understand what your priorities are, and get feedback on how they are performing against those priorities?  
Do you have a systemic way for your people to improve their skills and grow in their careers? 
We understand HR leaders like you always look for better ways to help your employees learn, grow, and feel productive. This class is designed for you. 
Join us to discover how Microsoft Viva Learning and Insights can help your organization:  
Empower your employees to make learning a natural part of the day;
Bring learning into the flow of work with tools and platforms they already use; 


Thrive with data-driven, privacy-protected insights, and recommendations on how to improve productivity and wellbeing.
Register now to watch the video recording!


Class 03: Change Management
⚙️
Is your organization planning a roll-out of a new technology, like Viva or Teams? We understand for HR leaders like you, what's more important is adoption of the technology than the shiny technology itself.
To bring about excitement which will lead to adoption which will then lead to the ROI your organization is looking for, you need a strong internal communications plan that keeps your employees not only updated on what they can expect, but also informs them on how the new technology will affect their day-to-day operations, and what they can do if they have concerns or issues. 
Join our instructor to learn how to successfully communicate your roll out, develop your plan, and implement it across your organization.
When

: Thursday, November 17th, 2022

Duration

: 2:00PM - 2:45PM ET (45 min)




Course Delivered

: Online
Click here to register for this course today!


Conclusion
In today's business world, it is more important than ever to invest in your organization's employee experience. By utilizing Microsoft Viva tools like Viva Learning, Viva Goals, and Viva Pulse, you can build a strong learning culture within your company that leads to success.
Interested in using Microsoft Viva for your employee experience? Discover how our ProServeIT team can help by clicking this link today.