94% of employees say they would stay at a company longer if it invested in their learning and development, meaning they want a better employee experience. So, leaders should invest in new technology solutions to enable employees' growth and maintain talent.
In this blog, you will find:
What is Microsoft Viva Learning?
Features of Microsoft Viva Learning
Microsoft Viva Workshop & Microsoft Viva Insight Workshop
Microsoft Viva is a new Employee experience platform (EXP) for building a thriving employee learning culture with engaged employees and inspiring leaders. This blog will introduce you to Microsoft Viva Learning and the various features that make it the perfect choice for businesses to create a learning culture and support employee growth.
You may be interested in these blogs:
5 Challenges (with Solutions) Microsoft Viva Solves in the Workplace
New Microsoft Viva Features for Employee Experience | Tech News: Nov. 2022
Employees Aligned & Engaged with Microsoft's New Viva Goals


What is Microsoft Viva Learning?
Microsoft Viva is the hybrid working era's employee experience platform (EXP) which includes Viva Connections, Viva Insights, Viva Topics, Viva Learning and Viva Goals. Among these five Microsoft Viva modules, Microsoft Viva Learning can meet companies' needs to prioritize their employees' growth and development.
84% of Learning & Development leaders think now is the time to integrate learning into collaboration platforms. The current learning landscape, however, is fragmented, making it difficult for companies to create a unified learning journey. The learning systems, including learning content providers, learning experience platforms, and learning management systems, are separated from everyday work systems. Employees have to navigate various solutions on top of their day-to-day responsibilities, and those learning solutions sit outside their typical work surfaces
So, what is Microsoft Viva Learning? Microsoft Viva learning is an in-the-flow learning solution for employees to discover, share, and consume learning content from libraries across your organization. It includes content from Microsoft and partner solutions, learning content providers, Learning management systems, and your organization's content. It is available on desktop, mobile, and tablet.
Viva Learning has several core benefits, including:


💰 Maximizing your investments in learning by aggregating your organization's existing learning resources and bringing them into the flow of work – through the platforms of Microsoft Teams and Microsoft 365.


👓 Improving visibility, accessibility, and consumption for content previously hidden on a destination platform.


✨ Personalizing features that offer access to diverse and correct content, with curated learning recommendations and intuitive views to stay organized.



Features of Microsoft Viva Learning
Microsoft Viva Learning offers different features tailored to help businesses support their employees' development, including learning in the flow of work, simplified learning, and personalized learning.
👨‍💻 Learn in the Flow of Work
Most employees use only 1% of their workweek to focus on learning new skills. But with Microsoft Viva Learning, you can bring learning to the tools and platforms where you already spend your time.
Add a learning tab in Microsoft Teams 🎛️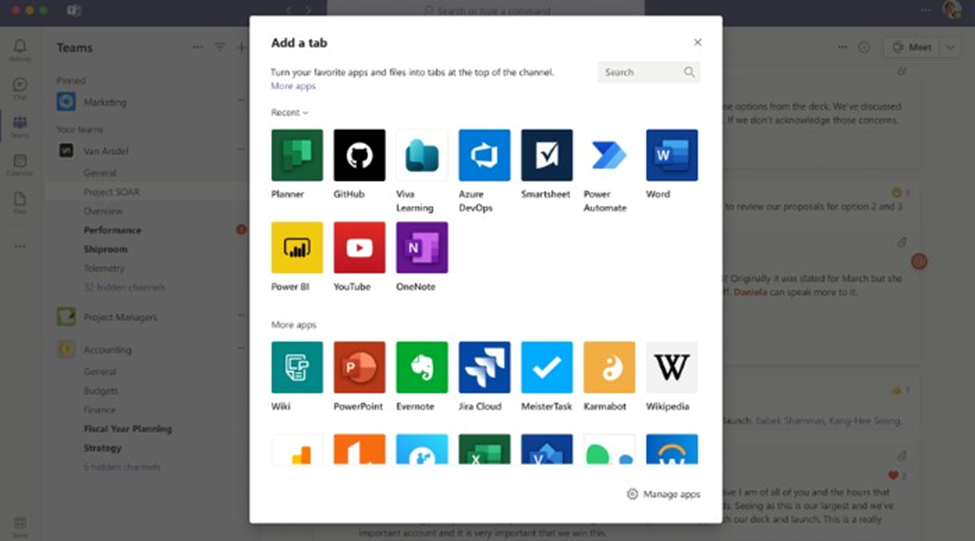 You can add a Learning tab to your Microsoft Teams channel to create a learning hub for your team. Members of a team will be able to find, select, and pin training in channels where they collaborate daily. Managers can also curate training sets in the tab, arranged by relevant topics or recommended courses. The easier it is for employees to access and interact with learning throughout their normal day-to-day, the more likely they are to commit to their development – and that's the goal with Microsoft Viva.
Social learning
😎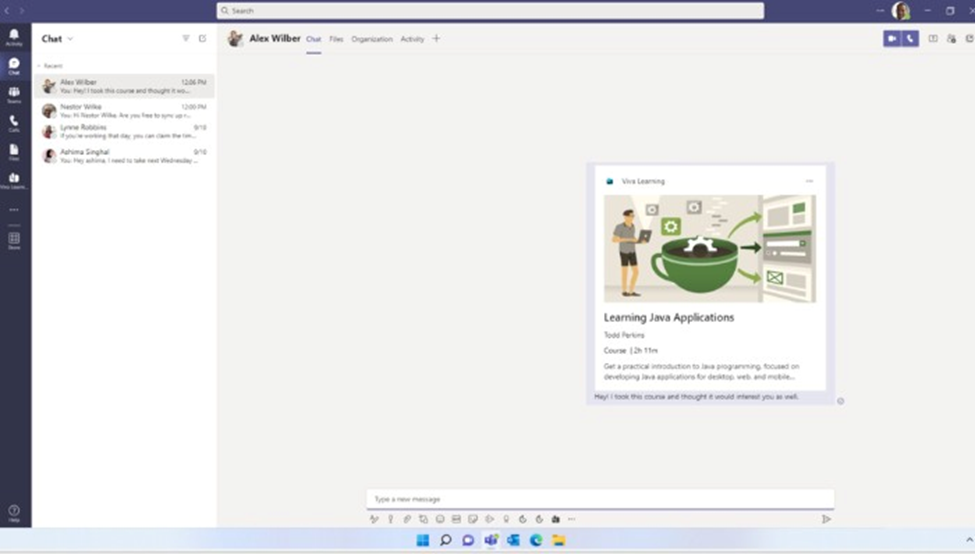 Viva Learning enables social learning by leveraging Microsoft Teams core capabilities of chats & conversations. This is valuable in group coaching and mentoring conversations, where employees can send relevant courses and material right into the conversation. Easily send learning content in a Teams chat with a colleague from the chat window or the course itself.
Learn across Microsoft 365 💻
Even if you're working outside of Teams, Viva Learning content will come up across all Microsoft 365 suites– so if you search in SharePoint or Office.com, related learning courses will also show up there. And that includes all Viva Learning content you may have connected – Microsoft, LinkedIn Learning, and third-party learning content. It creates a powerful way for learning to seamlessly show up throughout employees' productivity journey, ensuring it's always accessible and top of mind.
📋 Simplify Learning: All Your Learning Content in One Place
One of the most outstanding values of Viva Learning is that it's a one-stop shop for all your learning content and tools. Let's dive into the learning partnerships built into the product and the types of sources and content the app supports.
A central hub for all your learning sources
📌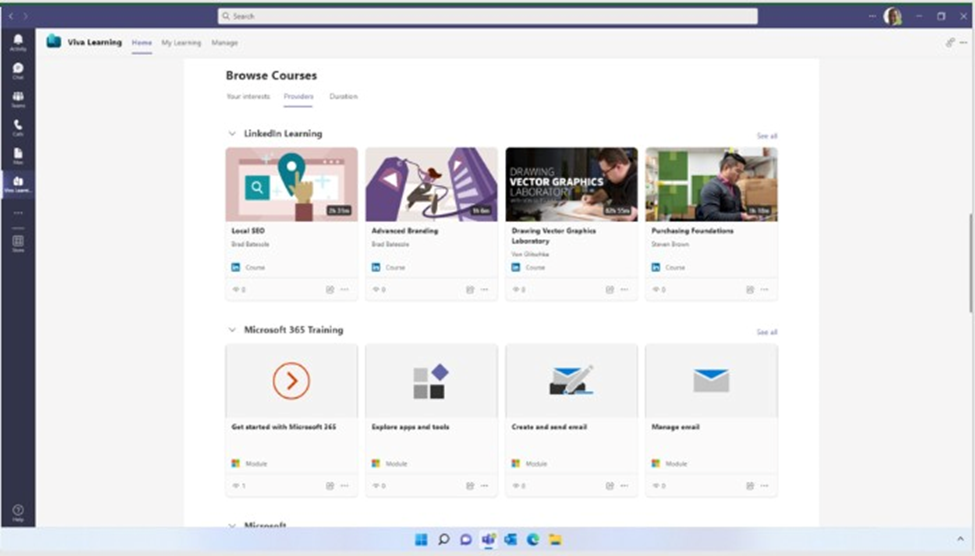 Viva Learning comes pre-configured with Microsoft sources like Microsoft Learn, M365 training, and LinkedIn learning. You can also connect with any of Microsoft's partner learning providers so users can discover, access, and share courses from Pluralsight, Coursera, Go1, and more from the Viva Learning app.
Formal and informal learning
🤵👨‍🎤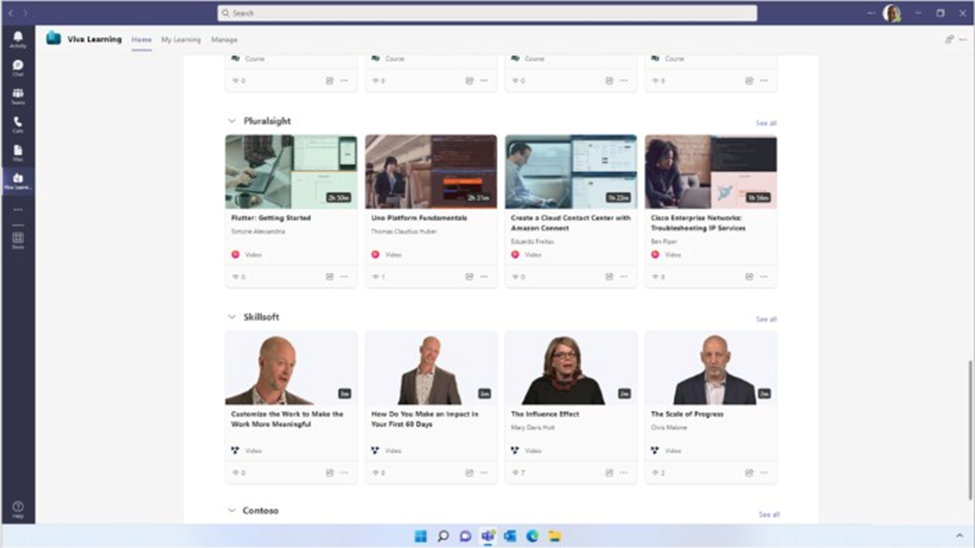 In addition to formalized learning courses from first and third-party sources, Viva Learning also brings in informal content from your organization, including resources created by subject matter experts across your company and company-specific learning resources. It can range from formalized instructor-led training to hands-on interactive learning. With this, employees can share their learning and knowledge with their colleagues effectively and at scale in an organized learning system rather than from disparate locations throughout the company intranet.
Viva learning + partner cases
🤝
Below is an example of Viva Learning content from provider Go1 and another example from a learning management system integrated partner - SAP SuccessFactors.
☑️ Viva Learning + Go1: Content provider integration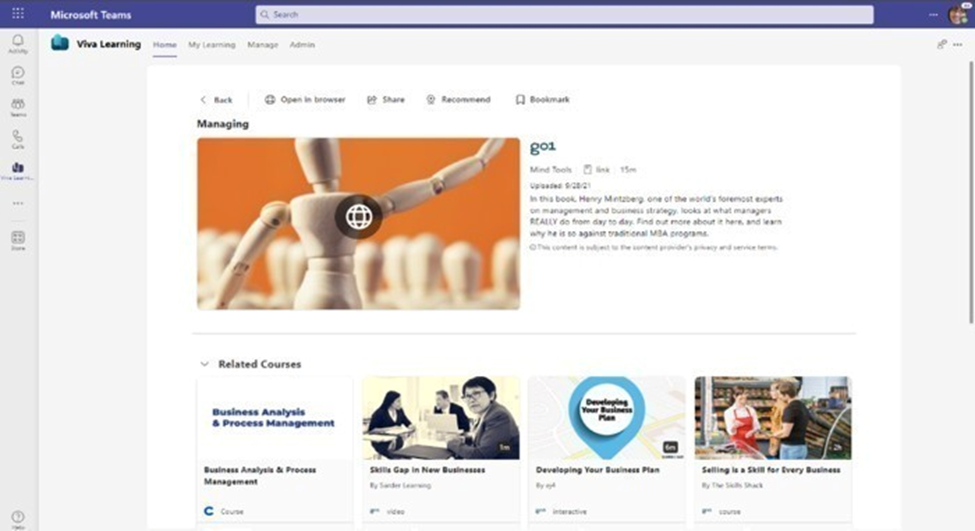 Bring the entire Go1 library into the flow of work with Viva Learning
• Add Go1 content to a Teams channel tab
• Share Go1 content in Teams chat and conversations
• View bookmarked and trending Go1 content in Teams
• Recommend Go1 content to colleagues and track progress in Teams
☑️ Viva Learning + SAP SuccessFactors: Learning management system integration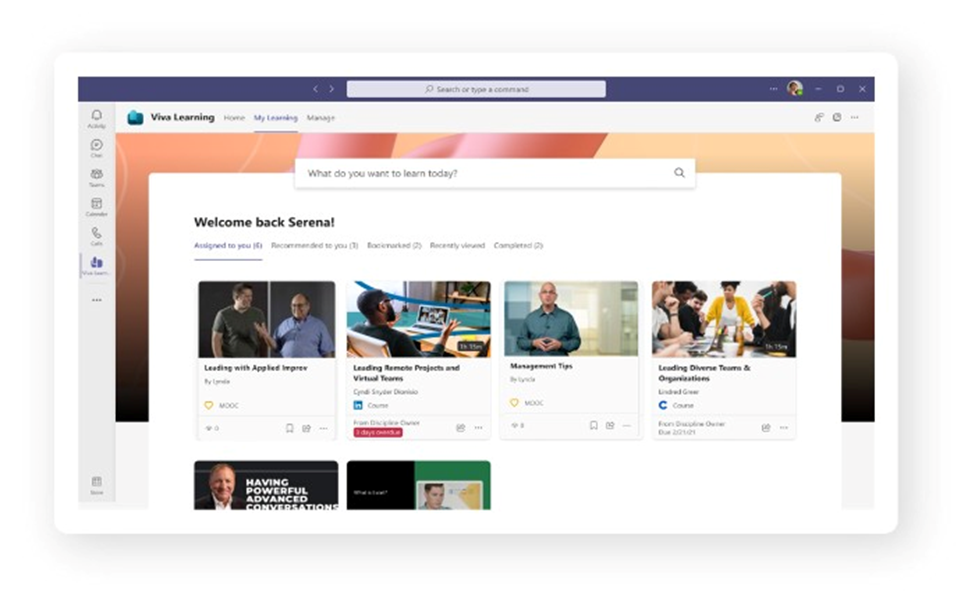 Access learning assignments and content from SAP SuccessFactors in Viva Learning
• Discover, share, and access content from SAP SuccessFactors Learning in Viva Learning
• View learning assignments from SAP SuccessFactors Learning in the Viva Learning My Learning view
• Get Teams notifications for new assignments and upcoming due dates.
👍 Personalized and Relevant Learning
Not only is Viva Learning aggregating all your learning into one place, but it also helps you find the most relevant courses and content from that diverse selection, so you can spend less time searching and more time learning.
Easily find and discover content
🔎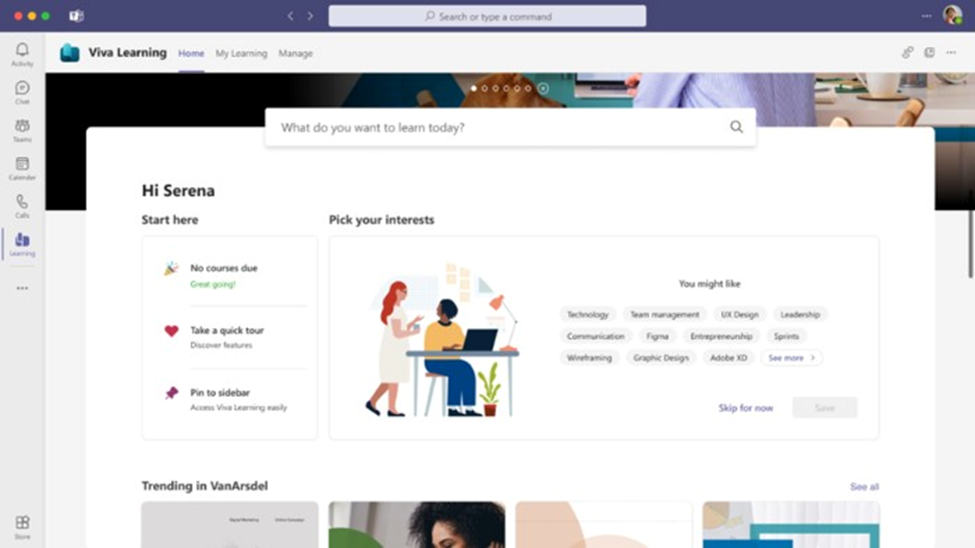 With Viva Learning, intelligent search helps surface the right content. You can search for subjects or keywords in the Teams app. Viva Learning will bring up related material across all integrated learning sources, including first and third-party content and content from your organization.
Viva Learning helps you discover relevant content by curating courses based on your interests. Users can select their interests, and Viva Learning will generate content results across all connected sources based on these selections.
View featured content from your organization
🕹️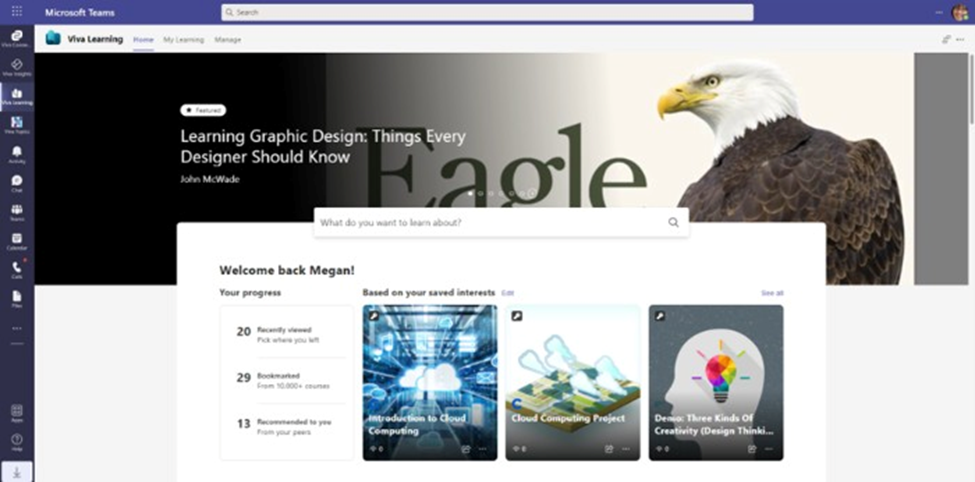 Administrators can feature a series of trending or top-of-mind learning content in a rotating carousel on the Viva Learning Home page. They can choose to highlight a range for the whole organization, or they can highlight certain courses and content to specific user groups at the organization, ensuring that employees are getting content most relevant to their interests.
Recommend content and track progress
📈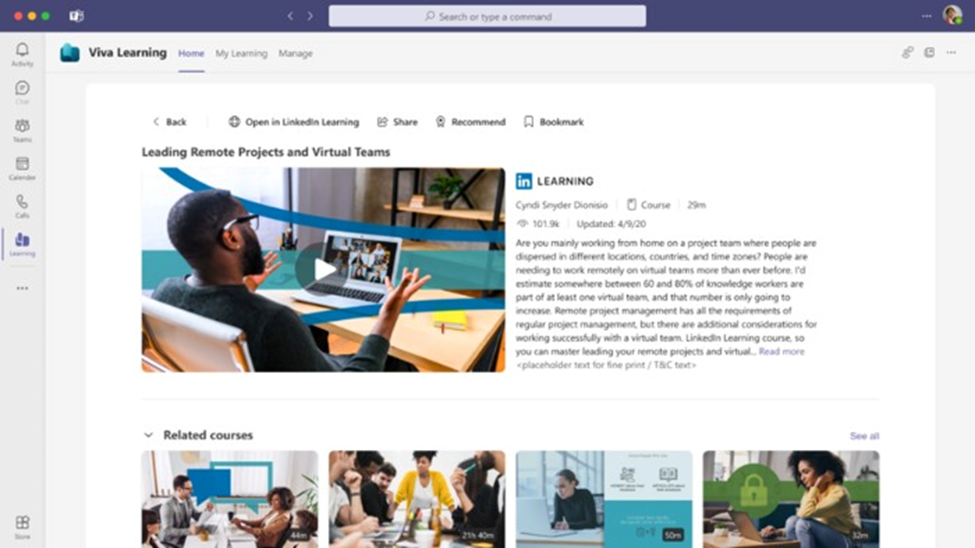 The recommend feature in Viva Learning enables peer-to-peer recommendations so that you can find relevant content for your work and priorities rather than just general organizational compliance training. Employees can recommend learning content to others in their network and track reported completion progress.
Stay organized in your learning journey

🧹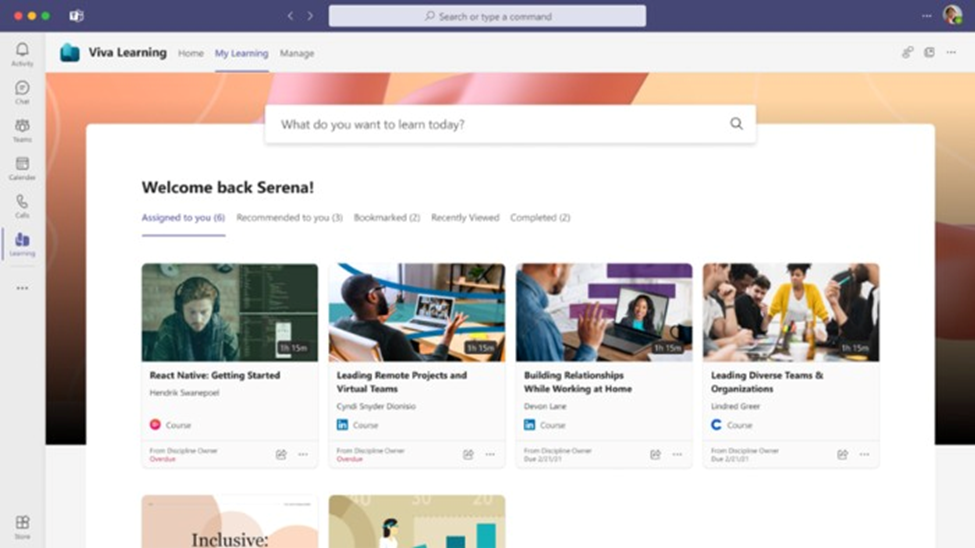 The My Learning view is your homepage for all your learning progress and tasks. You can view learnings recommended to you and your bookmarked courses, recently viewed, and recently completed courses. Additionally, all assigned learning content from any connected Learning Management Systems (LMSs) will show up here too.


Microsoft Viva Workshop & Microsoft Viva Insights Workshop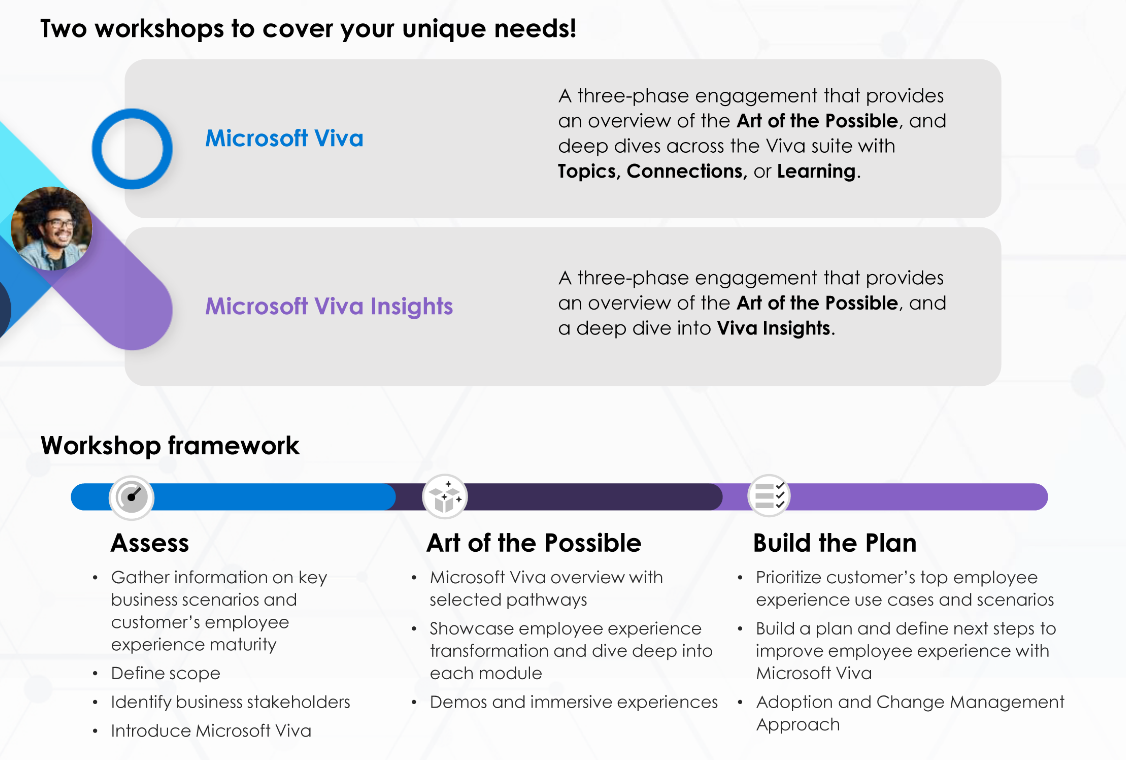 If you're interested in learning more about how Viva can kickstart your employee experience, book a chat with Joy Fajardo. She will be able to provide helpful guidance and also determine if your organization may be eligible for a free Viva workshop funded by Microsoft. Don't delay! Boost your employee engagement by booking a call with us here.
Content from: ProServeIT Academy 2022 Microsoft Viva Course 2 by Joy Fajardo
Edited by: Betty Quon & Hyun-Jin Im