Digital transformation is not a new concept, but it has grown in popularity in recent years. Technology is becoming more ingrained in our lives, and its influence is only increasing. This means that the way businesses operate and interact with their employees and customers must change. Technology can no longer be an afterthought – it needs to be integrated into all aspects of the business.
However, making this transition is not always simple. It requires a shift in mindset and a willingness to invest in new technologies. For many CEOs, the question is not whether they should invest in technology, but how. Technology can be a powerful tool for growth, but only if it is used correctly. In this blog, we'll look at how MacKay CEO Forums doubled their business growth by making the right technology investments.
Related Blogs
Hammerco Success Story: Embraced Technology to Enable Business Success
Advica Health Success Story: Strategic IT Roadmap Grows Business

Building a Solid Strategic Technology Framework
MacKay CEO Forums is a CEO and executive peer group with over 1000 members across Canada and around the world. Their dream is to populate the world with inspiring leaders by hosting peer learning opportunities where CEOs and executives can learn from one another. They had previously been acquired by a private equity firm, and one of the foundational pieces they had neglected and struggled to invest in was technology. They encountered several technological challenges, including infrastructure and data that were no longer supported or had outdated security mechanisms. This mandated the rebuilding of their foundational technologies.
This was a daunting task, but MacKay CEO Forums knew that it was essential for their long-term success. They needed to build a technology strategy from the ground up that would support their business objectives and help them grow.


Looking for a Partnership 🤝🏼
Technology is important but it can also be overwhelming – Mackay CEO Forums needed a partner who could help them understand what was possible and make recommendations on where to focus their efforts. They wanted a partner who could support their technology leader and ensure they invest in the technology that aligns with their business growth strategies.
ProServeIT helped MacKay CEO Forums gain visibility into all aspects of their current technology. We spent time to understand their business goals and what they needed to do to grow. With this knowledge, ProServeIT was able to provide a comprehensive assessment of their existing technology status and determine how they can align current and future technology and business needs.


An Actionable IT Roadmap 📍
The first step was to create an actionable IT Roadmap. We looked at their business objectives and outlined their current state, their desired future state, and the steps that would help them achieve their outcomes. We also identified which technologies were critical for their business and which ones could be delivered later. This rolling 36-month IT Roadmap was designed to be actionable, so that they could make the necessary changes quickly and efficiently, with minimum disruption to ongoing activities.
The IT Roadmap was successful in helping MacKay CEO Forums focus their energies on the right technology investments. All their technology vendors are now managed, and their salesforce environment has been upgraded.


The Right Technology Investments 👨🏽‍💻
To make the most of technology investments, CEOs need to have a clear understanding of their goals. What does the company want to achieve? How will modern technologies help reach these goals? Once you have a good understanding of your objectives, you can start looking at specific solutions that will help you meet them.
For MacKay CEO Forums, they decided to invest in ProServeIT's virtual CTO (Chief Technology Officer) engagement. Our advisory team engages with their CEO and their direct reports monthly to ensure technology is a well-represented component of their business. This way, they are confident in making high-level technological decisions and can rely on our team for ongoing support and guidance.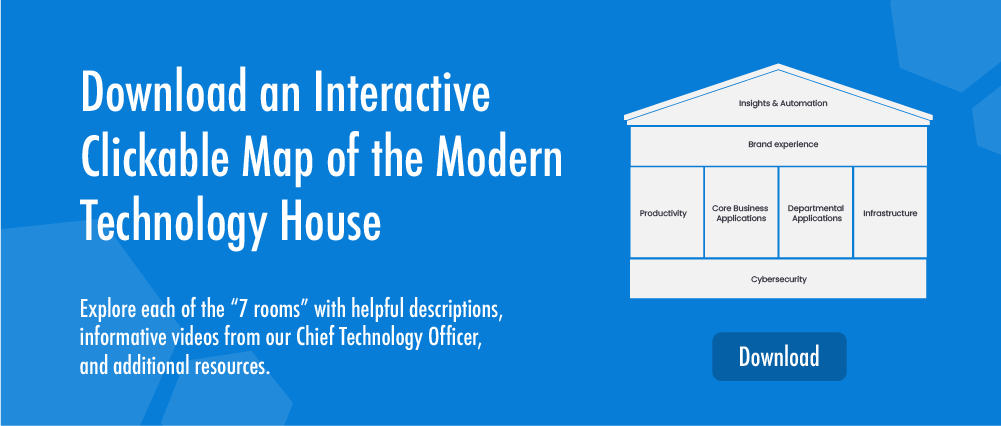 Grow Your Business by Investing in Technology!
When done right, your technology investments can help you achieve your business goals and grow your company. Technology can be confusing, but with the right partner, you can confidently make decisions that will take your business to the next level.
ProServeIT has a team of experts that can assess your current state and work with you to build a Technology Strategy Framework for your business. We designed our Technology Roadmap Lite specifically for CEOs and C-suite executives to assist them brainstorm the various elements of a Technology Strategy Framework.
Book your own Technology Roadmap Lite for CEOs to receive a personalized Technology Strategy Framework for your organization, as well as a ranking for each of the "rooms" in your technology "house" based on your current state. We'll also provide a list of must-do, should-do, and could-do recommendations to improve your technology framework, and suggest timelines and investment requirements for each recommendation.    
Learn more and contact us today to book your own Technology Roadmap Lite!