As technology enthusiasts, business leaders, and industry experts gathered for Microsoft Inspire 2023, excitement surged in anticipation of groundbreaking innovations and transformative collaborations set to reshape the digital landscape. The event's keynote presentation, delivered by Microsoft's CEO Satya Nadella, promised an illuminating dive into the dynamic future of AI-powered solutions and their far-reaching impact on industries across the globe.
This conference introduced the groundbreaking Microsoft AI Cloud Partner Program as well as its pricing for Microsoft 365 Copilot, Bing Chat Enterprise, and much more.
In this blog post, we delve into these pivotal highlights, uncovering the transformative capabilities of Microsoft's innovations and partnerships that promise to reshape the technological landscape as we know it.
In a hurry? Jump straight to your section of interest:
Satya Nadella's Keynote at Inspire 2023: AI Revolution and Partner Empowerment
Satya Nadella, in his keynote at Microsoft Inspire 2023, emphasized the importance of Microsoft's partnership ecosystem and its commitment to customers' innovation across sectors and communities. Recognizing the transformative power of AI, Nadella highlighted the two core dimensions of the AI platform shift: a more natural user interface through natural language and a powerful reasoning engine for information management, both poised to reshape every software category.
Nadella discussed the profound AI-driven transformation across numerous sectors, affirming that AI-powered innovation will remodel every aspect of business, from work and business processes to security and software development.
With these shifts, AI will contribute significantly to GDP growth. Nadella's keynote emphasized that Microsoft's mission is to empower every individual and organization globally, creating equitable economic growth while maintaining core values of trust and sustainability.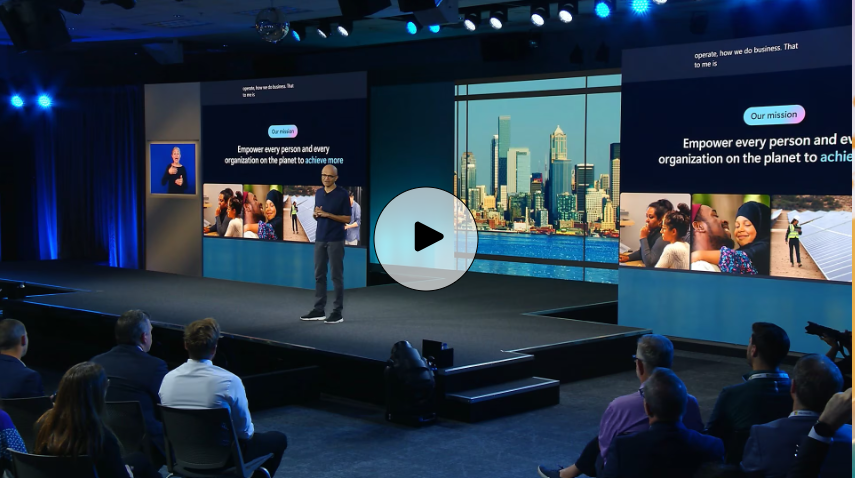 Click here to watch the video.


Announcement about Microsoft 365 Copilot Pricing
What sets Microsoft 365 Copilot apart is its seamless integration with the Microsoft apps you may already use daily at work. Whether it's boosting your creativity in Word, analyzing data in Excel, designing presentations in PowerPoint, managing your Outlook inbox, or summarizing meetings in Teams, Copilot adds an extra layer of intelligence to these tasks, propelling your productivity to new heights.
Yusuf Mehdi, Corporate Vice President, and Consumer Chief Marketing Officer at Microsoft, took the stage to showcase the capabilities of Copilot. He demonstrated its prowess by crafting a PowerPoint presentation and instantly generating a summary of it, all accomplished within the Teams platform.
The pricing announcement sparked a 4% surge in Microsoft's stock, underscoring the market's recognition of the transformative potential of Copilot. However, the pricing point, at $30 USD per user per month, has led industry experts to reflect on the value Microsoft attributes to unlocking the full potential of generative AI in the digital workplace. In the words of an expert, the relatively higher pricing encourages businesses to strategically assess the employee segments that will benefit most from Copilot and identify concrete use cases that justify the investment.
While a specific release date for Copilot's general availability remains undisclosed, the anticipation is high for this Microsoft product.
New Microsoft AI Cloud Partner Program
Unveiling a dynamic stride towards the future, Microsoft Inspire 2023 introduced the all-new Microsoft AI Cloud Partner Program, poised to redefine collaboration between Microsoft and its partners. Fueled by the might of Microsoft's AI and Cloud initiatives, this program offers a groundbreaking platform for partners to create AI-driven applications, modernize existing ones, and seamlessly transition services to the cloud. Notably, the integration of Microsoft's industrial Metaverse into the program, slated for early 2024, underscores the company's commitment to enriching partner experiences in the digital realm.
Beyond a mere rebranding, this launch signifies an evolution, propelling partnerships to new heights. With a suite of tailored AI-specific benefits, partners like ProServeIT are empowered to innovate and deliver unparalleled value while upholding their distinct advantages. The Microsoft AI Cloud Partner Program exemplifies Microsoft's unwavering dedication to growth, innovation, and collaboration, forging a harmonious future for both partners and Microsoft. For a glimpse into the boundless potential this program unlocks, delve into the intricate details of the Microsoft AI Cloud Partner Program.

Introducing Enhanced Workplace Communication with Bing Chat Enterprise
Introducing Bing Chat Enterprise, Microsoft's pioneering solution that seamlessly merges AI capabilities with stringent data protection, catering to corporate customers' need for innovation without compromising security. Launched on July 18, Bing Chat Enterprise empowers organizations with AI-driven communication while preserving data confidentiality within Microsoft 365. This transformative tool ensures that enterprise user data remains distinct from web data, assuaging concerns and reinforcing data security as paramount.
Screenshot of Bing Chat Enterprise
Bing Chat Enterprise's preview release targets Microsoft 365 E5, E3, Business Premium, and Business Standard users at no added expense, underlining Microsoft's commitment to equitable AI-driven solutions with robust data protection. Moreover, the vision extends to a future stand-alone subscription, priced at $5 per user per month. The solution's meticulous design addresses concerns around generative AI, guaranteeing enterprise user data separation and affirming non-utilization for AI model training.
Bing Chat Enterprise's emergence signifies Microsoft's innovation-driven approach while upholding data privacy principles. By harmonizing AI-powered communication and data protection, this offering redefines workplace collaboration, empowering organizations to navigate the future with a sense of trust and certainty.
Learn more about Bing Chat in this blog


Revolutionizing Sales with AI: Unveiling Microsoft Sales Copilot
Microsoft is poised to redefine sales excellence through the revolutionary Microsoft Sales Copilot.
Integrated within Dynamics 365 Sales, this game-changing tool empowers sellers and customer service agents with a versatile AI-driven arsenal. Enhanced features, including AI-generated opportunity summaries, contextualized email drafts, and meeting preparations, amplify productivity, enable CRM automation, and facilitate personalized customer interactions.
At the heart of Microsoft Sales Copilot lies the transformative power of AI, ushering in a paradigm shift in sales activities. Real-time insights, content recommendations, and Teams call/email thread summaries augment seller efficiency and customer engagement, regardless of experience level. The integration of Copilot into Power Virtual Agents further magnifies Microsoft's commitment to elevating customer service. These AI-infused chatbots can seamlessly access internal and external knowledge sources, customer service applications, and web data through Bing Search. The impressive speed at which Virgin Money developed their chatbot exemplifies the transformative capabilities of this approach. The chatbot now handles over 195,000 customer interactions a month, enabling service agents to focus on resolving more intricate customer inquiries.
The synergy of AI and sales is undeniable, evident in Microsoft's holistic approach to sales automation. From Dynamics 365 Customer Insights' AI-enhanced data analysis to the AIM program facilitating seamless cloud transitions, Microsoft's portfolio underscores its commitment to transforming sales and customer service.
With Microsoft Sales Copilot at the forefront, AI-driven automation is set to streamline processes, empower sales teams, and reshape customer interactions, paving the way for a new standard of excellence in sales.

Optimizing Business Efficiency with AI-Powered Process Mining in Power Automate
In the labyrinthine landscape of organizational workflows, pinpointing bottlenecks and optimizing processes can be a daunting task. Microsoft's response to this challenge is the launch of next-generation AI features within Power Automate Process Mining. This release signifies a new chapter in process optimization, providing businesses with AI-powered insights to refine their operations and drive efficiency through low-code automation.
Power Automate Process Mining emerges as a guiding light for organizations seeking operational excellence. With its AI-fueled insights and recommendations, users gain a panoramic perspective of business activities. These insights, facilitated by Process Mining, inform the creation of applications and automation strategies, readily executed through the versatile Power Platform. By embracing process automation and mining, organizations dissect and refine each element, fostering optimization, reducing costs, and amplifying overall productivity.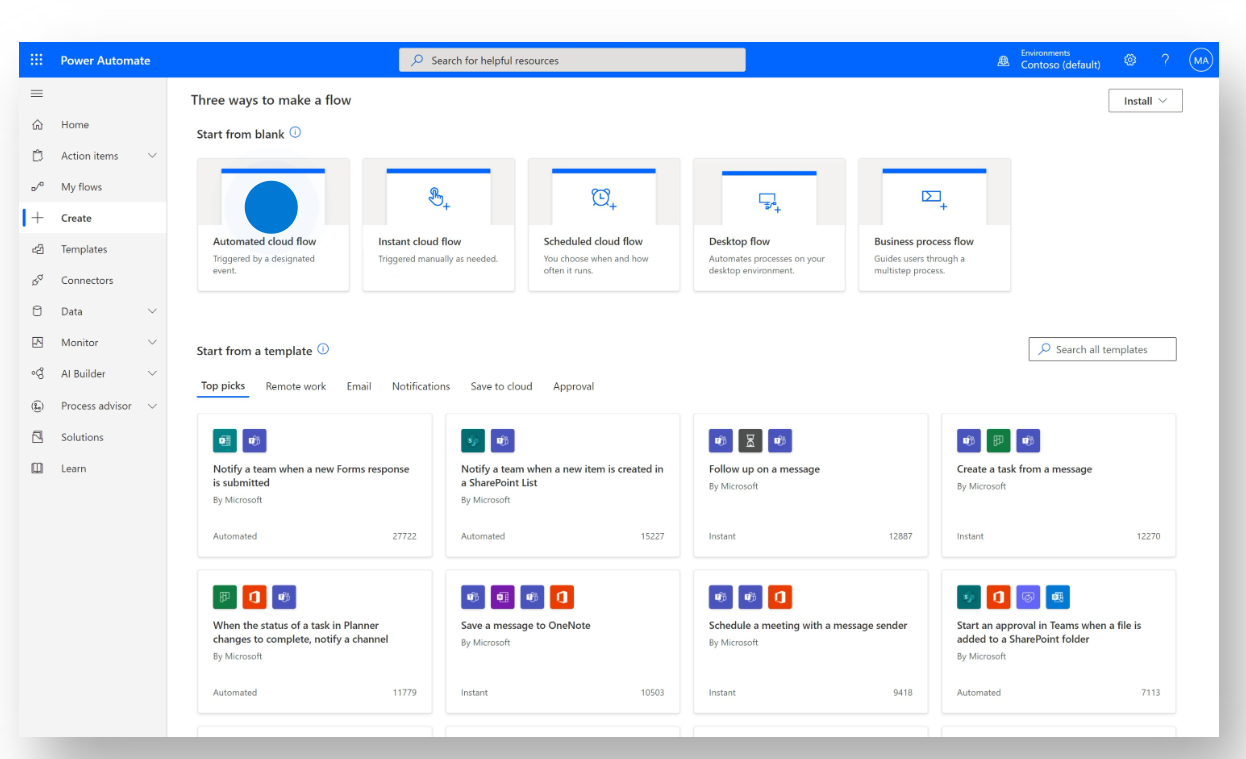 Screenshot of Microsoft Power Automate
Microsoft's dedication to this transformative tool is evident through its upcoming general availability on August 1. As businesses embark on their journey of continuous improvement, Power Automate Process Mining promises to usher in an era where processes are finely tuned, operations streamlined, and every facet contributes harmoniously to overall success.


Announcing A New Strategic Partnership for Microsoft
A Transformative Union: Meta and Microsoft Join Forces
A groundbreaking partnership between Meta and Microsoft has emerged, showcasing their collective prowess in cutting-edge technology. This collaboration is centered on supporting the Llama family of expansive large language models across Azure and Windows platforms. Notably, Microsoft gained the prestigious title of Meta's preferred partner for the launch of Llama 2's upgraded version to commercial clients, a leap forward in large language model innovation.
Beyond a mere alliance, this partnership forms an interconnected ecosystem, granting Azure customers effortless access to fine-tune and deploy the 7B-parameter, 13B-parameter, and 70B-parameter Llama 2 models with exceptional ease and security. This integration not only bolsters Azure's capabilities but also ushers in a new era of large language model optimization. The impact extends to Windows developers, as Llama 2's optimization for Windows enables seamless integration of its capabilities through the ONNX runtime and the Direct ML execution provider. This empowerment enables developers to harness Llama 2's potential fully and seamlessly embed its functionality into their applications.
The partnership's significance lies in Meta and Microsoft's shared commitment to innovation, technological advancement, and the democratization of cutting-edge tools. As Llama 2 ventures into the commercial realm, the partnership signifies a pivotal moment in the evolution of large language models, embedding their transformative potential into the Azure and Windows ecosystems.
Conclusion
Microsoft Inspire 2023's keynote, spearheaded by Satya Nadella, serves as a compass guiding us through the intricate landscape of AI innovation and partner empowerment. With a spotlight on Microsoft's commitment to its partnership ecosystem, the keynote underscores the profound shift AI is bringing to industries. The takeaway is clear: Microsoft's vision extends beyond technology, aiming to empower businesses and individuals across the globe, fostering innovation, trust, and sustainable growth.
Learn more about the full highlights from Microsoft's Inspire 2023 conference by clicking here.
Interested in any of the highlights mentioned in this blog post? Connect with our experts and discover how ProServeIT can help your organization to unlock its digital future in this new era of AI.
Stay up to date with ProServeIT's newsletter!

📨
Our monthly newsletter has all that as well as insightful information on relevant technology, webinars and workshops.