In today's digital age, CEOs face challenges like innovation, competition, customer satisfaction, and complex IT management. As businesses digitize, using advanced technologies is crucial to simplify tasks and hasten decisions.
At ProServeIT, we're at the forefront of Cloud computing and provide innovative IT solutions tailored to today's challenges. We're excited to present Microsoft's latest AI-driven features: Bing Chat Enterprise and Microsoft 365 Copilot. These tools transform how organizations function and manage intricate data. Dive into this blog post to understand its benefits and see how it can elevate your business in the digital realm. Join us on this insightful exploration.
In this blog, you will find:
🤖 Bing Chat Enterprise: Your AI-Powered Ally in the Workplace
✈️ Microsoft 365 Copilot: A New Way of Working, Priced for Commercial Success
🔍 Visual Search in Chat: Redefining the Search Experience
🔓 Unlocking The Potential of AI with Microsoft and ProServeIT


Bing Chat Enterprise: Your AI-Powered Ally in the Workplace
In the contemporary business world, AI tools are no longer a luxury but a necessity. In fact, according to Microsoft's Work Trend Index, a whopping 70% of employees admit they would delegate as much work as possible to AI if they could. There's a growing need for tools that can unlock creativity, boost productivity, and, importantly, safeguard sensitive business data.
Enter Bing Chat Enterprise, a groundbreaking solution designed to meet these precise needs. An integral part of the latest Microsoft lineup, Bing Chat Enterprise is a unique AI-powered chat platform designed for work, promising a game-changing approach to boosting productivity and fostering creativity in the enterprise.
The unique selling proposition of Bing Chat Enterprise lies in its commitment to data protection. With this tool, user and business data are shielded from potential leaks, and all interactions remain strictly within the organization. Bing Chat Enterprise takes privacy further by ensuring that chat data is not saved and no one, including Microsoft, can access it. Moreover, your data is not used to train the models, reinforcing the commitment to maintaining your privacy.
Whether seeking industry insights, analyzing data, or looking for creative inspiration, Bing Chat Enterprise offers access to reliable answers, efficient processes, and novel ways to spark creativity - all in one place.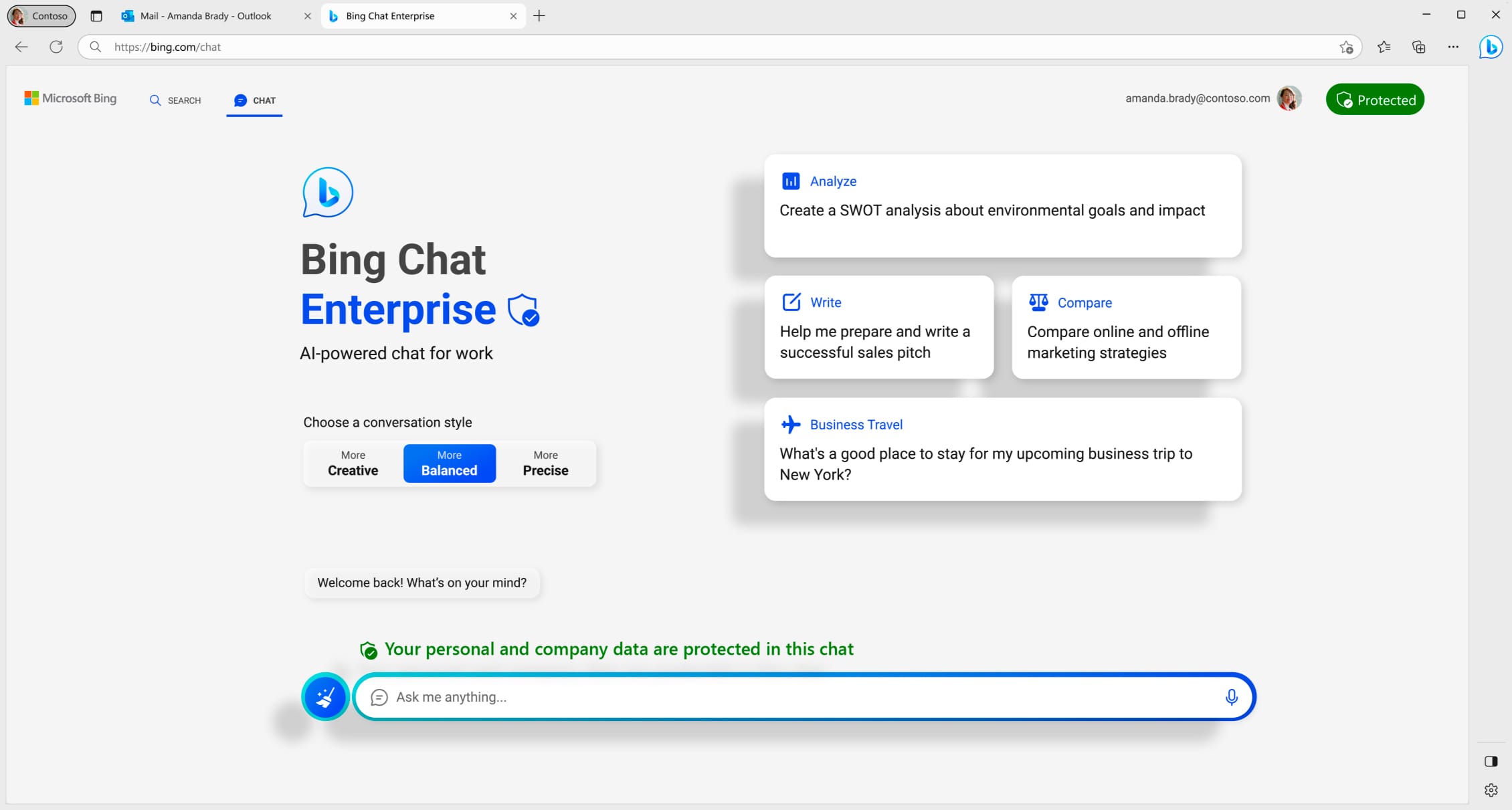 Moreover, this solution is designed in line with Microsoft's AI principles, demonstrating an unwavering commitment to responsible AI deployment. You can count on Bing Chat Enterprise to deliver complete, verifiable answers with citations. It also presents visual answers that include graphs, charts, and images to create a more engaging and comprehensive communication experience.
The rollout of Bing Chat Enterprise marks a significant milestone in transforming how businesses operate, demonstrating the potential to drive a paradigm shift in workplace productivity and creativity.
Are you eager to revolutionize your business operations with AI?
With ProServeIT by your side, we'll help you harness Microsoft's cutting-edge tools. Want to unleash the transformative power of AI in your company? We're here to guide
Microsoft 365 Copilot: A New Way of working, Priced for Commercial Success
Along with Bing Chat Enterprise, Microsoft has unveiled another groundbreaking solution designed to revolutionize the business world: Microsoft 365 Copilot. Combining the power of large language models with your data in the Microsoft Graph (your content in your Microsoft environment) and the Microsoft 365 apps, this feature ushers in a whole new way of working, just using your own words.
Microsoft 365 Copilot is not your everyday generative AI tool. Unlike many AI apps that focus on single capabilities like real-time transcription or copywriting, Microsoft 365 Copilot is in a class of its own. It offers a host of skills and can reason over all your content and context to take on any task. This feature is grounded in your business data — including emails, calendar entries, chats, documents, and more — making it uniquely equipped to handle a variety of tasks.
Microsoft 365 Copilot can do everything from generating updates from morning meetings, emails, and chats to send to your team, getting you up to speed on project developments from the last week, and even creating a SWOT (strengths, weaknesses, opportunities, threats) analysis from internal files and data from the web. In essence, it's like having an incredibly smart, AI-powered assistant that can handle an impressive variety of tasks to help boost your productivity.
Moreover, Microsoft 365 Copilot is integrated into the Microsoft apps millions of people use every day. It can jump-start your creativity in Word, analyze data in Excel, design presentations in PowerPoint, triage your Outlook inbox, and even summarize Teams meetings, whether you attended them or not.
Microsoft 365 Copilot represents a significant step towards making AI more accessible and usable in a professional setting. With a transparent pricing strategy — $30 USD per user per month for Microsoft 365 E3, E5, Business Standard, and Business Premium customers — this solution is set to become an indispensable tool in the corporate world.
Importantly, Microsoft 365 Copilot is built on Microsoft's comprehensive approach to enterprise-grade security, privacy, identity, compliance, and responsible AI — so you know it's enterprise-ready. This means:
✅ It inherits your existing Microsoft 365 security, privacy, identity, and compliance policies.
✅ Your data is logically isolated and protected within your Microsoft 365 tenant, always within your control.
✅At the tenant level, Copilot respects individual and group permission policies.
The Microsoft 365 Copilot is not just another feature; it's a game-changing tool that redefines how we work. And as a leader in IT solutions, ProServeIT is excited to help you explore its potential for your organization.
Learn more here.


Visual Search in Chat: Redefining the Search Experience
Taking AI-powered functionalities to new heights, Microsoft also introduces the Visual Search feature in Bing Chat. As we continue to embrace visual mediums in our daily communication, this feature allows users to search the web for related content by simply uploading an image.
This innovation leverages OpenAI's GPT-4 model, allowing Bing Chat to understand the context of an image, interpret it, and answer questions about it. The process is as straightforward as taking a picture or using an existing one and prompting Bing to tell you about it.
Whether you're exploring the architecture of a new city or coming up with lunch ideas based on the contents of your fridge, Visual Search in Chat allows you to harness the web's knowledge to get the answers you need. This feature is in its early stages, currently rolling out on desktop and the Bing mobile app. The anticipation is high for its subsequent integration into Bing Chat Enterprise.

Unlocking the Potential of AI in Business with ProServeIT and Microsoft
Microsoft and ProServeIT constantly innovate. The recent offerings from Microsoft - Bing Chat Enterprise, Microsoft 365 Copilot, and Visual Search in Chat - let businesses tap into AI's immense power, combining security and efficiency.
As a trusted Microsoft Cloud Solutions Partner, ProServeIT is dedicated to helping you harness AI's transformative effects on your operations. These tools enhance productivity, fostering innovation in your tasks.

With ProServeIT's expertise, navigate and maximize the benefits of these AI solutions seamlessly. Ready to amplify your business with AI-driven strategies? Connect with us for insights on integrating these game-changing tools. Together, let's shape a tech-empowered future.