Does your organization have a comprehensive IT security policy to effectively protect your data and network from potential cyberattacks? Have you considered what security measures you currently have in place, and whether or not they're sufficient to protect your organization from advanced threats, like ransomware?
A comprehensive IT security policy will help you to effectively protect your data, ensuring that you don't end up a victim. Read along to learn more about what a comprehensive security policy is, the benefits of having one, and 4 steps you need to take to build your own.
What is Cybersecurity Anyway, in Plain English?
But before we dive into the nuances of a comprehensive security policy, let's start with the basics: what is cybersecurity anyway? Check out the video below, which explains what cybersecurity is, in plain English.

What is a Comprehensive IT Security Policy?
To ensure that you are effectively protecting your data, you need something that works to prevent breaches, detect potential threats, analyze suspicious activity, and provide remediation in the event that something does occur. That's where IT security policy comes into play.
A comprehensive IT security policy is essentially a battle plan that guides your organization, ensuring that your data and network is guarded from potential security threats. Think of it as a link between your people, processes, and technology. When a security breach happens, it's likely because one of these links has failed.
Having IT security policy in place, therefore, should tell your employees what's expected of them, and helps to educate them on safe and secure procedures they should be following. Such a policy should encompass a variety of activities, like how your organization's workstations will be configured, how your employees will log in, building access procedures to be aware of, and how your employees should be trained – after all, security breaches at the end-user level can often be prevented if the end-users are aware of safe practices.
5 benefits of Having a Comprehensive IT Security Policy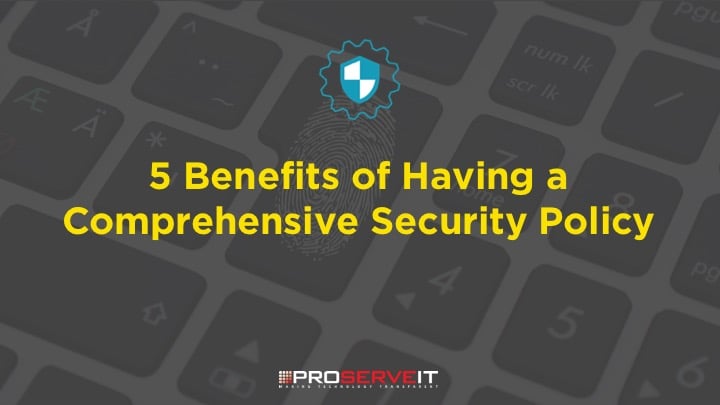 A security breach is a costly thing, with average costs of $120,000 USD for a small to midsize business (SMB), or $1.23 million USD for an enterprise. Further, 46% of IT security incidents are caused by uninformed or careless employees.
With statistics like that, it's pretty clear that having IT security policy in place would be pretty beneficial! Here are five tangible benefits of having a Security Policy to think about: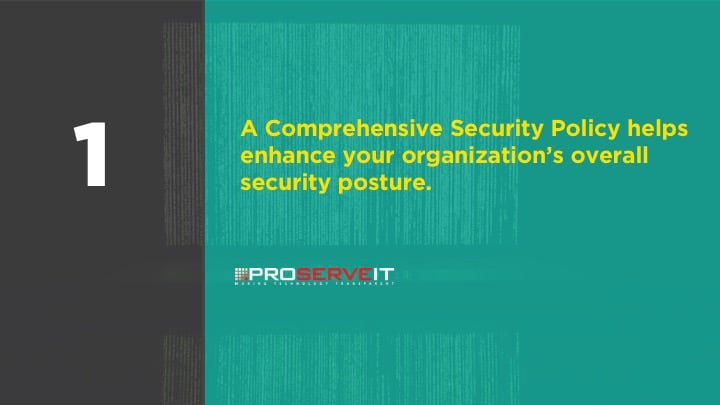 1. It helps you to enhance your organization's overall security posture. This means there are fewer security incidents and more uptime for applications, as issues are pre-emptively avoided.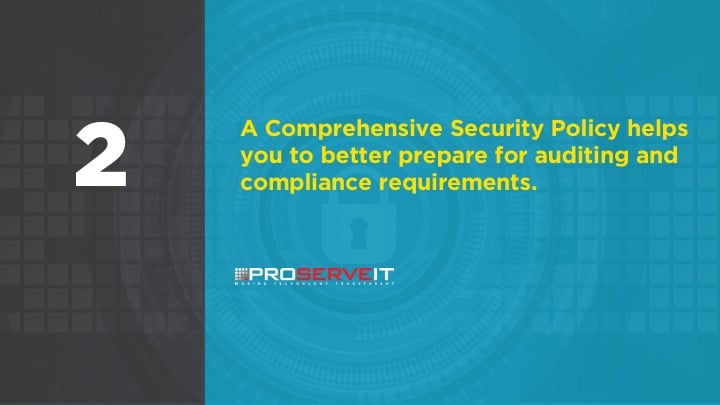 2. It helps you to better prepare for auditing and compliance requirements.


3. It leads to increased operational efficiency.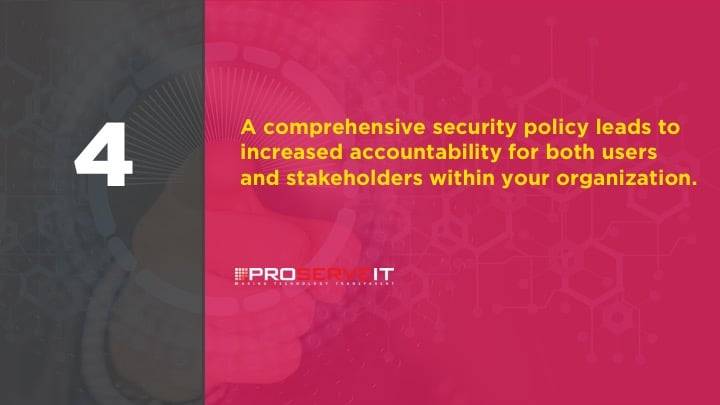 4. It also leads to increased accountability for both users and stakeholders within your organization.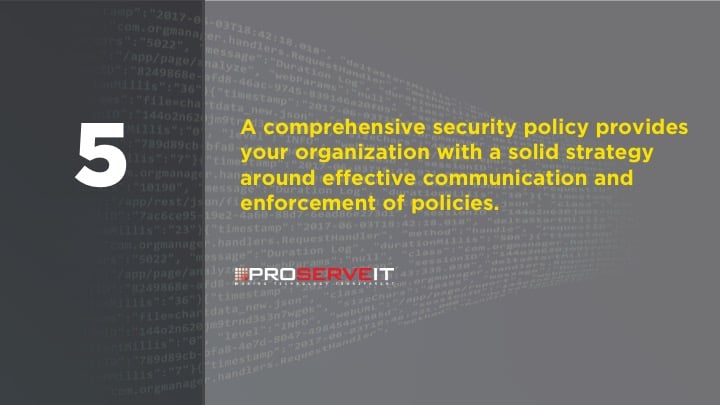 5. It provides your organization with a solid strategy around effective communication and enforcement of policies.
4 Steps to Build Your Comprehensive IT Security Policy
Developing a comprehensive IT security policy is an ambitious task, but the real challenge comes later in the process. Unless your policies are effectively communicated, enforced, and updated, your employees won't know what's required of them and won't comply with essential standards. Your IT security policy must, therefore, be integrated into your organization's job descriptions and employee routines.
Working with an experienced team who can help you through the process saves you time and money and alleviates the associated headaches that come with it. Here is a 4-phase approach we follow when developing IT security policy for our customers:
Phase 1 – Make the Case for a Comprehensive Security Policy, then Assess and Prioritize.
Once your business goals are determined, the security requirements should be aligned with minimal disruptions. We recommend that you use a phased/prioritized approach for implementing your comprehensive security policy.
Phase 2 – Develop your IT Security Policy
An ideal policy framework has both high-level and granular components that can be balanced and evolve with changing corporate governance, legal and regulatory objectives, without hindering your organization's workflow.
Phase 3 – Communicate and Enforce the Security Policy
Focus specifically on why your security policy applies to all employees and how they should be integrated into their daily tasks. Employees will pay better attention if the material is customized to their day-to-day routines.
Phase 4 – Review and Update Your Security Policy
A Security Policy is a living document that require reviews and updates to maintain relevance. If your IT security policies aren't working, they must be evaluated and changed to make them work. At minimum, a review should be done on an annual basis to make sure your security policy is still working for you.
Protecting Your Data and Network Starts Now!
Your IT security policy should be part of your organization's overall governance program, which adds legitimacy to security technology and processes, provides clear accountability, and ownership and transparency for audit purposes. So, how do you get started?
ProServeIT's experienced security experts have helped many organizations like yours implement a comprehensive security policy. Take a look at some of our offers below:


| | |
| --- | --- |
| | Our Office 365 Security Assessment has been designed to ensure that you're adopting Office 365 security solutions within your organization, which will increase your security posture and reduce your risks. |
| | Does your organization have employees who are using mobile devices on a regular basis? Interested to learn how to include mobile device management in your comprehensive security policy? Check out our Mobile Security Jumpstart offer. |
| | Ever wondered how your organization can stop ransomware attacks and prevent the possibility of becoming a statistic? Do you know how to protect and secure your devices to make sure your data stays safe? Then, ProServeIT's Breach Prevention Workshop is for you! |