Is your organization currently using Citrix XenApp 6.5? If so, you may have received notification from Citrix that it has announced end-of-life support for XenApp 6.5, effective June 30th, 2018.
So, what's your next step from here? Have you determined a go-forward plan for what you're going to do? In this blog, we'll look at some of the possibilities that are open to you, from continuing to run your current environment (not recommended), migrating to a newer version of XenApp, or switching to a Cloud-based Citrix on Azure environment.
What Does End-Of-Life Mean for Citrix XenApp 6.5 Users?
As of June 30th, Citrix will not create any new product documentation, and they'll only provide limited support for current customers. Under their lifecycle documentation, support will only be given to those with an Extended Support package (but even that is phasing out as of January 2020).
In other words, if your organization were to detect an anomaly in your XenApp 6.5 environment, you wouldn't be able to find any documentation for how to fix it, and there will be limited help available to you (through the Extended Support package).
What are Your Options with End-of-Life Support for Citrix XenApp 6.5?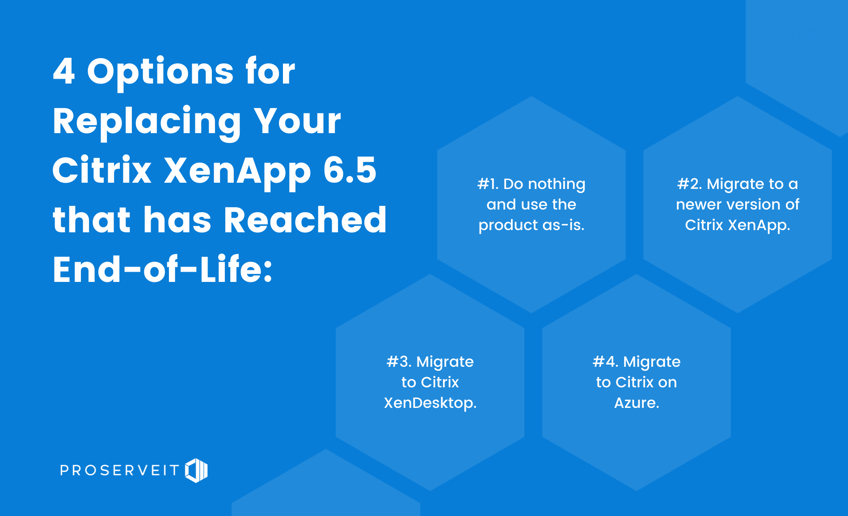 Below, we'll look at four of your options when it comes to next steps:
1. Do Nothing and Use the Product As-Is
This is an option for you. After all, it is quite possible to continue using your Citrix XenApp 6.5 environment as-is. However, since there will be no help available to you unless you have the Extended Support package (and that support will be ending on January 14, 2020), it would be a huge risk to continue using an out-of-date legacy environment.
Consider this: upgrading will give you peace of mind and will save you from having a difficult conversation with your team when your older Citrix environment goes down.
2. Migrating to a Newer Version of Citrix XenApp
If you migrate to a new version of Citrix XenApp (either onsite or in the Cloud), you can be assured of a long-term solution that won't require you to change again for a while, especially if you're using Windows Server 2016 as your operating system.
3. Migrating to Citrix XenDesktop (Onsite or Cloud Version)
With XenApp 6.5 becoming end-of-life, it's a good time to re-evaluate your business needs and requirements. Maybe only having applications isn't suitable for your organization anymore, and you've outgrown the functionality of XenApp altogether. It could be that the full virtual desktop, even for just a few of your users, makes better sense for where your organization is at this time. If that's the case, this is the perfect time to migrate to XenDesktop instead.
4. Migrating to Citrix on Azure
You may not be aware that this option exists, but there are many benefits for you to switch your current on-premise Citrix environment over to a Cloud-based Citrix on Azure environment instead. By using Microsoft Azure, combined with your familiar Citrix experience, it provides your organization with increased flexibility, elasticity, performance, and cost-savings (in some cases, up to 50%).
Interested in learning about the benefits of Citrix on Azure? Check out our on-demand webinar, or read some of our related blogs on the benefits of switching to Citrix on Azure!
Related:
---
Alarm Guardian Managed Cybersecurity Solution
Watch the video below to learn about Azure Sentinel, a Cloud-native security information and event manager (SIEM) platform helps your organization to filter legitimate events happening in your network from viable threats.

---
Upgrade From Your Current Citrix XenApp 6.5 Today!
It's clear that, although you could use your current Citrix XenApp 6.5 environment as-is, it's not a good idea to do so. After all, why would you want to try continuing to support a product that, while it's been successful in the past, is now outdated and primitive and no longer will be supported from the experts that created it?
Your organization has undergone some significant changes since you implemented XenApp 6.5. You need to make a big decision about your next steps, not just from what you need now, but also what your organization is going to need in the future.
Migrating to a newer version will not only give you a better user experience, but you'll also see enhanced hardware support, ease in scalability, better disaster recovery solutions, and, most important, longevity with the new product you select. And, if you move to a Cloud-based environment (like XenApp 7.x, XenDesktop, or Citrix on Azure), you open up a number of possibilities that your current on-premise version doesn't have.
Need some help? Still have questions about your options? Talk to our experts today and let us help you get started with your migration.