By Corey Reyneker, VP Alliances, ProServeIT Corporation
Are you considering an upgrade to your on-premise Citrix environment? Why not consider Citrix on Azure instead? This blog post is the second part of a blog series on benefits of Citrix on Azure. In Part 1, we talked about the first three major benefits of switching to a Citrix on Azure environment: the cost benefits of Smart Scale and how it could save your organization money, why switching from a CapEx to OpEx model would benefit you, and how you can reduce administrative requirements.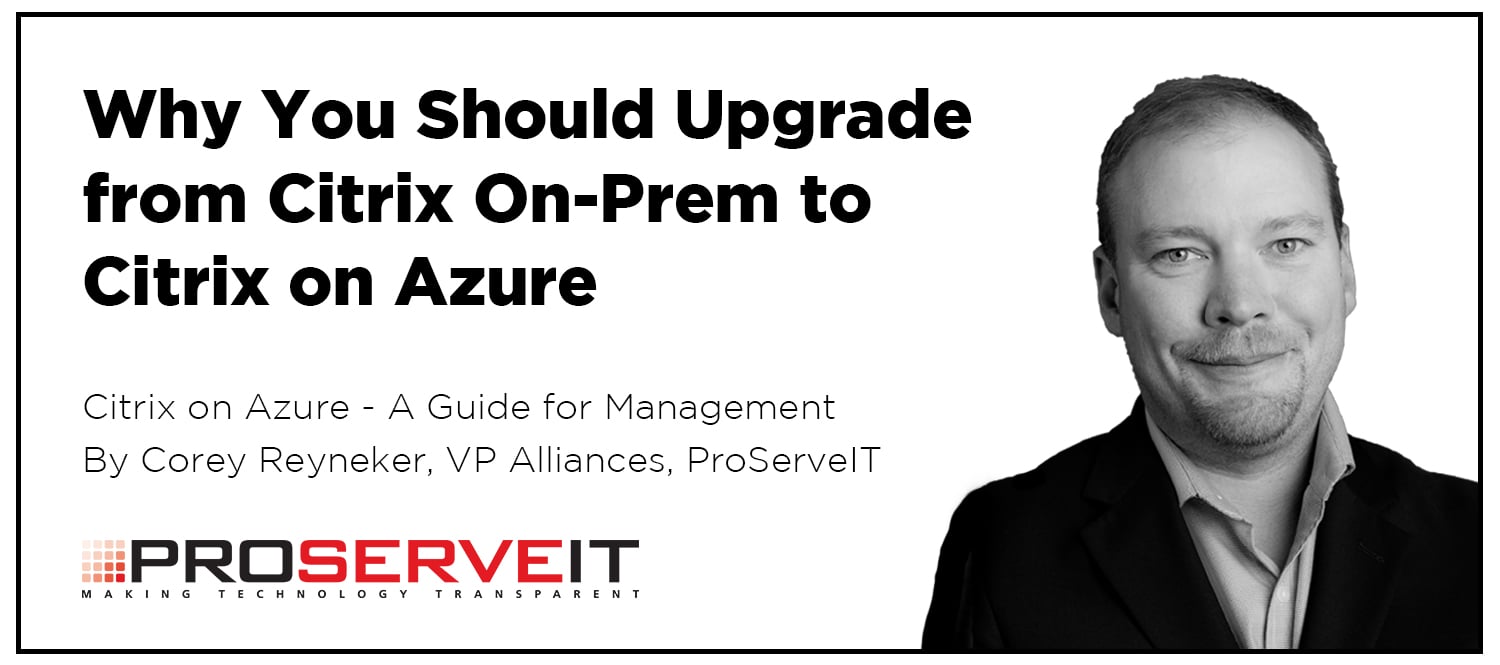 In this blog, we'll be covering the other two major benefits of upgrading to a Citrix on Azure environment: we will look at how much easier it would be for your organization to scale with a Citrix on Azure model, and how the Citrix on Azure platform provides your organization with device agnostic mobility.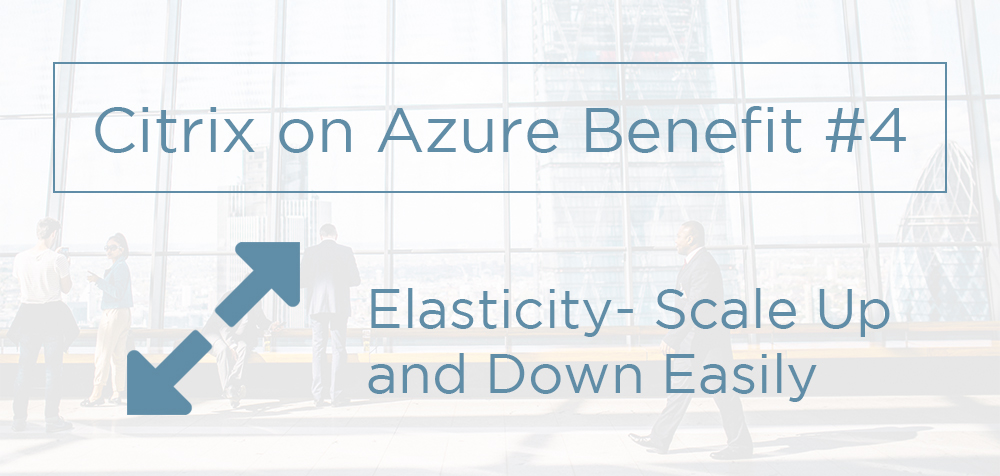 Citrix on Azure Benefit #4. Scale Easily – Top 3 Advantages
Many organizations need to be able to scale up and down easily. The elasticity of the Azure platform enables your organization to expand and contract computing resources on-demand, which simplifies management and reduces your costs.
Here are the top three benefits of using Citrix on Azure to solve your scalability requirements:
#1 - Increase or Decrease compute and storage capacity elastically
Azure makes it possible to spin up new virtual machines (or decommission them) in mere minutes, which helps you to adjust your usage as your infrastructure requirements change. Going through a growth period within your organization? Rather than having to go through the hassle of installing new on-premise servers and storage to be able to handle additional loads, you can simply implement a new virtual machine through Azure and be up and running in a fraction of the time that your on-premises environment would take.
#2 – Automated Processes Help to Regulate Load
Through using Microsoft Azure, you can deploy automated processes that turn off your Citrix servers overnight (when your loads are significantly reduced and not in such high demand). Because you only pay for what you consume, this reduces your overall costs by a large margin
#3 – Azure Cloud Storage is Backed by a 99.95% SLA Guarantee
Rather than relying on infrastructure being run from server rooms and data centres that introduce risks related to power outages, corruption and other physical risks, you can rely on a growing network of Microsoft-managed datacentres that are supported by Microsoft's $15 billion USD infrastructure investment, and their 99.95% Service Level Agreement guarantee ensures that you will always have access to your data.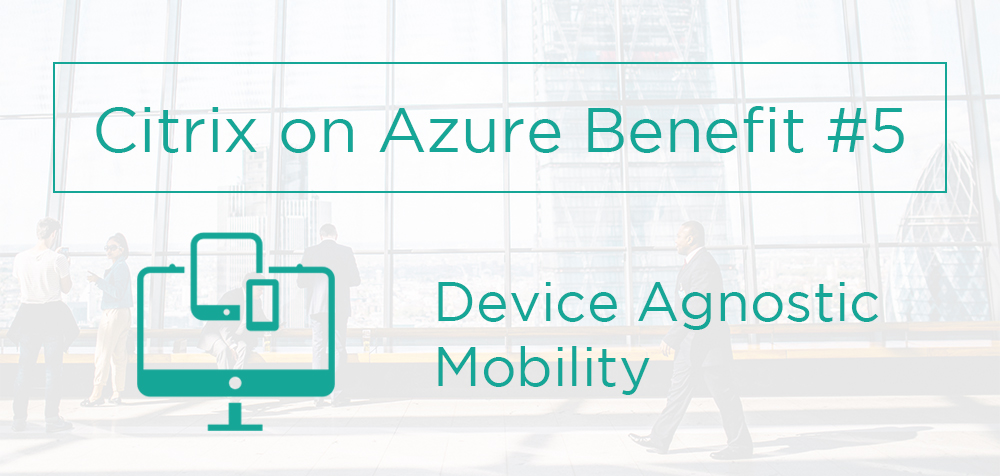 Citrix on Azure Benefit #5: Device Agnostic Mobility
Another major benefit of upgrading to Citrix on Azure is the level of device agnostic mobility available. Citrix's new receivers include Chrome & HTML 5, Mac 12.6, Windows 4.8, Linux 13.6 and 7.3 for iOS. With these receivers, you can enable mobility, BYOD, flexibility and employee choice while still maintaining the same level of security that you would want for your organization.
Citrix on Azure allows you to deliver your mission-critical applications to your employees anywhere, on any device – all they need is an Internet connection. Using XenDesktop Essentials, you can provide all of your employees with secured access to a Windows 10 digital workspace on Mac, Android, Windows or Linux devices.
As for your security concerns - Citrix protects your data by not storing corporate information on individual employee machines. Everything is pulled from a centralized location (your on-premises or virtual server). Citrix and Microsoft are committed to keeping the highest level of security possible when your organization implements any Cloud or on-premises applications.
In fact, their commitment to security has led to the integration between Citrix XenMobile and NetScaler with Microsoft's Enterprise Mobility Suite (EM+S). The article says that Citrix NetScaler and EM+S will work in tandem with each other to provide virtual private network capabilities for more secure, identity-based access to on-premises applications on Microsoft Intune-managed devices. This means that you can join more than 37,000 enterprise customers who have decided to use EM+S to secure their Citrix mobile environments.
Upgrade Your Citrix Environment to Azure Today!
Consider your aging on-premises Citrix environment as a sort of impetus for transformation – the reality is, you're going to have to upgrade your on-premise environment at some point… why not move to the Cloud instead?
The five benefits we've described for Citrix on Azure (see the list below or click here to download a summary) are the reasons why we strongly recommend upgrading your current on-premise Citrix environment to a Citrix on Azure environment. And we're here to help you. To ensure a seamless move to Citrix on Azure, ProServeIT has partnered with both Microsoft and Citrix. Contact us to speak with our designated Citrix on Azure expert and get started today.
Citrix on Azure – 5 Major Benefits:
a significant cost benefit from using Smart Scale;
a shift to a monthly OpEx model, rather than having massive capital investment;
scalability/elasticity of Azure;
a decrease in your administrative requirements; and
device agnostic mobility.
Want to learn more about Citrix on Azure and see a live demonstration of the product in action? Watch our on-demand webinar, co-hosted with Citrix and Microsoft.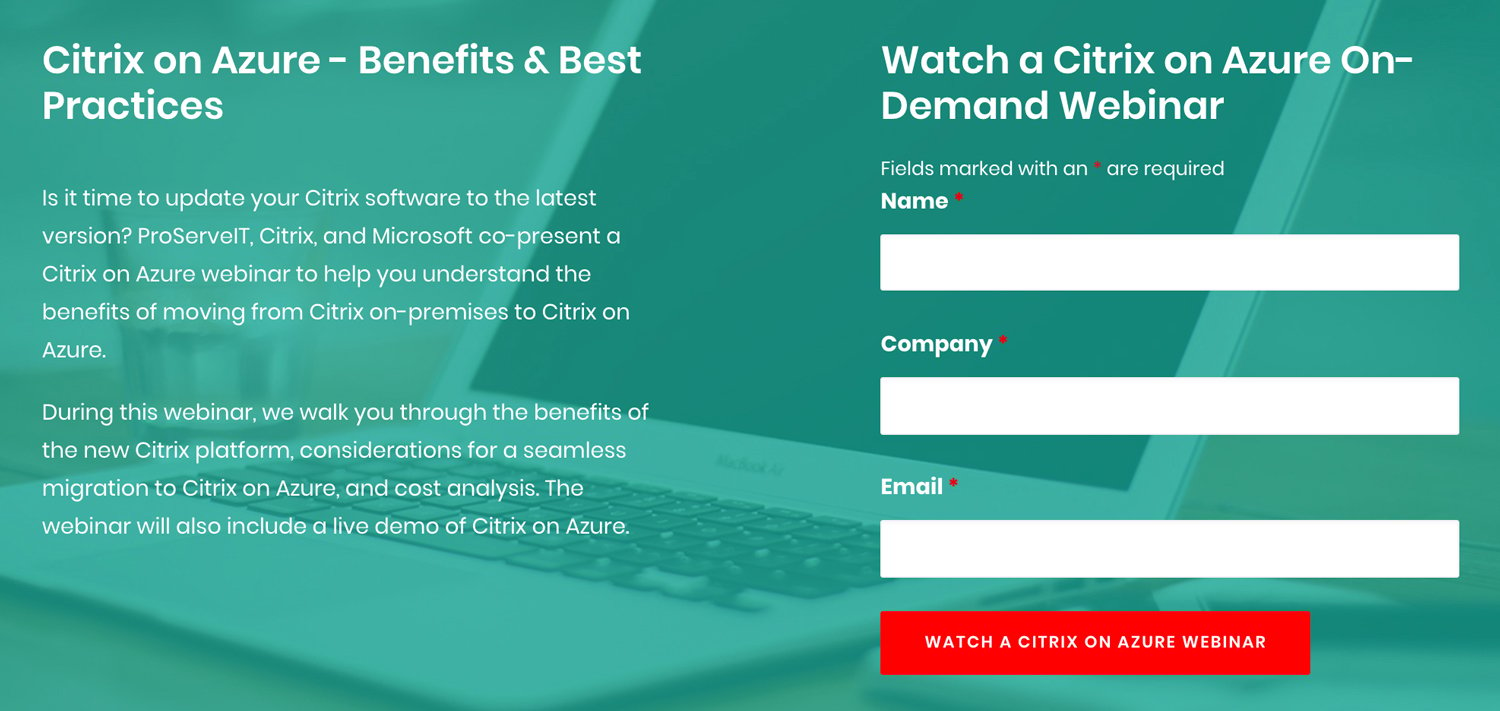 Related Post: