By Corey Reyneker, VP Alliances, ProServeIT Corporation
Your organization has been using an on-premise Citrix environment for a number of years. It's been a great investment, with many benefits being provided to your organization – your IT department doesn't need to upgrade your users' individual machines, you don't have as many security risks because all your data is stored on one centralized location, and your employees are happy with the interface that allows them to be productive and effective.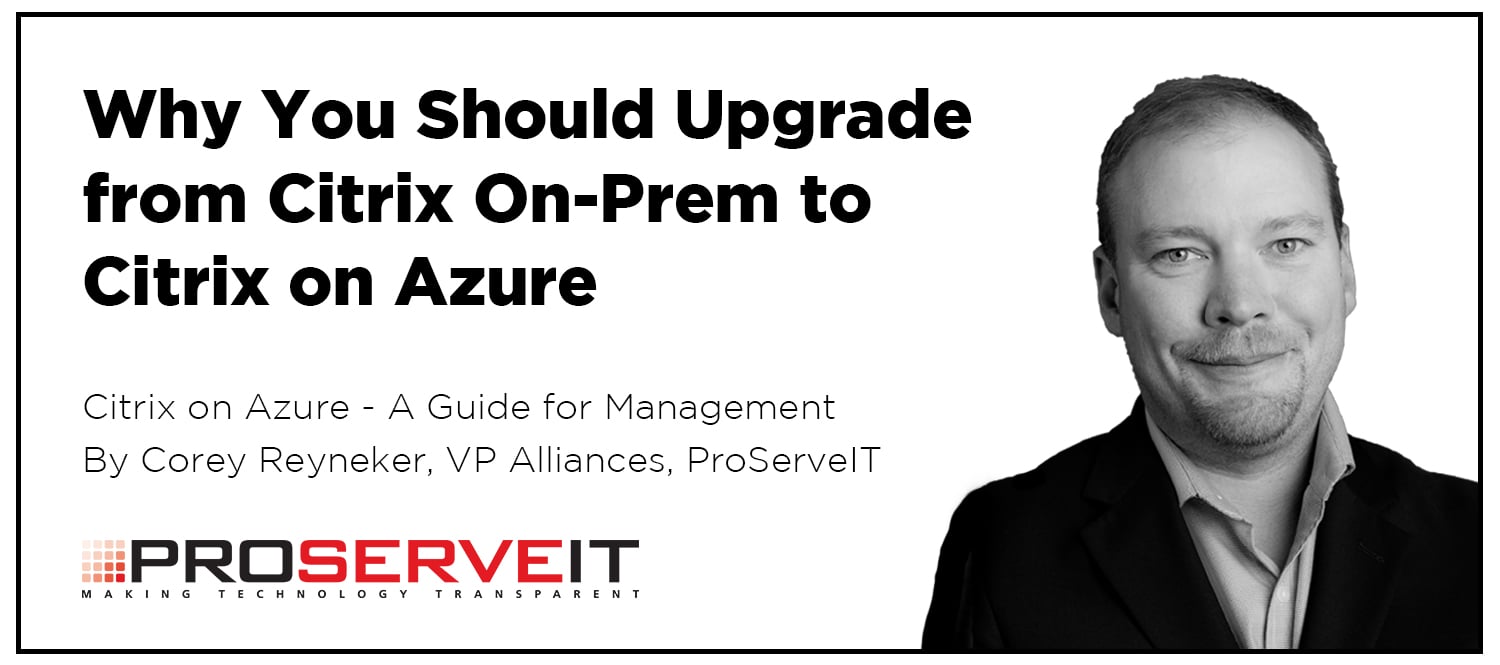 Your Citrix solution is stable and runs as required, however, the on-premise hardware and software you're using is aging, and upgrading your Citrix software, servers and storage will be a critical project for your organization in the next 12 months.
If you're considering an upgrade, then it may be time to consider switching your on-premise Citrix environment to a Cloud-based Citrix on Azure environment instead. For the organization who is considering an upgrade, here are five major benefits of upgrading to Citrix on Azure:
Significant cost benefit from using Smart Scale;
Shift to a monthly OpEx model, rather than having massive capital investment;
Scalability/elasticity of Azure;
Decrease in your administrative requirements; and
Device agnostic mobility.
The first three benefits are discussed in this blog and the other two are discussed in our next blog.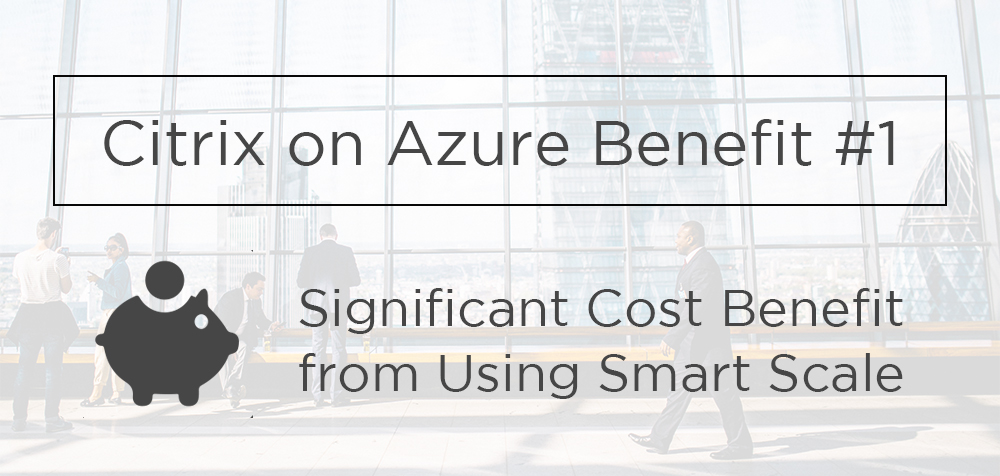 Citrix on Azure Cost Benefit #1: Significant Cost Benefit from Using Smart Scale
Smart Scale is a proactive scaling and power management option for any registered machines in your XenApp or Xen Desktop site, and is based on a schedule that you can define, or the level of demand in a particular user's session. That is to say that, using Smart Scale, you can reduce the costs of running your XenApp or Xen Desktop environment when they're housed in a public cloud, such as Microsoft Azure.
When enabled, Smart Scale dynamically scales the number of registered powered-on machines in your Delivery Group based on need. Having a period of down-time? Smart Scale will power down machines as they're not needed.
Smart Scale provides organizations with the ability to proactively scale using three distinct methods:
Schedule-Based Scaling: you determine the schedule when machines are powered on and off.
Load-Based Scaling: machines are powered on or off depending on the level of demand per session.
Load and Schedule-Based Scaling: using the time periods (schedules) you define, a minimum number of machines will remain powered on when demand (load) requires them.
As a result, using Citrix on Azure provides the flexibility, elasticity, performance and cost savings (up to 50% in many use cases) that makes a compelling case for using Azure for Citrix.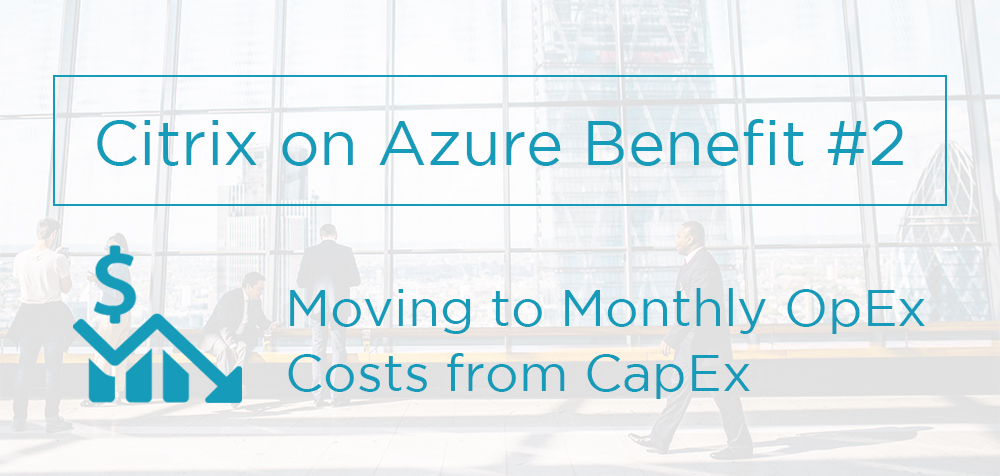 Citrix on Azure Cost Benefit #2: Moving to Monthly OpEx Costs vs Massive Capital Investment
There's no question that on-premise is more expensive than Cloud. You paid for the "plumbing" when you installed your on-premise Citrix environment, so you know how much Capital Expenditure (CapEx) you've already sunk into your environment. Now you're at a crossroad because you need to upgrade your legacy Citrix infrastructure. Citrix on Azure provides you with the perfect opportunity to leap from your on-premise environment to a hybrid or full Cloud environment.
When using a Cloud-based solution like Microsoft Azure to run your Citrix environment, your organization can implement a more cost-effective way to provision your application infrastructure. By moving to Citrix on Azure, your organization will only pay for the compute, storage and network resources that you use, allowing for increasing and decreasing server and storage usage as your business evolves.
A Citrix white paper published in September of 2016 provided a cost analysis of using Microsoft Azure to run Citrix XenApp, which showed that the average XenApp user cost the company between $6.89 and $8.94 USD per month (or between $82.68 and $107.28 USD per year).
To help you further, Citrix has developed a cost calculator, which allows you to estimate the associated costs of managing XenApp and XenDesktop on-premise versus splitting workloads between on-premises and in Azure, or implementing a full Cloud solution.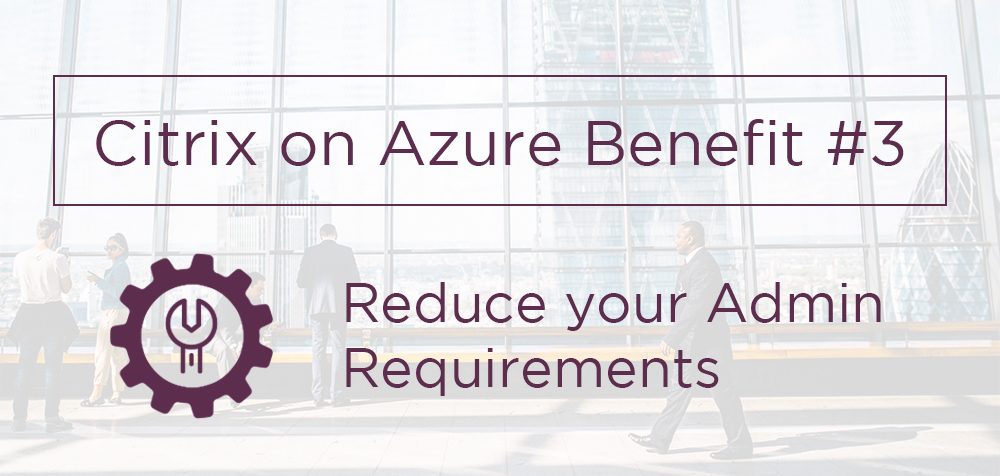 Citrix on Azure Cost Benefit #3. Reduce your Administrative Requirements
Citrix on Azure helps you to reduce your administrative requirements in two major ways.
You're switching from an on-premise to a hybrid or full Cloud environment.
If you're switching to a full Cloud environment, the onus of maintaining the required physical servers is taken away from your IT team and placed on the company who hosts your data (in this case, Microsoft).
Scalability is much easier.
With Citrix on Azure, as mentioned above, your IT team can easily scale up or down with a few clicks of a mouse (instead of having to install or remove physical infrastructure). Some scalability requirements can even be built into an automated workflow, which leaves your IT team free to do other important tasks.
Your IT team can get your organization started with Citrix on Azure from a simple console in a few easy steps, as indicated in the graphic below.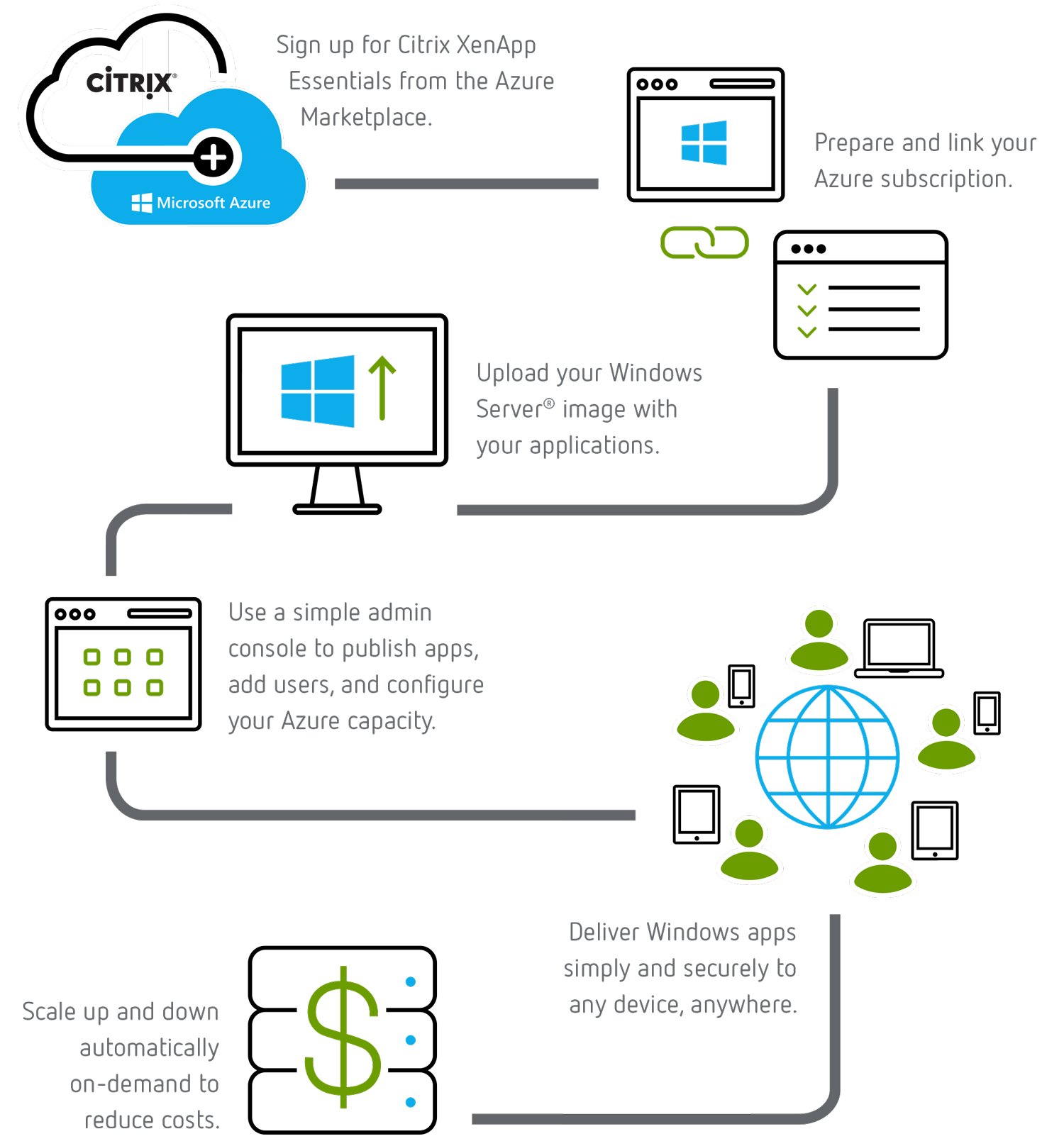 Upgrade Your Citrix Environment to Azure Today!
Whether you're doing it for the increase in administrative freedom or the decrease in CapEx costs, it's clear that upgrading your current on-premises Citrix environment to a Citrix on Azure environment should be at the forefront of your mind right now.
ProServeIT partners with Citrix in order to ensure your seamless move to Citrix on Azure. Contact us to speak with our designated Citrix experts to get started today.
Or, want to learn more about Citrix on Azure and see a live demo of the product in use? Watch our on-demand webinar, co-hosted by Citrix and Microsoft.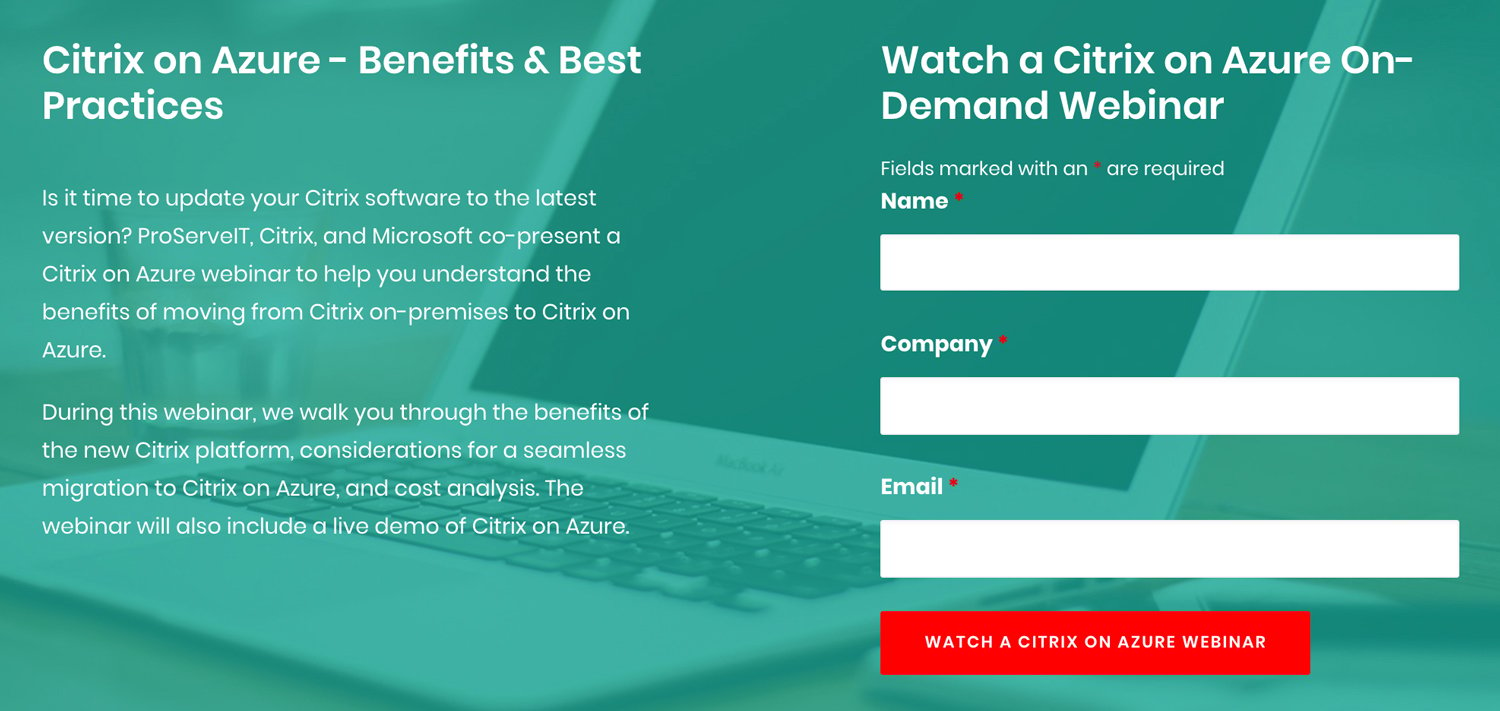 Related Post: