In today's rapidly evolving workplaces, integrating of AI-powered solutions like Bing Chat Enterprise has catalyzed a revolutionary shift in productivity and collaboration. According to recent statistics, 92% of technical professionals and business decision-makers have already used or tried AI tools in their daily operations. However, it's essential to acknowledge that concerns regarding data security have been a significant roadblock for some companies when fully embracing AI tools. This is where Microsoft Bing Chat Enterprise truly stands out. It offers enterprise-level protection while seamlessly operating within the trusted Microsoft 365 environment.
Are you curious about Bing Chat Enterprise and how it can transform your business operations? This blog will delve into the intricacies of Bing Chat Enterprise, highlighting its unique functionalities. We'll cover everything from how to enable Bing Chat Enterprise and how to use Bing Chat Enterprise to insights on the Bing Chat Enterprise release date, ensuring you have a comprehensive understanding of this cutting-edge tool.
In this blog, you will find:
🤔 What is Bing Chat Enterprise?
✨ What makes Bing Chat Enterprise stand out from Chat GPT?
💻 How to Access Bing Chat Enterprise?
💡 What are the Possibilities of Bing Chat Enterprise?
🤖 What's Next: Will AI Fix Work?
What is Bing Chat Enterprise?
Bing Chat Enterprise Is an innovative solution from Microsoft that offers AI-powered chat specifically designed for businesses. With Bing Chat Enterprise, organizations can ensure the protection of both user and business data within their operations. Your data remains secure, as chat data is not saved, and Microsoft cannot access it.
Additionally, your data is not used to train the models. With Bing Chat Enterprise, you can access industry insights, analyze data, and find inspiration while enjoying improved efficiency and creative opportunities.
[Introducing Bing Chat Enterprise: AI-powered chat for work with commercial data protection]
Bing Chat Enterprise also boasts advanced AI capabilities, such as intelligent suggestions and predictive text. These features help employees save time and increase productivity by streamlining their workflows.
Bing Chat vs. Chat GPT: What makes Bing Chat Enterprise stand out from ChatGPT?
Microsoft Bing Chat Enterprise sets itself apart from the competition by providing a unique blend of AI-powered efficiency and enterprise-level data security, making it a standout choice in the realm of business communication tools. Integrating with the Microsoft 365 security and compliance center, it enables real-time threat detection, monitoring, and robust data encryption.
Additionally, Bing Chat Enterprise offers secure guest access, allowing seamless collaboration with external partners while maintaining internal security protocols. Moreover, organizations have precise control over guest permissions.
Let's take a closer look at each of these exceptional features:
AI-powered chat for enhanced productivity
Bing Chat Enterprise is not just your run-of-the-mill chat tool; it's a powerhouse of AI capabilities. One such feature is intelligent suggestions, which uses AI to suggest relevant information and actions based on the context of the conversation. This helps employees save time and improve productivity by eliminating the need to switch between different applications.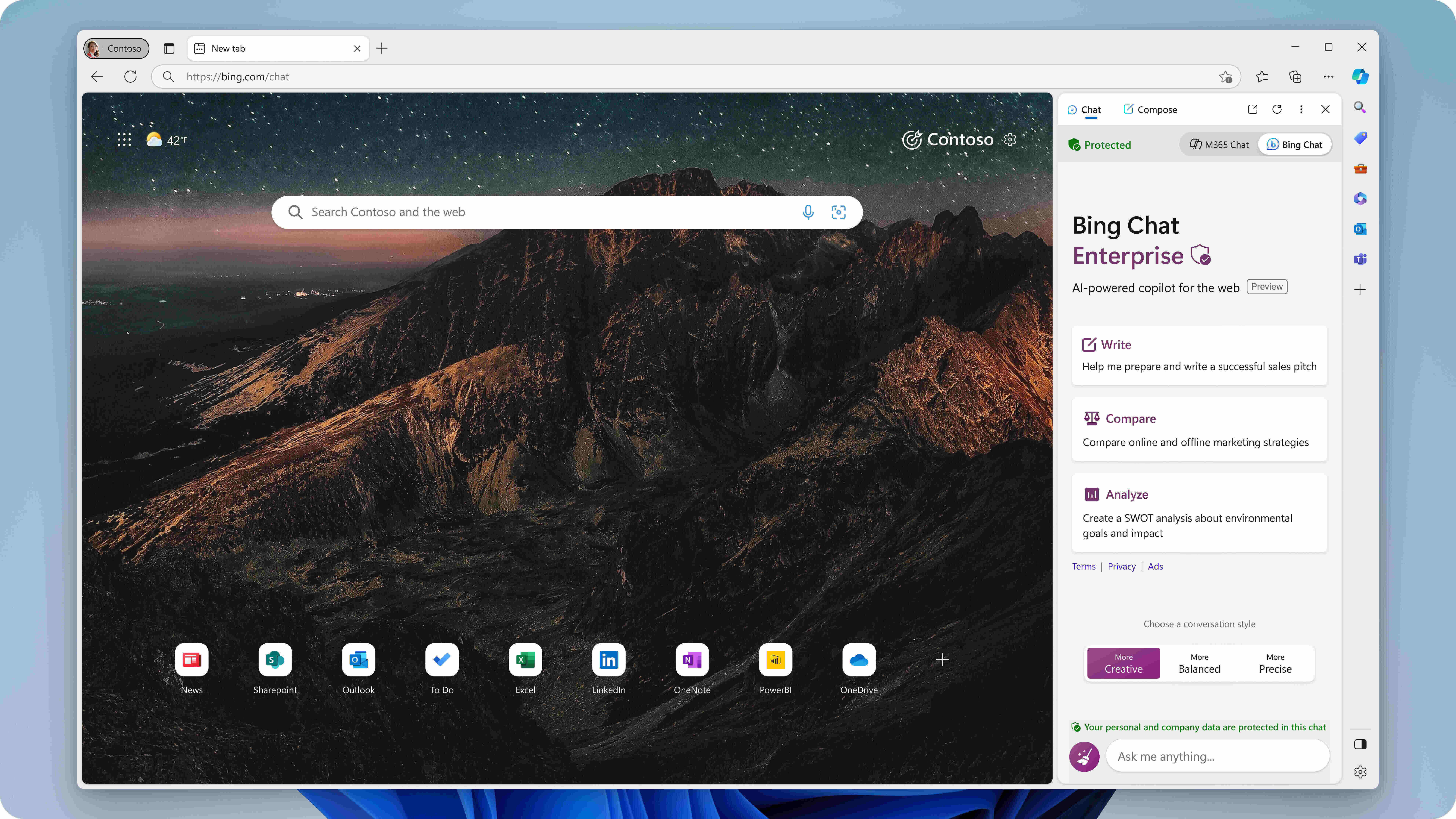 [Empower your workforce with Bing Chat Enterprise by giving them better answers, greater efficiency, and new ways to be creative.]
Another notable AI capability of Bing Chat Enterprise is predictive text. Powered by machine learning algorithms, which predict what a user will likely type next, making conversations flow seamlessly and efficiently. This is especially helpful for individuals struggling with typing or limited mobility.
A highly secure productivity solution
Bing Chat Enterprise excels in data security, offering commercial data protection that securely keeps user and business information within the organization. This commitment is evident in data encryption in transit and the assurance that Microsoft has no access to it, allowing you to embrace AI confidently.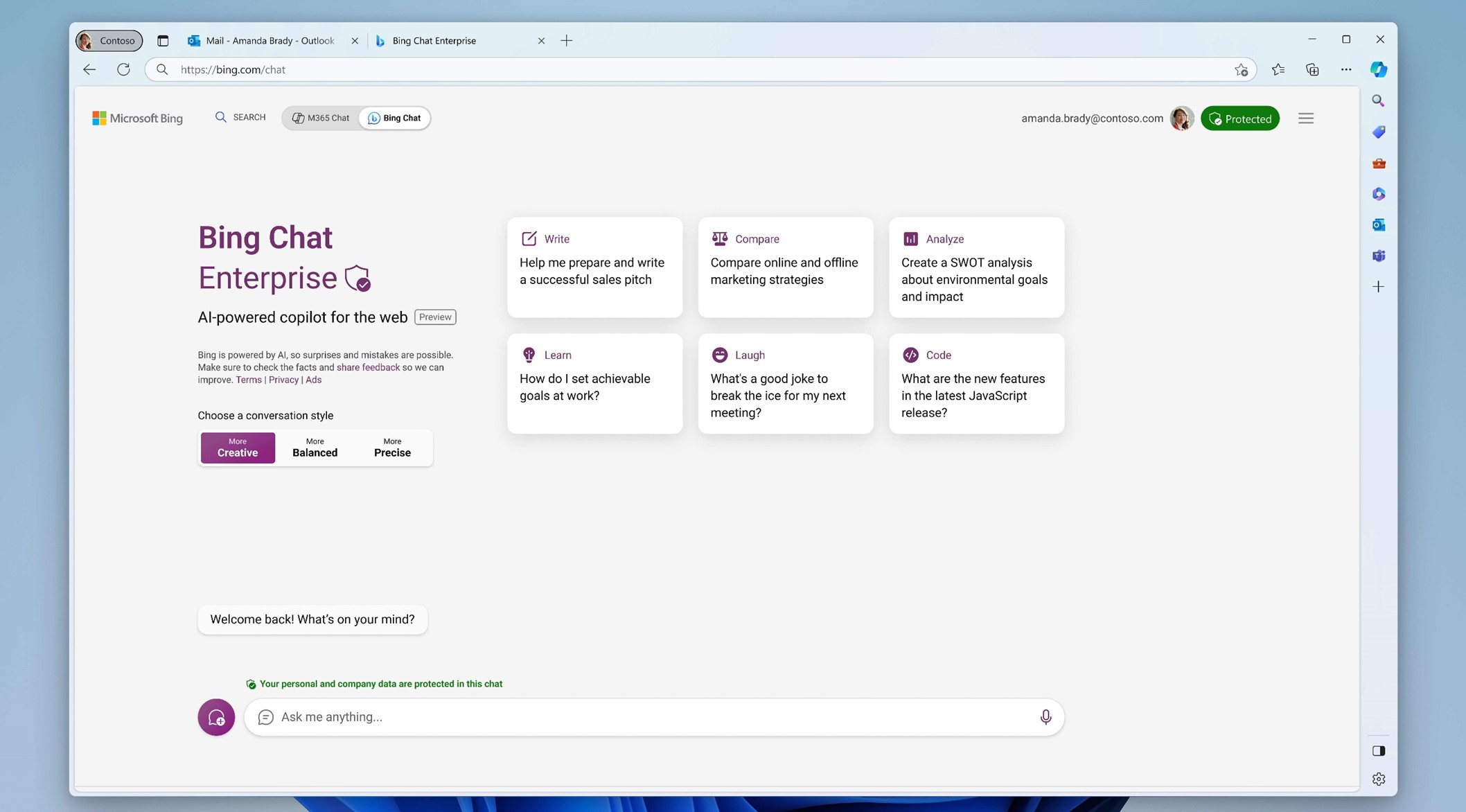 [Bing Chat Enterprise is designed to protect your data.]
To provide seamless and secure access to Bing Chat Enterprise, it integrates with Microsoft Entra ID (formerly Azure Active Directory), which offers enterprise-level security to fend off external threats. Access management for internal and external users is done through Microsoft Entra ID Governance, a separate product that helps protect, monitor, and audit access to critical assets.
The platform also boasts a secure guest access feature, facilitating collaboration with external parties while upholding internal security protocols. Moreover, organizations benefit from granular control over guest access, enabling the customization of specific permissions for different guests.
How to Access Bing Chat Enterprise?
The Bing Chat Enterprise release date marks an important milestone in business communication technology. Now available for use, Bing Chat Enterprise offers groundbreaking AI capabilities to businesses worldwide. offering users for all Microsoft 365 Business Standard and Business Premium customers at no additional cost. Bing Chat Enterprise will continue to be included at no extra cost for those licenses once it become generally available. Here are a few commonly asked questions about accessing Bing Chat Enterprise:

[Comparing Bing Chat, Bing Chat Enterprise and Microsoft 365 Copilot]
Where is Bing Chat Enterprise available?
Bing Chat Enterprise is accessible in more than 160 regions worldwide, making it available to many users. You can easily access Bing Chat Enterprise through bing.com/chat, the sidebar in Microsoft Edge, and Windows Copilot.
How to start using Bing Chat Enterprise?
To enable Bing Chat Enterprise, note that it is available to customers with eligible Microsoft 365 licenses and is typically turned on by default. If you're looking to learn how to turn on Bing Chat Enterprise, the process is straightforward and integrated into your Microsoft 365 admin settings.
So, take advantage of this innovative tool today and experience the power of Bing Chat Enterprise in revolutionizing your workplace collaboration. Sign in with your work account and visit www.bing.com/chat.
What is the pricing for Bing Chat Enterprise?
Bing Chat Enterprise is seamlessly integrated into Microsoft 365 E3, E5, Business Standard, and Business Premium at no additional cost. Bing Chat Enterprise is available for just $5 USD per user per month for those who prefer a standalone option.
How will my employees know they are using Bing Chat Enterprise instead of Bing Chat?
Employees using Bing Chat Enterprise must sign in to Bing.com/chat using their work account. Bing Chat Enterprise has a unique design that distinguishes it from the consumer version. Above the chat input box and on top of every chat answer, users see a message confirming 'Your personal and company data are protected in this chat.'
Looking to enhance productivity and data protection at work with Bing Chat Enterprise?
Our expertise empowers businesses to harness the full potential of Bing Chat Enterprise, enhancing productivity and protecting sensitive information!
If this aligns with your objectives, let's engage in a conversation. Begin your journey to heightened efficiency today!
You can also learn about Microsoft Copilots:
4 Strategies for Business Leaders to Integrate AI into Tech Roadmaps
ls Your Company Ready for Microsoft 365 Copilot? 5 Must-Do Actions
5 Steps to Adopt Microsoft Sales Copilot for Your Business
What are the Possibilities of Bing Chat Enterprise?
Bing Chat Enterprise is a transformative tool for your business communication and collaboration. Here are some potential applications of Bing Chat Enterprise in your work: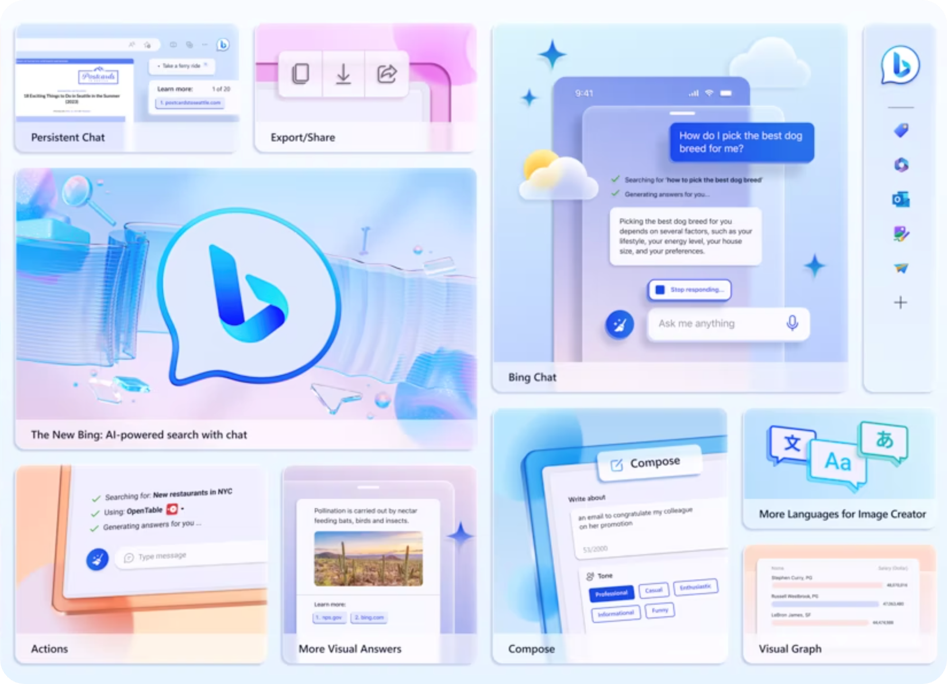 [Chat, search, and find inspiration all in Bing Chat Enterprise]
✅ Enhanced Writing: Utilize AI-powered suggestions to craft new content or refine existing material. Bing Chat streamlines comparisons, allows for follow-up questions in one thread and enables you to adjust your writing's tone and style to cater to diverse business needs.
✅ Visual Content Made Easy: Simplify visual content creation with Bing Chat. Create images directly within the platform and access concise summaries of lengthy content.
✅ AI-Enhanced Search: Bing Chat harnesses the power of AI to deliver search results tailored to your queries. You can even customize how Bing frames its answers for a personalized user experience.
✅ Natural Language Support: Search in the way you talk and text. Bing Chat provides near real-time results, ensuring seamless conversations and informed decision-making.
✅ Complex Problem Solving: Pose intricate questions and receive relevant answers. Bing Chat Enterprise transcends mere communication to become a comprehensive solution for boosting productivity and efficiency within your organization.
What's Next: Download eBook "

Will AI Fix Work?"

Dive headfirst into AI and unveil its transformative impact on the modern workplace. Step into a world where mundane, repetitive tasks are effortlessly managed, freeing up precious time for innovation, strategic thinking, and attaining your business goals.

Unlock the boundless potential of the future of work by immediately downloading "The 2023 Microsoft Work Trend Index." Embrace a future where time emerges as your most invaluable resource, propelling you toward resounding success.
In this comprehensive report, you'll gain:
✅ A deeper insight into AI's potential and its profound influence on the workplace.
✅ Real-world perspectives and success stories from seasoned IT professionals.
✅ Strategies to amplify productivity, nurture creativity, and supercharge your team's collaborative prowess.
Don't miss this opportunity to take charge of your work's future. Download "The 2023 Microsoft Work Trend Index" now and embrace the limitless possibilities of AI in your organization. Let AI help you work smarter, not harder.
Conclusion
Bing Chat Enterprise is a highly secure productivity solution that utilizes AI to enhance business communication and collaboration. It offers commercial data protection and secure guest access options, allowing organizations to embrace AI without compromising internal security protocols.

With seamless access through Microsoft Entra ID and enterprise-level security measures, Bing Chat Enterprise ensures that your information remains protected within the platform. This AI-powered tool offers a range of features, including enhanced writing, visual content creation, and natural language search capabilities, to boost productivity and efficiency within your organization.

So, start using Bing Chat Enterprise today and see how AI can help you work smarter, not harder. Book a meeting with us now and create your Cloud migration strategies based on your business requirements and objectives.