By: Stephanie Baskerville, Content Writer, ProServeIT
Today's blog is all about global mental health. I'd like to share a picture with you: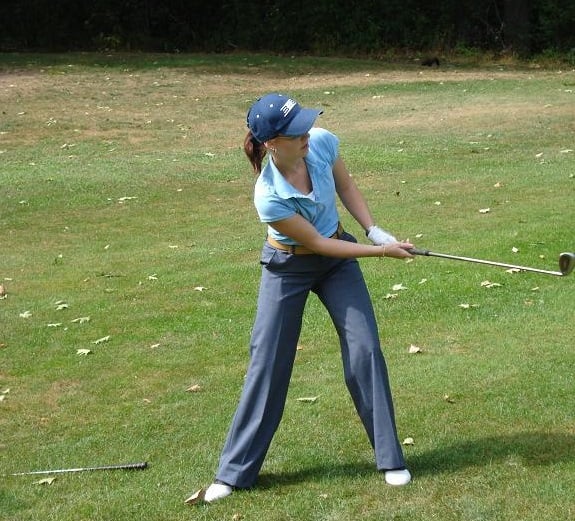 This is me in August 2008. Back then, I was 1 year married, loved to play sports (especially golf!), I was working as a telemarketer, was just about to buy my first house with my husband, and I enjoyed reading and writing fiction.
I was also the "1 in 5 Canadians" suffering from a mental illness. Specifically, clinical Depression.
Today, October 10th, is World Mental Health Day. For someone who struggled with clinical Depression for 24 years, this day is a reminder of the constant battle that I waged with myself to engage in the day-to-day tasks of my everyday life. It's also a day that shouts triumph. You see, when I was first diagnosed, mental illness, especially on a global scale, was never talked about (I'll get into that a bit later in this blog).
So, in honour of World Mental Health Day, I want to get a little personal and tell you how mental illness impacted my life, and why I think talking about global mental health matters.
Global Mental Health: The Numbers Speak Volumes
It is estimated that around 1 billion people around the globe suffer from mental health disorders or substance abuse issues. When you think that the world population is around 7.7 billion people, it's pretty clear to see how prevalent mental illness is in our world – according to these numbers, one in eight people will suffer at some point in their life.
Let's bring this global view a little closer to home.
According to the

Canadian Alliances of Mental Illness and Mental Health, over 1.6 million Canadians report unmet mental health care needs each year, and over 500,000 Canadians in any given week are unable to work due to mental illness.

The Centre for Addictions and Mental Health (

CAMH

) notes that mental illness is a leading cause of disability in Canada, with approximately 355,000 disability cases due to mental and/or behavioural disorders, and approximately 175,000 full-time workers absent from work due to mental illness.

The

Canadian Mental Health Association

says that by age 40, about 50% of the population will have or have had a mental illness, yet almost half (49%) of those who feel they have suffered from depression or anxiety have never gone to see a doctor about this problem.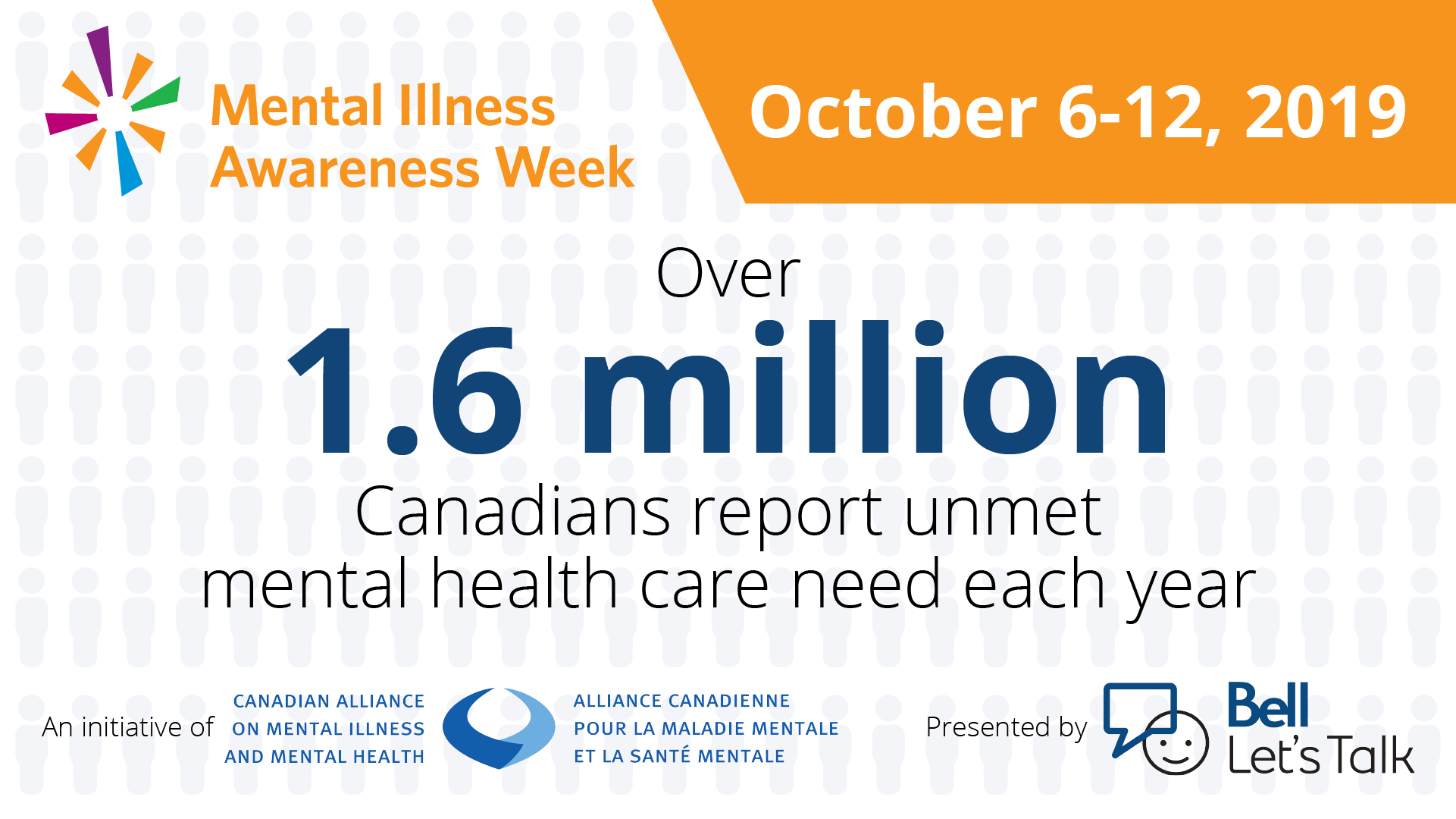 Source
Acknowledging Global Mental Health = Ending the Stigma
Unfortunately, the Canadian Mental Health Association points out that the stigma attached to mental illnesses presents a serious barrier, not only to diagnosis and treatment, but also to acceptance in the community. This is something that I know all too well.
I was diagnosed with Depression at age 9, and by age 12, it had gotten so bad that I had been put on medication – something that set me apart from my friends. I recall one painful experience on the schoolyard, when one of my friends came to tell me that her parents thought I was "too crazy" to hang out with her anymore. That may have made you wince, reading that, but as bad as that was, it wasn't half as bad as the teacher who told me to "snap out of it" and even accused me of making up an illness to get out of practicing my instrument.
These kinds of comments haunted me throughout my whole illness. I learned to play my cards close to the vest so that I didn't give away too much. Sometimes it worked. Other times, like the time that one of my employers told me they found me "lazy and irresponsible", it backfired.
Throughout those 24 years, I was in a "darned if I do, darned if I don't" situation. If I was upfront with people about my mental illness, they scrutinized me like I was a bug under a microscope, watching me to see if I went "crazy". If I didn't tell people and my symptoms got too bad to handle, I got accused of not caring enough, being too lazy to get out of bed, partying too much the night before, or faking it.
I lived under the stigma every single day of my illness. Because, as I mentioned in the introduction to this blog, back when I was first diagnosed, mental illness was swept under the rug. You didn't talk about it. You hid your problems from the world. I even hid my mental illness from certain extended family members – when they asked how I was doing, I often found myself lying, saying everything was wonderful when inside, I was dying. It wasn't until my late twenties that I "went public" with my struggles, speaking at a Catholic Women's League meeting, then at a rally, then in my workplace.
And the strangest thing happened. As soon as I opened up about my own struggles, people came forward. They told me their story. They said they'd been struggling quietly for years, but hearing me speak had given them the courage to do the same. I think that this is because, despite what the stigma would have you believe, you are not alone in your illness. The more we talk about it, the more we can shed light on the subject, and the more we can do something about it!
The Impact of Global Mental Health Initiatives
That's why global mental health initiatives, like Mental Illness Awareness Week, Bell Let's Talk Day, Michael Landsberg's #SickNotWeak community, Jack.org, the Canadian Mental Health Association's Not Myself Today campaign, and many other initiatives are, in my humble opinion, so important! These initiatives have fought to increase awareness and decrease the stigma around mental illness by starting conversations, so that people are no longer afraid to come forward and say that they are struggling with their mental health. And, we've come a long way in recent years, thanks, in part, to the many celebrities and sports stars, who have come forward to talk about their own battles with mental illness.
As someone who did not have these kinds of resources available during much of my own illness, it's truly heartening to see people taking to social media platforms, like Twitter, Facebook, and Instagram to talk about their struggles. It's even more heartening to see other people reaching out to those who are struggling and offering words of encouragement and support to help get them through the dark times.
When we work together to break the stigma around global mental illness, we're working to give hope to those who are suffering – hope that they're not alone, hope that they're cared for, and hope that they can make it through the darkness and back into the light. And this is why I think global mental health matters.
How You Can Further the Global Mental Health Discussion.
You may be thinking to yourself that this topic has nothing to do with you. But, with 1 in 5 Canadians suffering from a mental illness, you probably know someone right now who may be struggling. Maybe someone in your organization – your colleague, that friend that you eat lunch with, the person in the cubicle next to you – is struggling with their mental health right at this very moment! So, according to Bell Let's Talk, here are 5 ways that you can get involved with the global mental health discussion:
Language Matters:

Are you currently using the word "crazy" to describe someone? Do you find yourself referring to someone's behaviours as "OCD"? The words you use can make all the difference. Think about how you're saying something and see if the way you're saying it is adding to the stigma of mental illness. If so, consider alternative ways that you can express what you're feeling.

Educate Yourself:

By knowing the facts and myths about mental illness, you can help to end the stigma.

Be Kind:

It may seem such a simple request but being kind can make a world of difference to someone who is struggling. Whether you're just offering a smile, or inviting people to chat, these simple acts of kindness can let people know that you're there for them.

Listen and Ask:

Sometimes, just by showing that you're there for people you care about can really help with making them feel like there's someone in their corner. Mental illness is a very common form of human pain and suffering; by saying something like, "I'm sorry you aren't feeling like yourself, is everything okay? How can I help?" can go a long way to helping that person recover.

Talk About It:

As mentioned, mental illness touches all of us in some way – either you have it directly, or someone you know or love is suffering. So, break the silence! Talk about it. By sharing stories of those who have experienced mental illness, we challenge the stereotypes that are derived from misinformation.
At ProServeIT, we think mental health matters so much that we wrote a blog about some apps that might be helpful for those who are struggling. Our senior staff have, on numerous occasions, stated that their doors are open if anyone needs to talk, and we, as employees, are often encouraged to take advantage of our Employee Assistance Program if it's needed. The messaging at ProServeIT is that mental illness is nothing to be ashamed of. I can't tell you how refreshing that is.
Global Mental Health – A Personal Note to You
If you're struggling with a mental illness right now, I want to tell you one very important thing. Battling a mental illness will take more courage than you ever thought you had. Every breath you take, especially in the midst of your struggling, is a sign of the stance you're taking against allowing your mental illness to run your life. Although your illness is telling you otherwise, I'm here to say that you are 100% worth the fight. And you're my hero.
Please, feel free to reach out to me and let's start the conversation around how I can help be there for you.
Related: