With the ever-evolving cyber threats and digital workforce environments, IT professionals need to stay updated on the latest trends related to identity protection and Microsoft 365 updates.
If you're an IT professional looking for a comprehensive overview of these crucial security must-haves in this current landscape, you've come to the right place!
In this post, we'll discuss the latest features in Microsoft 365, an overview of 2023 identity protection trends, Microsoft 365 E3 Do More with Less (DMWL) promotional pricing and tips for taking advantage of Microsoft Viva Engage. This revolutionary solution makes collaboration more accessible than ever before. Ready to get started? Let's dive in.
In this blog, you will find:
Microsoft 365 Updates (February 2023)
Important 2023 Microsoft identity protection trends.
Upcoming switch from Yammer to Microsoft Viva Engage
Microsoft 365 E3 Do More with Less (DMWL) promotional pricing
Employees can now do more in Microsoft 365 with the new abilities in Viva Goals and Loop
Microsoft 365 is introducing new updates to help organizations adapt flexible work, reduce costs, and do more with less. Below are the key updates to watch out for:
✔️ New Viva Goals capabilities are available in Teams, which allow users to create, edit, update, and share OKRs with coworkers and others within your organization.
✔️ Innovative, richer analytics capabilities in Viva Goals now empower administrators to view OKR adoption metrics across the organization. An administrator can easily view all active users and the total number of users working with Viva Goals and measure their team's progress toward the goals established on this user-friendly Microsoft platform.
Below is a visual of how easy it is to update OKRs via Teams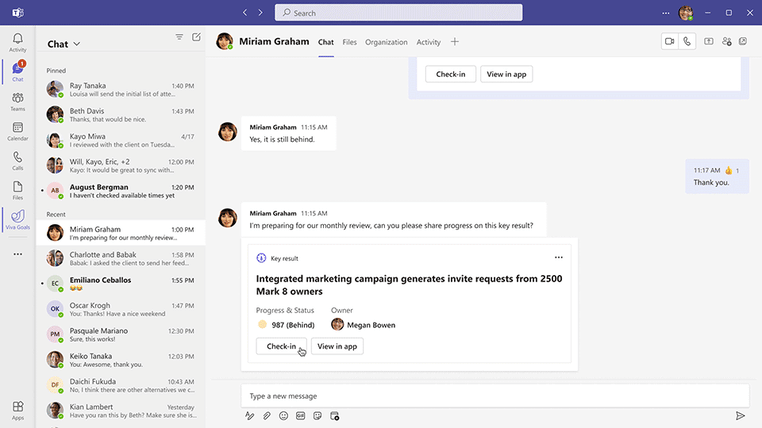 Within Viva Goals, users no longer need "baseline metrics" to create a new team or goal. Administrators can now use the Phased Target feature for more flexibility when adjusting established goals as things change within an organization's fiscal year.
Outlook now offers Loop components for Windows and web versions allowing changes made within an email body to stay in sync across Outlook & Teams chat. A user can also add any edits directly in Outlook without having to switch to another application.

Whiteboard templates can be customized & shared with other individual users or distribution lists.

This feature will soon be available for Microsoft 365 E3 and E5 customers. Polls for Teams meetings provide options like multi-question polls & instant feedback tools such as word clouds or quizzes that can also include images. These new changes are now available for anyone who uses Polls for Teams.
Advanced deployment guides on Setup (Microsoft 365) offer best practices guidance as well as automation support for configuring services quickly & efficiently, so admins have time to focus on other tasks. The advanced deployment guides are now available.


Key Identity Protection Trends to Watch in 2023: Insights from Microsoft
Microsoft is helping numerous organizations across the world defend against identity attacks by advocating for the use of multi-factor authentication (included in all SKUs and deeply integrated into Azure AD) and state-of-the-art software to help empower customers to improve their cybersecurity. Microsoft's team works hard towards reducing investments required to get & stay secure, so customers don't have difficulty keeping up with the increasing volume/intensity of cyber attacks.
Attackers are using "shiny object syndrome" to pull teams in many directions, preventing them from closing issues and leaving organizations exposed. To defeat attackers, it is essential not just to use multifactor authentication but also the right kind—Authenticator, Windows Hello, or FIDO, for example—to protect users from SIM-jacking attacks and phishing attempts.
Post-authentication attacks such as token theft can be prevented with the least privileged access (no admin) on devices running effective endpoint protection software.
Below is a graph that showcases the rise of token theft attempts in the last two years. OAuth consent phishing can be avoided by inspecting applications that require user consent before allowing access.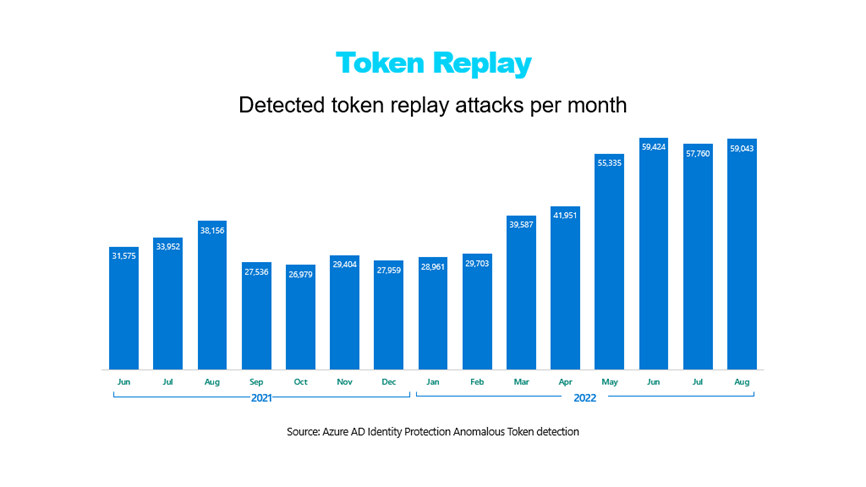 Infrastructure compromise must also be guarded against through isolation of cloud infrastructure from the on-premises environment; close partnership with the Security Operations Center (SOC); scrutiny of privileged identity administrators & servers; protection of non-human identities.


Tips for Improving Your Organization's Identity Security Efforts
According to Alex Weinert (Vice President of Identity Security, Microsoft), here are several suggestions to help improve your organization's identity security efforts:
1. Safeguard your users with multifactor authentication, consistently using Authenticator, Fast Identity Online (FIDO), Windows Hello, or CBA.
2. Apply Conditional Access rules to your applications to defend against application attacks.

3. Use mobile device management and endpoint protection policies—especially prohibiting running as admin on devices—to inhibit token theft attacks.

4. Limit on-premises exposure and integrate your SOC and identity efforts to ensure you are defending your identity infrastructure.

5. Bet hard on agility with a cloud-first approach, adaptable authentication, and deep commitments to automated responses to common problems to save your critical resources for true crises.
As the old saying goes: To protect yourself in a digital world, you will need layers of defense. Instead of relying on one single control that an attacker could breach, Defense-in-depth encourages us to stack multiple defensive measures such as multifactor authentication and endpoint protection along with SOC monitoring and automated responses for maximum security coverage. By posture agile, we can ensure no stone has been left unturned when keeping our data safe!

Say goodbye to Yammer and hello to Microsoft Viva Engage
Hybrid work is causing leaders to reconsider how to develop profound connections among their dispersed teams, with 68% of business decision-makers viewing cohesion and social connection as a challenge. To help remedy this problem, Microsoft Viva Engage is the newest part of Microsoft Viva, providing communities and conversations for employees.
Starting in March 2023, Yammer will become Viva Engage with updates to its Communities app for Outlook and mobile apps for iOS & Android; customers will experience no loss of continuity or features.
Existing Microsoft 365 customers will continue to experience and use the power of Viva Engage to improve the collaboration between employees in this new era of hybrid work. Viva Engage will help companies recognize the power of knowledge sharing, community, and corporate communications at the organizational scale. This change will produce an integrated Viva Engage experience across the web and mobile and will streamline features, training, resources, support for customers, and documentation.
New experiences that will be rolling out include:
Leadership Corner, which provides a space for leaders to connect with employees through discussions, storyline posts & events
Ask Me Anything (AMA)

events modernize town hall-style meetings by introducing upvoting & Q&A features

Social Campaigns

create dedicated spaces that support business goals/objectives

Answers in Microsoft Viva help match questions w/ answers from experts using AI.
Advanced Analytics gives you a more profound, visual look at your engagement data within Viva. You can drill down into a variety of dashboards, including dedicated metrics for personal analytics, audience analytics, campaign analytics, and global answers. Below is a screenshot of how this feature looks in Microsoft Teams.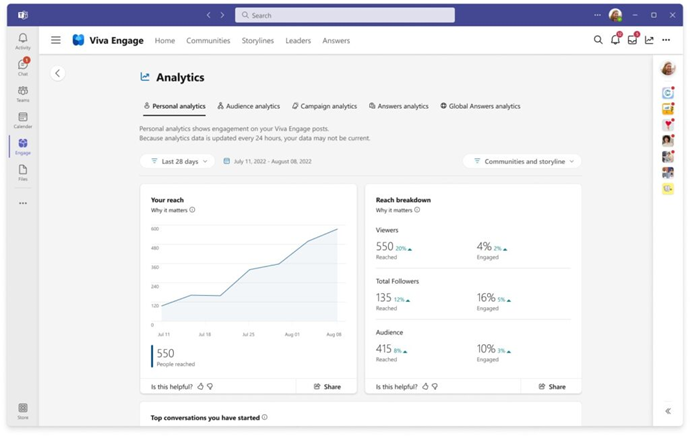 Interested in learning more about these changes? Join Microsoft on February 23, 2023, for an Ask Me Anything (AMA) event with the product leaders from the Viva Engage team.


---
Microsoft 365 E3 'Do More with Less' (DMWL) promo for Cloud Solution Provider (CSP) customers.
Microsoft announced a new promotional offer for Microsoft 365 E3 under the Do More with Less (DMWL) campaign.

The Microsoft 365 E3 solution blends critical quality applications to help increase work productivity and collaboration while helping to secure your organizational data with intelligent security. Below are some of the business applications available with this solution.
A 15 percent discount on the net partner price is available for customers new to Microsoft 365 E3. This is for customers who haven't previously purchased Microsoft 365 E3 on any platform (legacy or new commerce) or channel (direct, CSP, or Enterprise Agreement). Customers are subject to the first purchase constraint. For more information about customer eligibility criteria, see new commerce promotions.
This offer is valid from February 1, 2023, to June 30, 2023. Upon the annual subscription's renewal date, standard pricing will apply.
For organizations who commit to an annual subscription to Microsoft 365 E3, promotional pricing will apply through the entire subscription term—yet another compelling reason to move to Microsoft 365 E3.


Conclusion
In February 2023, Microsoft made several exciting announcements regarding upcoming features for its software products. One of the most awaited updates is the switch from Yammer to Microsoft Viva Engage. This will provide users with a more intuitive interface and allow greater collaboration between team members. Additionally, they also announced promotional pricing for their Microsoft 365 E3 Do More with Less (DMWL) plan. This is an excellent opportunity for organizations looking to start with Microsoft 365 but may be hesitant due to cost concerns.
Let us know if you're considering making the switch or have any questions about how this could benefit your organization. We'd be happy to talk with you and see if Microsoft 365 is right for your organization.