With ever-evolving cybersecurity concerns threatening how we do business every day, protecting digital assets is something that every organization needs to think about. But, as a tech professional, you have a number of pressing priorities and tasks that can take precedence over security.
So, how does your organization ensure that you can protect your digital assets in a cost-effective and efficient manner that doesn't take up your valuable time? How do you ensure that security is a priority for your organization, without dedicating all your time to monitoring your environment and detecting potential threats?
Enter ProServeIT's Alarm Guardian managed security solution. In this blog, we're going to introduce you to your new, subscription-based, managed security solution, and show you how it's going to protect your digital assets!
What is Alarm Guardian, ProServeIT's Managed Security Solution?
ProServeIT's Alarm Guardian protects your digital assets the way that an alarm system would protect your physical assets.
A 24 x 7 x 365 solution, Alarm Guardian utilizes Azure Sentinel, Microsoft's Security Information and Event Management (SIEM) and Security Orchestration, Automation, and Response (SOAR) technology, to monitor, detect, and respond to potential threats in your digital environment.
This secure managed security solution is designed to identify a wide range of security threats across your organization and respond to them in an appropriate manner - sometimes without the need for you to get involved at all!
---
Alarm Guardian Azure Sentinel Protect Your Organization
Azure Sentinel, a Cloud-native security information and event manager (SIEM) platform helps your organization to filter legitimate events happening in your network from viable threats
.

Learn more about Alarm Guardian
---
Why do you need Managed cybersecurity?
Organizations, like yours, are faced with an increasingly difficult task of trying to protect your expanding digital estate from nefarious cyberthreats. The move to more Cloud-based systems, combined with a more mobile or remote workforce (especially now during the COVID-19 pandemic) means that the border of your digital estate has been pushed beyond the boundary of your physical network, i.e. your firewalls. Nowadays, data, users, and systems are located around the globe. This presents a unique challenge for your organization.
For IT professionals, like you, these changes to your digital estate have a significant impact on how you manage your information and assets, and, more important, how you protect them. It's no secret that attack techniques, frequency, and complexity are evolving at an alarming rate. How do you keep up with the evolution of an attack? How can you monitor the attack path, and ensure that you've stopped the threat actor in their tracks?
A managed cybersecurity solution, like ProServeIT's Alarm Guardian, helps to collect logs and security data from various sources and consolidate them into one single platform, detect threats and incidents based on the logs that are being analyzed (or, in Azure Sentinel speak, "ingested"), investigate alerts to understand the scope of the incident and the root cause of the potential security threat, and respond, as quickly as possible, to that security incident if it is determined to be a threat. When at all possible, these steps are automated in Azure Sentinel, ensuring that, whatever security incidents might have originally taken days or weeks to respond to, is done within seconds or minutes.
Why Should You Choose a Managed Cybersecurity Solution?
To answer this question, let's use the alarm system analogy that we used above. When you want to install an alarm system for your house or your office to protect your physical assets – computers, hardware, other valuables, etc. - you could go to the store and purchase the equipment you need to protect your physical location, like cameras, sensors, panels, etc., and then install and monitor it yourself.
But what about the times when you're not monitoring your security system? When other IT priorities take precedence, like providing technical support to end users, or researching new technology to implement to solve a business problem for your organization? What happens when you go home at the end of the day? Or are travelling? Or you need to take a break?
This is where an alarm company comes into play - they can take the burden of monitoring and responding away from you, freeing you up to use your time in other, more strategic ways. When you engage a company to manage your security for you, you trust that they have the expertise and the know-how to monitor your physical assets for you, detect when there's a problem, and react in a specific way if an alarm is triggered.
Your digital assets need to be protected just as much as your physical assets do - or, in many cases, even more so!
So, you could purchase the equipment or licensing needed to monitor your digital assets by yourself, but do you have the personnel and the infrastructure in place to monitor, detect, and react to potential threats 24 x 7 x 365?
Keep in mind that, when a breach occurs, every second counts. The clock is ticking the minute a threat actor attempts to gain access into your environment (or, more soberingly, succeeds). Further, breach investigations are becoming more and more complex and time-consuming, just given the nature of the attacks that are happening to organizations. You need something in place that can react within seconds or minutes, to ensure that anything that might jeopardize your environment is immediately dealt with.
A managed cybersecurity solution, like ProServeIT's Alarm Guardian, does just that. Our Alarm Guardian solution becomes your Security Operations Centre where, using Azure Sentinel to collect, detect, investigate, and respond to incidents, we take on the burden of constantly monitoring your environment for potential threats on your behalf.
Protecting Your Digital Assets and Environments with Advanced Threat Intelligence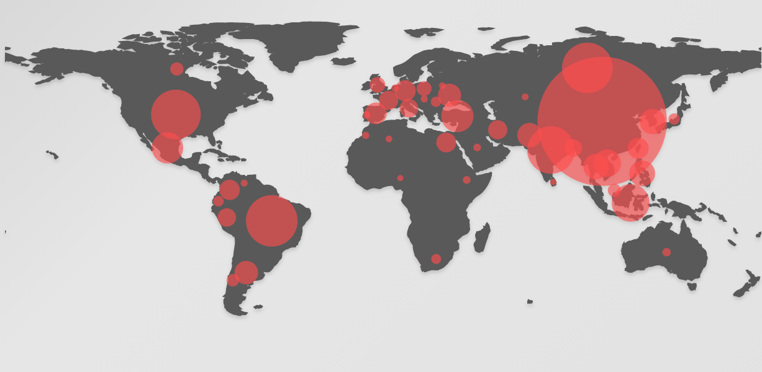 Source
Alarm Guardian taps into real-time advanced threat intelligence via threat intelligence networks that ProServeIT have signed up to receive. We use that information to ensure that we are taking the most proactive approach to protecting your digital assets.
The threat intelligence networks within Azure Sentinel gather information about real-time attacks happening, whether close to home or in other parts of the world. This intelligence includes important factors, such as malicious IPs, URLs, host names, domains, phishing links, or other malicious assets that were used in previous attacks. We can then take that information that appears in our Azure Sentinel deployment and set up alerts, so that any time these malicious assets are witnessed in your environment, we'll be able to react and respond accordingly.
To date, ProServeIT has 223,000 indicators that range from IP addresses, host names, URLs, domains, etc. This information, growing every day, is vital in protecting your organization from becoming a victim.
How does Alarm Guardian Protect Your Digital Assets?
Alarm Guardian's secure, subscription-based service is designed to monitor your environment and identify a wide range of potential security threats across your organization. Here's just a small sample of some of the things that Alarm Guardian does:
🔍 Monitors your Office 365 environment to check for suspicious activities.
📍 Detects login attempts, abnormal login locations, or unusual IPs trying to access your environment.
🛡️ Protects your online SharePoint and OneDrive directories to ensure that no malicious content is uploaded to them.
✔️ Reviews your Microsoft Teams environment for unusual activity, like someone adding themselves to multiple groups.
3 Ways Alarm Guardian Protects Your Digital Assets with Intelligence Security Analytics & Threat Detection
So, now you know a little bit more about Alarm Guardian and ProServeIT's Alarm Guardian offer, here are three ways that Alarm Guardian protects your digital assets:
#1: Alarm Guardian Helps you Detect Suspicious Threats:
Once we have connected your data sources to our Alarm Guardian solution, the Azure Sentinel back-end will be able to uncover and detect any potential threats from false positives. In short, Azure Sentinel can learn what kind of behaviour is considered "normal" for your organization, and what might constitute a suspicious threat.
For example, Alarm Guardian will learn how your employees typically sign into your environment – tracking IP address and location tags. If an employee suddenly starts trying to sign in from a different country, Alarm Guardian can identify this as a suspicious activity, and can send an alert that the behaviour identified seems suspicious for that particular user.
#2: Alarm Guardian Investigates Cases:
When a suspicious threat is identified as mentioned above, Alarm Guardian is able to help investigate a case. Using built-in AI capabilities, Alarm Guardian (with Azure Sentinel as the back-end), can show full details of the alerts and entities that have been detected. It can provide a severity ranking so that alerts that rank as "high" are actioned first.
#3: Alarm Guardian can Respond to Incidents:
If there is an incident detected, Alarm Guardian can use the AI and machine-learning capabilities of Azure Sentinel to respond to those incidents. Some of these responses are automated within ProServeIT's Alarm Guardian managed security solution – we use rules, security playbooks, and workbooks to provide Alarm Guardian with instructions on how to action specific security threats.
For example, Alarm Guardian could detect that an employee is suddenly signing in from an IP address that is not recognized, and, because of the rule that we've created, it automatically blocks the account and immediately re-sets the user's password. We then get an alert that the action has been taken, and a temporary password is emailed to us so that we can communicate that information to the user over the phone.
Ready to Protect Your Digital Assets with ProServeIT's Alarm Guardian Managed Security Solution?
If you're looking for ways to increase your security posture and protect your digital assets in a cost-effective and efficient way, then ProServeIT's Alarm Guardian could be the exact managed security solution you're looking for.
ProServeIT's Alarm Guardian:
☑️ Includes the installation of your new digital "security system", so that you can protect your digital assets.

☑️ Proactively monitors alerts that are coming from your environment and helps to distinguish between false positives and legitimate threats.

☑️ Identifies new places where protections are required and takes proactive action to ensure any cybersecurity gaps are filled.

☑️ Provides contextual insights that further ensure all your digital assets are secure.
Our Alarm Guardian offer page provides further information on the three tiers of protection available for your organization, and be sure to book a call to discuss your organization's unique requirements.