As a CEO or executive, your responsibilities extend beyond leading your team and delivering on business objectives. You are also tasked with making crucial decisions about technology investments that can significantly impact your organization's success.
However, with the rapid pace of technological change, it can be challenging to know where to invest your resources and how much to allocate to different areas of your organization. This is where having a well-planned Technology/IT budget and roadmap becomes essential.
In this blog post, we will explore 3 tips for creating an IT budget based on a technology roadmap, helping you make informed decisions about your technology investments that align with your business objectives. By following these tips, you can unlock the potential of technology and drive innovation within your organization, leading to long-term success.
In a hurry? Jump straight to your section of interest:
💻💰 What is a Technology/IT budget?
🗺️🔑 The Importance of a Technology Roadmap
💸📊 Average IT Spend by Industry
✅💡 3 Tips for Creating an IT Budget Based on a Technology Roadmap
What is a Technology/IT Budget?
A technology/IT budget is a financial plan that outlines the resources and capital investments required to support an organization's technology goals. It is a crucial tool for managing technology expenses, ensuring that technology investments align with business objectives, and enabling organizations to stay competitive in today's fast-paced digital landscape.
A well-planned technology budget can help organizations maximize the ROI of their technology investments, streamline processes, and drive innovation.
With technology advancing at an unprecedented rate, it is more important than ever for organizations to have a defined technology budget. Without a technology budget, organizations risk overspending on technology investments that do not align with their business objectives or neglecting critical technology investments that can lead to inefficiencies and lost opportunities.
In today's rapidly changing business environment, organizations need to ensure that their technology investments keep pace with the evolving needs of their customers and industry standards. A carefully planned technology budget provides the flexibility and agility needed to respond to shifting technology trends and emerging digital threats, enabling organizations to stay ahead of the curve and maintain a competitive edge.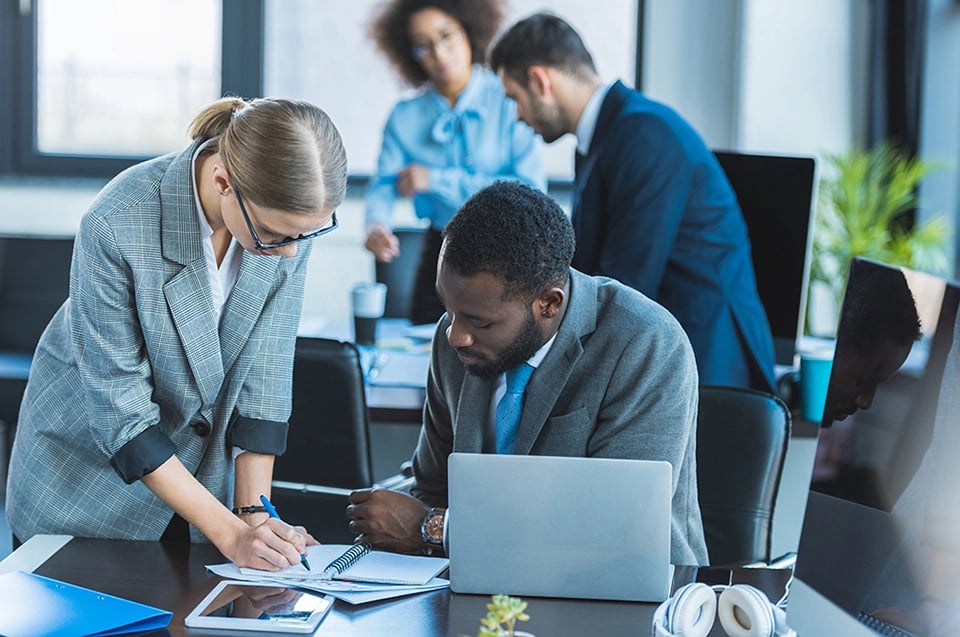 The Importance of a Technology Roadmap
A quality technology roadmap has become an essential tool for organizations looking to create an efficient technology strategy, both for the present and the future. It's the key to unlocking your organization's full digital potential and delivering real value for your technology investments.
With a well-planned technology roadmap, businesses can evaluate their IT infrastructure against best practices and industry standards, getting a clear understanding of opportunities and challenges. It also assesses technology staff skills to build a gap analysis between current technology capabilities and business objectives, allowing for ambitious moves toward success.

In a rapidly changing business environment, there are many unknowns in the future. Having a roadmap for your technology investments can help guide your company to where it wants to be in the future, strategically and financially. A carefully planned technology roadmap provides the flexibility and agility needed to respond to shifting technology trends and emerging digital threats, enabling organizations to stay ahead of the curve and maintain a competitive edge.
By leveraging our expertise and experience in technology roadmap creation, we can help your organization build a roadmap that you'll be proud to use, maximizing the value that technology brings to your organization both now and in the long term.


Average IT Spend by Industry



According to a recent report by the Boston Consulting Group (BCG), overall IT spend is expected to increase across all industries in 2022, with a projected growth rate of 5.2% compared to the previous year. However, businesses in different sectors have varying levels of investment and priorities when it comes to technology expenditures.
The report highlights that industries such as healthcare, education, and government are focusing their IT spend on improving digital infrastructure, data analytics, and cybersecurity measures. Meanwhile, industries such as retail, transportation, and energy prioritize investing in digital transformation initiatives to streamline operations, improve customer experience, and leverage emerging technologies like artificial intelligence (AI) and internet of things (IoT).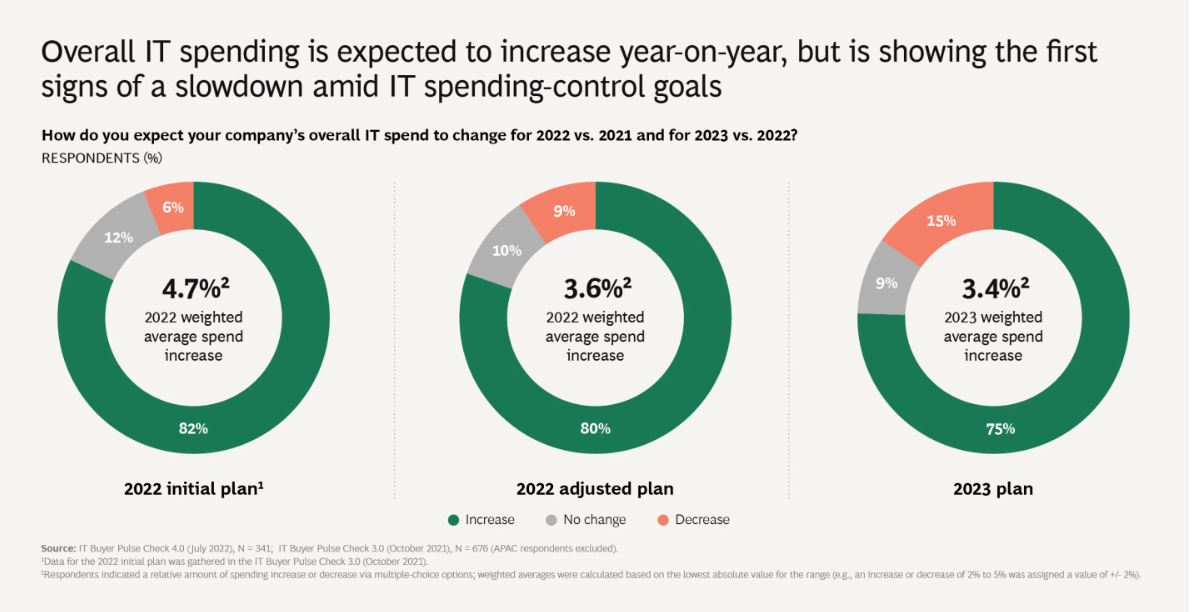 Image: Visual of expected IT spending for 2022 and 2023
Another trend highlighted by the BCG report is that companies in some industries are increasing their IT spend more cautiously than others. For example, the financial services industry is projected to increase its IT spend by only 3.4% in 2022, compared to the average growth rate of 5.2%. This cautious approach can be attributed to concerns about rising regulatory costs and economic uncertainty.
Similarly, the manufacturing industry is expected to increase its IT spend by 4.7%, below the overall average. However, this industry has been investing heavily in areas like automation, robotics, and supply chain optimization, which may explain the more modest growth rate. Understanding these trends in IT spend by industry can help organizations make informed decisions about their own technology investments and stay competitive in their respective markets.


3 Tips for Creating an IT Budget based on a Technology Roadmap
1. Choose an intentional number when it comes to your IT budget
Example: If my company's revenue is $100 million, what is the right number for my technology budget? 5% of my revenue? 10% of my revenue?'
It is important to avoid the trap of reducing your budget based on your historical behavior when it comes to creating your IT budget. For example, my IT budget for last year was X, and therefore this year, my IT budget is going to be X minus Y.
When you are setting an IT budget, if you truly believe that technology can be a key differentiator for your business, then that number (your tech budget) shouldn't just be arbitrarily set based on a percentage of your revenue even if you are at the average technology spend for your industry. Your IT budget should be something that your organization builds intentionally.
So even though the industry standard might be between 4% to 9% of your revenue (from an IT budget perspective), you might intentionally decide that this year based on the company's internal situation and outlook, your IT budget is going to be 12% or something different.

2. Spend on service enhancements instead of just "break fixes"
Your company should ensure that it spends on service enhancements instead of only on break fixes.
In many businesses, IT is usually viewed as a cost center rather than a value-add or revenue driver. There can be many instances where people would feel that technology isn't actually a contributor to how their organization functions and succeeds in their particular industry.
If your organization is building an IT budget that says, "Last year, we wanted to cut our IT budget by 5% or 2% from the previous year", this could lead you to focus a lot of your effort on break fixes. Below are a few questions regarding break fixes:
❓ What are the things that need to be fixed?
❓ Do we want to allocate some budget for our technology (anticipating that other things will break)?
There might be times when that is the right thing to do (going with break fixes). For example, you forecast that you're going to shrink as a business or that there's going to be some external industry trends or macroeconomic trends that are going to force your business into a cash-constrained position. That might be the justification for shrinking your IT spend.
It's important to understand that if your organization chooses to only focus on break fixes, that decision will have an impact in the years to come. If a company doesn't continue to enhance its technology year after year, what it is doing is creating a chasm between where its technology sits today and where its business needs will be a year or two from now. This means you will eventually get dragged into a massive project where you must invest a lot of money to bring your business up to speed because you haven't maintained your technology investments over the years.
To place your organization in a better position, choose to spend on technology that adds value or enhances your existing products/services rather than fixing technology when it breaks down.
3. Build an IT budget that will help move your organization forward
It is important to make sure that you're building an IT budget that will help move your organization forward.
So let's say that as an organization, you are expecting to grow by 10%. Based on that information, your organization could either create an IT budget that is going to be the same as last year's budget or create a more refined budget based on the following questions/scenarios:
❓ How is your organization going to grow?

❓ Where is that growth coming from? How does technology play a part in that growth?
Scenario #1: Your organization is going to grow by 10%, and based on that, you decide that you'll likely need an increase in your IT spend by a corresponding 10%. That will depend on what strategies you have in place and what things you're moving forward.
Scenario #2: Your organization is going to grow by 10% but to meet that 10% growth, perhaps you need to increase your IT budget by 20% because of a technology initiative that will be leveraged to contribute to the growth. Therefore, your IT budget will need to increase to account for the technology spent needed to drive the 10% growth, and this year's increase in the IT budget is really an investment toward growth.
You need to build your IT budget number based on what will help take your business to the next level. This number must align with your organizational plans and strategy.
It is important to have a strategic plan that doesn't just look at the past but also looks to the future of your company relative to its technology investments. The plan should look at both enhancing and maintaining what your organization has done, as well as locating big initiatives (projects) that are going to transform your business for the better.


Conclusion
Companies must have a clear and concise IT budget that is continuously updated as new technologies emerge to stay competitive and leverage potential opportunities. Crafting a technology roadmap with an understanding of the average IT spend by industry can help any organization create an effective IT budget.