As a CEO, have you experienced frustration because it seems that there is almost always a huge disconnect between the strategic level of the business and the technology layer of the business? It's understandable. You're an Executive. You must maintain a high-level view of the business in order to keep it operating smoothly.
Many companies often have their IT team reporting to the finance department, who makes cost-based decisions instead of value-based decisions. That's understandable too – a CFO is responsible for keeping the business in the black. Unfortunately, a lot of IT professionals aren't adept at describing the value of their requests in business terms. This leads to a strong disconnect between the business strategy and the technology to support it.
An IT Roadmap is a way to get IT and business talking together for the betterment of the organization as a whole. In this 3-part blog series, we're going to explain to you what an IT Roadmap is, why you need one for your organization, and what benefits and results you'll receive from going through this process.
What is an IT Roadmap?
An IT Roadmap is a process that delivers a long-term strategy to change your organization's IT infrastructure and applications, based on what you need for your business today, and tomorrow. This IT Roadmap process is designed to meet your specific business needs, and deliver real business value to you by performing several tasks, such as:
Documenting the strategic direction you want your business to go in,
Assessing the capabilities of your business to manage IT,
Auditing your IT infrastructure to best practices and industry standards,
Auditing your application layer to best practices and industry standards,
Assessing your IT staff's skills and capabilities,
Building a gap analysis between your business's strategic needs and the current state of your IT infrastructure and application layers,
Costing out the gap analysis,
Building a customized, prioritized project plan that shows you exactly what you need to do and when you need to do it in order to reach your business goals, and
Securing the sponsorship of your executive team and board for the IT Roadmap plan.
7 Key Benefits of an IT Roadmap
Picture this. Someone approaches you and says they'd like to help your organization meet your strategic goals and objectives. They'd like to come into your organization and talk to various member of your team, so they can get a thorough understanding of your business's strategic goals and objectives. Then, they'll analyze your organization's IT infrastructure and application capabilities to ensure they're suitable to meet those goals and objectives that have been defined. And, when the exercise is finished, this person says that they're going to provide you with an in-depth report that gives you step-by-step instructions on how to upgrade your IT infrastructure and applications to be able to meet those goals and objectives that you've outlined.
Sounds pretty good, doesn't it? That's what our IT Roadmap is all about.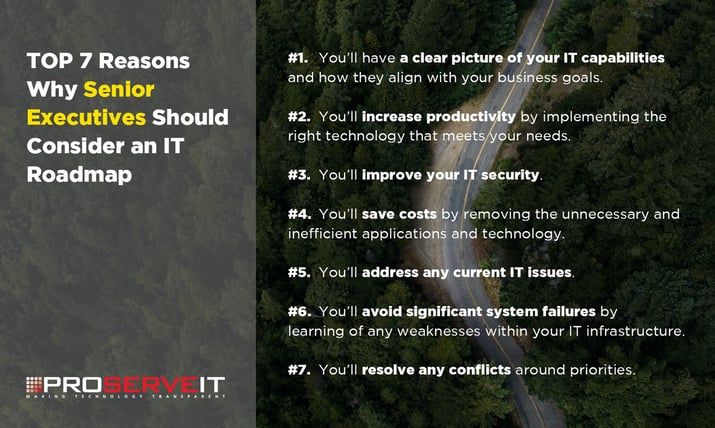 Here are 7 key benefits you'll experience when you engage in an IT Roadmap discussion with our experts:
You'll have a clear picture of your IT capabilities and how they align with your business goals.
You'll increase productivity by implementing the right technology that meets your needs.
You'll improve your IT security.
You'll save costs by removing the unnecessary and inefficient applications and technology.
You'll address any current IT issues.
You'll avoid significant system failures by learning of any weaknesses within your IT infrastructure.
You'll resolve any conflicts around priorities.
IT Roadmap: Not Just for the IT Professionals - It's for Your Leadership Team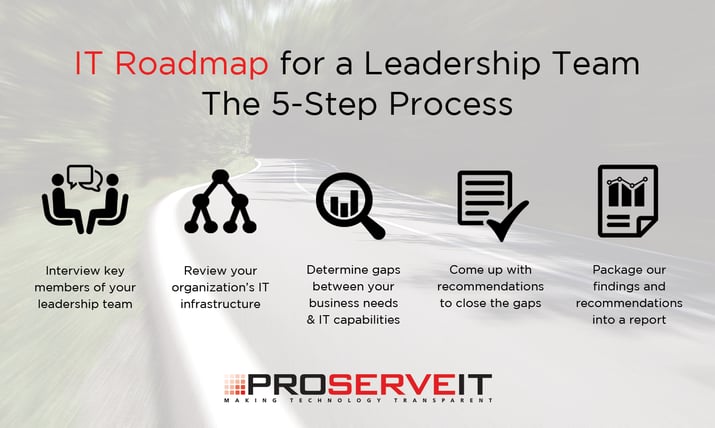 Our IT Roadmap is executed from a business perspective, with the goals and objectives that are near and dear to your heart and mind. Here is our five-step process:
Our IT Roadmap process starts out by talking to key members of your leadership team and board to understand your organization's business strategy and direction.
Then we look at your organization's IT infrastructure to see what it's capable of.
Our key goal after that is to determine if there's a gap between the needs of your business and the capabilities of your technology.
If so, we'll tell you how to close that gap, and we'll do so in such a way that you understand the budget you'll need, the cost impact perspective of implementing the recommendations, and the time effort perspective as well.
And all of this will be packaged into one thorough, in-depth report for you.
Interested? Talk to Us to Have Your Questions Answered
Technology is a critical business tool, but only if it's deployed correctly – you owe it to yourself and to your business to make sure that your technology's providing you with the competitive advantage it's supposed to. By engaging with us to provide you with an IT Roadmap, we can show you how to make your technology work harder and smarter for you. Contact us today to start the conversation!
---
This blog was co-written with David Reimer of Reimer Consulting Inc.
About David Reimer / Reimer Consulting Inc.:
David Reimer is an independent consultant specializing in IT Roadmap assessments and business consulting. With over 35 years of experience in multiple industries, David has a strong executive perspective on technology, coupled with a deep understanding of business mechanics.
About ProServeIT
For over 15 years, ProServeIT has been helping companies of all sizes, in all industries, understand how technology can be utilized to increase productivity and drive innovation and growth within the organization.