By Eric Sugar, President, ProServeIT Corporation
"What can we do to increase productivity?" This is one of the top questions that many executives often think about. Your employees want to be productive, but if the technology and processes that your organization is using is improperly deployed, their productivity is easily curtailed. Does your organization have the right technology? Is it correctly deployed? Are you getting the most from your investment in technology?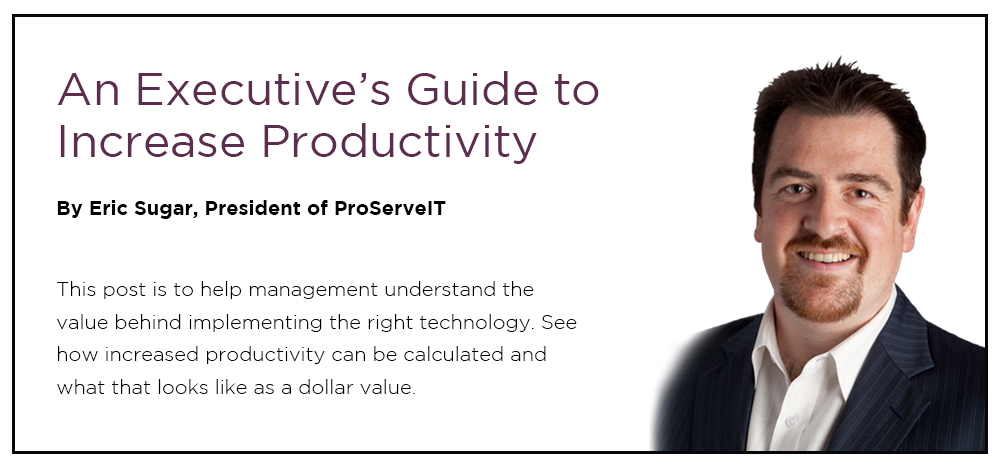 [Case Study] A Healthcare Provider Increased Productivity by 18% with the Right Technology
ProServeIT helped a customer in the healthcare industry that was working with an old and outdated on-premises system. This was hindering employee productivity and causing delays in providing care to their patients in need.
Beginning with a productivity analysis workshop, ProServeIT found the gaps/bottlenecks that were impeding productivity within the organization and recommended a multi-phase transformation project to address the specific issues that were identified.
ProServeIT implemented Microsoft Office 365 within the organization, which provided this client with the answers to the productivity issues they were having. Just by implementing Office 365, the organization increased productivity by 18%. Contact us to hear about this customer's journey in more detail. We will be happy to share the story with you.
"By moving to the Cloud, we have seen a dramatic increase in productivity and reduced technology management costs," said the IT Manager.
But what does an 18% increase in productivity look like as a dollar value?
The Dollar Value of Increased Productivity
ProServeIT has been calculating the economic impact of correctly using technology for several years. The spreadsheet below shows you how much money your organization could save by making sure that your technology is optimized for maximum productivity.
Using the customer above as our example, we've run the numbers to determine the productivity economics they can expect to see: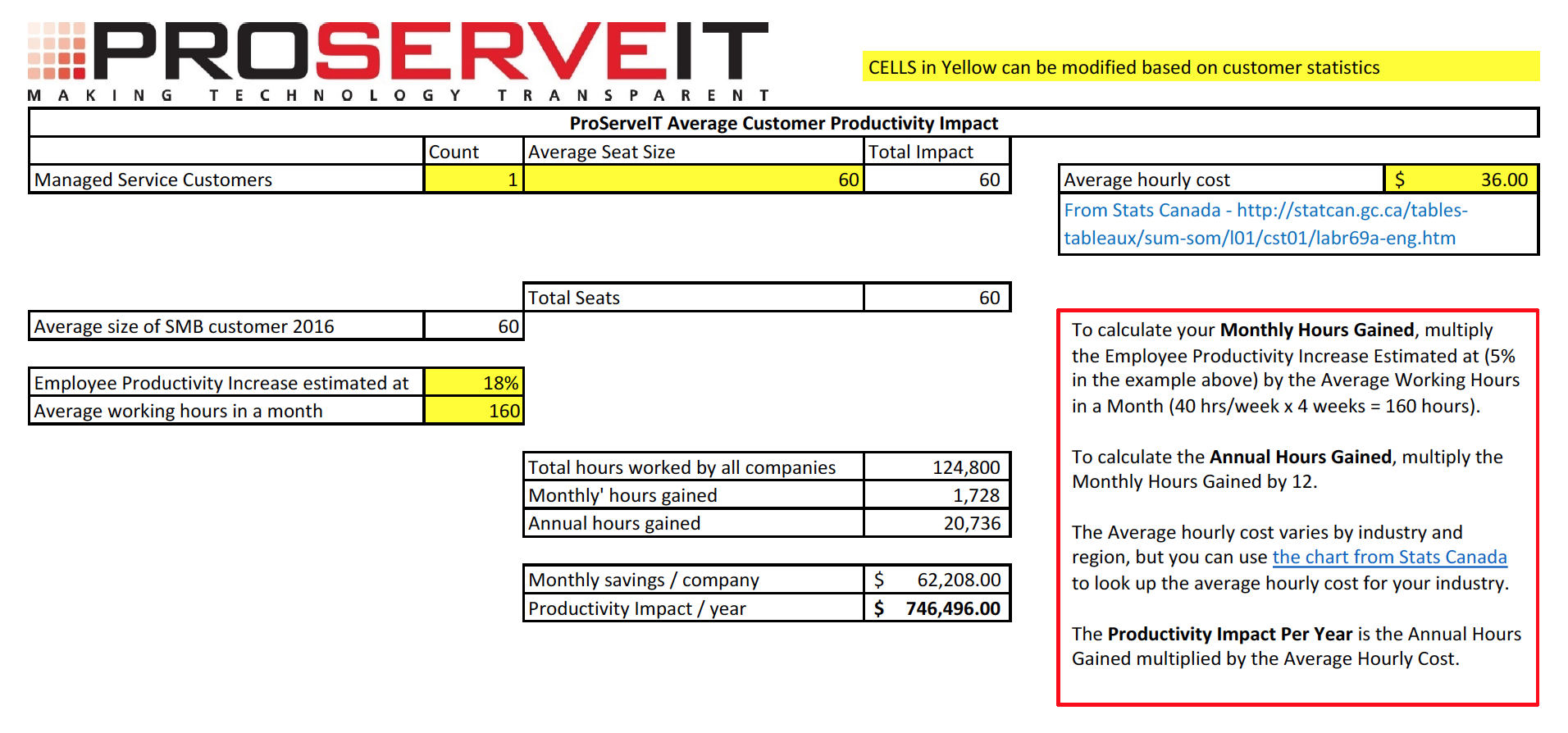 An 18% increase in employee productivity for this particular customer would have led to an annual reclamation of 20,736 hours, which translated to an annual productivity impact of $746,496! They saved three quarters of a million dollars just by ensuring that the technology they had implemented correctly and optimized.
So, how can you get these types of results for your own organization? Optimize your technology!
3 Signs That You Might Not Be Utilizing Technology to Its Fullest
Here are three key questions to ask yourself when trying to evaluate if your technology is optimized:
How easily can my employees connect to the data they need?
If your employees are having issues connecting to your data, or they find themselves tied to their desks because your organization's content doesn't sync to the various devices they're using, that's a clear sign that you need to evaluate your technology.
Can my employees easily connect with their colleagues and clients?
If your organization isn't using collaborative tools (like Office 365 or Skype for Business), you're missing out on a huge opportunity to increase your productivity.
Can I pull accurate, real-time reports that help me to understand my business and make better business decisions?
Business analytics tools, such as Power BI, can turn your raw data into valuable gems of information by giving you faster reporting, analysis and planning options. Better yet, you can automate these reports to alert you when something needs your attention, which lets you turn your attention to more important aspects of running your business.
To Increase Productivity, Get Your Technology Working for You

By implementing the right technology solutions in your organization, you can help your employees increase productivity.
Using the calculations described above, ProServeIT calculated that, in the past 12 months, we've helped our customers increase their productivity by $169 million, and regain 4 million hours of lost productivity.
According to Microsoft, ProServeIT is assisting so many organizations to maximize their technology and increase their productivity that we have surpassed the industry norm – almost 75% of our customers are using 3 or more technology solutions (i.e. Exchange Online, SharePoint, etc.) at a capacity of greater than 20%.
Let us help you understand how much time and money you could save – contact us today and we'll run your productivity impact numbers for you.
Related: